Baby might not be here yet but Dad deserves to be celebrated this Father's Day. Ahead are some of the best gifts for soon-to-be dads, from mom, the bump, friends, and more, all of which will make his first Father's Day feel special.
The best gifts for expecting dads can be a practical thing to help him out once Baby is here, a sentimental keepsake to mark the occasion, or something funny to take away some of the stress linked to being a new parent.
We have carefully selected the best Father's Day gift for expectant dads to celebrate this special event in his life. You will find options for every type of man, things they will love and appreciate.
Practical, sentimental, or funny, take your pick. These Father's Day gifts for expectant dads are sure to be a hit.
Related – How to Celebrate His First Father's Day
Disclaimer: This post contains affiliate links, which means that if you click on any links and make a purchase, we'll get a small commission, at no cost to you.
Our top picks from this list – Father's Day Gifts for Expectant Dads:
Sentimental Father's Day Gifts for Soon-to-be Dads
Father's Day is an important milestone in a dad's life, Baby might not be here yet but there are plenty of sentimental gifts he or she can get their Dad-to-be. We have selected some heartwarming Father's Day gifts from the bump that are sure to make him tear up. They will also make perfect keepsakes of Mom's pregnancy to remember this special time.
A cute gift from the bump for Father's Day, this ultrasound frame is just adorable. It will allow Dad to count down the weeks before Baby arrives while adding a sentimental touch to his interior.
The frame is handmade in New Jersey and you can customize it as you want. You can ask for a different text, and pick between different colors and shapes for the frame.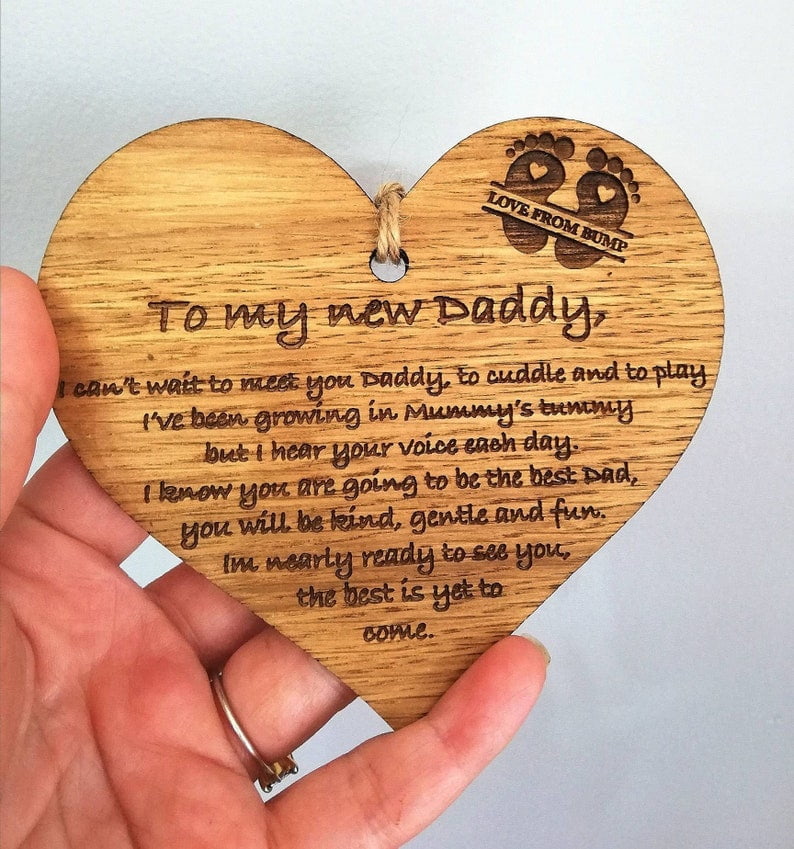 A cute Father's Day gift for an expectant dad that will melt his heart – this wooden sign is sure to make him tear up. You can use it as a sort of gift tag and add it to another gift or to something simple like a bottle of wine or beer.
It's the little things like this that make great gifts – a small keepsake to mark such a beautiful moment in his life.
Another way to showcase Baby-to-come, soon-to-be dads will love this ultrasound keychain. The packaging is ready to gift and is just adorable and touching.
Custom keychains make great gift ideas, Dad will be reminded of this special day every time he uses his keys, and will always have something of Baby with him. He will forever have a keepsake of Mom's pregnancy and this special time in his life.
The keychain comes in two finishes silver or gold, and you can have something engraved on the back.
Mugs are also great ways to have a keepsake of important events and milestones in one's life. This cute coffee mug is designed especially for expecting dads with a touching Father's Day message from the bump.
The mug is made of ceramic and can be microwaved and put in the dishwasher. The design won't fade or peel off. He'll be able to use it for years to come.
Another great option for a sentimental Father's Day gift for expectant dads from the bump, this frame features Baby's ultrasound and a thoughtful message that will melt Dad's heart.
You can add Baby's name if you already know it, add the date, and also ask for a custom text if you feel like writing something for Dad. You can also pick a different color for the background. The frame is included.
Funny Father's Day Gifts for Expectant Dads
For the dad-to-be who likes to joke around, you might want to consider a fun gift that will make him laugh when he opens it. Father's Day is perfect for a gag gift or just something funny. Becoming a dad is always a stressful time, especially for new fathers, but there are plenty of things to release the tension and have a good laugh.
Below are listed some funny Father's Day gifts for expecting dads that are sure to be appreciated and to make them smile.
Now that is becoming a dad he is going to need to learn a few dad jokes to fit the part. This book is exactly the type of gift he didn't know he needed until he gets his hand on it.
The book is hilarious with dozens of jokes so bad that they become hilarious.
So he can keep busy and prepare to be a father, gift the soon-to-be dad in your life this activity book for Father's Day.
With 85 games and puzzles, Dad will learn about what's to come – the book is fun, entertaining, and informative at the same time with useful facts and information in between games.
A science book on cognitive, motor, language, and behavioral development but with a hilarious twist, this book will make learning about all this stuff fun and simple. It will help you learn how Baby is acquiring new skills and how to help them develop these newly acquired skills.
So he can have everything a new dad needs once Baby comes, this New Dad Kit will help him get ready for the big day.
The gift box includes a coffee/wine tumbler, The Baby Owner's Manual book, Hello My New Name is Daddy socks, Dad Jokes by Joe Kerz, and a hand and body butter. To that, you can add a candle, a spa set, and/or a water bottle. You can ask the seller to gift wrap the box with a special Dad paper as well.
A fun and practical Father's Day gift for an expectant dad.
So he can tell the world is going to be a father, this shirt will make just the perfect Father's Day gifts for expecting dads. You will find plenty of funny t-shirts for soon-to-be dads on Etsy or Amazon.
This one comes in a couple of colors and sizes from S to 4XL.
So he is ready when the time comes to change a diaper, this diaper change tool belt will make him feel like Super Dad! It definitely is a hilarious gift, yet it will come in handy.
The belt comes with everything one needs (diapers and wipes, baby products) plus a couple of things to make him laugh like safety goggles and tongs.
Because parents might forget some of Baby's essentials or run out of it in unfortunate circumstances, this Oh Shit kit will be there to save the day. Store them in tactical places like the car or the stroller, for just-in-case use.
It's mostly a gag gift that will make Dad laugh, but you never know when you might need it.
Useful Father's Day Gifts for Expecting Dads
If the dad you're shopping for is more of the practical type, he might enjoy a useful gift to help him out once Baby is born. A new baby means a lot of stuff that needs to be bought so gifting him something he will need will be appreciated.
We have listed below some cool things a soon-to-be dad might find useful that will make perfect Father's Day gifts for an expectant dad (Mom will probably love these as well).
Because every soon-to-be dad is going to need a diaper bag when he's out and about with Baby, this diaper backpack will make a useful Father's Day gift.
First off, it looks pretty good for a diaper bag and won't hurt Dad's fashion sense – second off it is super practical. With two big zipper closure compartments and 16 pockets, it will hold everything one needs and will keep things organized. It also includes a changing pad and 2 insulated pockets for bottles.
It is sturdy and will last – it's comfortable to carry as well – and comes in a bunch of different colors.
For the outdoorsy man who loves going on hikes, this hiking carrier is a must-have, it will make a perfect Father's Day gift.
The carrier is meant to be comfortable for both Baby and the parent, while keeping Baby protected from the sun and rain. It is also practical with several pockets to store your belonging and Baby's stuff. It will hold kids up to 40 pounds.
A life-changer for many parents, this awesome bassinet will automatically detect when Baby starts crying and will start rocking to soothe Baby back to sleep. It features several rocking modes and gradual motion. It also includes a white-noise/music player.
Definitely a splurge-worthy Father's Day gift for an expecting dad.
Useful and funny at the same, the FridaBalls boxer briefs will keep him safe from Baby's kicks, preserving his lineage and saving him from atrocious pain. These boxer briefs have a removable foam pad that will come in handy when Baby is in the carrier.
The briefs are soft and comfortable, and are made with a breathable and moisture-wicking fabric to keep him fresh.
A cool shirt you won't often see, the Bondaroo is a tee designed to improve skin-to-skin bonding between Baby and Dad. Skin-to-skin contact has been proven to have many benefits for newborns. and this shirt makes it easier – you can wrap baby inside it so he will stay warm and comfy without dad having to be shirtless.
The shirt is made with quality fabric that is soft and easy to care for. They have a long-sleeve one as well.
Perfect as a small Father's Day gift, this phone holder will attach to the stroller (or any handlebar) so he can use his phone hands-free. It will work with any phone and offers a 360 rotation angle. The holder is sturdy and will keep his phone secure while he's out with Baby.
This baby cooler pouch will allow Baby's milk and food to stay fresh while out and about. It's a practical thing to have on day trips.
The pack is designed to be sturdy and will last for years. It's pretty small yet it will hold everything needed for the day. You can attach it to the stroller or your backpack, or put it inside your bag.
Changing diapers is not always the best of time for parents and babies alike, there are a few items that can make things easier, like this wipe warmer. It will warm wipes while keeping them moist. It also features a night light so you don't have to turn on a bright light during nighttime diaper changes. It can store about a week worth of wipes and will work with any type of wipes.
It comes with a free lifetime warranty (you'll need to register on their website).
It definitely is the type of product you don't think you need until you start using it.
Being able to print photos easily from home by just using your cellphone and the Canon IVY Mini Photo Printer is ideal for new parents. They can easily print beautiful pictures of Baby or any important milestones and actually do something with all the photos they take.
The Canon IVY doesn't require ink to work, it easily connects to your phone via Bluetooth, and you can print pictures from their app. The paper included has a peel-off sticky back so you can easily add the pictures to a photo album or stick them anywhere you want.
Check out some of our other gift guides for men or our Father's Day gift guides:
Like it? Pin it for later – Father's Day Gifts for Expectant Dads: