Make your Dad feel extra special this Father's Day with gifts that speak to his hobbies! If he's a boat owner, a sailor, or just enjoys spending time on the water, consider gifting him something boat-related to complement his passion for the outdoors and boating.
Whether he just bought a boat or is an expert boater, we have carefully selected these boating gifts that are sure to make his day. From useful presents for his boat to custom ones, you will find some of the best Father's Day gifts for boaters to give your dad on this special day.
With these great boating gift ideas, your gift will surely be considered the best catch of the day!
Related – How to Make his First Father's Day Special
Disclaimer: This post contains affiliate links, which means that if you click on any links and make a purchase, we'll get a small commission, at no cost to you.
Our top picks from this list – Father's Day Gifts for Boaters:
Gadgets and Useful Father's Day Gifts for Boaters
A VHF marine radio is a must-have when it comes to safety. If your dad doesn't already have one, it will make a perfect Father's Day gift for boaters if you are looking for something useful to make his trips safer.
It works on all USA, international, and Canada marine channels, keeping your dad up-to-date on what's happening out there, especially on weather conditions. It will allow him to communicate with other boats and stations if needed as well.
This radio is sturdy and durable – made to last long and sustain the rigors of the sea.
A must-have safety tool for his boat, this electronic distress e-flare and flag can replace the mandatory pyrotechnic flares required on a boat.
It requires batteries to work and will last for about 20 hours. The light is bright with a 360° visibility at over 6 miles. It is waterproof and will float once submerged.
A dry bag is definitely a boating must-have – if your dad doesn't already have one and you want to get him something useful for Father's Day, it will make a great gift idea. It will keep his electronics and papers safe while he's on the boat.
This dry bag is lightweight, comes in several colors, and is a bit transparent so you can easily find your stuff. It comes in 5 to 40 L capacity. It also includes a waterproof cellphone cover.
If your dad likes to watch out for wildlife when he's on his boat, this monocular telescope is a must-have! Apart from helping him spot and see birds and such, the telescope is waterproof, fog-proof, and shockproof, so ideal to use on a boat. It will always come in handy.
Its wide lens and 8x magnification will give you a large field of view and precision spotting.
If your dad goes in areas where there are sharks, this repellent band is a smart little gadget that will allow him to swim safely. It will keep sharks at bay using a magnetic technology that doesn't require any battery or charging to work.
It's great for peace of mind and overall safety.
The band comes in 4 colors and has a 1-year warranty.
Every boater or sailor should own one of these cool little gadgets that will make life aboard much easier. It includes 10 basic tools one might need on a boat for small repairs and basic tasks. It's lightweight, compact, and will reduce clutter on the boat while always coming in handy.
For the dad whose boat is his baby, these boat scuff erasers will allow him to take better care of it making sure it's free of dirt and marks. They will quickly remove dirt, grime, grease, salt, mud, and scuffs from the deck, console, hull, and seats of his boat.
It makes cleaning his boat much easier and the sponges don't use any harsh chemicals, you just need water to make them work their magic.
A cool gadget and Father's Day gift idea for boaters, this cup is designed specially to be used on boats to prevent your drink from tipping over.
The cup features a dual-magnet and micro-suction cup technology that will hold well while being easy to pick up. It also features double-wall insulation to keep drinks cold or hot for longer.
Your dad will love being able to sip on his favorite drink without having to worry about it falling over.
Every boater needs a good jacket to keep warm and dry while on the boat. The Colombia Watertight Ii Jacket is lightweight, comfortable, and practical. It will keep your dad dry in any type of rain, from drizzle to downpour.
It also features an abrasion-resistant chin guard, two zippered side pockets, elastic cuffs, and an elastic hem.
It comes in a variety of colors and sizes from S to 5XL.
A useful gift every boat owner should own, these quick-drying shoes are the perfect things to wear on a boat. Slip-proof and breathable, with a cushioned sole, they'll keep him safe and comfortable. They are ideal for warm and mild weather.
A practical gift for boat owners, they'll find it useful whether they are just starting out or already know a lot about boats. Full of information, tips, and practical knowledge about how boats work, the book goes through everything that goes on under the hood with detailed drawings, instructions, and explanations.
Definitely something he won't expect, this inflatable kayak is great to have on a boat to go do some exploring or exercise for a while.
As it is inflatable, it is super compact so it will fit even if he has a small boat. It's also perfect to bring on car trips. It comes with 2 paddles, a pump, and a repair patch kit. It can fit 2 people of up to 400 pounds in total. The sits are comfortable and adjustable.
This kayak is recommended for lakes and mild rivers. You can check out the higher end one that is good for being used at sea here>>
If your dad doesn't already own a good cooler for his boat, then that might be a perfect Father's Day gift for him.
The Igloo Polar Cooler offers 100 to 150 qt of space and guarantees to keep ice for up to 5 days. It will keep his food and drinks cool when he goes on fishing or boating trips.
The cooler is sturdy with reinforced handles and a dual snap-fit latches secure lid closure. It's also practical thanks to the threaded drain plug for easy draining.
For the dad who likes to listen to some music while on a boating trip, these outdoor speakers are specially designed to be used on a boat. They are weather-proof, waterproof, and offer great sound quality and volume.
They are pretty small so perfect for when space is limited and pretty easy to set up.
Customized and Sentimental Father's Day Boating Gift Ideas
So he has something cool to wear on his boat, this Captain Dad tee will make a thoughtful Father's Day gift for boat lovers – and best of all, it comes as a matching set for the kiddo too!
The shirt is soft and comfy and the design won't fade or peel. You can choose from a bunch of different colors.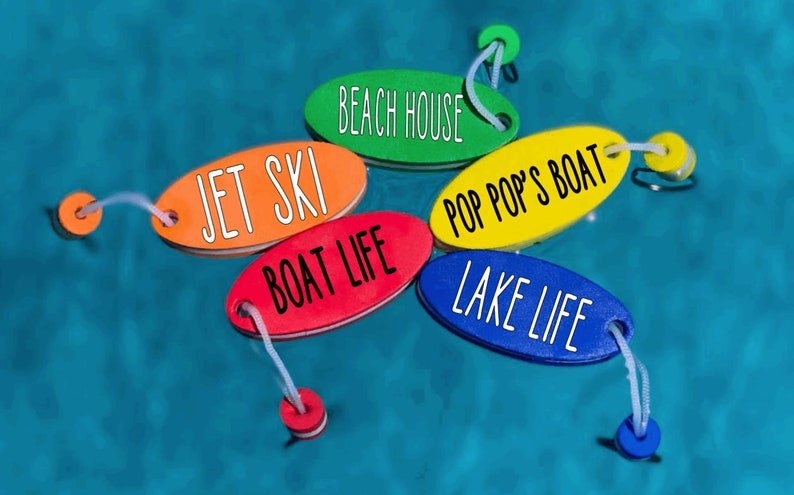 These floating keychains will make a thoughtful and useful gift for the dad who likes boating. Perfect for his boat keys, it will make them float if they fall into the water. You can pick the color and customize the text on either one or both sides.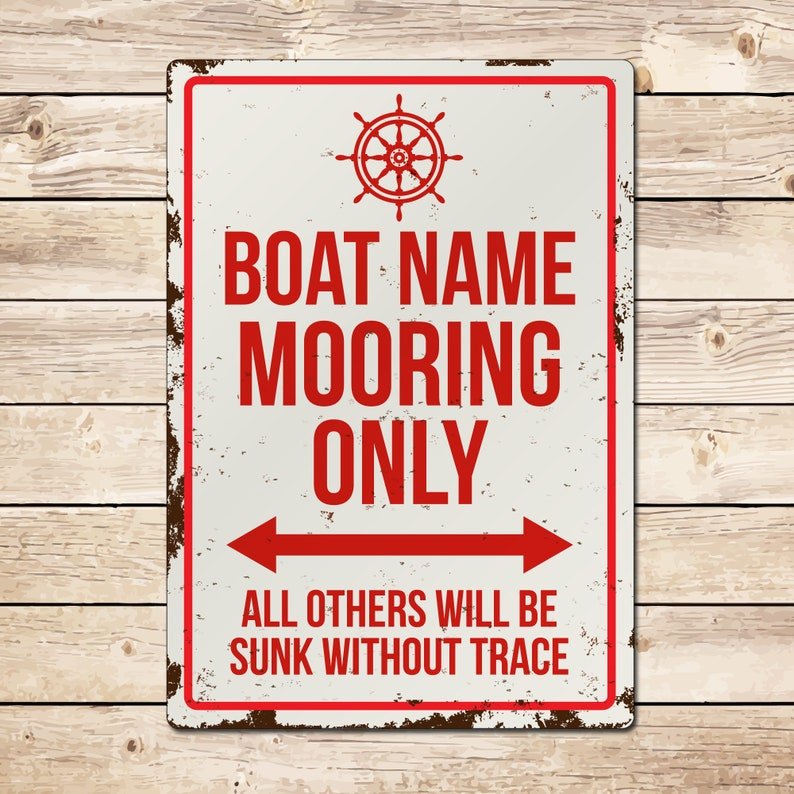 Perfect as a gag gift or if you just want to make your dad laugh, this funny sign for his boat is sure to become a favorite. You can customize the sign with his boat's name or any text you'd like.
The sign is made of metal and is weatherproof so it can be used outside as well as inside.
For the father who likes to drink liquor, this decanter set will make a perfect addition to his boat or home. The glasses read "Captains quarters" and you can customize the bottle with any text you want.
An inspiring gift, this set is one-of-kind and your dad will love having it on display and using it to drink his favorite liquor.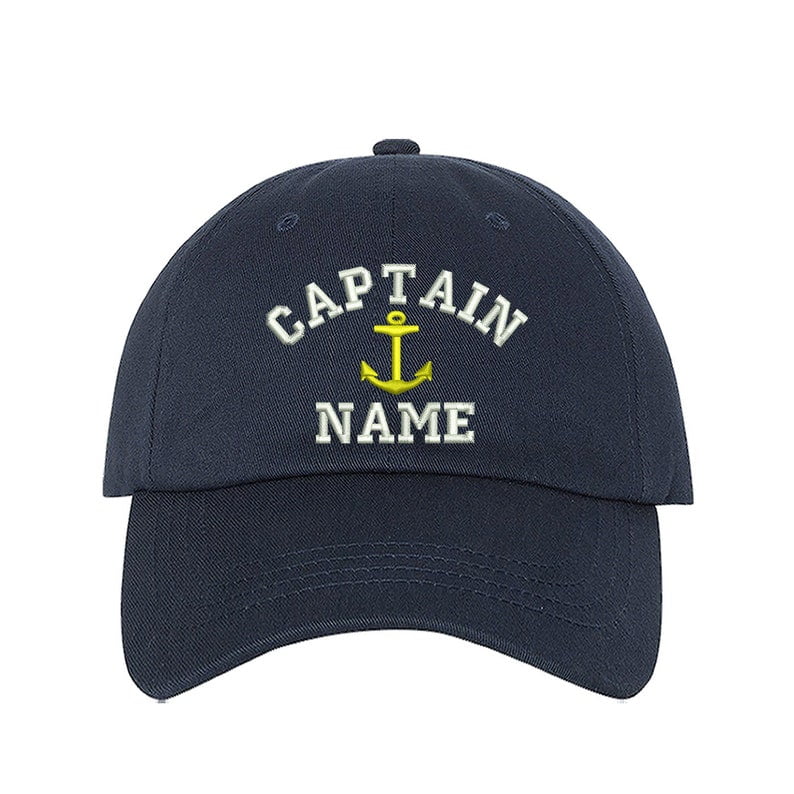 Every captain needs a custom hat to wear aboard. This custom hat made in the US by a small family company will make a perfect choice. The cap comes in a bunch of different colors, you can add your dad's name to it, and the design is embroidered so it won't fade or peel.
A gift he can wear proudly for years to come, reminding him of you every time he uses it.
The ultimate Father's Day gift for boat owners, this painting is sure to melt his heart. Send the seller a picture of your dad's boat, and they'll make a custom digital painting of it. you'll get a digital file you can print online or have printed at your local printer. Make sure you get a frame as well.
You can also add a quote or custom message at the bottom of the print.
Your dad will just love it – proudly displaying his boat at home.
Custom gifts for his boat will always make great Father's Day gift ideas – they are useful, thoughtful, and sentimental.
This rug is designed to be used on a boat and comes in a wide variety of sizes and colors – it will make the perfect addition to his boat, giving it a homey vibe.
You can add the name of his boat or the family's name in the middle. You can check the store's other mats, they have a couple of other nice nautical-inspired mats.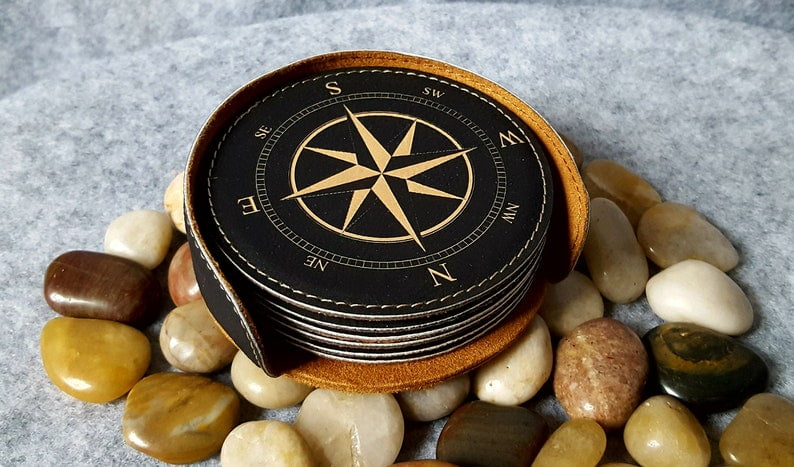 If he's passionate about boating and life at sea, he will love these compass coasters. Made of leather, these coasters are sturdy and will absorb moisture to protect wooden or marble surfaces.
The set includes six coasters and a stand – each one is a bit different featuring a compass design. The top side is made of leather, and the backing is made of suede.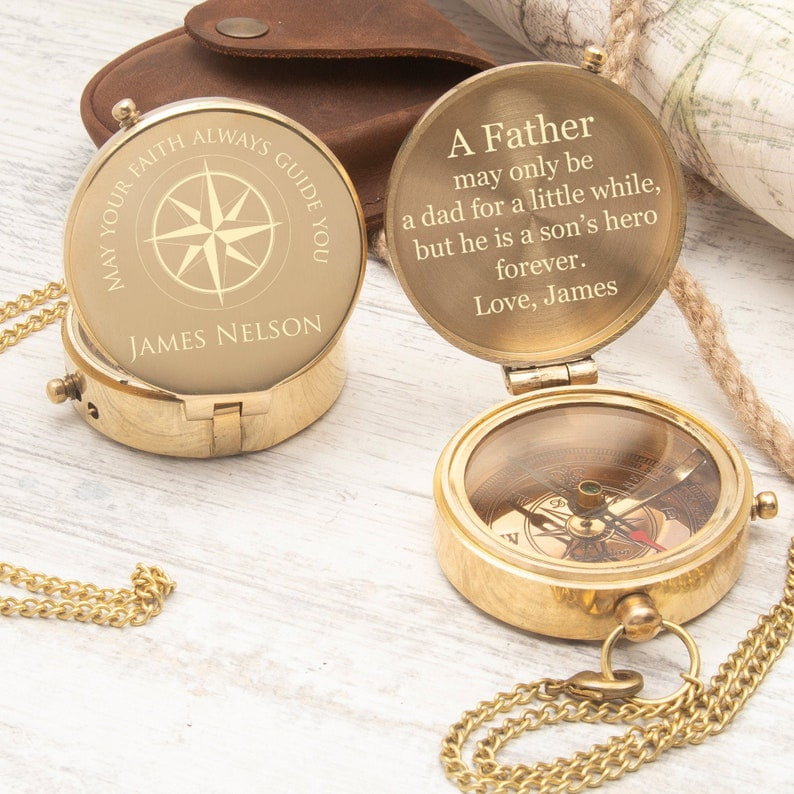 Another great custom item for a boater or sailor, this engraved compass will be cherished for years to come. You can add your own personalized message for your dad on any side – you can even add a logo or a message with your handwriting.
The compass is beautifully crafted with brass and you can add a leather case for storage.
Books about one's passions are always good gift ideas. Your dad will love this coffee table book featuring some of the best sailing trips to take around the world.
The book includes 20 amazing itineraries across the world. Written with a fresh, new approach to sailing, the book features maps, images, accounts, and captains' knowledge for each itinerary with highlights of each trip, including the food, experiences, sights, and people.
Another great book to gift a sea and ocean lover, this inspiring book showcases gorgeous underwater photography – taken by the world's leading marine and nature photographers – of coastlines, barrier reefs, waves, and island chains, as well as marine mammals and fish.
Check out some of our other gift guides for men or our Father's Day gift guides:
Like it? Pin it for later – Father's Day Gifts for Boaters: