If you know a new father or have recently become a dad, you know that great perks come along with this rewarding role. Not only have you been acquainted with your new child whom you love and adore, but you also get to celebrate Father's Day each and every year with your growing family.
Dads play such an important, central part of any family, and they deserve to know how special they really are. If you're wondering what to do for his first Father's Day and are looking to spoil him this coming Father's Day, there are many ways to ensure his first is unforgettable.
The first Father's Day is always so special, as you'll never forget the year you became a father. Let's break down some fun ideas to remind the new dad how awesome he truly is! 
Thoughtful things to do for his First Father's Day
Breakfast In Bed
Like many other celebratory events, food always plays an important role. But, breakfast in bed is much more personal and really makes a person feel appreciated.
Prepare the new father's favorite breakfast foods and set up a tray to serve him as a family when he wakes up on Father's Day. Gather around and keep him company as he enjoys this specially prepared breakfast.
Splurge on his favorite coffee, grab his favorite juice, and go crazy with the bacon! This simple way to show your appreciation really never goes unnoticed. The effort is minimal but the thought is always heartfelt. 
Gift Baby's Hand & Footprints
With a brand new baby, everything is always exciting, extra small, and cute. When Father's day rolls around, taking baby's foot and handprints and framing them for Dad is a sure way to remember his first Father's Day and a reminder of when his first child was "oh so small."
This creative project requires little effort but is a guaranteed way to bring out some emotion from the doting new father.
Babies are little for what seems like a short minute so capturing the tiny hands and feet always brings great nostalgia to those precious moments. 
Have Photos Taken
There's really no better way to capture a memory than by getting some fun photos taken. Whether they're with a professional or a friend or family member who offers to snap a few pictures of the dad and new baby, this is an exciting way to celebrate a first Father's Day.
Choose an ideal location. Get creative with matching outfits, themes, and backdrops – and most importantly, have fun with it.
For years to come, he will always have that photo to look back on and remember how special his first Father's Day was. The new dynamic duo will be admiring the photos each and every year.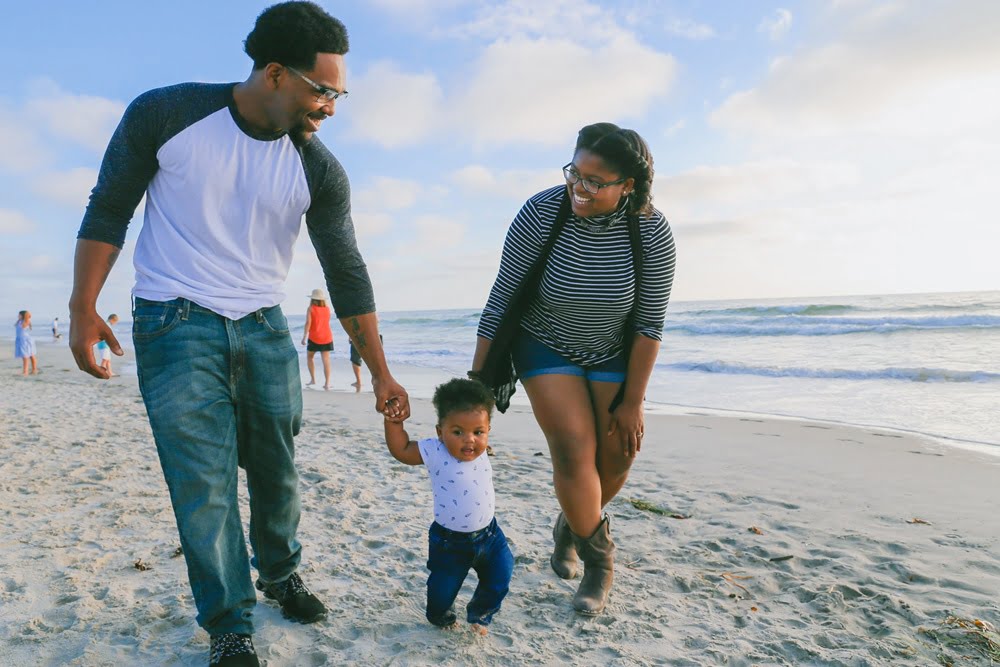 Go On A Family Hike
If the doting new dad is the outdoorsy type, plan a fun hike as a new family. Dig out that baby carrier and get ready to enjoy some scenic views together!
The fresh air and exercise will be something fun to do together.
Snap a few photos of dad and his little one in a beautiful scenic backdrop for all to see and admire.
The new father will always remember showing his new baby the great outdoors for the very first time on his first Father's Day! 
Make A Celebratory Dinner & Dessert
Once again, food is the main idea. But, in all honesty, it is a true way of showing appreciation to someone when you serve their favorite dish.
It's also a fun time to get creative and artistic if you plan a fancy dessert that requires decorating.
Prepare the new father's favorite dish and dessert and let him know that he is deserving of all fine things on his first Father's Day.
Go all out and invite family to make the day even more special. No matter how little or big the celebration is, dad is sure to remember the thought and effort that went into planning this meal. 
Let Him Have Extra Zzz's
Being a new parent comes with a lot of sleepless nights and a big lack of naps! You are now responsible for a new human and have never cleaned so much in your life. On dad's first Father's Day, let him sleep in! Take over the morning duty so Dad can catch those extra Zzz's.
If he's not the type to sleep in, let him have an afternoon nap to catch up. This new dad will always remember the kind gesture on his first Fathers Day!
Have A Scavenger Hunt
Time to take it up a notch! This new dad is going to get really excited when you tell him he's going on a scavenger hunt for all his favorite treats.
Hide his favorite items and leave clues for him to find them all. Search Pinterest for fun ideas and how to set up the perfect scavenger hunt.
This new dad is going to appreciate all the thought and effort that went into this and will certainly never forget it! It might even become his favorite yearly tradition so be ready to top it every year! 
Let Him Lead The Day
If the new father wants to take the reins on the day and plan the outings and meals, let him! Maybe he needs a chill day and would rather be home just relaxing with his new family. Whatever he wishes to do on this day can be honored!
A slew of planned activities is not for everyone and him having the authority to choose might be just what he needs for this one day. As we all know, you don't really have control over the day when you have a baby, so giving it to him might be the memorable first Father's Day he is hoping for. 
Do His Chores
Let this new dad nap with the baby while you take over the mowing and trimming of the yard. These super-simple gestures are going to be greatly appreciated. Maybe the trash needs to go out, or the lightbulbs need to be changed.
Take over some of his weekly chores or things you might normally depend on him for, to allow for some downtime on his end.
As a new dad, he is likely just as tired and overwhelmed as a new mom. On his first Father's Day, he will always appreciate the extra downtime he received. 
Spoil Him With A Special Gift
If Dad has been eyeing a new television or a PS5 and you're looking for a grand gesture, surprising him with an indulgent gift is a great way of showing a new dad great appreciation. Maybe it's totally unnecessary or something silly to spend money on, but knowing that it will bring him pure happiness is all you need to ensure that incredible reaction on his first Father's Day. It will be totally worth the splurge. 
Related – Best Gift Ideas for Men
Gift Him Matching Tees
One creative thing to gift this new dad would be matching tees for him and his new child. With so many cute sayings and fun quotes, these will be the most adorable addition to a fun first Father's Day.
Record the precious moment they match with a photo and keep it as a memory of the First Father's Day you ever had as a new parent. "Super Dad," and "Super Baby," or "Fixed It," and "Broke it," are two fun examples of matching dad and baby tees. You will simply adore this trend. 
Make A Baby Photo Gift
With so many options like Personalization Mall and Shutterfly, it's easy to make a fun gift out of a favorite photo of your new baby.
Whether it's a mug he can use everyday, or a keychain for his car keys, making a photo memento for dad to look at each and every day would be a great reminder of his first Father's Day.
There are so many fun ideas out there that incorporate photos so get creative and have fun with it. This personalized gift will be something he can treasure for years to come.
Give Him Special "Me Time"
Sure, he may already get some me time to wind down and watch a favorite television show. But on his day, maybe give him that extra hour of video games or let him work on a project he's been passionate about in the prior weeks. Giving him the extra time will not go unnoticed and he will appreciate the gesture.
Plan A Getaway Weekend
Things have likely been pretty hectic since having a new baby. Some parents may need to unwind a bit and refresh. Planning a fun getaway for a new father is just the pick-me-up he needs!
Take a quick weekend trip to your favorite spot and just enjoy the quiet time. For his first Father's Day, he will appreciate the gesture and the effort in planning the perfect getaway.
If you enjoy nature, rent a cabin. If he's more the lavish type, book a fancy five-star hotel and just order room service.
This fun idea is one he will be talking about for years to come. 
Have A Movie Night
Line up his favorite movies and let him know tonight is all about him! Set up a little home theater experience with all the fixings: popcorn, candy, soda, and more! Set aside the time to make him feel special by watching all his favorites together.
This sweet gesture will be the perfect way to show this new doting dad that you care and that he deserves to be spoiled a bit, too! 
A new dad's first Father's Day is an intricate part of parenthood and one that isn't forgotten. No matter what you choose to do for the new father, you are certain to make it sweet and memorable with these fun ideas.
As long as you're doing it together as a family, he is sure to remember all the excitement of his first Father's Day and will set him up to have wonderful Father's Day celebrations each and every year!
Save it on Pinterest for later: