Father's Day is one of the best times of the year to get little ones involved in craft projects. There are tons of DIY gifts preschoolers can make for Dad with a little help from Mom!
From art projects to fun crafts, you will find listed below some great DIY Father's Day gifts for preschoolers to make. You'll both have fun making them and Dad will just love that you took the time to make him a homemade gift.
Related – Best things to do on Father's Day to make this day feel special
Father's Day Sour Cream Sugar Cookies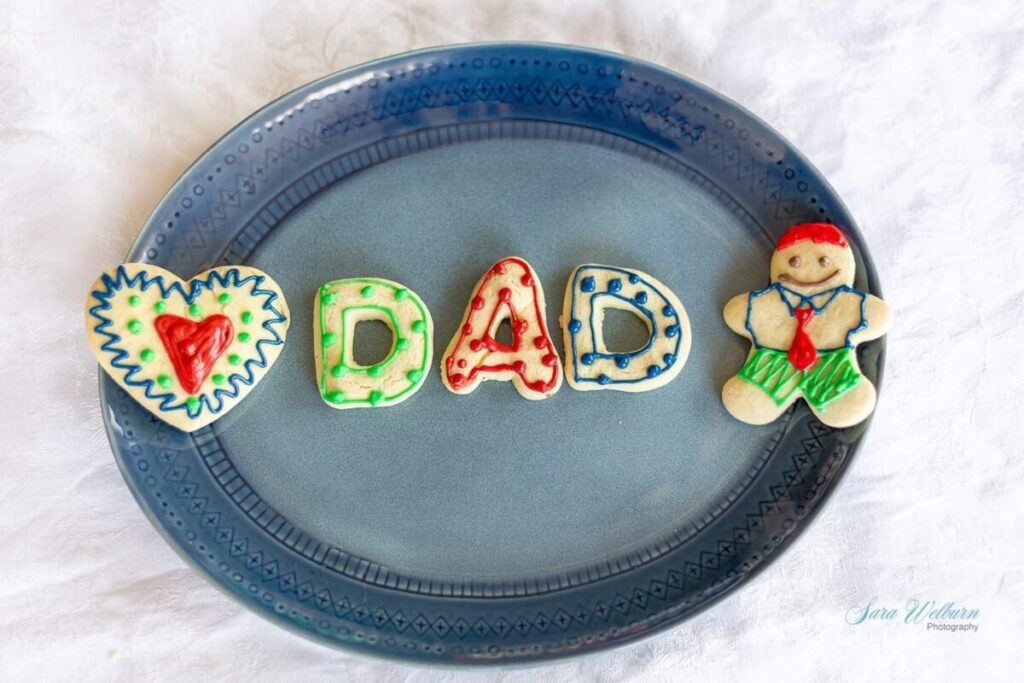 Cooking and baking is always a lot of fun for little kids – they'll love helping you out, pouring, mixing, cutting, and decorating these cute and tasty cookies made just for dad.
If he has a sweet tooth then he'll definitely love this little gift made with love.
See the recipe at Saving Talents.
Father's Day Poem Printable
Quick and easy to make, this Father's Day poem will make a great keepsake to remember by this special day and how little they once were. You can easily print the poem at home and then have some fun with the paint. Little kids will love using their hands to make something special for their dad on Father's Day.
You can download the printable here>> (there's an option for dad and one for grandpa.)
Following in Dads Footsteps Craft
Another easy project for preschoolers to make, you'll just need to print it and add your kid's footprint. Let them pick the color and maybe even paint their own feet – it will be a lot of fun, doesn't require much material, and is quick to make.
If you want a bigger print, you can also print it at your local print shop or online. Make sure to get a frame so you can showcase it in your home.
Download the print at A Hundred Affections.
Dad Rocks Salt Dough Paperweight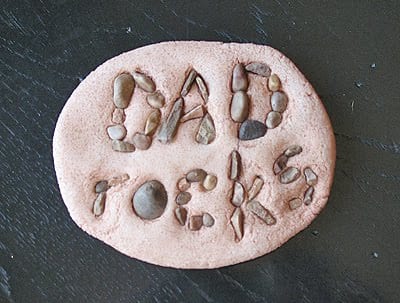 A DIY Father's Day gift preschoolers can make, this paperweight is both useful and sentimental. You'll just need salt, flour, and some pebbles. Little kids usually love making things with salt dough and they'll have fun trying to place the pebbles correctly.
You can see the full tutorial here>>
3D Teddy Bear Card with Kid's Photo
If there is one thing you need for Father's day, it's a cute card! Here is a nice option that will involve Kiddo, they can help color and you can add their photo and make the nose with their fingerprints.
See the full tutorial and download the pattern at The Soccer Mom Blog.
"DAD" Salt Dough Picture Frame
Showcase your best family pictures with this cute handmade photo frame. Dad will love having it on display, being reminded of this day every time he looks at it. It's just adorable and little kids will have fun playing with the salted dough and helping you out.
It makes a good option as it doesn't require much, only things you probably already have at home – you don't need to use dye, you can also have your preschooler paint it to make it extra special and get him or her more involved.
You can see the full tutorial at The Soccer Mom Blog.
Printable Father's Day Card
Perfect as a last-minute Father's Day gift for Dad, just print one of these cute cards (3 options) and have Kiddo start coloring them.
Fingerprint Daddy & Me Coffee Mug
Something Dad can use every day, this cute mug will make a perfect keepsake he can use for years to come. You'll need a white mug and enamel paint – and you can start decorating away. You can use your kid's fingerprints for both characters or get dad involved and get his print on there too.
See the full tutorial at Crafts by Amanda.
All About My Dad Printable
If your kid already knows how to write or if they're getting there, this is a thoughtful option. Let your kid express how much they love their dad with this printable that will tell dad how awesome he is.
It's a perfect sentimental keepsake to remember fondly how small they use to be – you can even make one every year and turn it into a Father's Day tradition.
Download the printable here (grandpa version available).
Super Dad Paper Craft
Another great DIY Father's Day gift preschoolers can make, tell dad he's a Super Dad this Father's Day. Collage is always a fun activity for little kids and tell will just love it. Perfect for a last-minute Father's day craft, easy and quick to make.
You can download the patterns at Twin Cities Frugal Mom.
Father's Day Fishing Gift
For the Dad who likes fishing and candies, this candy fishing-themed box is sure to make a splash! It's easy to set up, budget-friendly and preschoolers can participate at almost every step.
You'll just need gummy worms and fishes, a small divided box, and the printable from The Country Chic Cottage website.
DIY Father's Day Monster Card
Little kids will surely love making this monster card for dad – it definitely is something different from other Father's Day cards – and Dad will probably have a good laugh seeing it.
Download the pattern and see the full tutorial at Inspiring Savings.
Salt Dough Dad Magnets
A safe and fun Father's Day craft project preschoolers can make, these DAD magnets are just adorable. Use cookie cutters to give the salt dough the right shape, and let Kiddo express their inner artist once they are cooked.
Dad will love those, they'll always be useful and are sure to last, creating fond memories.
See the full tutorial at Crafts by Amanda.
My Dad Rocks Paperweights
A fun Father's Day craft for preschoolers to make, these rock paperweights are just adorable and will make a nice addition to Dad's desk. Use washi tape to make bowties, ties, and shirts, and let Kiddo decorate the rocks as they want. There are tons of possibilities and it will look cute no matter what.
You can see the full tutorial at Hello Wonderful.
Check out some of our other gift guides for men or our Father's Day gift guides:
Save it on Pinterest for later – DIY Father's Day Gifts for Preschoolers to Make: