Looking for a gift for your father is not always easy, you want to find something he will love and have a use for, you want to wow him, and celebrate this special occasion. Whether it's for Christmas, his birthday, or Father's Day, your dad deserves an awesome gift on this special day.
If you are looking for gifts for a dad who has everything and wants nothing, this gift guide is for you. We have selected unique gifts your dad will love no matter what he's into, no matter the occasion, and no matter your budget.
We have picked the coolest presents, found unique items, as well as sentimental, useful, or funny ones, so you can pick the best gift for your dad. Even if he has everything and wants nothing, you'll find something he'll love on this list.
Related article – Best Man Cave Gift Ideas for the Man in your Life
Disclaimer: This post contains affiliate links, which means that if you click on any links and make a purchase, we'll get a small commission, at no cost to you.
Our top pick from this list:
Gifts for dad who has everything and wants nothing:
For the dad who already has every Apple product, this Wireless Charger iWatch Stand will make a practical gift. The stand will allow your dad to charge all his Apple devices at once. It will look nice on its nightstand, keeping his things organized without the clutter made by charging cables.
The stand comes in several colors and will charge his smartphone, smartwatch, and wireless AirPods.
Everyone likes to be comfy and relax, your dad is probably no exception. The AlphaBeing Inflatable Lounger will make a great gift idea for outdoorsy people who like to go on camping trips. It can also be used at the beach or just to relax at home in your garden.
It's pretty easy to inflate once you get the hang of it, it's lightweight and takes up minimal space. It's super comfy and has an ergonomic design, it's perfect to take a nap or unwind after a long day.
This lounger is made to last and uses a sturdy fabric. It also comes with secure stakes for extra security and two pockets for extra comfort.
When looking for gifts for a dad who has everything and wants nothing, going for a funny gift can be a good idea. This Pizza Socks Box will make a hilarious gift for your dad and one can never have too many pairs of socks, especially such beautiful (original) ones.
The box includes four pairs of pizza-inspired socks and is designed to look like a pizza box. The socks are durable and made of comfortable fabric. It's the perfect thing to have to bring a touch of colors to any outfit and bring a smile to your dad's face when he opens his present.
When dealing with someone who has everything and says he wants nothing, picking a food-related gift can be a nice idea. If your dad is a coffee lover, he will love this Gourmet Coffee Sampler box.
Bean Box offers a wide variety of coffee sampler boxes featuring all sorts of coffees and roasting processes. All of the coffees they offer are selected from top Seattle's roasters and are delicious.
You can get a sampler box or a monthly subscription and choose from different types of roasts or get a mix.
For a father who loves barbecue, this barbecue sauce sampler box will make a thoughtful and useful gift. Consumables make thoughtful gifts for people who already have everything or who try to avoid clutter.
The box includes four different flavors to give your food an incredible taste. They are perfect to marinate meat in or to add to any barbecue dish.
If you are looking for a splurge-worthy gift idea and if your dad is into new technologies and cool high-tech products, the Oculus Quest 2 might be the perfect gift for your father.
Step into the world of virtual reality and live an experience like no other. Immerse yourself in your favorite video game, visit a new country, or watch a concert, possibilities are endless.
Is your dad always losing his keys or his wallet? Give him extra peace of mind with this Tile Starter Pack so he never loses anything ever again.
The pack includes two tiles one for keys and one for wallets. You just need to download the app and you can then track the tiles.
It's a great Christmas gift for a forgetful dad who likes tech gadgets.
The Penguin Stainless Steel Vacuum Thermos will allow your dad to bring his favorite hot or cold drink wherever he goes. This thermos is super cute and practical.
It stays cool when filled with hot beverages and is condensation-free when filled with cold drinks. Drinks will stay at the right temperature for about 8 hours.
A father who likes watches can never have too many of them. On this special occasion gift him something beautiful and classy, like this ARMANI EXCHANGE Watch.
The watch is elegant, discreet yet fashionable, it will blend well with most outfits, casual as well as more formal ones. It comes in a bunch of colors.
Either pick a neutral color that will go well with everything, or a more original one if your dad likes colorful accessories and already has a bunch of neutral-colored ones.
For the cocktail drinker, these Moscow Mule Copper Mugs will make an awesome gift for Father's Day, Christmas, or his birthday.
The mugs are made of copper and look beautiful, they are great to use when receiving guests. The set includes 4 glasses, matching straws, a shot glass, and a recipe book to make tasty cocktails. Everything comes inside a nice gift box.
If your dad likes tap beer, he will love this Mini Kegerator so he can make his own tap beer right from home. You don't need anything else to make it work, just put your regular beer inside, and start pouring. It doesn't require CO2 cartridges, as it uses ultrasonic vibrations to make the beer foam.
Family game nights will never be the same once you start playing Exploding Kittens, a game the whole family can play (7 and up) and will love.
The game is "a highly strategic, kitty-powered version of Russian roulette. Basically, if you draw an exploding kitten, you lose and you are full of loser sad-sauce. If you don't explode, you win! Congratulations, you are full of greatness."
It's a lot of fun!
For a cool, budget-friendly gift, this 3D Skull Ice Mold is the perfect option. They are super cool looking, make a unique gift, and will cool your drinks. Because of their size, they take longer to melt than regular ice cubes and will turn any drink into something fun.
Your dad might already have several blankets, and he might not want another one, but once he sees this stunning Burrito Blanket, he will definitely change his mind!
This is a hilarious gift to get someone who likes to collect unique and weird things. The blanket is soft and comfy and will fulfill your dream of turning yourself into a giant human burrito, just wrap yourself in it and you're set!
For a budget-friendly gift or a stocking stuffer, these beautiful Black Foil Poker Playing Cards will make a nice gift for dads who like to play cards. The design is unique and the deck looks luxurious. The material used is eco-friendly and durable, the cards are even waterproof!
If your dad likes to do jigsaw puzzles and if you are looking for a sentimental gift, this might be the perfect gift. More than just a regular jigsaw puzzle, it is personalized to represent your dad's hometown.
It's a challenging puzzle but it will bring back many memory and should be accessible to someone who knows the area well. It comes with a print in case you need some help.
Consumable gifts are great for people who have everything or say they don't want anything, If your dad likes cooking and enjoys spicy food, this Hot Sauce Kit will make a perfect gift.
You can make seven different types of hot sauce with this kit, and it comes with 5th generation heirloom peppers. All the ingredients needed are included and you can easily adapt the recipes to fit your taste and adapt the level of spiciness.
Candles are usually classic gifts for women, but have you ever thought of getting one for your father? Did you even know they made man candles? So of course, as you might know, there are no manliest scents as bacon and bourbon, combine this in a candle and you'll get the funniest gift ever.
Does it actually smell good? That's beside the point, what's important is how manly this candle is. If you want to get a good laugh out of your father, this is the gift, after all, he did say he wanted nothing.
A super cool gift for Father's Day, Christmas, or his birthday, this Spartan Knife Set is a unique piece that will please the chef in your life. More than just a regular knife stand, this one features a unique design that is fun and that will bring a special touch to a kitchen.
It now includes the knife as well (so don't mind the older reviews that say knife aren't included).
For the dad who likes tech gadgets and who is a bit of a cleaning-freak or germophobe, this Smartphone Sanitizer will make a cool and useful gift. Using UV technology, it kills all bacterias on your phone while charging it wirelessly.
Phones have been found to be dirtier than toilet seats in most cases, this little gadget takes care of this problem and helps you keep your phone hygienic.
Men are also allowed to indulge in some self-care and me-time, whether it's his birthday, Christmas, or Father's Day, The Man Can All Natural Bath and Body Gift Set will make a nice gift for men who like taking care of their skin.
The set is designed for men with subtle yet masculine scents. It includes a bar of soap, a shaving gel, bay rum oil, hand butter, and a body mitt, all packed in a paint can-like box.
The products are made using natural ingredients and are handmade in the USA.
A cool gift for his office or his bedroom (if he doesn't mind the sound), this Retro Flip Down Clock is a unique piece your father probably won't already have. It's stylish and elegant and will look good with most home decor or in any office.
It stays a classic gift but with a special touch that makes it unique, decorative but also useful. There are not many clocks designed this way that's why it makes such a great gift for Father's Day, Christmas, or his birthday.
For the picky dad, a personalized gift might just make the perfect gift. This custom portrait is just adorable. Choose skin tones, hair, and clothing color to depict your family and add your family name and/or date to the print.
It comes framed and with everything you need to hang it.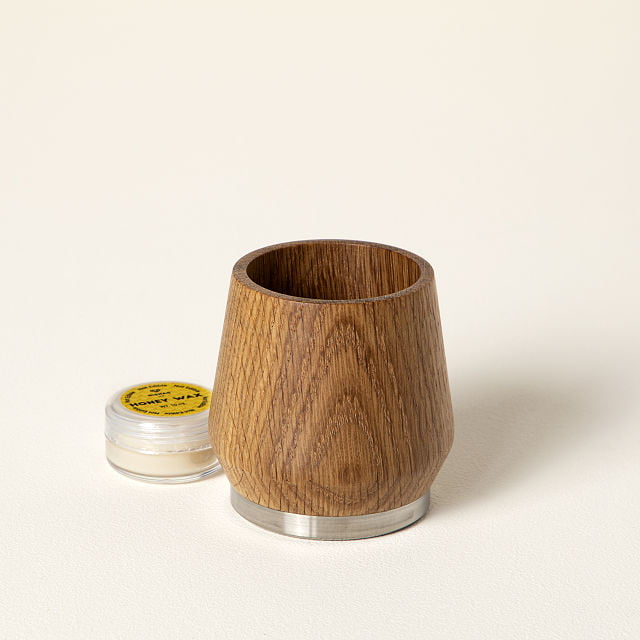 For the dad who likes drinking whiskey, this tumbler will provide him with a totally different tasting experience. Make of carefully aged oak, its widened base lets aromas expand, and the honey wax-lined interior helps bring out the flavor,
For a baseball fan, get him these beautiful glasses of his favorite team!
Like it? Save it for later – Best gifts for dad who has everything and wants nothing: