Father's Day is coming soon and you want to celebrate the occasion with a special gift? If he has recently become a dad and it's his first Father's Day, you might want to get him a gift from his infant daughter or son.
In this gift guide, discover some of the best Father's Day gifts from infants to celebrate his first Father's Day as a new dad.
From sentimental to funny Father's Day gift ideas, you will find the perfect present for the new dad in your life that can be gifted by Baby.
Related – Fun and Thoughtful Thing to Do for his First Father's Day
Disclaimer: This post contains affiliate links, which means that if you click on any links and make a purchase, we'll get a small commission, at no cost to you.
Our top picks from this list – Father's Day Gifts From Infants:
Sentimental Father's Day Gifts From Infants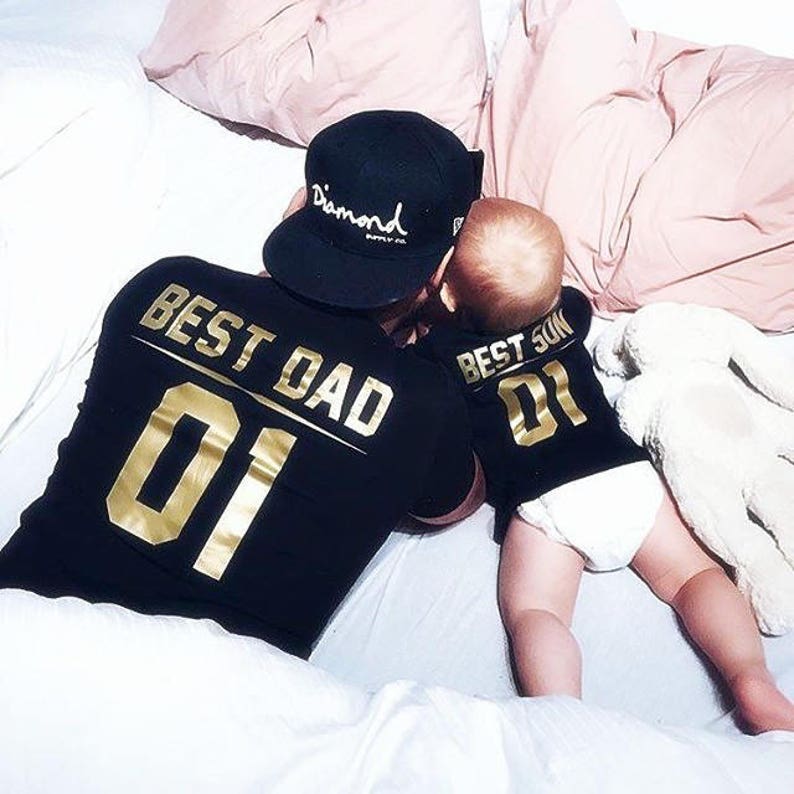 Matching shirts always make great gifts – it's perfect for a Daddy/Baby photoshoot to have a keepsake of his first Father's Day with Baby. You will find plenty of cute options on Etsy or Amazon.
If the father in your life is into sports he will love these matching jerseys, you can pick the number if he has a favorite one. They come in black or white with golden text.
Personalized keychains make nice Father's Day gifts – it's small, useful, and sentimental. They are perfect keepsakes of important events in your life as a family.
With this keychain, you can add Baby's photo on one side and his or her name on the other side with a touching message. Make sure there is enough space at the top of the picture for the hole.
On Father's Day, tell Dad how awesome he is! This personalized book will make a heartwarming gift for a new dad. In this book, Baby tells Dad what a great dad he is. Little ones will love the bright colors and illustrations and Dad will be touched by the gesture.
You can customize the first page with a cute message for him and the seller will adapt the texts depending on how many children you have.
A fun Father's Day gift for new dads who need some help with organization, he'll feel like a Super Dad with this special Dad toolbelt. When the time comes to change a diaper, feed baby, or soothe him or her, he'll be ready!
The tool belt comes with 27 must-have items such as wipes, a pacifier, or safety goggles. You are sure he will have a good laugh when opening his gift.
This custom mug is sure to be a hit with Dad. It's adorable and it will allow him to have a cute keepsake of when Baby was still, well, a baby. You can customize it so the characters will look exactly like Baby and Dad (hair, skin, and clothes).
You can choose between two sizes and the mugs are dishwasher and microwave safe. The design is permanently printed so it won't peel or fade with time.
To make it extra special you can add his favorite coffee or treats inside.
If you like writing and you want something to melt his heart, this fill-in-the-blank journal might be the perfect gift for a new dad. Baby might be too young to fill it but you can write for him or her, telling Dad about all the way he's doing a good job.
There are about fifty pages to fill with prompts to help you out – you can make it as funny or as sentimental as you want and you can also rewrite some of the prompts if it doesn't fit.
Handprint and footprint crafts make awesome keepsake gifts from infants – it's a nice way to remember for years to come how little they once were. This photo frame kit makes it easy to make and to showcase in your house. Daddy will love it.
The kit comes with everything you will need and instructions. It also comes with stencils so you can add the date or any text you'd like.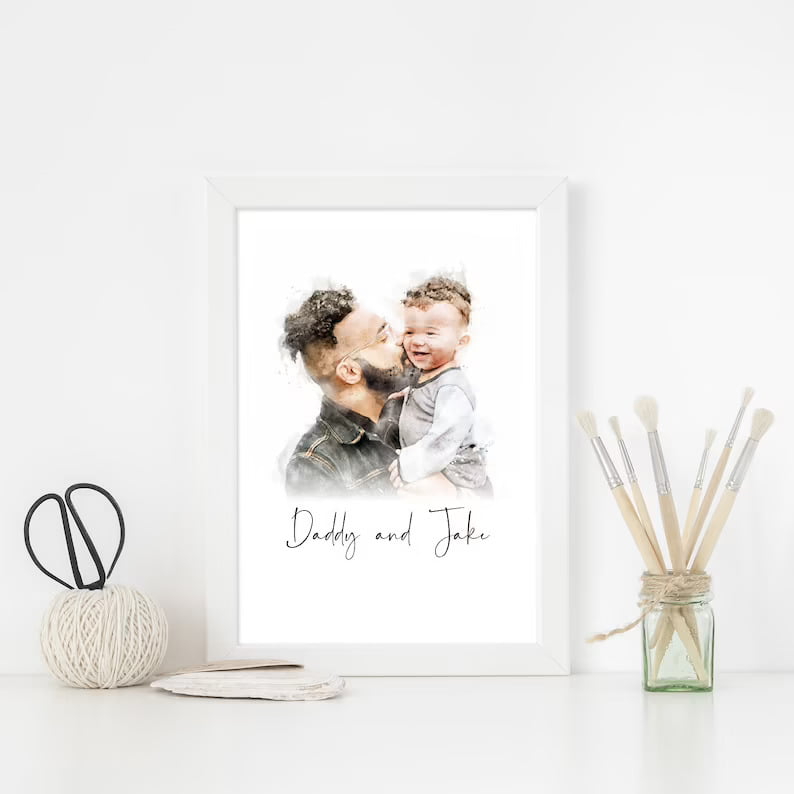 Probably the most beautiful Father's day gift idea on this list, this custom watercolor portrait of Dad and Baby is the perfect thing to add to his home decor. Better than a picture, this portrait is quite unique and a true piece of art – and it's also more affordable than you'd think.
You just need to send the artist a photo and the text you'd like to have written underneath, and they will turn it into a digital painting. You can choose to receive the print or the digital file.
If Dad likes to drink beer, get him this thoughtful custom mug for Father's Day. The perfect gift from an infant, it features Baby's footprints, their name, date of birth, and weight and size at birth.
It will make a nice keepsake that can be used for years to come – and will give dad something to reminisce about as he sips on his beer.
Nothing better than custom clothing to celebrate an occasion such as his first Father's Day with Baby. Dress Baby up in this cute onesie and you are sure that Dad will just love it. It's also perfect for a family photoshoot.
You can customize the onesie with their names and the year.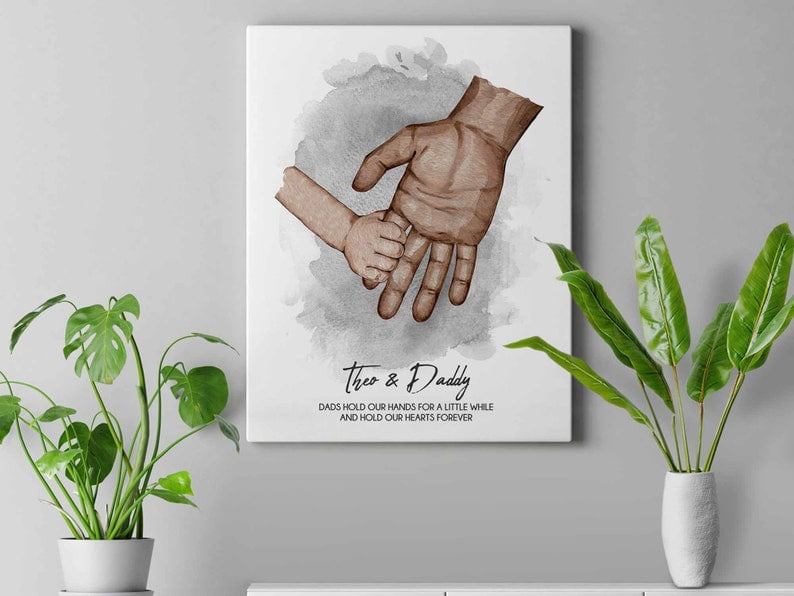 Another painting option, this custom watercolor wall art will complement a new dad's interior while adding a sentimental touch to it. The print is beautifully made, featuring Baby's and Daddy's hands with custom text at the bottom.
You can choose from a bunch of different sizes and papers – and order it with or without the frame. You can also choose between color or black and white.
A cute photo frame to remember his first Father's Day and showcase family pictures, it will make a perfect Father's Day gift from an infant – just select a couple of pictures with Baby and Dad in them.
The seller will add your pictures directly into the frame so it arrives ready to gift. You can change the text if you want to, choose the size and the color, and also change the wording for Dad (Daddy, Dada, Papa…)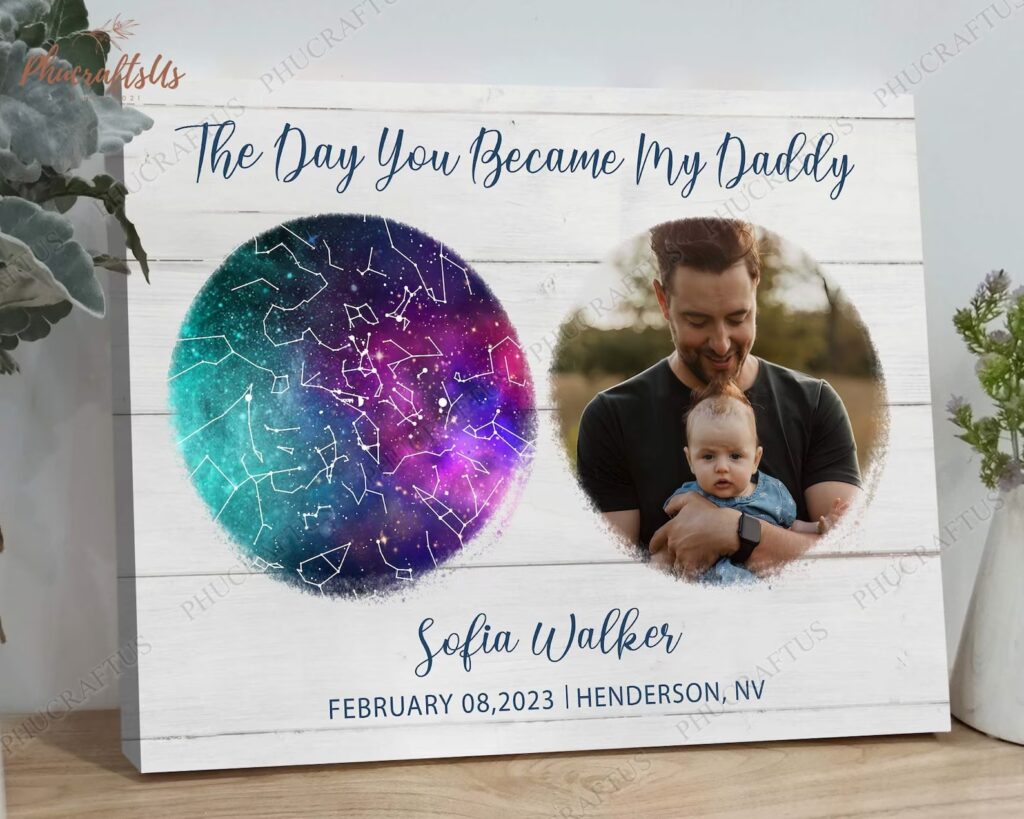 For the Dad who likes looking at the stars and is the sentimental type, this custom star map will make a thoughtful Father's Day gift idea. The map will be customized with the date and location you give the seller, so the print will depict the sky as it was when and where Baby was born.
You can customize the color scheme as well, pick the font, and change the text if needed. You can choose between canvas and poster, and framed or unframed.
Funny Father's Day Gifts From Baby
The perfect gift for a dad of a newborn, these beer labels are just hilarious – you're sure to get a good laugh out of him with this gift.
They are designed as if Baby was gifting these to make up for the sleepless nights and hardships of being a new father. You can also get the carrier for an extra effect.
(beers are not included)
Another funny option to decide whose turn it is to feed or change baby, this decision coin will make a perfect budget-friendly gift for dads.
A celebration of fatherhood, Dad will be moved by this book about the close bond between parents and child and all the joys, fears, and responsibilities that go along with being a dad over the years. The watercolor illustrations are beautiful and the text is touching and inspiring.
He'll be able to read it with Baby as they get older for some father/daughter or father/son bonding time.
Fun and useful at the same time, the Fridaballs Boxer briefs are a must-have for any new father. It will protect his lineage from Baby's kicks when he or she is in the carrier. It's the perfect gag gift for Father's Day.
The cup is made of foam and is comfortable to wear, it can also be removed. This is a size small.
For the dad who's into sports, this will make a great read. The book features photographs and quotes from coaches that apply to fatherhood to motivate dads to strive for the best.
The author has a master's degree in education with an emphasis on early childhood development – in this book he curated some inspirational messages from the greatest sports coaches of all time and applied them to being a father.
So he can proudly showcase Baby everywhere he goes, these face socks are soon going to become his favorite pair of socks!
Just pick a color, a size, and upload Baby's picture, and you'll get these amazing-looking socks with Baby's face printed on them! It definitely is a hilarious gift that will have any new dad laughing!
For when he gets overwhelmed, add all his favorite things to this custom box for dads. It's fun and thoughtful at the same time, and you can add pretty much anything to it such as snacks, booze, other little gifts…
The box comes in 2 sizes and can also be used as a keepsake box, keeping important things related to Baby. You can customize the text from the last line.
Check out some of our other gift guides for men or our Father's Day gift guides:
Like it? Pin it for later – Father's Day Gifts For New Dads: