Looking for a cool Pokémon gift for a fan? Whether they are into Pokémon cards, the video games, Pokémon GO, or the show, we have carefully curated the best Pokémon gifts for kids, teens, and adults.
In this gift guide for Pokémon fans, you'll find something for every type of fan – perfect for Christmas, a birthday, an anniversary, or any special event. Discover awesome, cool, and unique Pokémon gifts for your loved ones.
Disclaimer: This post contains affiliate links, which means that if you click on any links and make a purchase, we'll get a small commission, at no cost to you.
Our top pick from this list:
Cool Pokemon Gift Ideas for kids
Made of cotton, the towel is soft and comfy. It is 24″ x 50″ so perfect for little kids (3 to 7 year-olds).
It comes with a nice gift box that can easily be repurposed to put some trinkets inside.
Kids usually like to build things – add to that a famous pokemon, and you've got the perfect Pokemon gift for children.
It comes with throughout instructions. It's a bit more complicated than Legos, but a kid who is used to building things should be able to manage this on their own. Recommended age range is from 7 and up.
You can check out the seller's store for more Pokemon building sets.
In addition, it's a practical gift. This lunch bag is insulated to keep their food fresh and features a top compartement for added space. It also has a padded top handle to carry it around easily.
The bath bombs smell nice, each one has a different scent. They are made using natural ingredients, safe for kids to use.
You might not get the same Pokémon figurines as the ones pictured in the listing, they have hundreds of different Pokémons and add them randomly to the boxes.
The box includes 4 markers, 5 crayons, a soft pencil pouch case, a No. 2 pencil, a pencil sharpener, an eraser, a 10-page sketchpad, and 2 sticker sheets – with over a hundred stickers.
It can also be gifted to an adult who collects Pokémon stuff (or likes plushes).
You'll find plushes for every type of Pokémons out there, if you know what their favorite Pokémon is then you should get them the plush for this Pokémon, otherwise, going with Pikachu is a safe bet.
Bedding sets always make good gifts for kids. They're useful and children will love decorating their room with their favorite characters.
The two sides of the comforter are different so they can choose which side they like best or alternate between the 2 graphics.
The set includes 1 fitted sheet, 1 flat sheet, 1 standard pillowcase, 1 pillow sham, and 1 comforter that fit a twin bed.
The set includes 11 decals, 4 big ones, and then smaller ones, so you can arrange them as you want or add them to different rooms around the house.
They are easy to set up, just peel and stick them to the wall. You can also easily remove them and place them somewhere else.
It's a super cool gift, the playset folds and can be carried like a backpack. It features different locations as well as hidden places. It only includes one figurine (Pikachu) – it's meant to be played with 2″ battle ones.
This is an officially licensed Pokémon product.
Between the moves and the sounds, there are over 50 interactions inside this little toy, it can dance and has a charge attack mode – a lot of fun for Pokémon fans!
Younger kids will love playing with it. There's a touch sensor and a voice-activated function.
The bright yellow and the hoodie are everything – young Pokémon fans will love it. On the back, you'll find the graphic for Pikachu's tail.
All the bags are great for school or as a daypack. They are sturdy and comfortable to carry for children as well as for teens.
Check out the seller's store, they have a lot of different types of designs and characters.
It will make a useful gift that the Pokémon fan in your life will love.
This Pokemon Walkie Talkies are static-free and have an extended range that is ideal for both indoor and outdoor games. It will make a cool Pokémon gift for kids.
It definitely is a cool Pokemon gift for kids. They'll enjoy playing with it, and will feel transported into the animation.
Just add a coin, push the button, and Pikachu will come out of the box to grab it while making some cute sounds.
For kids who are into crafts, this Pokemon Felties Set will make a cool and thoughtful gift.
Keep in mind, that it doesn't include tools and felt (just enough felt for Pikachu), someone who's into craft will probably already have the tools needed but might need to get felt.
Kids who like to cook will love this recipe book, it's fun and original. It includes 35 recipes from appetizers to desserts to accommodate all tastes.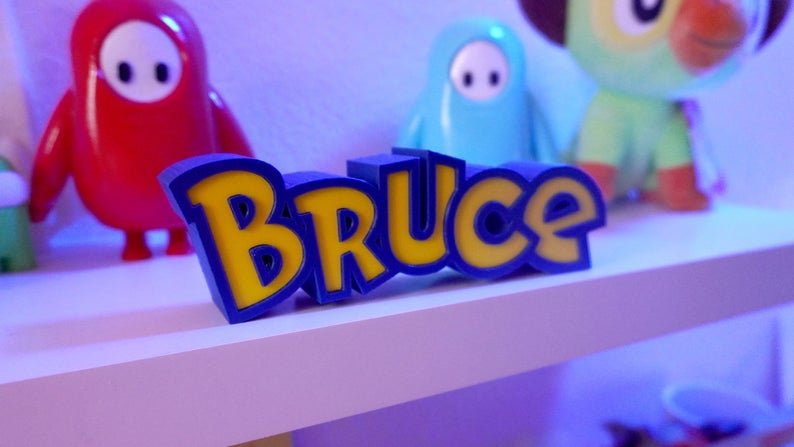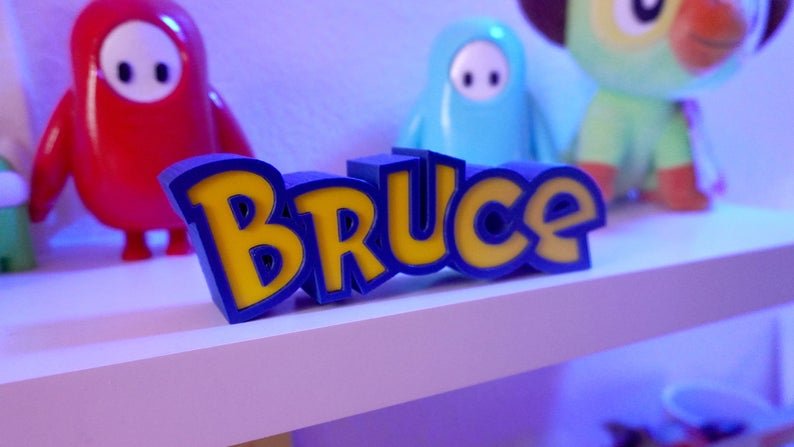 Perfect to decorate their bedroom with a special Pokémon touch, this Custom Nameplate features the Pokémon official font and will look awesome in any Pokémon fan's room.
It will also make a great gift for gamers, you can have their gamer tag printed and have it mirrored so it will look the right way on camera if they live stream when playing.
Best Pokémon Gift Ideas for adults
Have you ever seen something as cute as this? We're pretty sure even non-Pokémon fans would love this. It's the perfect gift for homebodies who like to be comfy and warm when hanging out at home.
This Eevee Wearable Blanket is the perfect thing to wear on cold nights when watching a Pokémon episode or playing the video game.
It's pretty big, you'll have plenty of space around it, it's also just the right length to be practical. The fabric is extra soft to the touch.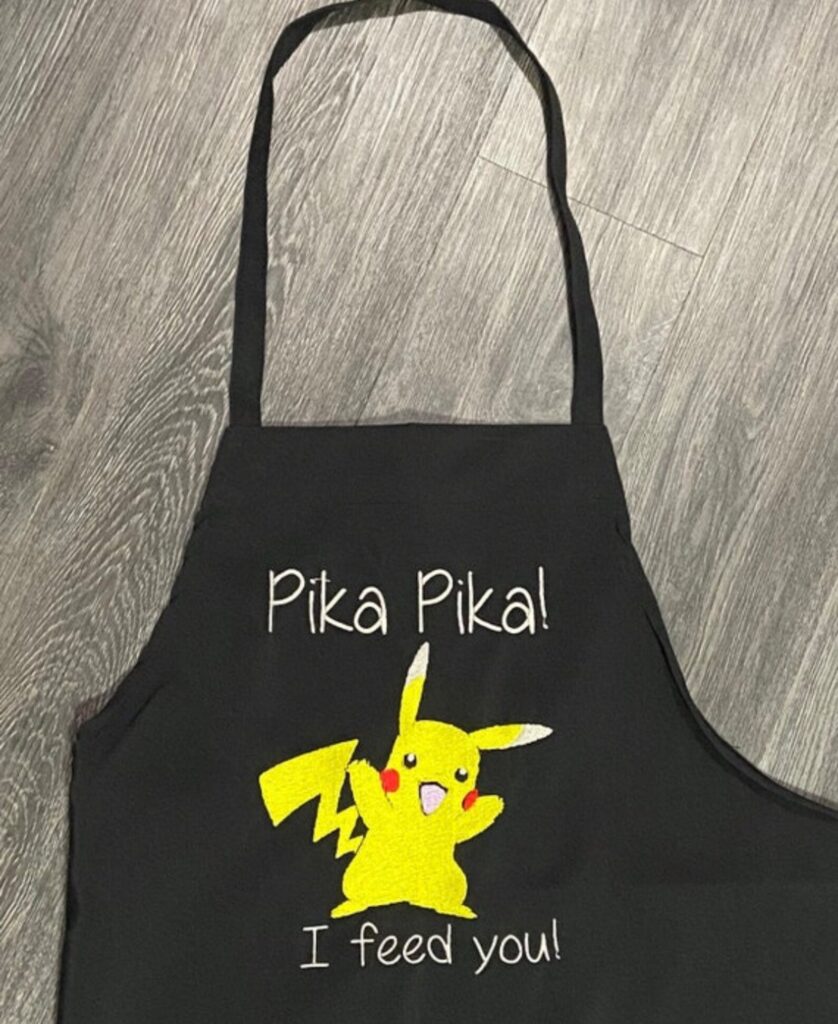 Make cooking fun with the Pikachu Kitchen Apron – a perfect gift for the Pokémon fan that likes to cook. With Pikachu and some cute text, it's cute and useful.
It's made of quality linen and the design is embroidered. It's a heavy-duty apron that can also be used to paint or for any manual labor.
You can customize it if you want, adding their name or a personalized quote, and pick a different color or pokemon.
This shower curtain is sturdy and durable, it's also mildew proof.
It will make a nice addition to a Pokémon fan's bathroom. It's cute and well designed with a simple yet adorable graphic.
Just fill the mug with hot water, and flames will start appearing around Charmander.
More than just a mug, the special heat changing feature makes it a unique thing to have.
With ears, a tail, and Pikachu detailing, your friend or relative will look amazing.
Apart from looking great, this onesie is soft and comfortable to wear and is the perfect thing to wear to re-watch Pokemon episodes or to wear to a costume party.
You can easily find onesies for other Pokémons as well if they like another one better.
It connects wirelessly via BlueTooth and features an ergonomic design with standard button layout, motion controls, and mappable advanced gaming buttons.
You can easily attach it with your keys or to a bag. It will fit a 1-ounce travel-size bottle.
The pack includes 5 pairs, each with a different Pokémon-themed design.
These crew-length socks are made of a cotton blend, which is breathable, soft, and stretchy.
Made of silicone, they are easy to use and show great detailing. You can make a bunch of different cakes with it, even soaps, resin, or chocolate.
The cakes will look adorable.
T-shirts always make great gifts, especially the themed ones. Pikachu lovers will love wearing this adorable Pikachu Shirt. The color is perfect, yellow, but not too bright, easy to match with other colors and blend with any style.
The seller also makes crewneck sweatshirts in the same style, the yellow is just a bit darker. The quality is exceptional and you'll find sizes for both men and women.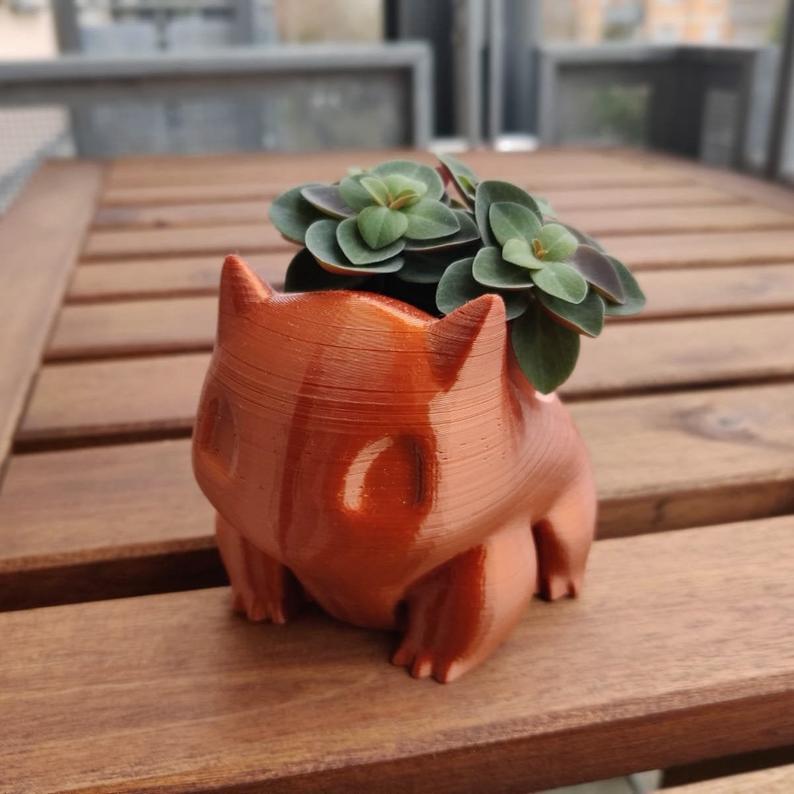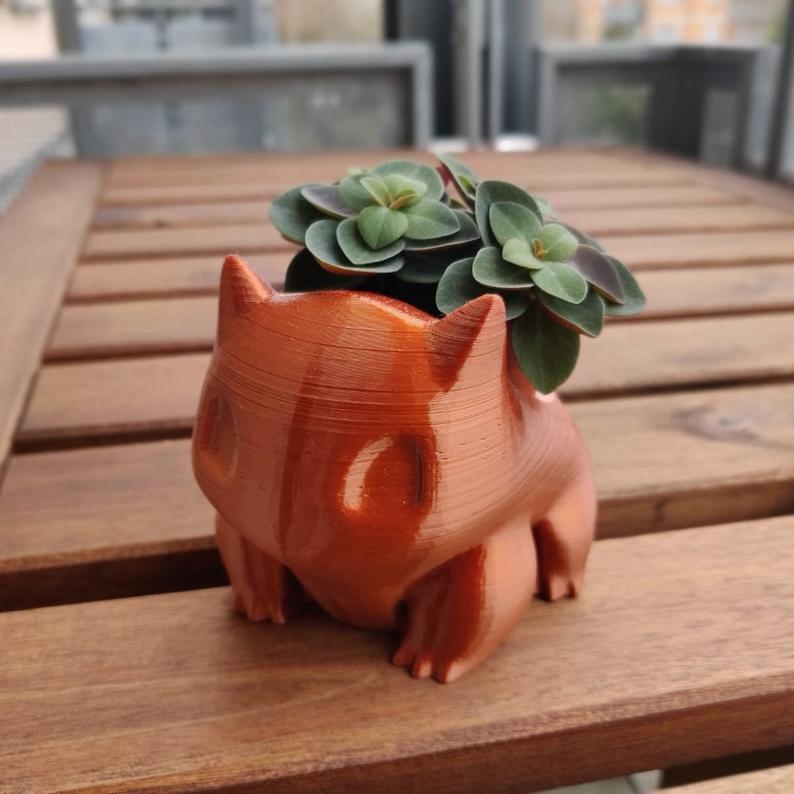 A cute little decorative planter for someone who likes having plants around, this Pokémon Bulbasaur Planter will make an adorable gift.
Well crafted, it comes in three sizes and four colors, all pretty neutral so it should blend well with any color scheme.
It is made of plastic and is 3D printed, but it's pretty sturdy and durable. It doesn't come with the succulent.
Cool Pokémon Gifts for Fans of All Ages
Featuring a bunch of different characters, the blanket is colorful and can also be used to bring a special touch to your friend or relative's interior design, thrown over the bed or couch.
With 500 pieces, it's challenging yet not too hard. Older children, teens, and adults will have fun completing this colorful puzzle.
It comes with a poster to help you finish the puzzle. It is manufactured in the US and comes with a missing piece guarantee. It's also an officially licensed Pokémon merch.
It's a collector official licensed Pokémon merch, it's meant to be put on display (not to be played with).
Made of metal, it is equipped with proximity-sensing technology, the Pokeball's button glows when it senses motion; pressing the button changes the light color or starts a Pokémon-catching illumination sequence.
A great present for the Pokemon trainer in your life.
It will help them automatically catch Pokemons  and collects Pokeballs, potions, and stardust.
It can connect to two devices at the same time.
The perfect present for the Pokemon trainer in your life.
Key chains always make nice budget-friendly gifts especially themed ones based on the recipient's hobbies as they'll be reminded of you every time they use their keys.
Buy and sell Pokémons instead of properties and build Poké Marts and Pokémon Centers instead of houses and hotels in this Pokémon version of the popular board game.
The whole family can play, it will make the perfect addition to game nights.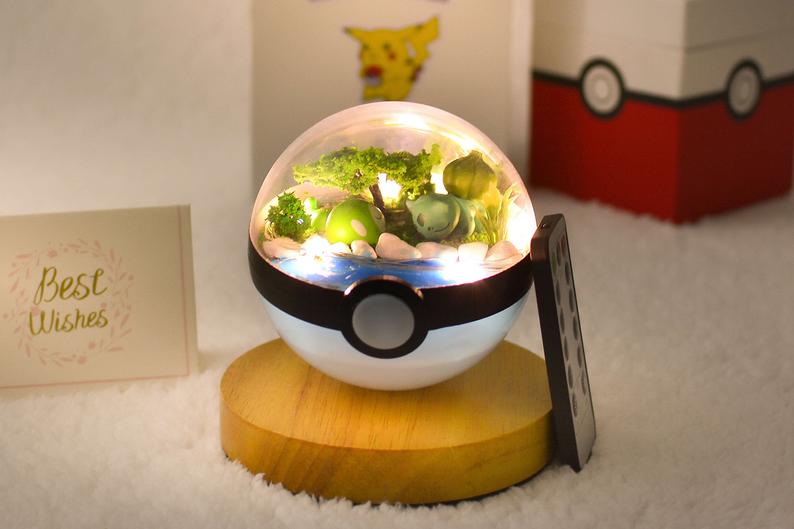 Definitely, a unique Pokémon gift, this Sleepy Bulbasaur Terrarium is original and you're sure the Pokémon fan in your life won't already have something similar.
A one-of-a-kind item, once lit up it will create a magical atmosphere.
It comes wrapped in a pokeball box and includes a Pikachu gift bag and a card – perfect for a Pokemon trainer!
Pick an element and add their name and you'll get an awesome customized mug, perfect to gift the Pokémon lover in your life.
You can choose from four different graphics and four different types of mugs.
Pokémon Gifts for Boyfriends
Related – The cutest Valentine's day gifts for your boyfriend
You can choose from three different messages and three different types of gift boxes.
It will make an awesome Pokémon gift for your boyfriend if you are looking for something sentimental.
An awesome Pokémon gift for your boyfriend, this Custom Pokémon Portrait is a one-of-a-kind gift.
Choose the background and Pokémon and send the seller a picture of you and your boyfriend and they will create a unique portrait.
They will send you a digital version and you'll need to have it printed online or at your local printer – so plan ahead.
A romantic gift for couples, this Keychain is adorable and full of meaning. Each one gets half of a pokeball and you can choose what's engraved on the plaque.
Your boyfriend will be reminded of you each time he uses his keys.
Made from steel, this gold-plated custom Pokémon card will make an adorable Pokémon gift for your boyfriend. Featuring a Pikachu holding a heart and cute messages, your boyfriend will love adding this card to his collection.
Related articles:
Save this post for later and share it on social media: