If you are looking for gifts for puggle lovers, you have come to the right place. In this gift guide, you will find great gift ideas for the puggle parent in your life. Discover a selection of puggle-themed items they will love to receive on Christmas, their birthday, or any special event.
Whether you are looking for a puggle-themed gift for a friend, a relative, or a co-worker, you'll find something the puggle owner in your life will love! From small, budget-friendly gifts to awe-inspiring ones, discover the best gifts for dog lovers.
They'll love you thought of them and picked something related to their favorite dog! Getting a puggle-inspired gift for puggle parents is a cool idea and you are sure to put a smile on their face.
Keep on reading to discover the best gifts for puggle parents.
Disclaimer: This post contains affiliate links, which means that if you click on any links and make a purchase, we'll get a small commission, at no cost to you.
Our top pick from this list:
Best gifts for puggle lovers:
Specialized in gifts for pet lovers, PetArtus is based in Texas and creates unique art pieces and novelty gifts for pet owners.
For the puggle lover in your life, this Custom Art Print will make a thoughtful gift. Listing all the qualities of a puggle, the words are shaped like a puggle. Underneath it, you can customize the print by adding the name of your friend's puggle.
Black and white, the print will blend well with any home decor. It comes unframed and you can choose between a glossy print that you frame yourself or a matted print that comes with a mount.
Finding gifts for dog lovers can be an arduous task, but if you want to make a statement, this cute Puggle Throw Pillow is a gift puggle owners will love. They will relate to the funny quote "It's not dog hair, it's puggle glitter".
It comes in two sizes and is printed on both sides. Black and white, it will go well with most color schemes and will make a nice addition to a couch or for their puggle to sleep on.
For the puggle mom in your life, this t-shirt might be the perfect puggle-themed gift! It will make a perfect stocking stuffer or budget-friendly gift.
It comes in a bunch of colors and six sizes, from S to 3XL. For a wider fit, you can pick the men's fit.
A cute decorative gift, this Stand Up Wood Sign will add a special touch to their interior, a nice reminder of their love for their puggle.
Made of wood, it's sturdy and can be hanged on the wall or put on display on a shelf or desk.
Designed and made in the USA, it will make a thoughtful gift for puggle lovers.
These cute novelty socks will be a welcome gift for puggle owners. They are adorable and fun, and they will think of you every time they wear them.
Soft and comfortable, they feel great to wear. They are made in the USA and the print looks great. Any puggle lovers will love these socks!
An awesome gift for the family who owns a puggle, this custom doormat will surely be a hit! Personalize it with their name and date from when they moved in or got married to make it extra special.
Personalized gifts are always a great idea and are usually well appreciated. And this one is a gift the whole family will benefit from.
This mat features a slip resident back, with a coir front, the technique used for the print makes it resistant and it won't peel.
This dish towel looks so good your friend or relative will probably want to put it on display rather than use it for drying dishes or their hands.
It's the perfect gift for the puggle mom (or dad!) in your life who loves to spend time in the kitchen. Made of cotton, this is a quality product made in the USA by local artist Mary Badenhop.
Beautiful, this print fits perfectly with the puggle theme. It's also adorable and funny, you are sure to please the dog lover in your life with this gift.
Inspired by vintage prints and featuring a puggle in his bath, this wall decor will look great in any room.
You can choose the background color (blue, teal, red, or beige) to fit your friend or relative's home interior decor. The print can come with the frame if you want, or without it. It also comes in a bunch of different sizes. It's printed on matte paper or on canvas.
Coloring books are no longer just for kids, more and more adults are getting into the trend, it helps you relax and unwind while improving focus and creativity.
A great pastime the dog lover in your life will love, this Pawsome Coloring Book includes 41 puggle drawings featured on a single-sided page to avoid bleed-through and to allow you to display it once finished.
The perfect stocking stuffer or small gift for puggle lover, this beautiful magnet will guarantee no one mistake a clean dishwasher with a dirty one ever again.
It's practical and cute, this magnet will make a nice addition to a puggle owner's kitchen. Hand-painted, it features two parts one muddy with a dirty puggle and one with soap bubbles and a clean puggle. It's the perfect thing to keep track of the dishes!
The puggle mom in your life will definitely love this Puggle Charm Necklace. It's just adorable and nice looking. It's discreet enough to be worn every day and on any occasion.
The necklace is made in the US and part of the profits are donated to animal rescue charities.
Made of stainless steel, it won't fade or stain your skin. It includes the chain and two charms: a paw and a medal with an engraved puggle.
The perfect budget-friendly gift for a puggle lover who also likes to read, these colorful bookmarks are sure to be appreciated.
Featuring five different bookmarks, with a puggle seating on top of a pile of books, the paper used is a brilliant white linen stock for a slight hint of texture. It's also printed with eco-friendly ink.
Mugs are such classic gifts, turn a simple gift into an amazing one by choosing a puggle-themed mug for the puggle lover in your life.
This personalized puggle mug is the perfect option as you can customize it with your friend's or relative's name. You can choose between two sizes and personalize it with names, hair, skin color, and clothing.
This mug is microwave and dishwasher safe.
For a mug for puggle moms, you can check out this one.
This vintage collage print, featuring a puggle on top of a hippo, will add a nice decorative touch to a puggle lover's interior.
You can choose between two types of prints, tea-stained or aged-off white. It also comes in different sizes. It doesn't come with the frame.
A unique gift, this repurposed wine bottle is flattened so it can be used as a tray, a spoon rest, or as wall art.
The bottle has been coated with an FDA-approved food-grade coating that makes it hand washable without damaging the label and also protects the label from wear and tear. Rubber feet are on the backside of the bottle so that it can be placed flat on your countertop without causing any damage to the bottle. A hook has also been melted into the neck of the bottle for hanging.
Coasters are always useful things to have around. Protecting your furniture from water, they will add a stylish touch to your drinks. These Puggle Marble Coasters are just adorable. Of course, they feature a puggle, and if you want, you can add your friend or relative's puggle name.
They are made with real marble and have a cork backing. They are cute and classy at the same time, the dog lover in your life will love them.
A funny mug for the puggle parent in your life, this will make a thoughtful gift for someone who likes to drink tea or coffee.
The mug features a puggle and the quote "The puggle is real". It is dishwasher and microwave safe. The seller also offers matching tea bags with a puggle face on the label (check out the product description for the link to it).
Canvas tote bags always come in handy to go shopping, bring to the beach, or for everyday use. This puggle bag is adorable and will make a perfect gift for puggle lovers.
The bag is sturdy and made with 100% cotton canvas. It comes in three designs: you can add several types of glasses to the dog or leave it as is. With neutral colors, it's easy to match it with any outfit or style.
For a cute stocking stuffer or a budget-friendly gift, these flower puggle stickers will please the puggle lover in your life. The stickers can be used anywhere to add a special touch to your computer, notebooks, your fridge, your car… wherever you can think of.
They are waterproof and can be used outdoor without them fading. You can send it as a gift, the seller will handwrite a card with your message on it if you want to.
Soft and comfy, this Puggle Throw Blanket will make a perfect gift for homebodies. Throw it on the couch to add to your interior decor or wrap it around you to keep warm.
Puggle parents will love this beautifully made blanket. It's colorful and well designed, and will remind them of their love for puggles.
You can choose between a fleece or a woven one, and it comes in two sizes.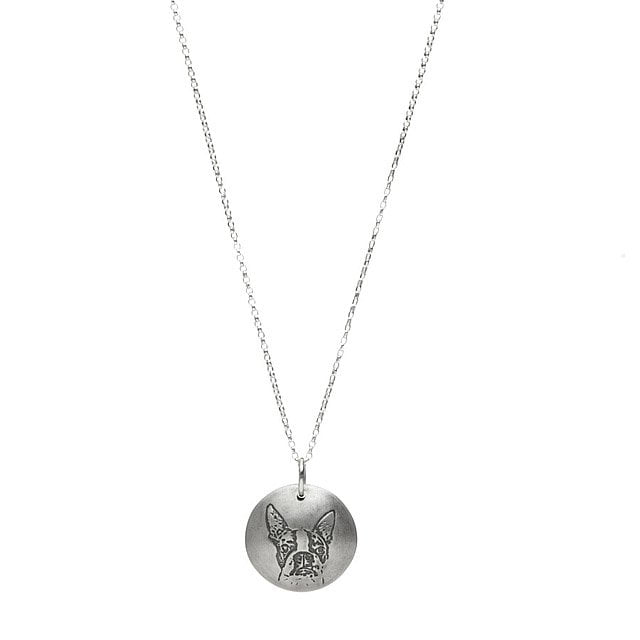 Send a picture of their beloved puggle to the seller and they will create a beautiful necklace featuring their dog. It's a beautiful gift for someone sentimental who wants a keepsake of their pet.
A fun gift for the owner of a mischievous puggle, these tumblers are fun and will teach dog owners what their dog is truly thinking.
Learn how to communicate with your dog with this fun card deck that will teach you everything about your dog's behavior and what it might mean.
Other gift guides that might interest you:
Save this post for later and share it on social media: