Your 7th-year wedding anniversary is coming up and you are looking for the best copper gifts for men? We have carefully selected a wide variety of copper gifts for your husband to celebrate this special event.
In this gift guide, you will find a wide variety of gifts made of copper, from sentimental items to useful ones, and everything in between. You will find something your husband will love and remind him of your special bond and love for each other.
No matter his tastes and what he's into, you're sure to find something for him here. You can also pair one of the less expensive copper gifts listed below, to follow tradition, and get him something he might need or want as well.
Disclaimer: This post contains affiliate links, which means that if you click on any links and make a purchase, we'll get a small commission, at no cost to you.
Our top pick from this list:
Best copper gifts for men:
A cute and sentimental gift to celebrate 7 years together, this Lucky Copper Penny will be a reminder of the years spent together.
It features a copper penny from the year of your wedding and a stainless steel coin. It will make a nice key ring and he will be reminded of you every time he uses his keys.
Each piece is unique, hand-stamped by a local artist in Georgia.
If your husband likes cocktails, he will love these Moscow Mule Copper Mugs. Beautifully handcrafted, they'll make a nice addition to your household's tableware. They'll also look perfect on display or to serve cocktails when you have guests over.
Copper mugs keep drinks colder for longer than regular glasses, they also help preserve the fizziness of sparkling drinks.
This set comes with four copper mugs, four straws, two shot glasses, and four wooden coasters. Everything comes inside a box, so it's ready to gift. Handcrafted with care, this set will make the perfect copper gift for men.
What better copper gift than a copper bar? This 1 pound Copper Bar will make a thoughtful gift for your husband on your seventh anniversary.
It can be used as a paperweight and will make a nice addition to an office decoration. It features the periodic table element for copper and some info about copper.
Probably the most romantic anniversary gift for men featured on this list, this First Dance Song Print will have you reminiscing about your wedding day.
Printed on cardstock with a thin copper sheet on top, it will feature lyrics from any song you choose, shaped like a heart, and you can add your names and a date.
It is carefully crafted and printed by a local artist in Texas, and truly is a unique gift.
It will look stunning anywhere you put it and will bring a special touch to your home decor.
The print comes unframed.
If your husband likes to wear jewelry, he will love to receive this copper bracelet for your anniversary. Made of 99.9% pure solid copper, it fits the 7th year theme perfectly.
It comes with extra links and a tool to remove or add them if the size is off. It also comes with a velvet gift box and a cleaning cloth.
This bracelet is durable and classy, and will blend well with most outfits.
For the man who likes to cook, gift him this beautifully designed kitchen utensil set. Made of stainless steel and copper coated with white handles, the utensils are both durable and good-looking.
It's also practical, the set includes a can opener, an ice cream scooper, a peeler, a pizza cutter, a garlic press, a cheese grater, and a whisk.
These kitchen accessories will make a welcome addition to your kitchen decor while being a useful gift for the chef in your life.
This Turkish-style copper pan will be a useful addition to your kitchen and a welcome copper anniversary gift for your husband on your 7th anniversary if he likes to cook.
It comes in five different sizes, all are durable and can be used on most types of stoves. The handles are sturdy and make use easier. It's perfect to cook a wide variety of dishes or serve Turkish-style eggs.
Made of pure copper, this set of two beautifully crafted hammered trays will make a good copper anniversary gift for men. It will look stunning on display, to store trinkets, or to serve food in.
They will blend well with most home decor and will add a classy touch to your interior.
Technically not copper, it still made this list because it's beautiful and copper-colored. This fruit bowl will add a nice touch to your interior. Classy, it will blend well with most interior decor styles.
With a double-walled mesh design, it will keep your fruit fresh and your kitchen organized.
A beautiful gift for your husband he can use in his office or your bedroom, this Table Top Lamp features an elegant and original design, combining two finishes, copper and blackened metal. It also combines a basic base with two intricate shades for a cool visual effect.
It will create a nice atmosphere when on, with the layered mesh drums allowing enough light through to give a subtle glow, illuminating but not overpowering your space.
Based in Soho, designer Jonathan and his talented team of professionals create affordable home decor with high-end designer styling.
Another designer piece for your home, the Copper Canyon Bowl features a blend of copper and verdigris, mixing textures and colors, to create a unique piece of art.
The designer, Lisa Smith, was inspired by the canyons of the southwest carved from water and wind.
The company designing these bowls has received many awards and has created a line using copper and verdigris. You can check out the entire collection here.
A perfect anniversary gift for men who enjoy spending time in the garden or who love birds, this anchoring basin is made of pure solid copper and will be a welcome addition to your garden decor.
It attaches at the lower end of a rain chain that channels rainwater from the rain gutter onto the ground. You can check out the seller's store to get the matching rain chain.
In Ayurveda, water stored in a copper bottle is believed to have many health benefits such as improving the immune system, weight loss, and enhancing heart and brain functions. It hasn't been backed by science.
However, as a copper gift for men, it will make a nice option. It's sturdy and practical, keeping your drink cold and helping your husband stay hydrated. It also looks cool, different from any other water bottle.
If you think these look good wait until you pour some red wine into them! This set of four wine glasses will make a nice copper gift for men who enjoy drinking wine. Made of glass with a copper-plated finish, they are classy and modern and will look great on display.
Sturdy and easy to wash, they are the perfect size and thickness.
If you are looking for a unique gift for your husband on your 7th anniversary, this Electronic Word Clock is original, a piece you won't see anywhere else.
With a copper finish, it looks good, is a great conversation starter, and will make a statement piece when added to your home or office decor.
Instead of showing numbers like a regular clock, it shows words that light up. A cool gift for someone who likes gadgets.
If your husband is a big fan of piña colada then, this is the anniversary gift for him. It's a fun gift he will love using! It looks adorable and is the perfect thing to have to sip on a cocktail. The top doubles as a base/holder as well. Definitely an awesome gift.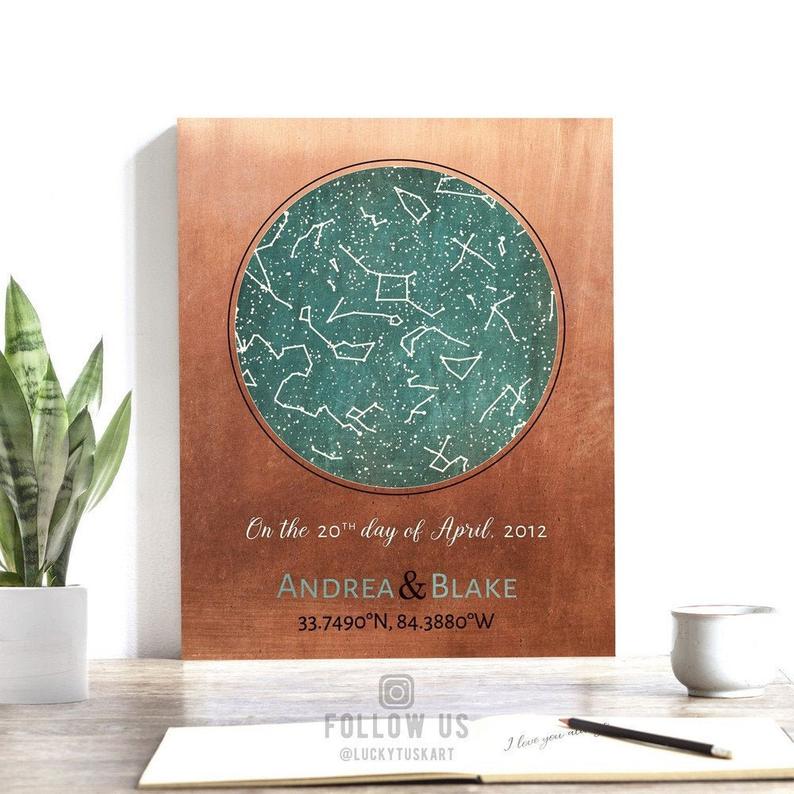 A beautifully crafted wall art made just for your 7th anniversary, you'll have a reminder of this special day for years to come. It's perfect if you are looking for a romantic gift.
It features a map of the stars' alignment from your wedding day as well as your names and a date. You also have the option to add coordinates.
The print is available in several sizes and can be printed on paper or metal.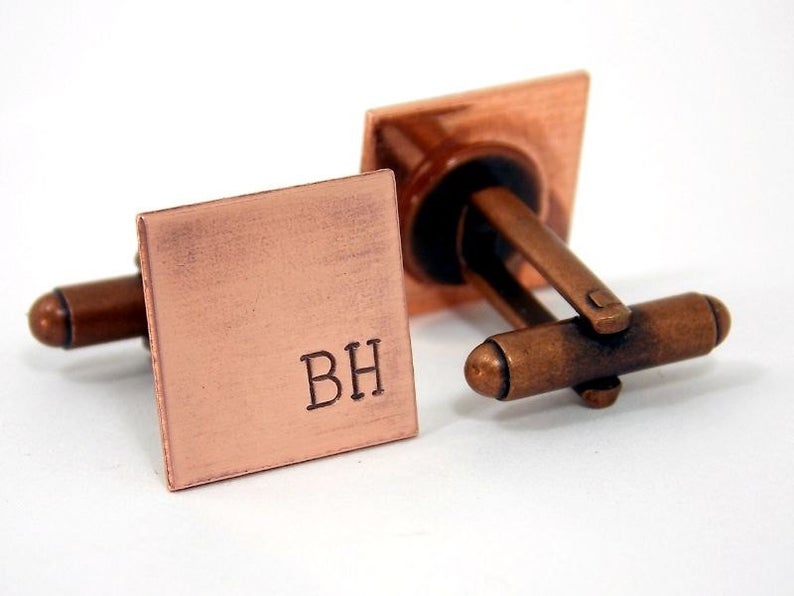 The ultimate copper gift for men, these copper cufflinks will be a hit if your husband likes formal wear or have to dress up for work, or maybe just as a souvenir, to wear on special occasions.
Engraved with his initials, he will be reminded of you and this special day every time he wears them. You can choose from different fonts and it comes wrapped in a nice gift box.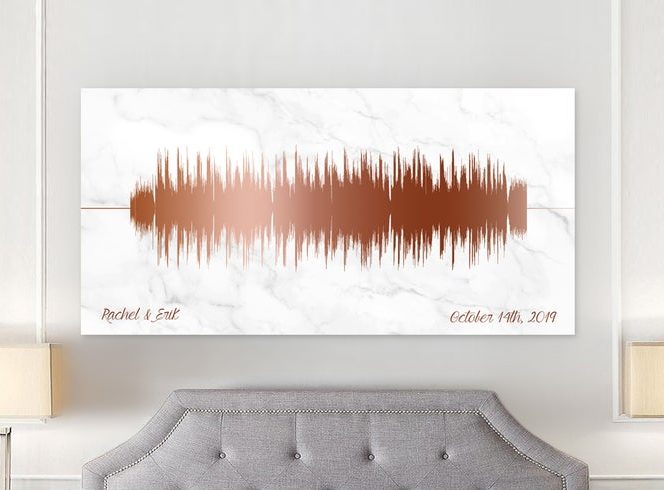 Send the artist any song, your voice, your wedding vows, or any words and they'll turn them into this beautiful soundwave wall art.
A meaningful gift, it will be a reminder of your love on this special day. It's a beautiful piece that you can customize. You can add your names and a date as well as choose the background.
It's not made of real copper, it's just the color.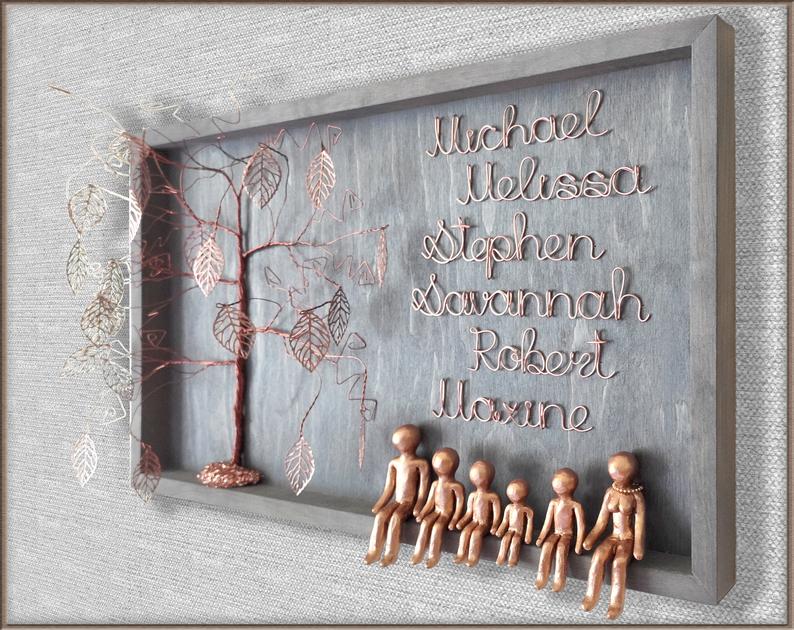 For the growing family, this sentimental Family Tree Wall Art will make a nice addition to their home decor. The tree, figurines, and names are made of copper, so perfect as a 7th-anniversary present.
It is beautiful and filled with meaning. You can order additional names and figurines later on as your family grows. Each piece is unique and handcrafted with care.
Photos always make great gifts when you are looking for something meaningful and sentimental. This copper frame is uniquely designed and will showcase your pictures in a beautiful way.
Made with solid copper, the frame is sturdy and will bring a special touch to your interior. You can choose between two heights depending on the photo you want to use.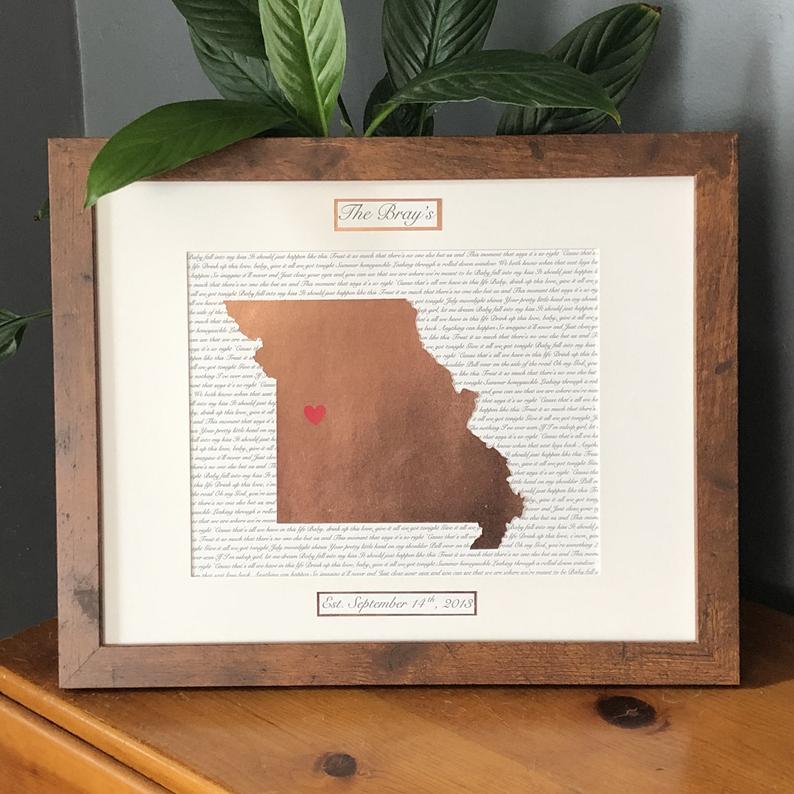 To celebrate 7 years of married life, choosing a gift that will remind you of your wedding day might be a perfect option.
This stunning and meaningful wall art is ideal to celebrate what you have achieved. Featuring the location you married at, your name, the date, and lyrics from your first dance or from a song that is special for both of you, there's no gift more romantic than this one.
It's made using copper-colored paper (so not real copper), it comes with the frame and you change the background color if you'd like.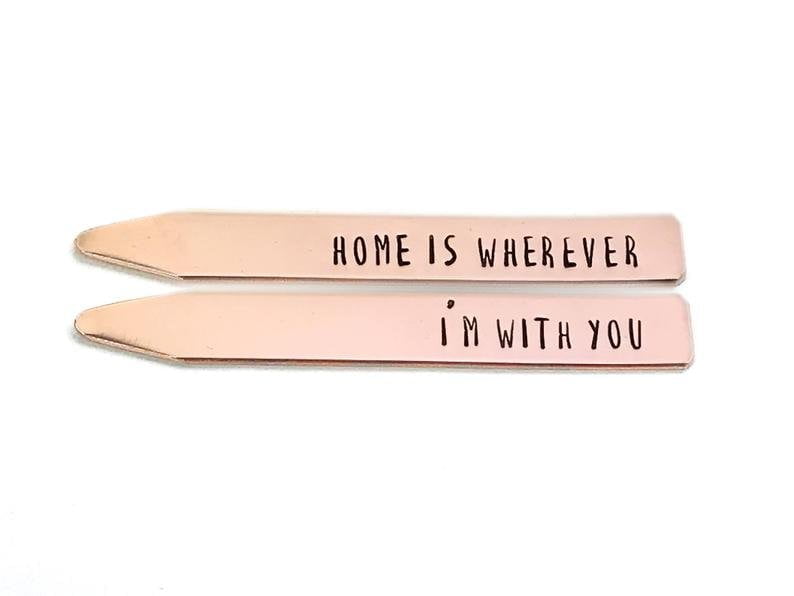 A useful and sentimental gift all in one, these copper collar stays will make the perfect small anniversary gift for men. You can customize them with any text you want – with a limit of 20 characters per stay – you can also choose the font used.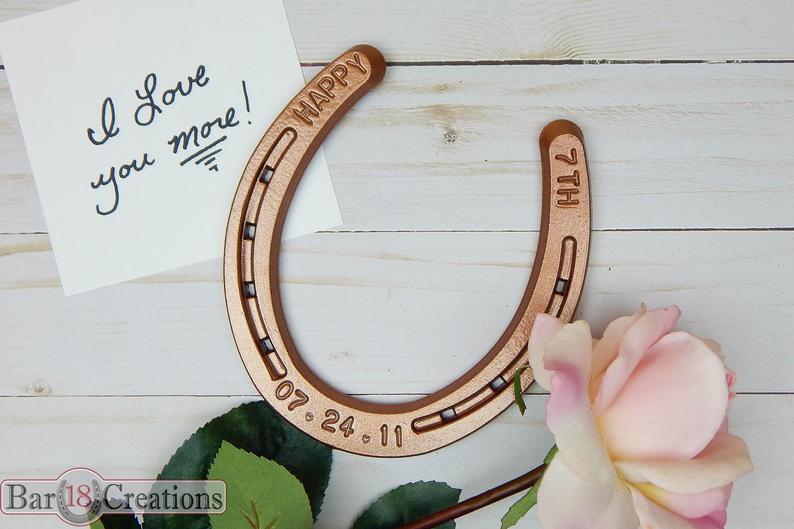 A real horseshoe with an added copper finish and customized as you wish, this might be a perfect copper gift for men.
Your husband will love it, a reminder of your love on this special day. It comes in a gift box and two nails if you want to mount it on the wall. It can also be used as a paperweight.
A cute, little memorandum of this special day, this Copper Guitar Pick is perfect if you are looking for a smaller anniversary gift to go with a nicer one – or simply something budget-friendly. It's romantic and meaningful, and will make a nice sentimental trinket.
A beautiful and classy anniversary gift that will blend well with any home decor, this Copper and Wood Docking Station will help your husband keeps his things tidy and organized.
You can choose the color of the wood and customize the copper plaque with any text you want (35 characters max).
If your husband likes to read, he will love this Custom Engraved Copper Bookmark. Handcrafted with care, it's a cute piece that is useful and sentimental at the same time.
Made with solid copper, it's thin yet sturdy. One side is smooth and the other, with the engraved text, is hammered. You can customize it with any text you want. It comes wrapped.
A keyring like no other, your husband will be reminded of you and of your love every time he uses his keys. Made with upcycled and reclaimed copper pipes, this keyring will include the coordinate of where you met, your wedding, or any important place in your relationship.
Things to consider before choosing a copper gift:
Copper will oxide and tarnish, it's normal, you'll need to clean it once in a while with salt and white vinegar.
Not all products are pure copper, some are online copper-plated, while others only have a copper-color finish. Make sure you check the product's description before choosing.
Save this post for later and share it on social media: