Looking for a gift for a bird lover but don't know where to start? Finding the perfect gift can be an arduous task especially if you don't know much about birds and birding in general.
Whether you're looking for birding gift ideas for a friend, family member, or colleague, be it for a birthday, Christmas, or a special occasion, we've got you covered.
Find out what someone passionate about birds might want or find useful. Keep on reading to discover all the must-have essentials for anyone serious about bird-watching to use during birding expeditions. Also, find inspiration with our selection of bird-themed gifts that will please any bird-lover.
We have found gifts for any type of bird lover, for the avid birders who like to go on expeditions to find hard-to-spot birds and might need some gear. For the bird owner who's just passionate about birds and would love a bird-themed gift.
Lastly, for the bird lover who enjoys seeing and feeding birds in their backyards who will love a bird-themed gift as well as more practical gifts to step up their backyard bird-watching abilities.
Popular gifts for bird lovers from this list:
Disclaimer: This post contains affiliate links, which means that if you click on any links and make a purchase, we'll get a small commission, at no cost to you.
Useful gifts for bird lovers – Bird-watching essentials:
1 – Binoculars
Binoculars are a must-have for anyone serious about bird watching in the wild. If you are looking for a gift for a bird lover, chances are, they already have binoculars, but do they have top-notch binoculars? Binoculars can cost as much as 2,000 USD, like the Swarovski EL 8.5×42, offering unrivaled clarity, brightness, and balance.
For something a bit more budget-friendly but without compromising on quality, check out the Celestron Nature DX 8×42 featuring incredible light-gathering capabilities, color accuracy, and sharpness with minimal blurring.
Night vision binoculars can also make a great gift for bird lovers. The Allrier Night Vision Binoculars are the best entry-level ones and are perfect to spot wildlife at night. It takes photos and videos too. You can also find more affordable low-light binoculars, they won't work in total darkness, but they'll do fine in low light environments, like the APEMAN 10X42 HD Binoculars.
2 – Field Guide
Birding is not all about spotting birds, it's also about learning to recognize them and improving your general knowledge of birds. Field guides are there to help identify birds and learn more about them. It's a great gift for bird lovers interested in knowing more about birds. Here's our top pick of field guides for North American birds:
3 – Field Journal – Bird watching log
Once ready to spot birds and identify them, the next step is keeping a field journal, listing the birds that have been seen as well as writing down observations and useful information worth recording. Here are a few cute and practical options:
4 – Birding Vest or Pack
Having appropriate clothing when going birding and bird watching is a must. A birding vest or a birding pack allows you to carry all the essential equipment and to easily reach them when needed.
5 – Skill-building books
If you're looking for a gift for a bird lover, either a beginner or an intermediate-level birder, skill-building books are a great option. There are a lot of things to know, not only about birds, but about bird watching in general. These books will teach you everything you need to know about birds and how to see them in the wild. Here are a few great options:
6 – Bird feeders
Most of the time you don't need to go very far to see birds. In fact, you might not even need to leave your house. Having a bird feeder in your garden or balcony allows you to attract birds and watch them as they eat the food you left out for them.
Here are our top bird feeders picks:
Gifts for birders – Bird-themed gifts
This beautiful book from National Geographic features stunning bird photographs from around the world by acclaimed photographer Joel Sartore and inspired texts by up-and-coming birder Noah Strycker.
From advanced birders to wildlife enthusiasts, the Birds of the Photo Ark is a thoughtful gift for any bird lover.
What better gift for a bird lover than an actual bird? Okay, you're not actually getting a real bird but you're helping Aubudon protect endangered bird species and their habitats. You can choose which bird you want to "adopt" and you'll get a certificate of adoption and a bird-badge to gift the bird-lover in your life.
This beautiful silk scarf with bird patterns is the perfect gift for bird lovers. The NUWEERIR 100% Mulberry Silk Scarf is just the right size to wear as a shawl or scarf, and can be worn for any occasion.
A cute, welcoming, touch to any home decor and a considerate gift for bird lovers, the Cardinal Welcome Sign is made of wood adorned with two beautiful painted cardinals on each side.
Charley Harper was a well-known artist, especially famous for his wildlife illustrations. These glasses, featuring some of his artwork, are true pieces of art. They make a perfect gift for bird lovers and art enthusiasts.
The set contains the green jay, the western tanager, the blue jay, and the cardinal. The glasses are dishwasher-safe and come in a gift box.
This beautiful suncatcher will definitely be a nice addition to any window. Hand-made with 162 pieces of hand-cut stained glass and 15 brilliant cabochons, the River of Goods Bird Suncatcher showcases vibrant colors and incredible detailing. It's a great gift for bird lovers and people who want to add a touch of colors to their homes.
A beautiful vase featuring watercolored hummingbirds to gift the bird lover in your life. It will make a perfect addition to their home decor, bringing a special touch to it. Add flowers for the perfect gift!
This Charley Harper 1000-Piece Jigsaw Puzzle will keep anyone busy for a few days. The original painting was commissioned by the Cornell Lab of Ornithology with each bird representing a conservation initiative or research program.
With dazzling colors, this puzzle is challenging yet addictive, it's a great gift for bird lovers who also like puzzles.
These cute bird-themed magnets are a nice budget-friendly gift. The Morcart Bird Magnets come as a set of 6 colorful magnets looking like painted rocks. They're adorable, durable, and will please bird-lovers for sure.
The Tree-Free Greetings Insulated Coffee Tumbler is a thoughtful and useful gift for bird lovers. Featuring a double stainless steel wall, it keeps your drinks cold or hot for up to 12 hours. Leak and spill-proof, it's easy to carry around and bring anywhere with you.
Apart from offering top-notch quality, this coffee tumbler is super cute and beautifully designed.
Another gift featuring Charley Harper's stunning artwork, this Cardinals Coaster Set will keep your furniture safe while bringing an artsy touch to your interior. Made of cork and absorbent stone, the set includes four coasters printed in the USA and a wooden stand, wrapped in a gift box.
Coloring is becoming a more and more popular hobby. It helps focus, relax, and unwind after a busy or stressful day. This Birds Adult Coloring Book is a great gift for bird lovers and anyone who likes to draw. It includes 50 beautiful bird drawings with a lot of details and a wide variety of styles.
A thoughtful as well as a practical gift, in Bird Songs, ornithologist Les Beletsky lists 250 birds from North America alongside colorful illustrations and the corresponding song for each bird.
It's a great tool to learn more about birds and how to identify them in the wild based on their songs.
A fun book for people who love puzzles and want to test their knowledge of birds. This pocket-sized Bird Brainteaser includes bird-themed crosswords, visual puzzles, and the first-ever Birdoku challenges. It also features interesting bird facts, trivia, and lore.
These cute Owl Ceramic Succulents Pots will fit perfectly in any decor and will bring a special touch to your succulents. The set includes six different pots (without the succulents) made with ceramic and beautifully painted.
Designed in Europe, each of these Tote Bags is hand-painted using watercolor techniques. This simple yet elegant tote bag is a good gift for bird lovers that can be used for grocery shopping, as a beach bag, or simply as a purse. The minimalist pattern and vibrant colors will fit well with any style and will be a nice addition to your outfit.
You can never go wrong with a basic. The Easily Distracted by Birds T-Shirt is a simple yet thoughtful gift for bird lovers. Made of cotton, it comes in 5 different colors and there's a woman, man, and child version for each.
These teardrop earrings are just gorgeous for any woman or girl who's into birds. Made of top-quality sterling silver, the Boma Earrings are cute and discreet. They'll go well with any style and will fit any occasion.
A classic gift, this Birds on a Wire Mug is sure to please the bird lover in your life. Poor hot water and you'll see the birds' shadows turned into colorful birds. It's microwave safe but you have to handwash it and not let it soak, otherwise, the birds will peel off. It comes packaged inside a beautiful gift box.
These super cute All Smiles Outdoor Throw Pillow Cases will definitely be a unique gift for bird lovers. Meant to be used outside, they will complement well any patio, veranda, or outdoor sitting area. Made of cotton, the colors are vibrant and will adapt to most color schemes.
Be careful, those are just the pillowcases, they come without the stuffing.
A nice touch to a kitchen or home office, the Parisloft Birdcage-Shaped Card and Photo Holder is a nice decorative item on which you can hang memorandums, reminders, photos, postcards, and such.
This beautiful Throw Blanket will be a great addition to any decor and will make a thoughtful gift for bird lovers and people who like to feel comfy, watching tv wrapped up in a cozy blanket.
This simple yet elegant Lechesis Metal Bird Wall Art Decor is finely designed to bring a special touch to any bird lover's home decor. It blends well with most decoration styles and interior designs. It's a thoughtful gift for bird-lovers that will please anyone looking to improve their home decor.
These Birds on Ribbon Wall Mount Hooks are also a cute decorative item to gift a bird lover. Easy to install, they're functional and cute at the same time. Designed with a vintage touch and made of cast iron, it will fit well in any interior.
A cute Owl Statue Decor for the bird lover in your life that will make them coo in awe. Available in white or black, it's small enough to fit anywhere, and wherever you put it, it will look adorable.
A unique gift for a bird watcher and a nice decorative touch for the garden or the veranda, the LED Solar Hummingbird Mobile harvests solar energy during the day to light up at night. The hummingbirds are finely designed and the overall effect is beautiful. Green and white during the day, the birds turn to 7 bright different colors at night bringing some beauty to your garden or outdoor space.
A funny gift for a bird watcher, the Effin' Birds 2022 Wall Calendar features all kinds of birds saying rude and inappropriate things. This calendar is practical, with enough space to write down appointments and reminders, and a lot of fun for someone not bothered by foul language.
A funny book about clever ways of keeping your bird feeders squirrel-proof. Every bird feeder owner knows how annoying squirrels can be, eating the birds' food and scaring them away. The Outwitting Squirrels book is mostly about having a good laugh but there are some practical tips as well on how to handle squirrels.
A hilarious gift idea for the bird enthusiast in your life
Featuring over 740 species of North American birds, any bird lover will love showcasing this beautiful print in their home – checking which ones they have seen so far and which ones they have yet to see.
A practical gift that birders will love, this Bird Call Set will allow them to communicate with robins, chickadees, and mallard ducks. The tools are handcrafted with care and come in a box with facts about each of the birds you can mimic the sound of.
This set of 7 colorful ceramic birds will guide you through the week. Each one corresponds to an inspirational word, such as joy, courage, and generosity, and you can pick one for the day to help you feel better.
It will make a thoughtful and inspirational gift for anyone who loves birds and is into mindfulness.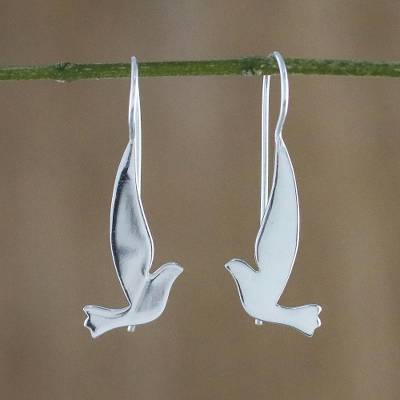 These beautiful earrings are handcrafted in Thailand by local artisans. Made of sterling silver, they won't fade or stain the skin – it will make a perfect gift for a woman who loves birds.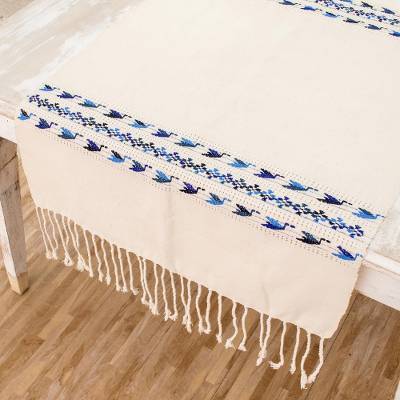 This table runner will look amazing on display at a birder's house – the colors are beautiful and the patterns are intricate and well-made.
To conclude, here you go with a selection of the best gifts for bird watchers. If you're still struggling with picking a gift, choose something simple that most people would like, like a mug or in this case, for a bird lover, a photo book about birds (like the one listed above). No matter what you choose, remember that what's important is that you took the time to look for a gift, and thought of something related to the person's interests.
Haven't found what you were looking for? Check out some of our other gift guides: