Looking for a gift for a bird lover but don't know where to start? Finding the perfect gift can be an arduous task especially if you don't know much about birds and birding in general.
Whether you're looking for birding gift ideas for a friend, family member, or colleague, be it for a birthday, Christmas, or a special occasion, we've got you covered.
Find out what someone passionate about birds might want or find useful. Keep on reading to discover all the must-have essentials for anyone serious about bird-watching to use during birding expeditions. Also, find inspiration with our selection of bird-themed gifts that will please any bird-lover.
We have found gifts for any type of bird lover, for the avid birders who like to go on expeditions to find hard-to-spot birds and might need some gear. For the bird owner who's just passionate about birds and would love a bird-themed gift.
Lastly, for the bird lover who enjoys seeing and feeding birds in their backyards who will love a bird-themed gift as well as more practical gifts to step up their backyard bird-watching abilities.
Popular gifts for bird lovers from this list:
Disclaimer: This post contains affiliate links, which means that if you click on any links and make a purchase, we'll get a small commission, at no cost to you.
Useful gifts for bird lovers – Bird-watching essentials:
1 – Binoculars
Binoculars are a must-have for anyone serious about bird watching in the wild. If you are looking for a gift for a bird lover, chances are, they already have binoculars, but do they have top-notch binoculars? Binoculars can cost as much as 2,000 USD, like the Swarovski EL 8.5×42, offering unrivaled clarity, brightness, and balance.
For something a bit more budget-friendly but without compromising on quality, check out the Celestron Nature DX 8×42 featuring incredible light-gathering capabilities, color accuracy, and sharpness with minimal blurring.
Night vision binoculars can also make a great gift for bird lovers. The GT Hunder Night Vision Binoculars are the best entry-level ones and are perfect to spot wildlife at night. It takes photos and videos too. You can also find more affordable low-light binoculars, they won't work in total darkness, but they'll do fine in low light environments, like these ones.
2 – Field Guide
Birding is not all about spotting birds, it's also about learning to recognize them and improving your general knowledge of birds. Field guides are there to help identify birds and learn more about them. It's a great gift for bird lovers interested in knowing more about birds. Here's our top pick of field guides for North American birds:
3 – Field Journal – Bird watching log
Once ready to spot birds and identify them, the next step is keeping a field journal, listing the birds that have been seen as well as writing down observations and useful information worth recording. Here are a few cute and practical options:
4 – Birding Vest or Pack
Having appropriate clothing when going birding and bird watching is a must. A birding vest or a birding pack allows you to carry all the essential equipment and to easily reach them when needed.
5 – Skill-building books
If you're looking for a gift for a bird lover, either a beginner or an intermediate-level birder, skill-building books are a great option. There are a lot of things to know, not only about birds, but about bird watching in general. These books will teach you everything you need to know about birds and how to see them in the wild. Here are a few great options:
6 – Bird feeders
Most of the time you don't need to go very far to see birds. In fact, you might not even need to leave your house. Having a bird feeder in your garden or balcony allows you to attract birds and watch them as they eat the food you left out for them.
Here are our top bird feeders picks:
Gifts for birders – Bird-themed gifts
This beautiful book from National Geographic features stunning bird photographs from around the world by acclaimed photographer Joel Sartore and inspired texts by up-and-coming birder Noah Strycker.
From advanced birders to wildlife enthusiasts, the Birds of the Photo Ark is a thoughtful gift for any bird lover.
What better gift for a bird lover than an actual bird? Okay, you're not actually getting a real bird but you're helping Aubudon protect endangered bird species and their habitats. You can choose which bird you want to "adopt" and you'll get a certificate of adoption and a bird-badge to gift the bird-lover in your life.
Charley Harper was a well-known artist, especially famous for his wildlife illustrations. These glasses, featuring some of his artwork, are true pieces of art. They make a perfect gift for bird lovers and art enthusiasts.
The set contains the green jay, the western tanager, the blue jay, and the cardinal. The glasses are dishwasher-safe and come in a gift box.
This beautiful suncatcher will definitely be a nice addition to any window.
It's a great gift for bird lovers and people who want to add a touch of colors to their homes.
With dazzling colors, this puzzle is challenging yet addictive, it's a great gift for bird lovers who also like puzzles.
Apart from offering top-notch quality, this coffee tumbler is super cute and beautifully designed.
Another gift featuring Charley Harper's stunning artwork, this Cardinals Coaster Set will keep your furniture safe while bringing an artsy touch to your interior.
Coloring is becoming a more and more popular hobby. It helps focus, relax, and unwind after a busy or stressful day. This Birds Adult Coloring Book is a great gift for bird lovers and anyone who likes to draw.
It's a great tool to learn more about birds and how to identify them in the wild based on their songs.
This simple yet elegant tote bag is a good gift for bird lovers that can be used for grocery shopping, as a beach bag, or simply as a purse. The minimalist pattern and vibrant colors will fit well with any style and will be a nice addition to your outfit.
Be careful, those are just the pillowcases, they come without the stuffing.
It's a thoughtful gift for bird-lovers that will please anyone looking to improve their home decor.
The hummingbirds are finely designed and the overall effect is beautiful. Green and white during the day, the birds turn to 7 bright different colors at night bringing some beauty to your garden or outdoor space.
A funny book about clever ways of keeping your bird feeders squirrel-proof. Every bird feeder owner knows how annoying squirrels can be, eating the birds' food and scaring them away.
The Outwitting Squirrels book is mostly about having a good laugh but there are some practical tips as well on how to handle squirrels.
A hilarious gift idea for the bird enthusiast in your life
Featuring over 740 species of North American birds, any bird lover will love showcasing this beautiful print in their home – checking which ones they have seen so far and which ones they have yet to see.
A practical gift that birders will love, this Bird Call Set will allow them to communicate with robins, chickadees, and mallard ducks. The tools are handcrafted with care and come in a box with facts about each of the birds you can mimic the sound of.
This set of 7 colorful ceramic birds will guide you through the week. Each one corresponds to an inspirational word, such as joy, courage, and generosity, and you can pick one for the day to help you feel better.
It will make a thoughtful and inspirational gift for anyone who loves birds and is into mindfulness.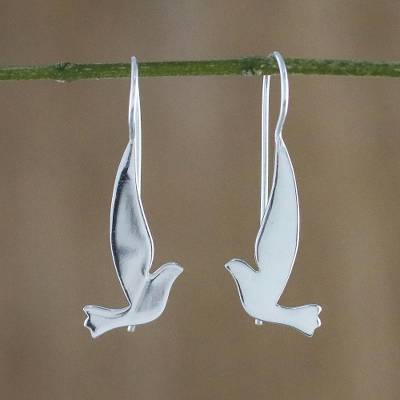 These beautiful earrings are handcrafted in Thailand by local artisans. Made of sterling silver, they won't fade or stain the skin – it will make a perfect gift for a woman who loves birds.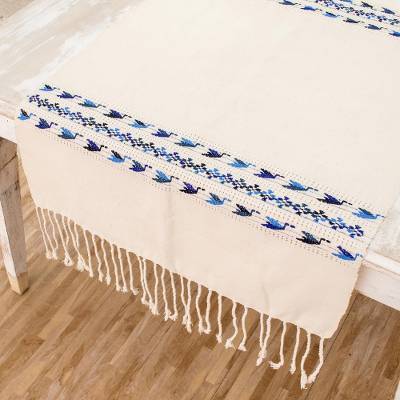 This table runner will look amazing on display at a birder's house – the colors are beautiful and the patterns are intricate and well-made.
To conclude, here you go with a selection of the best gifts for bird watchers. If you're still struggling with picking a gift, choose something simple that most people would like, like a mug or in this case, for a bird lover, a photo book about birds (like the one listed above). No matter what you choose, remember that what's important is that you took the time to look for a gift, and thought of something related to the person's interests.
Haven't found what you were looking for? Check out some of our other gift guides: