Whether they are casual pool players who enjoy a game from time to time or are professional players who partake in tournaments, whether they own a pool table at home or love to play in bars, finding perfect gifts for pool players might be hard.
They might love to brush up their skills to improve their game or collect pool accessories and novelty items, paying frequent visits to the pool halls, decorating their homes with appealing pool-themed stuff, participating in local tournaments. In short, they are serious pool game lovers and deserve a special gift to showcase their passion.
If you know someone who's like that and you want to gift them something special on their birthday, Christmas, or any other special event, then you have come to the right place. Whether you are looking for pool gifts for your dad, boyfriend, husband, relative, or friend, you'll find great gift ideas.
There are countless pool gifts to choose from, however, we have carefully curated some unique gifts for pool players, from useful gifts and gear to improve their practice to pool-themed items to put a smile on their faces.
Keep on reading to discover some delightful gift ideas for the pool player in your life.
Disclaimer: This post contains affiliate links, which means that if you click on any links and make a purchase, we'll get a small commission, at no cost to you.
Best gifts for pool players – Our top picks from this list:
Useful accessories for pool players
A cue ball is the most obvious gift one can choose for a keen pool player. Add a special touch to it with a Custom Pool and Billiards Cue Ball.
All you have to do is send an image of your choice to be added on the front and the back of the cue ball. This image will then be used to create a digital mockup. The print comes with a fine quality that won't scratch off easily under normal playing conditions.
You can send a picture of the player with his family to be personalized and gifted on his birthday. It can also make a nice stocking stuffer for Christmas.
This gorgeous Pool Cue Rack will make a beautiful addition to their interior for any serious pool player who owns a personal pool table at home.
The cue rack is highly sturdy and made of solid pine wood. It has been designed thoughtfully to hold all your pool accessories in a beautifully organized way, making them easily accessible whenever needed. The stylish wall-mounted cue rack gives a unique match and finishes to the decoration of the game room. A detailed picturized instruction is provided for easy installation.
A perfect and highly appreciable gift for a home pool player or someone who owns a pool club or bar.
This Retractable Billiards Cue Stick Bridge is an appropriate gift for any billiard enthusiast. The bridge helps to make a nice shot when the pool stick can't provide the necessary angle or length. The bridgehead provides a smooth surface to slide the cue stick smoothly and has 5 shooting positions.
The rubber feet of the bridge provide a nice grip on the table to prevent sliding and protect the surface of the pool table. The bridgehead is made of brass and is easily removable and replaceable. Adjust the length of the stick, cue height, and placement flexibly to be on top of your game.
It can be gifted to a beginner who is learning different pool gaming techniques. However, any intermediate or advanced pool player who has acquired knowledge of angle, distance, and height to hit a particular shot will appreciate this gift as well.
The Bowtie 3-in-1 Billiard Cue Tip Tool is one of the must-have pool accessories to make the cue tip ready for the game. It has a shaper side to round out the edges of the cue tip, a scuffer side to roughen it up to hold the chalk better and a pin side to pierce the cue tip gently allowing it to hold more chalk.
It is sturdy, made of quality material, and easily fits into your pocket or cue bag. The grip of the tip becomes much better and the chalk stays on the tip much longer after using this. One use of this cue tip too can change and improve their game immediately.
Any regular pool player will admire this handy and easily portable cue tip tool.
Any pool player can emphasize the importance of a good cue stick holder. It is not feasible to lean them up against the table or the wall as they can easily fall and damage the cue tips and the shaft.
This Pool Cues Holder is a smart gift choice for any pool player to carry their cue holder in the bar, club, or pool hall. It is easily portable and fits in any accessory case. It is available in 2-Cue, 3-Cue, and 4-Cue sizes.
This will make a brilliant gift for pool players to rest their cue sticks safely and securely.
This is a simple and appropriate gift choice when you are overwhelmed with too many options. It will make a nice gift for beginners as well as advanced players.
This Pool Ball Set is ideal and useful for any pool lover regardless of their skill or level. The balls are designed with a beautiful and glossy black marbleized style. The colors of the balls are fadeproof and the surface is scratch proof. 
The Players C-9921 Classic Cue is made of a high gloss super UV coating and gives you a fine grip and flexibility. The wood is coated with high-quality inlay material to retain moisture even after multiple usages. It is highly durable and fadeproof. This little thicker and heavier pool stick with a sharp tip can be a nice upgrade for a better game.
The stick is very smooth and hits the ball softly. It can outperform any pricey cue sticks. Gift this to the pool player in your life who loves to try and experiment with new pool accessories to improve their game.
The 2X2 Pool Cue Carrying Case is the next best gift one can consider gifting any pool lover. This is a very useful case for carrying all the necessary pool accessories for frequent players or professional tournament participants.
The case is made of superior, high-quality, leather for ultimate durability and comes with two zipper pockets for a classy look. It also features a non-slippery handle for firm grip and an adjustable shoulder strap for easy portability.
It will make a practical gift for pool players who often go to play pool at bars or participate in tournaments.
This is an awesome gift for a beginner who has started building interest in pool. The Training Cue Ball is a great learning tool to become a pro but also useful to more advanced players to perfect their game.
It methodically helps you learn where you exactly need to hit the cue ball for a perfect shot.
The ball is made of high-quality phenolic resin to resist scratches and impacts with one side designed for beginners and the other side for advanced players. The rings and targets on the surface of the ball help study the impacts of delicate amounts of movements in topspin, backspin, and sidespin, and other techniques to control the cue ball.  
A highly appropriate gift for a birthday, Christmas, or Valentine's Day for any passionate pool players who love to study new gaming approaches to improve their game.
Properly racking the balls in their correct positions before starting the game is essential when playing pool. The Magic Ball Rack will create a perfect rack every time you are about to hit the break to begin the game.
It lies flat on the table and provides a consistent tight rack even when used on old cloth. The rack is very thin and made with solid durable material. It makes the perfect ball-to-ball contact and takes only seconds to set up. 
Beginner, intermediate or advanced players will find this high-quality Magic Ball Rack truly useful.
Decorations for their pool room
This Hanging Pool Table Light can add a nice and classy vintage look to any game room and will make a stylish and sophisticated gift choice for an ardent pool player.
It is truly perfect to recreate the ambiance of a professional gaming environment. This can be a perfect gift for someone who owns a personal pool table at home or someone who owns a pool bar.
It will make a unique billiard decoration when installed over a beautifully designed pool table.
Make a statement in any pool game room with this smart Pool Table Rules board. A beautifully framed rule board reflecting the highest standards when it comes to entering their pool room.
The hanging board is made of solid wood fiberboard. It has a secure staple at the back for easy hanging. The board adds an extra touch of fun to their game room or man cave.
An ideal gift for any pool player, pool bar owner, or personal pool table owner at home to add a fun touch.
This is a unique gift for any pool player to add a little touch of cuteness to their house with this creative depiction of their favorite pool game.
The print will be a great addition to their home decoration. It is also an awesome gift choice for someone who is a dog lover as well as a pool lover. The Hustler Dogs Playing Pool Print comes unframed and is vibrant and funny.
It will make a nice gift for Christmas, birthday, friendship day, etc if you are looking for something funny related to their passion. You're sure to put a smile on their face with this present.
This LED Lighted Pool Table Sign is a terrific gift idea for any pool shark. It will illuminates the room thanks to its energy-efficient LED lights. When turned on, it will give you the feel of being inside a pool bar. It comes with two metal hangers in the back.
This is ideal to add a sparkling look to any room. An awesome gift for a pool player to create an entertaining and captivating atmosphere in their pool space.
Do you know someone who is not just a pool lover but a high-spirited pool enthusiast too? Then, this Personalized Billiards Metal Sign will make an exciting gift choice for any avid pool player. Customize the recipient's name and city to add a special touch. This metal sign can be used in their pool hall, game room, man cave, or pool bar to use as a cool decoration.
Gift this personalized billiards board sign to a passionate pool game lover on any special occasion. It will surely lift their spirit whenever they enter their gaming room or bar.
Novelty gifts for pool players
When you think of pool-themed decorations, it has to be simple, cool, and stylish. Bring some cool look to their interior with this Candle Holder Set that includes 9 full-sized American pool balls and a frame made of acacia wood. 
The candle holder set can be gifted to any pool player for a nice addition to their house's accessories and decors. You can also gift it to any pool bar owner to create a beautiful atmosphere in their bar thanks to this set of candles.
This will make a great novelty item for any pool fanatic. This set of Glass Pool Balls consists of 15 multicolored Christmas balls. It's perfect to decorate their Christmas tree and showcase their love for pool.
It will make a perfect pre-Christmas gift for any billiard player in your life. Be your pool player's Santa this festive season and gift them this set of ornaments so they can make the perfect sporty Christmas tree.
T-shirts are always useful, trendy and never go out of style.
This lightweight and cotton Vintage Pool T-Shirt makes a great wardrobe choice for pool bars, pool parties, or just to hang out at home. The T-shirt gives a great comfy and classy fit. It comes with a cool print of pool balls and a cue stick.
A great gift for a birthday, Christmas, or any party for any pool lover who already has everything related to cue sports.
This Pool Player Handmade Metal Figurine is a perfect eye-catching desk accessory for any billiards admirer. The product is made of high-quality metal making it strong, durable, and long-lasting. It is a great collectible item for any pool player to showcase their passion for the game. 
This unique, artistic, and handmade figurine can also be used as a trophy for a special event. You can also add a business card holder for advertisement or promotion. An awesome collectible for a man cave's decoration as well. 
It is a great gift choice for Christmas, a birthday, or any special event for any cue game enthusiasts to add an elegant touch to their interior.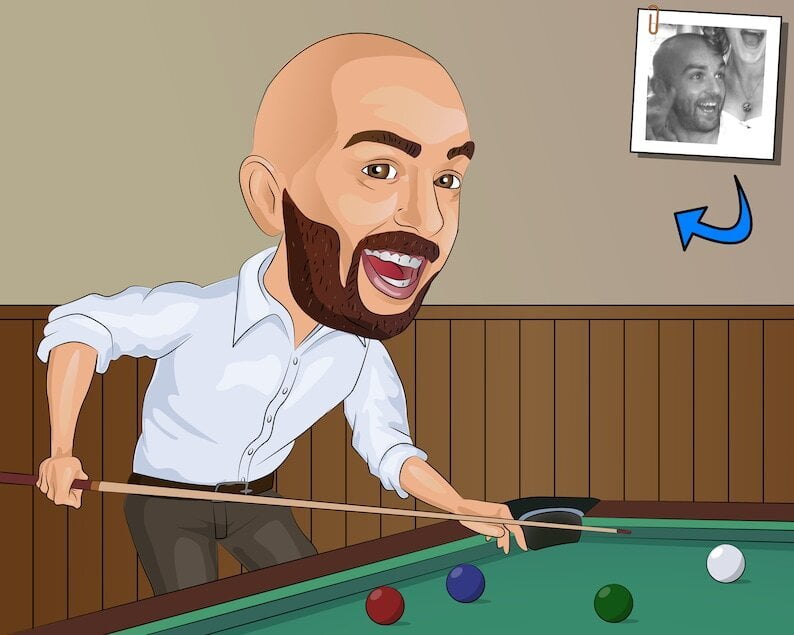 Get a cute personalized Caricature Portrait for the avid pool player in your life to make them feel special.
All you have to do is send a bright and clear image of your friend or relative to place the order. The artist will draw a stunning cartoon caricature portrait of that person. The uniqueness and thoughtfulness of the gift will bring a smile to the recipient's face. 
A very nice birthday or Christmas gift with an expressive and humorous touch for the dedicated pool player in your life.
These cute Billiards Earrings will make a thoughtful gift for your girlfriend or for any woman in your life who's into playing pool. Whether she's just discovered a passion for the game or has been practicing it her whole life, it will make a nice statement piece to showcase her love for pool.
The earrings are sturdy and carefully crafted. They are small and discreet, and will blend with any style. A beautiful gift for the woman in your life who loves to play billiards or pool.
Coasters are perfect to showcase style and personality and will blend well with the interior decor of the room if the right coasters are selected.
These Pool Coasters come as a set of four hand-painted pool ball coasters with cork on the back to protect furniture from scratches and water. The prints are bright and colorful and are long-lasting. This is a cool gift choice for any pool player. 
It can be gifted for pool parties, decorating his man cave, styling up their gaming bar at home, or can be used as simple billiards collectibles. The set can be gifted on Christmas, for your dad on Father's Day, birthday, housewarming, or any special occasion.
A piece of artwork makes an amazing gift for a person who already has almost everything related to pool.
This is a wonderful artistic addition to any pool room or living room to showcase their love of the game. Gift this Billiards Poster Set to add a stylish and enhancing decorative touch. The beautiful poster is made with high-class textured art paper and comes in black and white fine art. It comes unframed and is available in different sizes. 
A superior gift option for a birthday, Christmas, housewarming, or pool party for any ardent pool lover to add a beautiful vibe in their gaming or living space. This is a lasting gift they are sure to love.
Keychains are a way to showcase one's passion and belief. They make really nice gift options to compliment someone's interest.
This Pool Ball Keychain looks cute and fashionable. It is made of high-quality resin with nice durability and has a little weight to it. It comes with a few stickers as a bonus. 
This keychain is the perfect gift for everyday use for the pool player in your life. It will be a small reminder of what they love and potentially brighten up their day.
Want to gift something simple and useful? This Billiard Towel will be an ideal gift for pool players. It comes with a cool print that any pool lover will adore. You can customize it by adding the player's name or their team's.
Made of cotton, the towel is very comfy and ideal for everyday use, at home or for the beach, and will remind the pool player in your life of you every time they use it.
A perfect pool gift for your dad on Father's Day, a birthday, or Christmas for who plays pool or billiards and if you are looking for something cute and useful at the same time. 
Haven't found what you were looking for? Check out our other gift guides for men and for women.
Like it? Pin it for later: