The Walking Dead TV show has undoubtedly become one of the most iconic shows ever in the past decade and might run stronger in the future as well.
Do you have a friend or relative who can talk for hours about the Walking Dead? Someone who loves to host Walking Dead trivia sessions, collect official merch, or immerse themself in the show's universe?
Wondering what are the best Walking Dead Christmas gifts to get them this holiday season to feed their post-apocalyptic obsession but are not sure what to choose? Then, you have come to the right place.
We have carefully picked some fun-filled, emotionally touching, and useful gifts inspired by the Walking Dead show to please any fans, no matter your budget and no matter what type of fan they are.
Keep on reading to discover the best Walking Dead Christmas gifts!
Disclaimer: This post contains affiliate links, which means that if you click on any links and make a purchase, we'll get a small commission, at no cost to you.
Best Walking Dead Christmas Gifts:
This high-quality ceramic mug is perfect for zombie lovers. The fascinating part comes when you pour hot liquid in it and a zombie "magically" appears. The mug is heat-sensitive and color-changing and comes up with high-quality beautiful artwork on both sides.
This will be a unique addition to any Walking Dead fan's collections, revealing the living dead inside.
This wonderful escape room game is a perfect Christmas gift for Walking Dead fans who are into games and escape rooms. They'll be able to host a thrilling gaming night with their family and friends. The game comes with thoughtful and challenging puzzles and interactive physical objects with hints to keep everyone hooked throughout the game.
The puzzles lead everyone to look for additional clues to discover the next lead, with lots of twists and tricks, giving a feel of the undead.
The materials can be reprinted online again for another exciting game. The game creates a real Walking Dead atmosphere, any fan of the show will love it!
This creepy but cool Salt and Pepper Shaker Set is the next ideal Christmas gift for a Walking Dead addict. The set is highly detailed, hand-painted, and made of polyresin.
This spooky zombie statue will definitely grab attention at their next Walking Dead party or get-together. It will make a very useful and original addition to their kitchen decor as well. Also, it will be a treat to the eyes for any zombie fan.
This Zombie Pen Holder is stunning and very well-designed. It can be a cool addition to their study desk, or can simply be added to any corner of the room to make their Walking Dead-themed decor more appealing.
A perfect gift for teens to give a cool look to their study desk.
'Best escape is by water, zombies can't swim' – a witty escape guide like this one will definitely bring a smile to a zombie lover's face. This funny sign comes with a list of hilarious escape tips to survive in a zombie-infested world.
The prints are done on premium quality photo papers to meet the best resolution and clarity. The print comes unframed but you can add your own decorative flair as well by getting a frame. It will bring a fun touch to their home.
Get this high-quality emergency set for your friend or relative so they can prepare to live through a post-apocalyptic raging situation with ease. This survival kit contains all the equipment absolutely necessary to get through any wild adventure.
The kit is lightweight and easily fits in a backpack or a pocket. This can also be attached to a harness or any climbing equipment. The tools are made of high-quality long-lasting materials to last even after prolonged use. A perfect present for Christmas, an anniversary, or Valentine's Day for anyone who loves wild adventures.
The Walking Dead Pint Glasses set comes with cool prints of Rick Grimes and Daryl Dixon along with two creepers.
The glasses are thick and extra durable and will provide a special look to their home decor. This glass set is perfect to gift your colleague, friend, or relative who is a nerd about The Walking Dead and collect everything related to the hit show.
If you are shopping for a Christmas gift for a Walking Dead fan who already has all possible merch and collector pieces from the famous show, don't worry! This cool keychain will make a special little something to add to their Christmas stocking.
This keychain is definitely the right addition to their collection.
This Walking Dead Jigsaw Puzzle will make a perfect birthday gift or Christmas stocking stuffer for fans of the show of all ages. This 1000-piece puzzle is fun and challenging and features three of the show's main characters: Rick, Michonne, and Daryl.
Once complete, the puzzle can be framed and hanged on the wall to decorate their room – or they can just do it over and over again. The pieces are made with quality and sturdy cardboard that will last through many uses.
The puzzle is produced in the USA.
Are you looking for something that can be useful while still fitting the Walking Dead theme? Check out this awesome plan and prep guide for surviving the undead.
The author beautifully presents the basic concepts of planning and preparing for real-life emergency situations through short stories featuring a fictitious family who is trying to find their way through the disaster to break into a safe haven.
The handbook prepares you to survive any threatening situation, such as the zombie apocalypse, as well as social and natural disasters. An ideal birthday gift that is educative and practical while being fun and easy to read
Rick Grimes is undoubtedly the most loved protagonist of the Walking Dead show.
This highly detailed Rick Grimes Bobblehead features an incredible resemblance to the real character of the show. The bobblehead is hand-painted and made of high-quality polyresin. The design is extremely detailed to provide a lifelike appearance.
It will make a perfect Walking Dead Christmas gift for fans who like to collect figurines from the show.
This special Walking Dead edition of the classic Monopoly game will surely be a hit for people who watch the show. Play with your favorite character, buying and trading some of the show's most iconic locations while building fences and guard towers.
This can be gifted on any occasion like a birthday, an anniversary, friendship day, etc. It will be a perfect addition to Walking Dead parties or game nights and will please any fan of the show who likes board games. The best part about it is that everyone can play, even people who don't know the show.
This goofy zombie head is ideal to decorate a work desk, shelf, or table, adding an eerie look to the room. The zombie can be used as a regular ashtray by smokers or the inside of the head (the top part is removable) can be used as a jar. This will make an impressive conversational piece as well as an awesome Halloween decoration, any zombie lover will be thrilled to add this piece to their collection.
To make it extra special you can add chocolate or small goodies inside the skull.
An ideal and adorable birthday or Christmas present for a Walking Dead fan to decorate their interior, this print is reproduced from an original hand signed item and features signed photos from eight of the show's main characters.
The reprint is done on premium quality photo paper to retain its shine for years. The photo comes unframed, or framed, with secured cardboard protection so it won't get damaged during shipping.
A simple yet fun Walking Dead gift, these cool socks will make a perfect Christmas stocking stuffer. They are made of cotton and are comfy and soft. The funny quote makes it unique and hilarious, you're sure to get a laugh out of your friend or relative once they see this.
Are you thinking of organizing a fun family night together and host some cool in-house games? We got something any fan of the Walking Dead would be excited about.
Gather up all Walking Dead enthusiasts for an interesting quiz about the iconic show. This Trivial Pursuit game includes 600 questions to test your knowledge of the show. Questions are centered around seasons 1 to 7.
Immerse yourself in a whole different Walking Dead universe and go back to the origin of the show reading The Walking Dead Compendium Volume 1. Die-hard fans will know the show is based on the comic but they might not have the chance to read it yet.
The author creates a magic universe by shaping captivating moments of suspense in a thrilling story. The storyline is slightly different than the show but you'll find the same characters – the reader will remain thoroughly entertained.
The comic book covers part 1 to 48 of the original 8 books of the series. The graphic novel makes the story more gripping and spellbinding making the reader automatically looking forward to reading the compendium two.
A more than perfect choice as a gift for Christmas or a birthday. Just a heads up, the reader might become addicted to comic books after that.
If you are looking for a funny gift for the Walking Dead fan in your life, this might be the perfect option. The Snacking Dead is a hilarious cookbook featuring recipes inspired by the show. Gruesome and creative, the recipes will take you on a journey of flavors in a post-apocalyptic world.
The recipes are mostly easy to make with simple ingredients yet everything looks amazing and will taste delicious. It's the perfect cookbook to have when they host their next Walking Dead party.
This Walking Dead Apron will fit as a nice combination with the Snacking Dead cookbook or as a standalone gift for someone who likes to cook or bake.
Walk into the kitchen as a peaceful walker with this cool apron. It is made of a blend of cotton and polyester, is easy to wash, and will protect clothing while giving you a cool look. An ideal gift for any occasion like birthdays, Christmas, Valentine's Day, etc.
This Walking Dead Print contains pre-printed autographs of the main characters from the show. The reprint comes in A4 and A3 sizes and is made of heavyweight glossy photo paper for optimal quality. This will make a nice addition to any zombie admirer's collection.
Though printed, the signatures look authentic. It can be framed before being gifted and will make a perfect addition to their interior if they like to surround themself with Walking Dead stuff.
Bring a smile to your friend or relative's face by getting them signatures of all their favorite characters on Christmas, their birthday, or any special occasion.
Including all the show's main characters, these stickers are cute and fun, and will make the perfect stocking stuffer or budget-friendly Christmas gift for fans of the popular show.
The laminate is waterproof and sun resistant so it won't fade or peel off with time. The print is made of eco-solvent ink which makes it long-lasting. It is also easily removable and won't leave residues.
It can be used on computers, phones, fridges, walls, water bottles, any place with a smooth surface really.
Tee shirts are classy yet touching gifts for fans of any kind. One can never have too many tees and if you pick one according to their passions, you'll get the perfect gift.
There are plenty of options available for Walking Dead fans when it comes to clothing, from tee-shirts to sweat pants and everything in between.
Get the virtual experience of being in a zombie-infested world thanks to the Walking Dead Onslaught Video Game – built with brilliant graphics and an amazing storyline. As the gamer enters the battlefield as Daryl Dixon, they're quickly engaged in a fast-paced, action-packed ultimate VR experience fighting against creepers.
The intensity and swiftness of the game will give the gamer the ultimate experience of being a survivor in a zombie world. A perfect Christmas gift for a gamer who is a fan of the series.
Inspired by Rick Grime's backpack on the show, this cool-looking backpack is custom-made with faux leather and canvas, and truly resembles the one Rick has. It's perfect for school, work, or a day out. It's comfortable to carry, big enough to fit what you need for the day, and will blend well with most outfits and styles.
The bag comes with a padded pocket that easily fits a 12-inch tablet.
The metal sheriff badge on it completes the "Rick look" while still being discreet and easy to use every day. It can be used as a backpack or can be converted to a cool side tote.
An ideal gift for any celebration like a birthday, valentine's day, easter holiday, or Christmas for fans of the show.
A perfect addition to a Halloween costume! Is anyone on your team planning to appear as Negan on the upcoming Halloween? Gift this bat in advance so they have the perfect accessory.
The bat is well-built and intricately designed to provide an authentic look. The barbwire, the wood, and even the bloodstains on it will give you the feel of being Negan on a mission, chasing zombies.
It's not heavy like real bats, it's safe for kids to carry around on Halloween or play with. This awesome replica will carry away any Walking Dead fan when they receive it.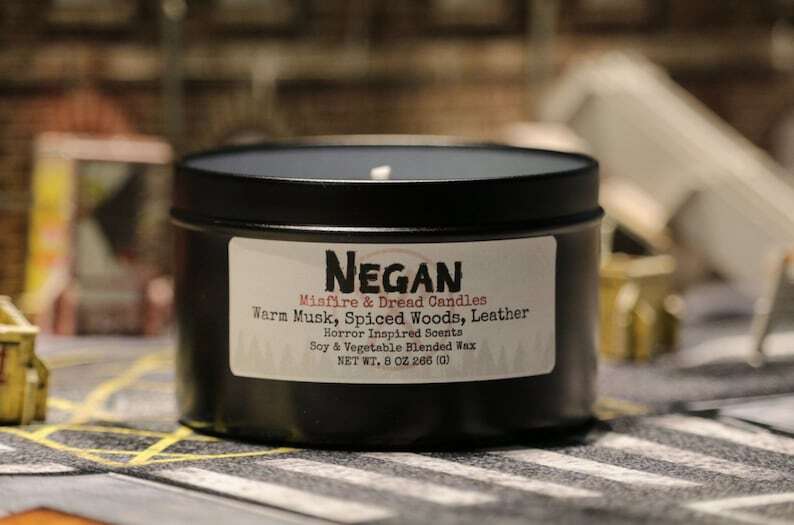 A perfect Walking Dead Christmas gift, this candle has been formulated to remind you of Negan, one of the main characters on the show. The smell is very masculine and will surround you with the mystic fragrance of woods, warm musk, and leather.
This is 25-page hand-drawn illustrations book will be the perfect gift to combine their love for coloring and their passion for the Walking Dead series.
The illustrations consist of the characters, maps, locations, and zombies from the series.
An ideal birthday or Christmas gift for any teen or adult who loves arts, coloring, and illustrations – and of course who is a zombie lover as well.
Let's do some shots while re-watching for the millionth time your favorite episode!
Combine their favorite show and a drinking game with these Zombie Drinking Game set. The handmade wooden board comes with cool prints with spooky and funny quotes, telling you when to take a shot, depending on what's happening in the show.
It will work for horror movies as well, as long as there are zombies in it.
Four bloody shot glasses are included with the board.
This gift is perfect as a Halloween gift or for Christmas.
Gift this awesome Terminus map to your kid who plays the game of the undead with his friends. Or, gift it to a Walking Dead fan who already has all the possible collectibles from the series except this one.
This creative wall art poster has been given a vintage look to provide a classy touch. The Terminus replica map can be ordered in different sizes and colors. The print is made of high-quality paper.
Gift it to your zombie-loving friend or relative for Christmas, their birthday, or any special event to decorate their interior with. An ideal gift for any walking dead lover.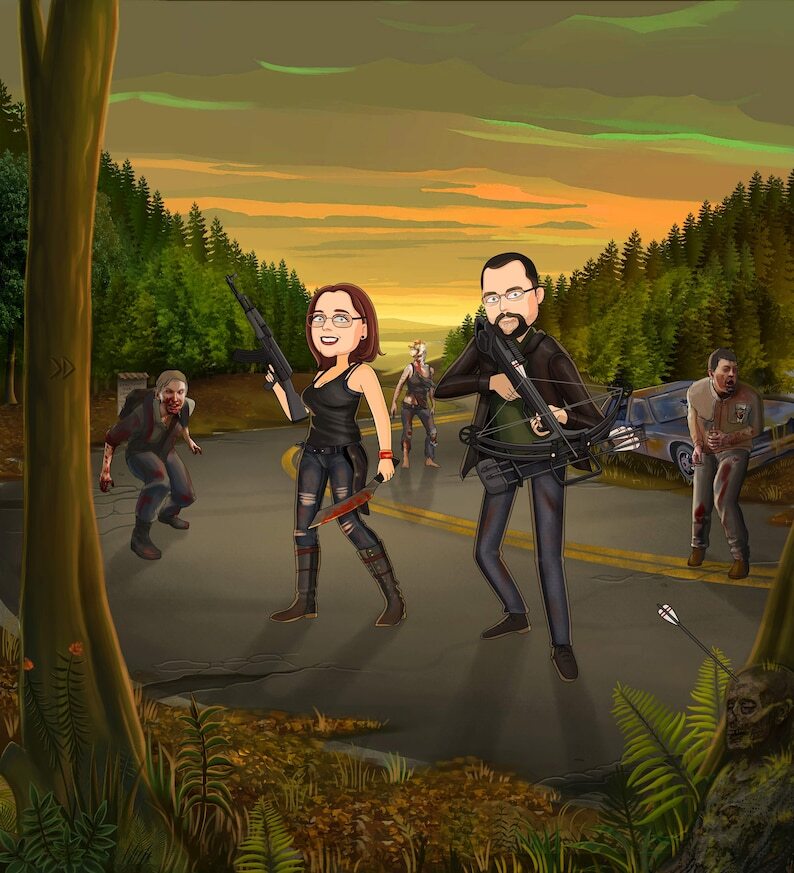 Surprise your friend or relative with this stunning portrait of them as a Walking Dead character. The idea is very creative and mind-blowing, it will make a unique gift you're sure they won't already have.
All you have to do is let the artist know which deadly character you want your friend or relative to be pictured as, how the story should look like in the portrait (you can choose a scene from the show), and what background you'd like. The artist will then design the customized portrait for you.
Other gift guides that might interest you:
Like it? Pin it for later: