First released in 2009, League of Legends is an online battle arena game created by Riot Games. With over 115 million monthly active players worldwide, LoL is one of the most played video games in the world. No wonder you know someone who's a fan.
If you are looking for League of Legends gifts you have come to the right place. Whether you know nothing about this popular PC game or are a player yourself, this gift guide for League of Legends fans will help you find the perfect present!
You might be looking for a gift for Christmas, a birthday, graduation, Valentine's day, or just because and might be wondering what to get your loved one on this special occasion. You know they play League of Legends and love this popular game, but you're clueless as to what to get them.
We have looked far and wide to come up with the best League of Legends gifts, from gaming equipment to official merch and everything in between, you'll find something the LoL player in your life will love and have a use for.
Keep on reading to discover the best gift ideas for League of Legends players, no matter what they're into, your budget, or the occasion.
Disclaimer: This post contains affiliate links, which means that if you click on any links and make a purchase, we'll get a small commission, at no cost to you.
Our top pick from this list:
Best League of Legends gifts – Gaming Set Up
Gamers spend long hours in front of their computer and they might like getting some cool gadgets for their computer set up to make things more comfortable. Here's a selection of a few basics every gamer needs:
League of legends has partnered with Logitech to bring players the best computer equipment to play the game. Depending on what the gamer in your life already has or might need, any of the accessories from the collection would make an awesome gift.
The design of this Lightspeed Wireless Gaming Headset is inspired by the game's universe. It's also designed to be extra comfy for long gaming sessions. The sound quality is incredible, the technology used allows you to completely immerse into the game.
Portable and compact, the Logitech G PRO K/DA Mechanical Gaming Keyboard will make an awesome League of Legends gift. Inspired by the game, this keyboard was designed with gamers in mind. It features the latest technologies to enhance your gaming experience.
Built with and for esports athletes for competition-level performance, speed, and precision, this keyboard will make a cool gift for LoL fans.
Also part of the collab between Logitech and League of Legends, the Logitech G305 Lightspeed Wireless Gaming Mouse is the most affordable piece in the collection. Ultra reactive, it will make playing League of Legends a breeze with a next-gen optical sensor that delivers unrivaled gaming performance, accuracy, and power efficiency.
It comes in four different colors.
Probably one of the coolest mouse pads out there, the Razer Firefly Hard V2 RGB Gaming Mouse Pad was designed for gamers. Its micro-texture and optimized surface coating offer pixel-precise tracking and will be perfect for any gaming style.
The lights are endlessly customizable and will create a unique atmosphere and gaming experience the League of Legends fan in your life will love.
For the coffee-lover, this Coffee Cup Warmer will make the perfect companion during their gaming session. The base automatically turns on when you place your mug on it and it will warm or keep warm your beverage for as long as you need.
It comes with a mug but you can use it with any regular ceramic mug. It's a great accessory to have for people who like taking their time drinking their coffee.
League of Legends Gifts – Official Merch
Riot is the company that developed League of Legends, they offer a wide variety of merch, mostly figurines, and clothing. All are great options to gift a LoL fan.
Books always make thoughtful gifts, especially when it's related to one's hobbies. League of Legends: Realms of Runeterra depicts the universe of the game with incredible artwork and insightful facts.
Designed as an encyclopedia, the book includes the history of the eleven regions through conflicts, rivalries, and alliances, hundreds of illustrations, some never-seen-before, insights on Runeterra's heroes, flora, fauna, architecture, politics, and technologies as well as original narratives that bring the cultures of Runeterra to life
If you know what character they play as, you can get them a figurine of their favorite hero, otherwise, you can opt for this cute set of 6 mini-figures from the Morning Star Crew ready to halt the advance of the Demaxian Empire.
There are five more crews to choose from – if you can manage to learn which one they like better it would be great!
The figurines are well-made and colorful, it will make a nice addition to any League of Legends collection.
Proudly show you're a fan of the game with this League of Legends Official Snapback Hat. It will make a thoughtful gift for any LoL fan who likes to wear a cap. This model is discreet yet it makes a statement. It will blend well with any style and outfit. The colors are neutral and the cap is perfect for both boys and girls.
Soft and comfy, this Poro pillow will make a cute gift for the LoL fan in your life. Poros are magical creatures that are full of glee and cuteness. You can choose between the sad Poro or the winking one.
This pillow will be a nice reminder of your friend/relative's passion and will make a beautiful decorative item for their bedroom!
A sturdy and fashionable backpack to carry their gaming laptop around, the League of Legends Official Backpack will make a useful gift. It's perfect for school or to bring when planning a gaming party.
The backpack is gender-neutral and will blend well with any style or outfit. Featuring characters from the game, it's practical and nice-looking at the same time. Any fan of LoL will love receiving this as a gift!
These beautifully crafted League of Legends Official Pins will make an awesome League of Legends gift. The collector pack features 9 characters from the game.
When it comes to collector pieces, hoodies and clothing, in general, are often a sure bet. It's useful but it's not generic if it's official merch.
The League of Legends Unisex Official Hoodie comes in 8 different designs and sizes from Small to XX-Large. They are comfy and soft (100% cotton).
A funny gift, the gamer in your life will fall in love with this LoL onesie. It's perfect to cosplay, chill at home, or wear during gaming sessions. You can choose from two "skins": Meowkai or Beemo.
League of Legends Themed Gifts
A beautiful art piece featuring hundreds of the latest spells and abilities of all League of Legends Champions Heroes, this poster will make a unique LoL gift. The icons are arranged by colors to create a unique effect.
It will look cool in their bedroom and will bring a special touch to their home decor.
The print comes unframed.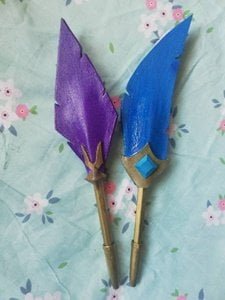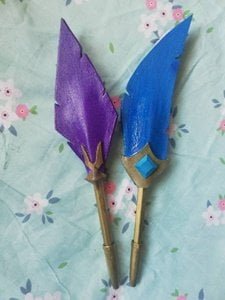 These Rakan and Xayah Ballpoint Pens are unique and handcrafted in Portugal by a local artist. Each piece is different and is beautifully made. The League of Legends fan in your life will love using these pens, reminding them of their passion.
Separate, but never apart, Kindred is an important character in League of Legends. These two necklaces will make a sentimental gift for your boyfriend/girlfriend or bestie.
You can either gift both to the League of Legends player in your life or gift them one and keep one to yourself to mark your special bond.
These beautifully crafted League of Legends Champions Coasters will make a nice gift for tidy people who like to keep their furniture safe from moisture.
The set includes four different cork coasters, you can choose which "champions" to feature, if you have no idea, ask the seller to pick the most popular ones for you.
The set comes with a coaster stand.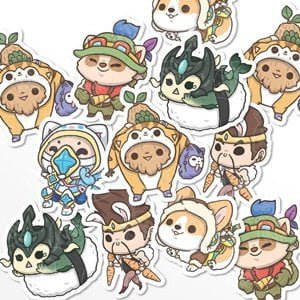 A great budget-friendly gift or stocking stuffer for the League of Legends player in your life, these Cute League of Legends Stickers can be used to decorate notebooks, a computer, a phone, or whatever comes to mind.
These are super cute and well made, with nice detailing and great color combinations.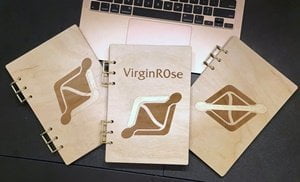 A unique gift handcrafted with care, this Notebook will be the perfect thing to have for someone who likes to keep track of their game stats. You can customize it with their team or user name, and pick the symbol.
The cover is made of wood and you can easily add pages as you go.
Perfect for older players, this League of Legends Wooden Flask will make a nice gift for LoL players. Beautifully crafted, the flask is as useful as it is decorative.
You can customize it with your friend's name or initials to add a special touch to it.
A beautiful LoL gift, the Legends of Runeterra Noxus Chest is handcrafted and each piece is unique. It feels like it came out straight out of the game and will make a perfect statement piece to decorate your friend/relative's home.
It has a wide variety of use, it's a practical gift, yet it's beautiful, and will make a welcome addition to a room's interior decor.
You can ask for a specific design/region of the game, each box is made on order.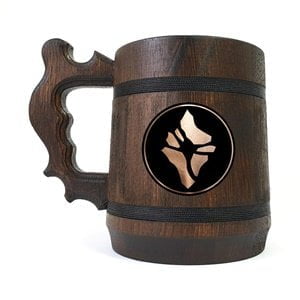 Handcrafted with love for a League of Legends fan, this Sorcery Path Mug is made of wood with an inner stainless steel layer to keep drinks cooler.
The label represents the logo for the sorcery path, one of the five rune paths in the game. You can customize it with text and add it at the bottom of the mug too.
For the Lol player who are always cold or like to feel comfy when they play their favorite game, this cute Fleece Blanket will make a perfect gift.
Featuring characters from the game, the blanket comes in three sizes, and is washing machine safe.
Mugs are classic gifts for coffee or tea drinkers, it's always a safe bet when you're not sure of what to get someone. This special mug will remind your loved one of their passion for League of Legends and will make a thoughtful gift.
It looks super cool and is microwave and dishwasher safe.
Another cute and affordable gift for League of Legends players, this keychain represents one of the character's weapons from the game and will please the LoL fan in your life.
Haven't found what you were looking for? Check out some of our other gift guides for women and for men or our gift guides for teenagers.
Save this post for later and share it on social media: