It's that time of the year again, excitement and fears are in the air and you want to mark the occasion with something special. Whether it's their first time starting school or they have gotten used to it by now, getting them a gift on this special day will surely be appreciated.
We have selected the best back-to-school gifts for kids so you can pick the ideal present for the child in your life. From cute school supplies to useful things, you'll find something they'll be happy to get and have a use for.
Disclaimer: This post contains affiliate links, which means that if you click on any links and make a purchase, we'll get a small commission, at no cost to you.
Best back-to-school gifts for kids
For a practical gift kids will love, choose this awesome Dinosaur Lunch Case. You won't find a cooler-looking lunch case out there and kids who are into dinosaurs will just love it.
It's the perfect back-to-school gift for kids as it's something useful they can use every day, and at the same time, it makes an awesome gift that will probably make their friends jealous.
The lunch case is sturdy yet lightweight, it's perfect to pack their lunch or snacks in. It's easy to carry and should fit well in most backpacks.
You can also use it to store school supplies or small toys.
You can check out the brand's other cool lunch boxes if the kid in your life is not that into dinosaurs.
Another awesome lunch bag option, this Donut Lunch Bag is so cool you might want to keep it for yourself. It's bigger than the dinosaur so it's more practical and will fit a good-sized meal. It's also insulated so it will keep food fresh until lunchtime.
It's a super cool-looking lunch bag that kids will love. It's fun and a perfect back-to-school gift for kids who love donuts.
The lunch bag is hard-lined so the food inside it won't get crushed. The space inside and the opening are big enough to add large things like sandwiches, fruits, or juice boxes.
It's a customizable item, you can add the child's name, choosing the font and color.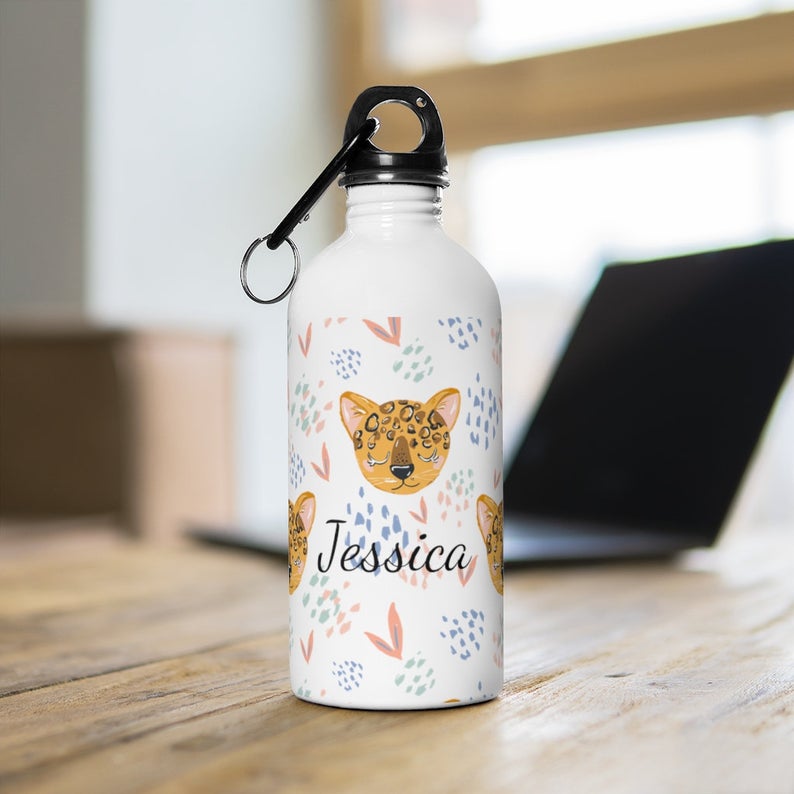 It's important to teach children the importance of reducing plastic waste, getting them a reusable water bottle is a good start.
This Personalized Cheetah Water Bottle will make a cute and practical back-to-school gift for kids who like animals. You can customize it with their name to make it extra special and reduce the chances of it getting lost.
Made of stainless steel, it is vacuum insulated to keep drinks fresh or hot. The lid is leak-proof and it comes with a carabiner and key ring so you can attach the bottle to a bag. It's the perfect size for kids (14 fl. ounces).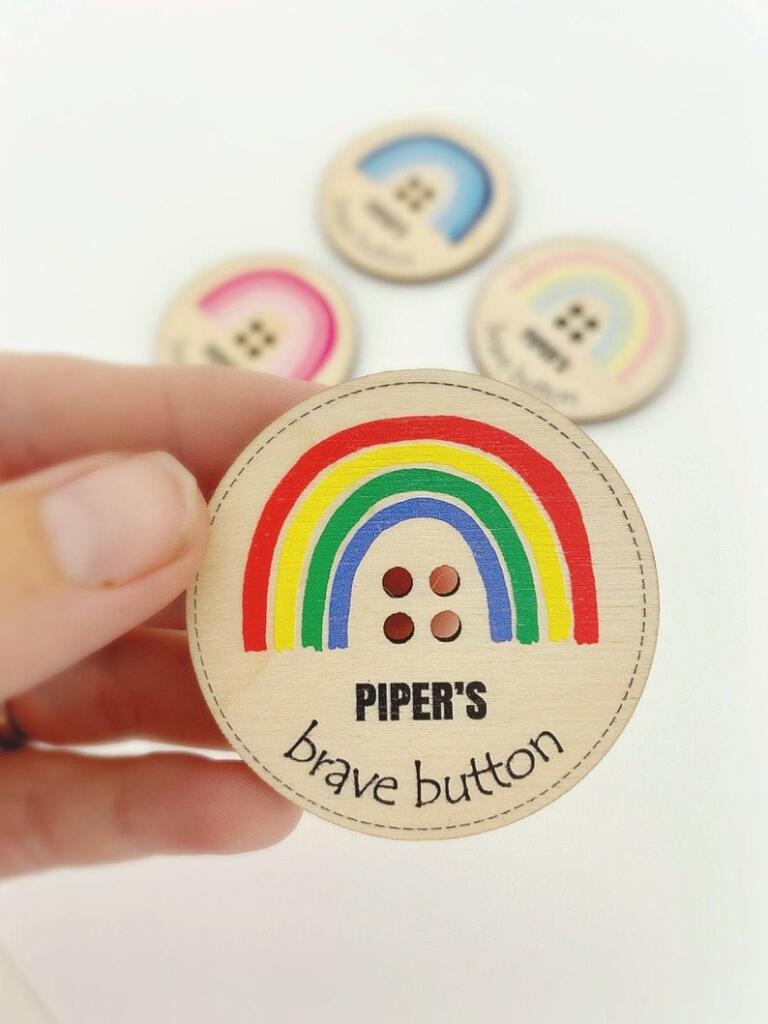 For the kid who's anxious about starting school, this Back To School Brave Button will be a reassuring thing to have as they embark on a new journey. If you are looking for something cute and sentimental, this is perfect.
It's sentimental and could be the beginning of a tradition, getting them a badge every time they need to be brave.
They can keep it in their bag as they go to school and have a reminder of how brave they are.
You can choose from four different rainbow colors and customize the badge with the child's name.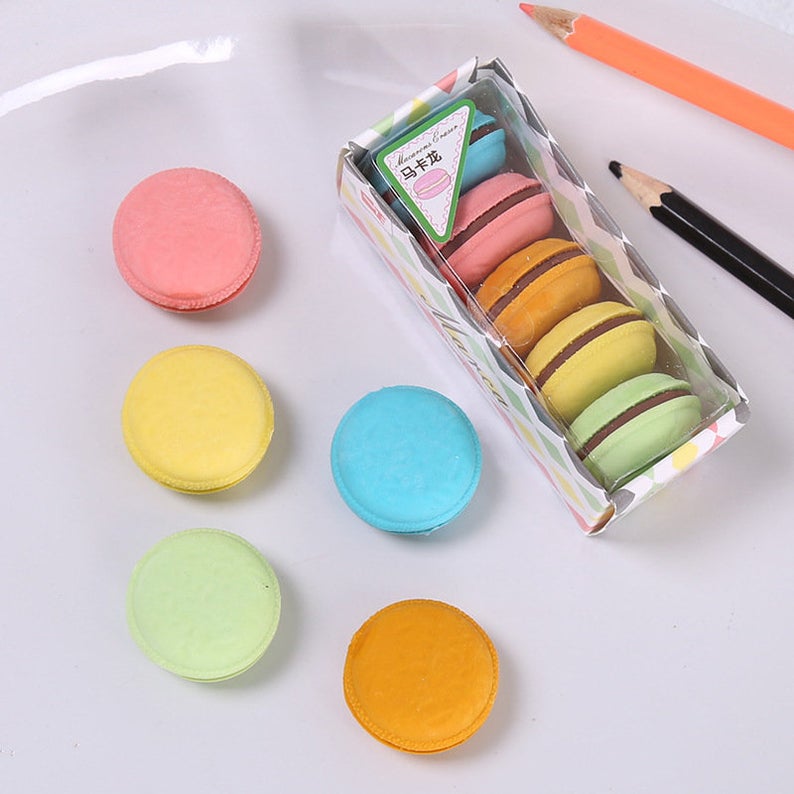 School supplies are a go-to when looking for useful back-to-school gifts for kids, make it special by choosing cute supplies like these Macaron Erasers. It will make an awesome gift for older kids, for younger ones you could get them animal ones for example.
If you have several kids you want to gift something to, the set includes 4 erasers so you can split it. You can also add one or two to a back-to-school gift basket mixing it with other cute school supplies.
Another cute school supply you can gift the child in your life or add to a back-to-school gift basket, these Baby Dinosaur Gel Pens are adorable and will make a cool gift for kids who like dinosaurs.
The set includes 2 pens. They are comfortable to write with and kids will love the little dinosaur at the top.
A new school year usually means a new backpack. It will make a practical back-to-school gift for kids and they'll be excited at the idea of getting a new cool backpack.
This Personalized School Backpack is the perfect size (22 x 24 x 6 cm) for toddlers and younger kids. It will fit everything they need for the day and will be comfortable for them to carry. The straps are padded and adjustable.
You can choose from six different colors and have their name embroidered on it. The backpack is sturdy and well-designed, they'll be able to use it for years.
Being able to add their name makes it extra special, and most of all, it makes it easier for teachers to know who it belongs to.
Another great backpack option, these cute and unique Animal Backpacks are slightly bigger than the ones listed above. They'll be perfect for elementary school students. They can be used for school but also for day trips or sleepovers.
Handmade with care, you're sure no one will have the same backpack at school.
They come in four colors/animals and all look adorable.
Pencil cases are a must-have for school and you'll easily find an awesome one the kid in your life will love. This Personalized Pencil Box is perfect for little girls, you can add their name to it and change the earrings and bows' color.
Made of plastic, it's sturdy and durable and you can choose from a bunch of different colors and if you want glitter or not. It should be big enough to fit all the school supplies they need for school.
For an extra special gift, you can fill the box with school supplies or candies.
Related – 25 princess gift ideas for little girls
If they need a folder for school, one of these Personalized School Folders will make a cute gift for kids. They'll have a one-of-a-kind folder to bring to school.
The folder is made of vinyl and is durable and sturdy, so perfect for kids. You can choose from a ton of different patterns and fonts.
It's a cute thing to have for school, kids will love it, especially with their name on it.
Kids tend to be messy and keeping things somewhat organized might be challenging, this School Supply Box will help them store and sort through their supplies. For an extra special gift, you can fill it with pens, crayons, erasers… anything they might need for school.
The box is large enough to fit all their supplies. They can bring it to school and leave it there or use it at home. Kids will love having it customized with their name, it will feel special, and hopefully, it will help them keep their stuff organized.
You can choose from several designs.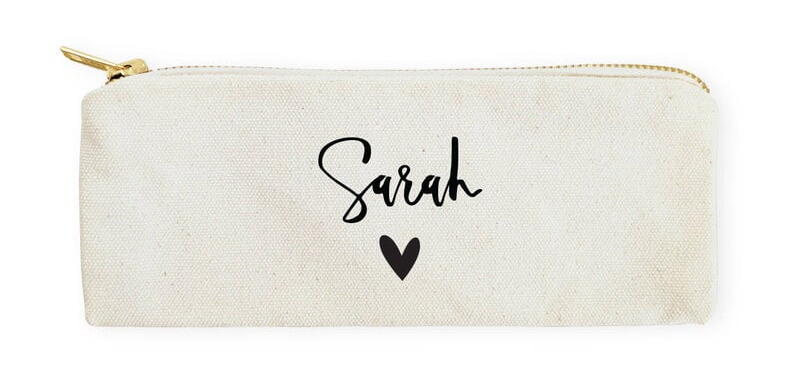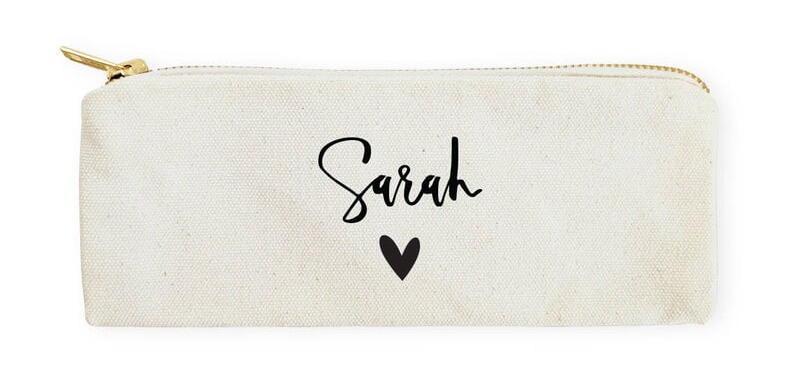 They are tons of options when it comes to pencil cases, you can choose one based on their favorite cartoon or animation, or according to something they like. If you want something basic but still meaningful, this Personalized "Name with Heart" Pencil Case will make a cute back-to-school gift.
It's simple, with the customization adding a special touch to it. Kids will love it, having a pencil case made just for them.
It's made of cotton canvas so it's pretty sturdy and durable. The zipper will also last, they can use for years to come – and the design is so simple they won't outgrow it.
It only comes in white but you can choose the font color.
You probably won't find a cuter math set out there. Made with dried flowers, dried leaves, and flakes, and cased in non-toxic resin, it's beautiful and quite unique.
The set includes one ruler, two squares, and one protractor. You can choose from a couple of different color schemes.
This Flexible Pencil Case is not something you see everywhere and it's super practical. It makes finding what you're looking for so much easier, and the design is just so cute.
Kids will love having something different from regular pencil cases. They're colorful and bright, with an adorable animal printed on them. You can choose from a bunch of different styles, with different colors and animals.
The cases are durable and sturdy and will serve for many years.
The Five Minute Journal for Kids helps kids cultivate gratitude, change how they feel, alter the actions they take, and teach positive habits with five daily questions. It will make kids concentrate on the good things, improving their mental well-being and decreasing anxiety.
It's a great thing for kids to do and it will only take 5 minutes a day.
Tips for finding the best back-to-school gifts for kids
Keep in mind their age, a pre-schooler might not care about cute school supplies while older kids might not care about an animal-shaped backpack.
Try to figure out what their into at the moment, like their favorite cartoon or toys they are playing with now – then you can get them something related.
Try to think of what they might need and of what they already have so you can get them something useful.
Didn't find what you were looking for? Check out our other gift guides for kids!
Share this post on social media or save it for later – Best back-to-school gifts for kids: