The school year is beginning soon and it's the perfect time to show your appreciation. If you want to celebrate the occasion and welcome the teachers that will be in your child's life for the next year, getting them a small gift is an excellent idea.
If you are wondering what are the best back-to-school gifts for teachers you have come to the right place. We have carefully selected the best gifts for teachers – things they really want and that will be perfect for the beginning of the year.
You want to get them something thoughtful and useful at the same time, something they'll actually enjoy receiving and have a use for.
In this gift guide, find inspiration and ideas for small gifts to buy or to make DIY gift baskets – so thank them, show them your appreciation, and start the new school year right!
Keep on reading to discover all the best back-to-school gifts for teachers.
Check out more gift guides for teachers here >>
Disclaimer: This post contains affiliate links, which means that if you click on any links and make a purchase, we'll get a small commission, at no cost to you.
Best Back-to-School Gifts for Teachers
Every teacher needs a good planner to write lesson plans, students' information, to-do lists, and things to do. This Record and Lesson Plan Book for Teachers will make an excellent back-to-school gift for teachers. It will help them keep track of their classes and plan their lessons -keeping everything organized and easily accessible when needed.
You can choose from a bunch of different cover designs. It includes 160 pages and should last for the entire school year.
Celebrate the first day of school and welcome back your favorite teacher with this cute T-Shirt. One can never have too many shirts so it will always make a thoughtful gift that will be appreciated.
Start the school year right with a funny gift right on cue for the first day of school. This shirt comes in three fits and a bunch of different colors. It will make a perfect addition to a teacher's wardrobe and they can wear it at the beginning of every school year, remembering you by.
A cute little gift to show your appreciation, this Back to School Bracelet is made especially for teachers. The bracelet is simple and discreet and full of meaning.
It's easy to wear and pair with any outfit or clothing style. Someone who likes trinkets and charm bracelets will love to receive this one as a gift.
The packaging is well-thought, it includes a special message for teachers to add significant sentimental value to the gift. It reads "How sweet it is to be taught by you". The trinket represents a tree, a symbol of knowledge.
The bracelet is pretty sturdy and the charm won't change color or stain the skin.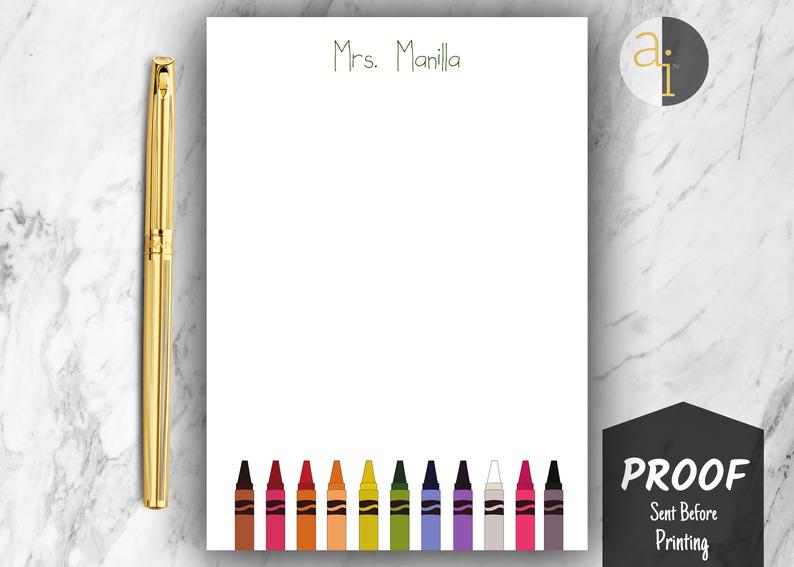 Teachers can never have too many note pads, so even if other parents have the same idea as you, it will still be appreciated.
This one is extra special as it is designed with teachers in mind and you can customize it with their names. You can also choose the font.
Teachers will love this gift, especially as they'll have a use for it and the customization just makes it extra special. They'll feel appreciated and will be glad you thought of them.
Cute and useful, teachers will love this Pencil Bag. They can use it for school but also when going on trips, to use as a pencil bag or small makeup pouch.
You can customize it with their name and the grade they teach. Personalized gifts are always awesome as they are unique and it shows you took the time to think of them.
This pencil bag is practical and sturdy and will make a perfect back-to-school gift for teachers.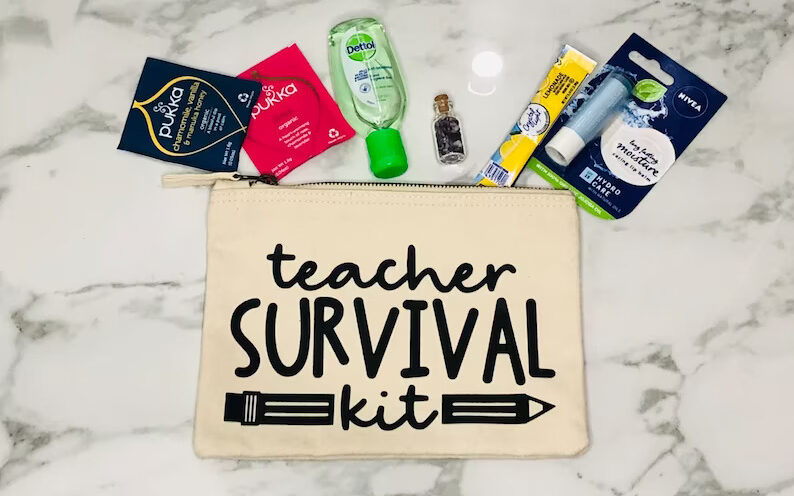 Including everything a teacher might need but not always have with them, this Survival Kit Gift for Teacher is a must-have. It will make a perfect gift as it includes a bit of everything and will always come in handy.
The pouch is nice and sturdy and can be reused for something else later on.
It's also a super cute gift idea, thoughtful and practical at the same time.
You can chose between five colors for the pouch. Inside, you'll find some tea bags, a lemonade bag, a lip balm with jojoba oil, hand sanitizer, and a Chip Crystal wishing bottle.
You can also just download a printable (like this one) and make your own survival kit at home.
A complete gift for teachers, this Teacher Gift Set includes a bit of everything and is handmade with care. It's a unique and thoughtful gift, perfect for a teacher you already know.
You can choose what comes inside the box, things like coasters, candles, mugs, cards… are available. Everything is custom made for the teacher in your life.
Treats always make great gifts for teachers. They might not always have the time to bake themselves and most people like sweets. It's also fine if several parents bring them food as they can share it or eat it all (whereas they might not know what to do with 20 mugs).
You can either bake something yourself and use one of the back-to-school printable tags listed below, or buy homemade ones.
These Mini Back-to-school sugar cookies are just the cutest. Colorful and shaped as school supplies, it makes the perfect back-to-school gift for teachers who have a sweet tooth.
You can pre-order them so you get them right when you are ready to gift them.
Canva bags are always useful things to have, to carry notebooks and books to school, to go the beach, or grocery shopping… They are pretty versatile and will often come in handy.
This Personalised Teacher Bag will make a thoughtful gift to welcome new teachers and celebrate the beginning of the school year. It's pretty cute and well designed, it's simple and will go well with a casual look.
Having it customized with their name makes it extra special, teachers will love bringing it to school.
The bag is sturdy and will last, the print won't fade or peel off. It will make a high-quality gift for your child's teacher.
Keychains always make great gifts, it's small and thoughtful, and you'll always find space for it. It's also a good gift as they'll be reminded of you every time they use their keys.
This key chain is shaped like an apple and you can add your child's teacher's name inside it. You can choose the tassel's color as well.
Back to School printables for DIY gifts:
When it comes to back-to-school gifts for teachers, the go-to is usually either food, gift cards, or school supplies. All three are great options, especially if you keep in mind that they receive several of the same gifts every year, so you want something they can't have too much of.
The thing is, if you want something that feels more personal, these are not your best options, that's when printables come in handy. It will turn any "classic" gift into a sentimental and thoughtful one.
Here are a few options to dress up sweets, gift cards, or school supplies, and turn them into awesome back-to-school gifts for teachers.
You can easily buy a few items at your local grocery store or pharmacy, add them to a bag or box and use these "Survival Kit Back to School Tags" to make a thoughtful gift for teachers.
Survival kits make great gifts for teachers, they're thoughtful and are filled with practical and useful items they might need at some point during the school year.
If you already know your child's teacher, make sure to add things you know they like. Otherwise go with basics such as disinfecting wipes, lotion, hand sanitizer, tea or coffee, vitamin C tablets, cereal bars, chapstick, pens, post-it notes, markers, erasers… You can also add a gift card or bigger items like a reusable water bottle or a coffee tumbler.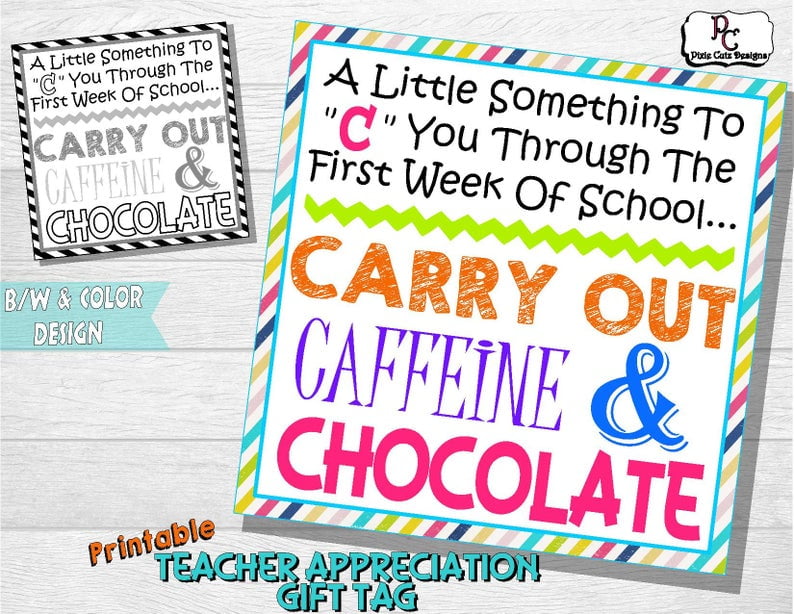 If you are getting them any treats or coffee as a gift, whether you make it yourself or buy a box of chocolate, just use this gift tag to make it extra special.
Design especially to add to back-to-school gifts for teachers, you can easily print it at home and add it to your gift. It's funny and cute at the same time and will definitely put a smile on any teacher's face when they see it.
If you ask teachers what gifts they like best from students and parents, most will say "a gift card". First, because you can never get too many gift cards and second because they get to choose what they really want.
This Back to School Gift Card Holder is perfect if you are thinking of getting them a gift card from Starbucks or a similar place. It will instantly turn a classic gift card into a cute gift. The design is adorable and unique and right on cue for the beginning of the school year. Teachers will just love it.
Enhance anything you might get them with this adorable Back to School Tag. You can edit it to add your name or your child's name as well as their's. You can also change the font and color if you'd like.
It's perfect to use as a gift tag or you can also make a little pouch with transparent wrapper, adding a few candies for example and the tag inside.
If you are a bit crafty, you can choose to get these Pencil Candy Box printables. You can print it at home or at your local printer, thicker paper would work best, or you can glue the prints onto thin cardboard.
It will make a great activity to do with your kids and teachers will just love it. Once the boxes are assembled you can feel them with candies or a pen or two.
It's a good option if you have several teachers you want to give a gift to.
Share this post on social media or save it for later – Back-to-school gifts for teachers: