Graduation is finally here and you want to thank your parents for helping you achieve this important milestone. They have cared for you and loved you since the day you were born and have always been there for you.
To show your appreciation for your parents, we have carefully picked some of the best graduation thank you gifts for parents. From sentimental keepsakes to bring tears to their eyes to funny ones to bring a smile to their face, you will find the perfect present for your parents.
Disclaimer: This post contains affiliate links, which means that if you click on any links and make a purchase, we'll get a small commission, at no cost to you.
Sentimental Graduation Thank You Gifts for Parents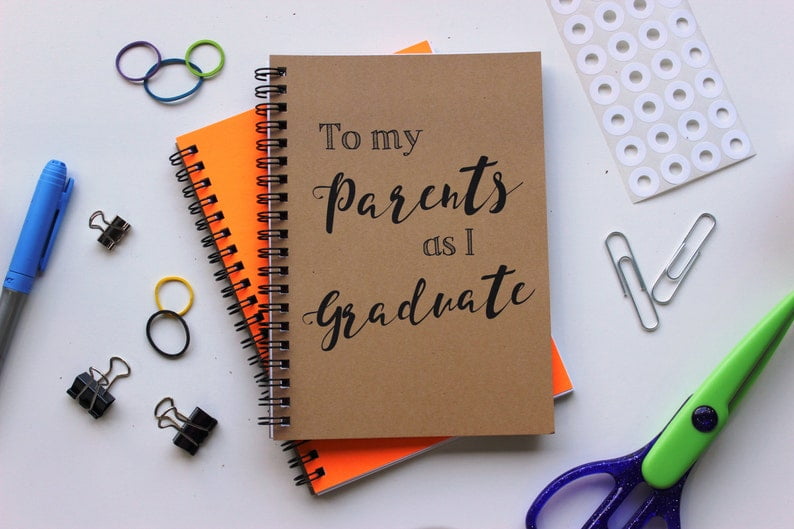 If you are the sentimental type and want to make your parent's hearts melt, then this journal might be the perfect thank you gift for your parents to get them on your graduation day.
Just write down how thankful you are, how much they have helped you reach your goals, and everything you have accomplished so far thanks to their support.
You can pick the color of the cover, the type of paper, and the number of pages.
It definitely will make them tear up, and they can have a keepsake of this important day.
Family portraits always make great gifts, and it's more affordable than you might think. Custom-made, this portrait will picture you as a graduate with your parents at your side.
You can pick the clothing, hair, and skin color to match you and your family – you can also change the quote.
You will receive a digital file so you'll need to have it printed online or at your local print shop.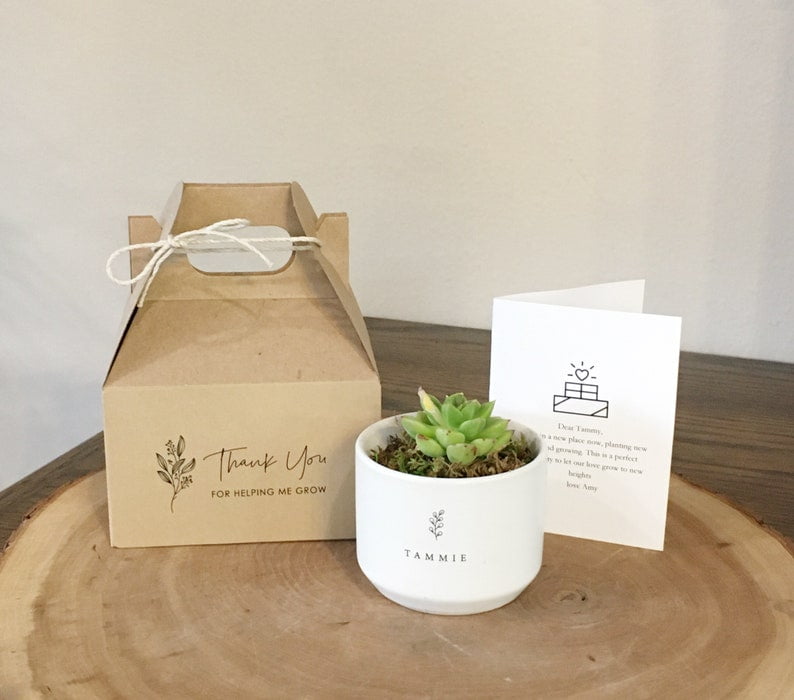 Because your parents have always been there from the start and have helped you so much, this plant will symbolize how much they have helped you grow.
You can customize the pot with your parents' name and the date, choose the icon and the font. The pot comes with the succulent, a gift box, and a card (either blank or with your message).
A beautiful art print they can proudly display in their home will make a perfect graduation thank you gift for parents and keepsake of your achievement.
You can receive it printed on paper, metal, or canvas – pick the size, and order the matching frame. The text can be customized as you'd like, just send the artist what you want the print to read.
Another way to thank your parents and have a keepsake of your graduation, this picture frame will make a thoughtful gift. It is designed specifically for graduation to thank the people in your life who have helped you.
You can choose between two sizes and a bunch of different colors. Make sure to add your name and date to the customization field when ordering.
Something sentimental and useful at the same time, this personalized cutting board will make a thoughtful thank you gift for your parents. They'll think of you every time they use it.
The seller offers different types of wood, shape, and sizes so you can pick your favorite one. You can also request a different message.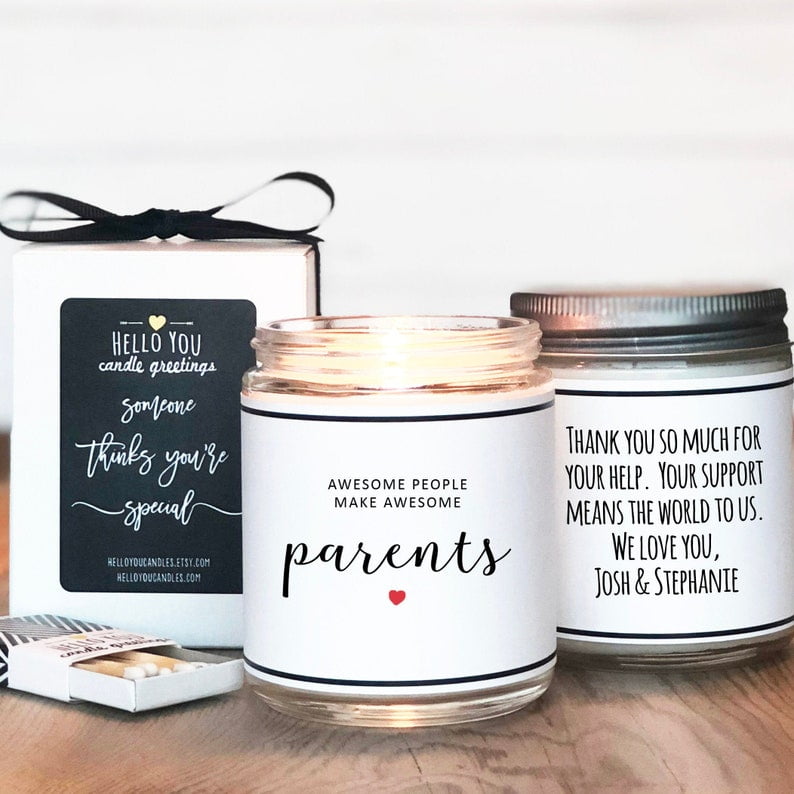 Candles are classic gifts that are always appreciated – make it extra special with a customized one, designed to thank your parents for their support – it will be the perfect graduation gift for them.
The candles are made of soy wax – you can pick the scent and write a custom message for your parents that will be printed on the label. It comes in a gift box so you'll just need to wrap it.
Sometimes the simplest of things make the best presents – bring a tear to their eyes with this sentimental ornament that shows how thankful you are.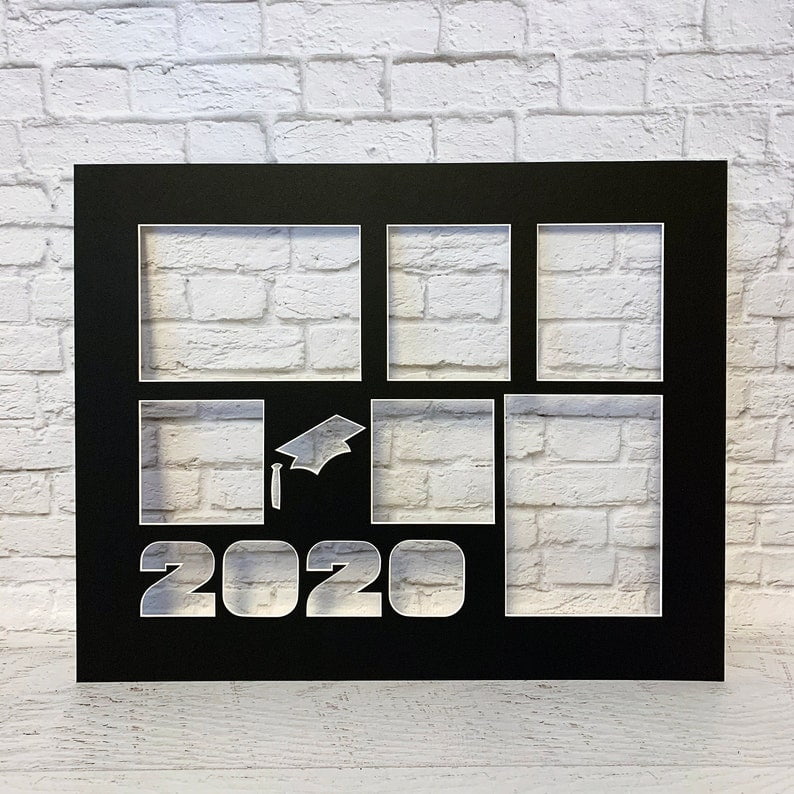 Photo collages and frames always make great gifts to celebrate a special occasion in one's life. Your parents will love getting a keepsake of your years in college and have something of you to showcase at home.
This is a mat board photo frame that can fit 6 pictures, you can also add some behind the year and the cap (or you can add your school colors). The mat can come in any color you want to match your parent's interior.
This photo collage template is another great option for your parents. It's the perfect thing to celebrate your college graduation and have a keepsake to showcase at home.
You'll have access to the template on Canva and you can edit as you wish and as many times as you want. You can edit the text and add some more if you want to add a message. Then you can print at your local printer or online.
Thoughtful Graduation Thank You Gifts for Parents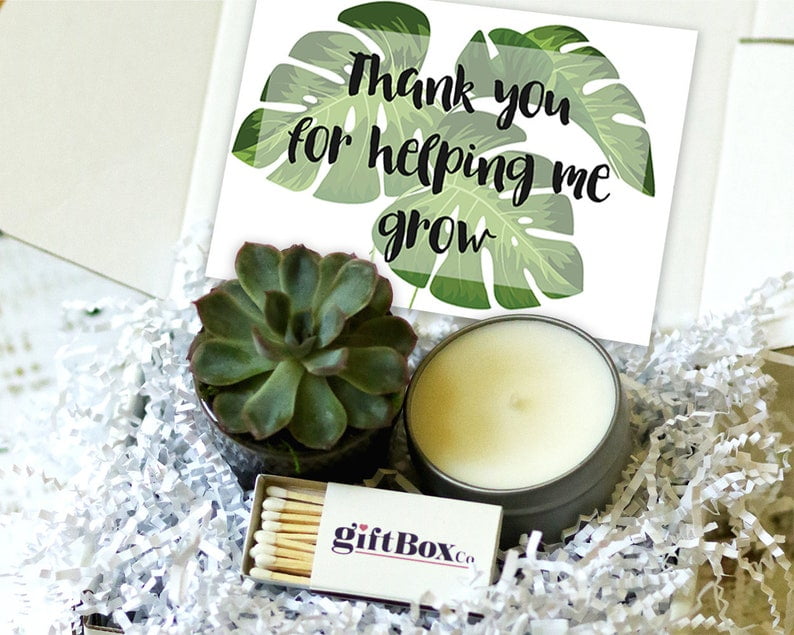 A cute gift box to thank your parents for "helping you grow", the box includes a candle (you can choose between different scents), a succulent, a box of matches, and a card, all wrapped in a gift box.
If you want something to make them tear up, then this might be the perfect thank you gift for them. This little jar includes 42 notes with quotes about love, being thankful, appreciation… They can open one when they miss you or are thinking about you.
You can easily DIY this gift at home, just find any jar and fill it with little notes you've written for them.
This set of mugs is perfect as a thank you gift to express love and gratitude. They'll be reminded of this day and of your thoughtful gesture every time they use them.
The mugs are dishwasher and microwave safe.
Something beautiful they can showcase at home, this windchime is designed to give thanks to the people in your life. It features an engraved quote at the top and "thank you" is written on the bottom sail. You can have a custom message engraved as well.
The packaging is perfect for gifting and comes with a thoughtful message.
Lastly, baked goods always make nice thank you gifts – you can bake something yourself and wrap it nicely – or get these cute cookies. They are delicious and the design is just perfect to show your appreciation for your parents.
The box includes 12 sugar cookies printed with edible inks.
Check out some of our other graduation gift guides here>>
Like it? Pin it for later – Thank You Gift Ideas to Get Your Parents on Your Graduation: