Valentine's Day is coming up and you want to get something sweet for the man in your life from his child to mark this special occasion – Baby's first Valentine's Day.
There are plenty of sweet Valentine's gifts for fathers out there as well as more practical ones that a dad would love to get. From sentimental gifts for fathers from their little ones to practical and useful Valentine's day gifts for men, we have selected some of the best Valentine's Gifts from Baby to Dad so you can pick the perfect present for the dad in your life.
Disclaimer: This post contains affiliate links, which means that if you click on any links and make a purchase, we'll get a small commission, at no cost to you.
Sentimental Valentine's gifts from Baby to Dad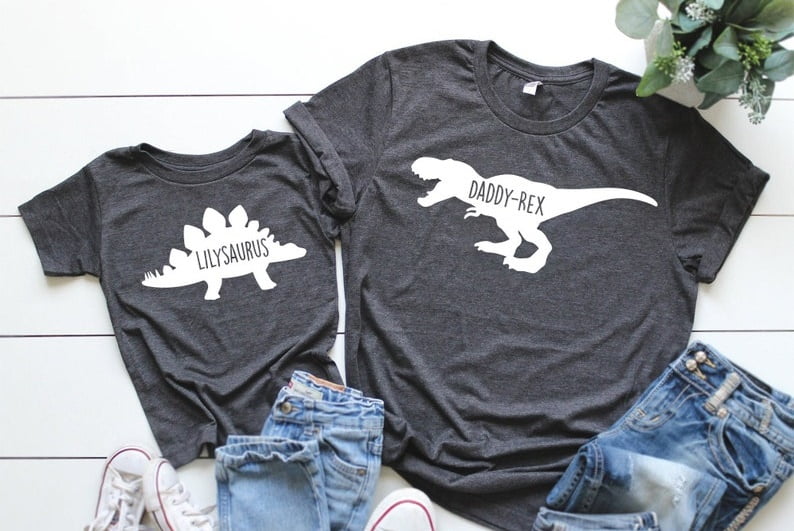 Matching outfits are great for holidays, you can organize a photoshoot to keep a memory of Baby's first Valentine's day. Dad will love to wear this cute shirt, matching Baby's.
The shirts are soft and comfy and the design won't peel off or fade. You can choose from a bunch of colors and fits, and pretty much customize it as you wish, just contact the seller after check out.
There's no better gift from baby to dad than something he can keep for years and that will remind him of Baby.
These custom keyrings are just adorable and will make the cutest Valentine's day gift for dads. There are lightweight yet sturdy and made with care.
Just send the seller a photo of your kid (make sure there's enough space at the top for the hole) and their name. The picture is permanently pressed onto the keychain so it will not fade or tarnish.
Baby might be too small to read the book but he'll love looking at the bright pictures and Dad will love to read about how awesome he is. The book will be customized with your child's (or children's) name and you can add a custom message on the first page.
It will make a thoughtful Valentine's Day gift for Dad where Baby "expresses" how cool his dad is.
For a DIY Valentine's Day gift idea, consider making this beautiful wall art. You can download the poster, customize it with the date and Baby's name, and either have it printed online or go to your local print shop.
Then get some paint and add your kid's footprints in the middle.
It will make a thoughtful keepsake to remember Baby's first Valentine's Day.
A cute Valentine's gift from Baby to Dad, this "World's Best Daddy" mug is customizable with Dad and Baby appearances and names.
The mugs are dishwasher and microwave safe and will make a perfect keepsake.
Make it funny, sweet, or a blend of both when filling in the prompts, telling him all the ways Baby thinks he's a great father.
There are 50 pages to fill in, the prompts make it easy to write, so even if you don't consider yourself a good writer or lack inspiration, it should be pretty straightforward. You can also rewrite some of the prompts if one doesn't fit.
It's always the little things that make the best gifts. This Valentine's Day, get something special for the dad in your life like this Keepsake Photo Frame Kit to remember baby's first Valentine's Day.
You can make it together or surprise Daddy with it. The kit includes everything you need (the frame, non-toxic clay, and stencils), you'll just need to add the picture and mold Baby's hand and foot.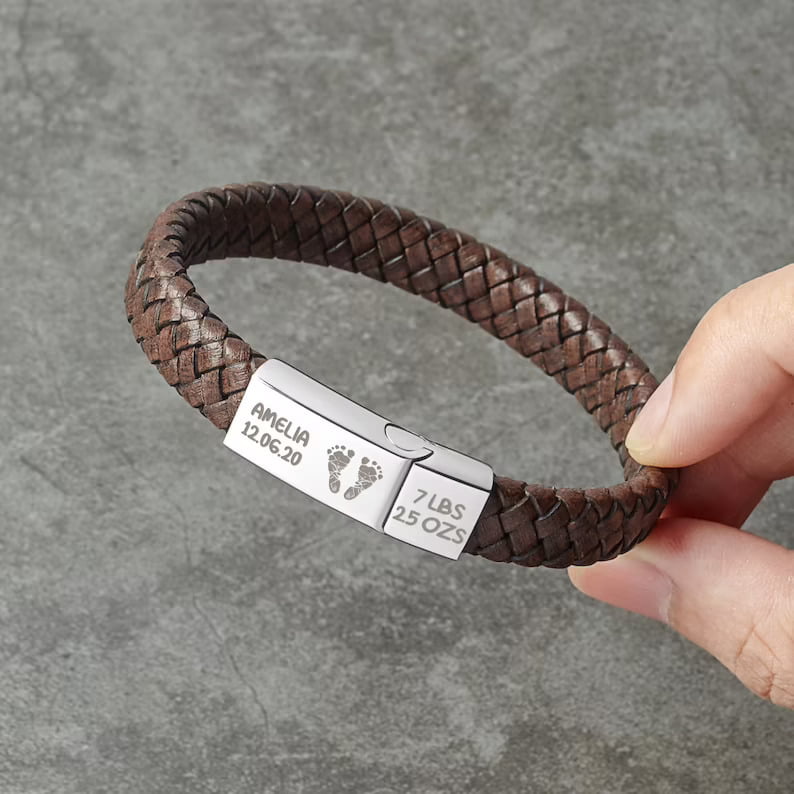 The perfect father gift, this leather bracelet is stylish and is perfect for the man in your life. It will blend easily with any style or outfit and can be worn on any occasion.
The sentimental touch comes with the engraved clasp where you can add Baby's name, birthday, and weight at birth. It's perfect if you have a newborn to remember by the day of their birth. You can even send a picture of Baby's print to the seller and they'll use it.
You can choose from two colors, black or brown, and from four sizes.
For the Star Wars fan in your life, this cute Valentine's card will melt his heart. This is a printable card so it's perfect for a last-minute gift.
Another thoughtful key chain option, this one is made of leather and is made especially for dads with a custom photo of your choice. Keyrings always make nice gifts and keepsakes and are a way to have something of your loved ones with you all the time.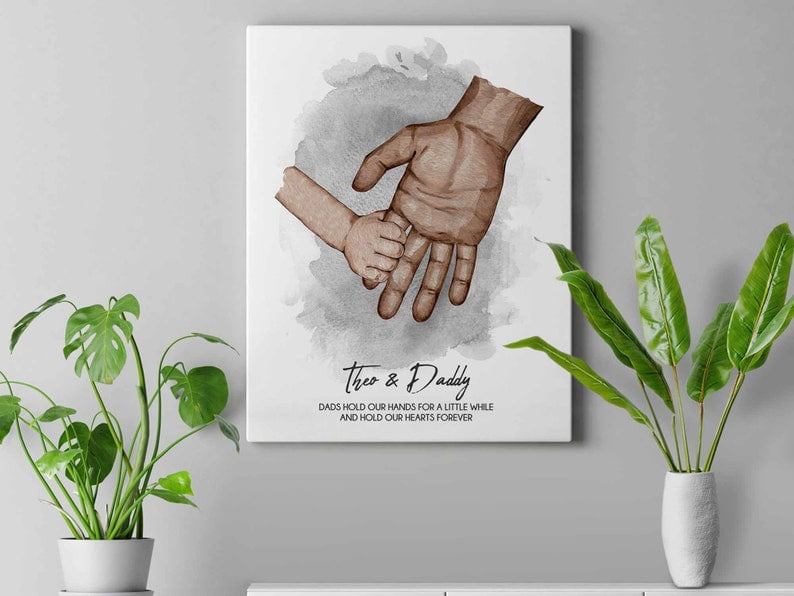 Sentimental, this painting of your husband and child will make a beautiful addition to your interior and Daddy will just love it. It's a print of a watercolor painting customized with Dad and Baby's name – you can also add Baby's hospital bracelet with all its information.
You can choose the size, the type of paper used, and if you want it in colors or in black and white.
We don't print pictures often enough, holidays like Valentine's Day are the perfect time to go through some of them, picking the best and gifting a beautiful photo album or frame to our loved ones.
Dad will just love this picture frame with photos of Baby – the perfect keepsake for Baby's first Valentine's Day.
You can choose from a bunch of different sizes and two colors (grey and dark wood) – you can also ask the seller to change the text if you want something more personal.
Useful Valentine's Gifts for Daddy
For the adventurous dad who likes to go on hikes, this baby carrier is a must-have.
The carrier is lightweight (5.5 pounds) yet it is sturdy and comfortable for both Baby and parent. The padding helps you stay dry and comfortable for hours. On Baby's side, the carrier features a sun canopy and a rain cover, safety belts and foot stirrups, as well as a washable drool pad.
The carrier is adjustable to fit Baby as he grows. It's built for children between 9-48 months (max 33lbs).
For the Dad who likes to travel, now that Baby is here, things might be a bit different when it comes to exploring the world. This handy travel handbook features destinations around the globe for families with kids of all ages as well as useful travel tips for families traveling with little ones.
Made by Lonely Planet, the book is filled with insightful tips from long-term travelers on how to travel with kids and have a blast.
Diaper bags are not always the best in terms of fashion and being stylish, but there are a few options out there that are practical as well as nice looking, like this diaper backpack by Ruvalino.
It's big enough to carry every essentials. It features a changing pad, insulated pockets, two big zipper closure compartments, and 16 pockets. It comes in a bunch of different colors, is sturdy, and is comfortable to wear.
Check out some of our other Valentine's Day gift guides and gift guides for men:
Save it on Pinterest for later: