Disney's The Nightmare Before Christmas by Tim Burton has become a cult classic and a beautiful animation movie that transcends through the years, like Jack Skellington and Sally's love for each other.
If your better half is a fan of the iconic movie and you want to get them something special this Valentine's Day, we have carefully selected the sweetest and cutest Nightmare Before Christmas Valentine's Day gifts for your boyfriend, girlfriend, husband, wife, or couple in your life.
From official merch to sweet Valentine's gifts, you will find something they'll love and appreciate.
Disclaimer: This post contains affiliate links, which means that if you click on any links and make a purchase, we'll get a small commission, at no cost to you.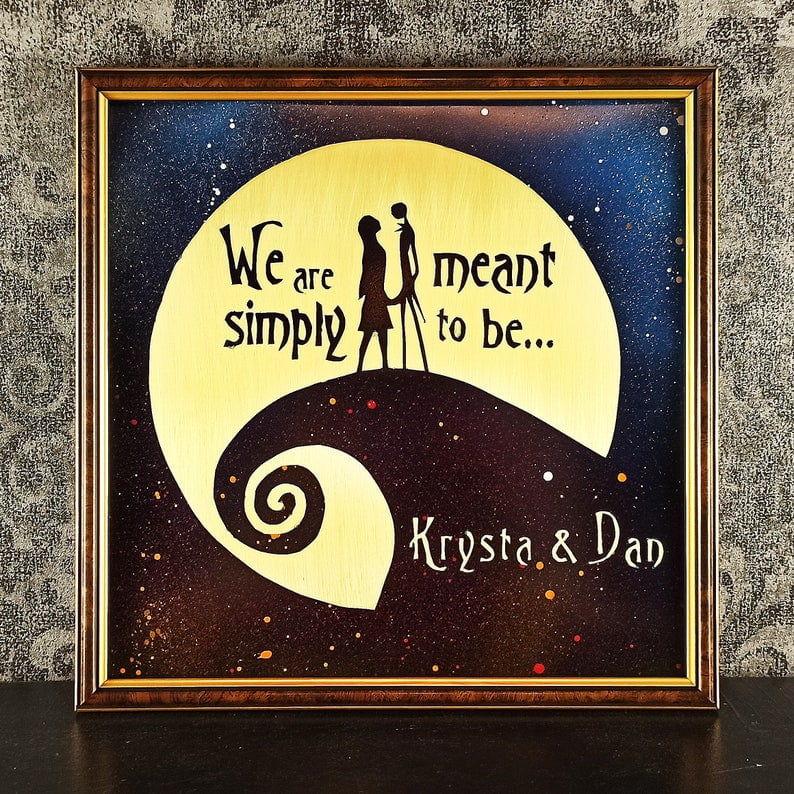 Express your love for your partner this Valentine's Day with a custom print of their favorite movie. Like Sally and Jacky, if you're love was simply meant to be, this wall art will make a perfect gift.
Customize it with your name and your loved one's. Each piece is engraved and painted by hand on real metal sheets – a truly one-of-a-kind art piece.
If you want something sweet for Valentine's Day, these matching t-shirts might be it.
You can choose from a bunch of different colors and styles and have custom text added at the back of the shirt. The shirt designs are handmade using professional quality vinyl and multiple color layers, so it won't peel or fade.
Another cute couple's Valentine's Day gift, these handcrafted matching glasses are adorable. You can put them on display or use them, just make sure to handwash them.
The last matching couples gifts on this list, these mugs will make a perfectly sweet Nightmare Before Christmas Valentine's Day gift. You can pick the size and choose to order both or just one.
The mugs are dishwasher and microwave safe.
Custom portraits make for a thoughtful and romantic gift for your better half – it's just perfect for Valentine's Day. Turn yourself and your partner into cartoon characters from the Nightmare Before Christmas with this stunning custom print.
Send your photos to the seller and the artist will create a beautiful piece of art that you can proudly showcase in your house to add a romantic touch to your interior.
You can choose pretty much anything you want, from the way you are dressed to the background, just ask the artist and he will make your idea come to life. If you have children or pets you can also include them in the painting.
You will get a digital file so you'll need to have it printed online or at your local print shop.
Turn their bedroom into a Nightmare Before Christmas den with this beautiful bedding set inspired by their favorite movie.
Soft and comfy, the set includes a comforter, a fitted sheet, a flat sheet, a pillowcase, and a sham. You can choose from three sizes: twin, full, or queen.
The black and white tones make it easy to blend the set into any type of interior decor or color scheme.
What better Valentine's day gift for him than boxer shorts, especially The Nightmare Before Christmas-themed ones? These are adorable and super comfortable – any fan of the movie will love them.
These boxer shorts would also make a good gift for women – they can wear them as a pajama bottom.
This Valentine's Day, tell her how much you love her with this beautiful pendant inspired by The Nightmare Before Christmas. Featuring Jack and Sally sitting on the moon, the necklace is inlaid with a 100-language projector stone to make it extra romantic.
The necklace is well made with sterling silver so it won't change color or stain the skin. It's pretty small and discreet so it can easily be worn on any occasion.
Cuddle up on the couch wrapped in this comfy blanket, get the popcorn ready and watch The Nightmare Before Christmas for the hundredth time.
The blanket is soft and will keep your better half warm this winter. The sleeves make it extra easy to stay warm and comfy.
A cute little gift to get your girlfriend or wife on Valentine's Day if she is a fan of the Nightmare Before Christmas, these socks are soft, comfy, and well made.
The pack includes five pairs, each with a different design. You can choose from a bunch of different The Nightmare Before Christmas-themed packs.
For the board game lover, this Monopoly with a twist will make a perfect Nightmare Before Christmas gift idea. Featuring artwork, characters, and gameplay inspired by the frightful cult classic film, sell and trade popular locations from the movie such as Zero's Tomb, Spiral Hill, Dr. Finkelstein's Laboratory, and Jack's Tower, in a quest to become the king of Halloween Town.
A cute Valentine's gift for fans of the popular movie, these trinkets dishes will add a special touch to their home decor. Perfect to put on display and store small trinkets, they will love it!
The set includes three different trays and is an officially licensed Disney merch.
This baby Jack plush is just adorable and super well made. It will look perfect on display and is ideal to cuddle with or add a special touch to their home decor.
For the fan who likes to collect things from the popular movie, this set of 4 shot glasses will make a perfect addition to their collection. Each glass is different and features a character from the animation (Sally, Jack, Zero, and Oogie Boogie).
This is an officially licensed Disney Nightmare Before Christmas glass set.
Make sure to hand wash it if you don't the design to fade.
The perfect addition to their kitchen or living room table, this salt and pepper set is just adorable.
The shakers are made of ceramic and are handpainted for a unique design and great quality. They come in a gift box.
Check out our other Valentine's Day gift guides:
Save on Pinterest for later: