Valentine's Day is coming up and you are wondering what to get your pregnant wife? We have come up with some of the best gift ideas for expecting mothers. From sweet and sentimental Valentine's gifts to useful ones, you will find the perfect gift for your wife.
Keep on reading to discover our selection of the best Valentine's Day gifts for your pregnant wife.
Disclaimer: This post contains affiliate links, which means that if you click on any links and make a purchase, we'll get a small commission, at no cost to you.
Sentimental Valentine's Day gifts for your pregnant wife
If you are looking for something sweet to make her heart melt or to have a keepsake of her pregnancy, check out some of the gifts listed below.
Probably one of the best sentimental gifts for an expecting woman, this wall art will make a beautiful keepsake of her pregnancy. Just send the seller her latest ultrasound, pick a color, and you'll receive a beautiful piece of art.
You can pick from a bunch of different colors and papers – and choose to add a frame.
Your wife will surely love this unique Valentine's Day gift.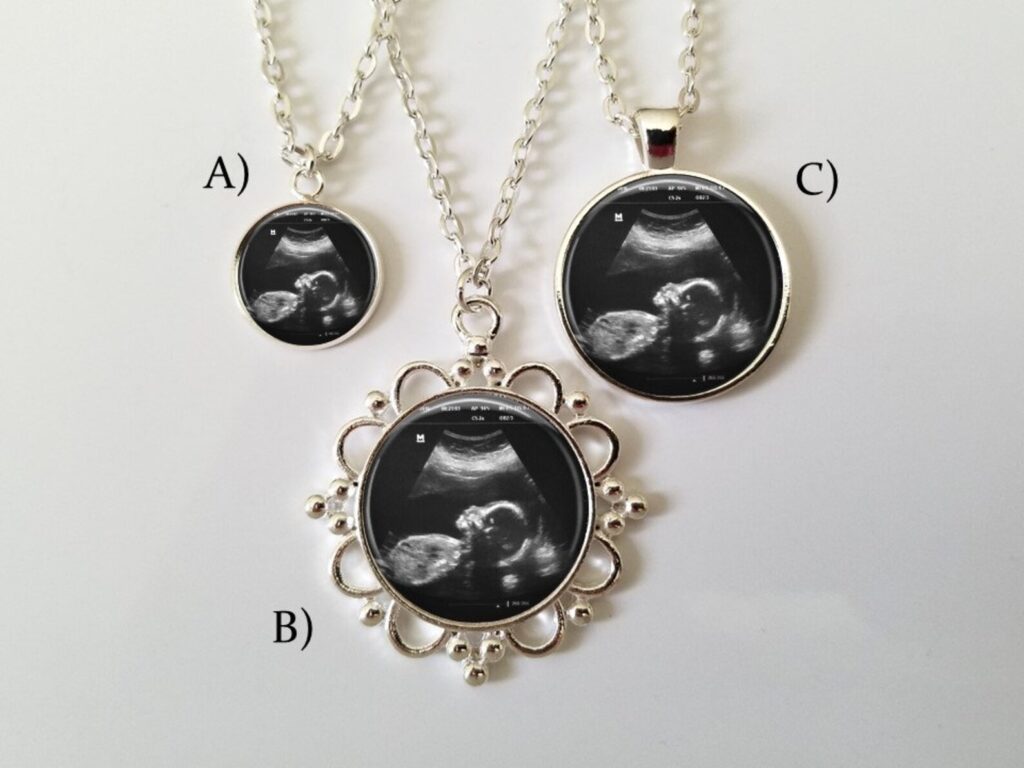 Another great way to have a keepsake of her pregnancy and Baby to come, this necklace features a picture of her ultrasound. It's a beautiful piece of jewelry that can be worn on any occasion and just be kept as a reminder.
You can choose from 3 different designs, make sure you send the picture of the ultrasound after the checkout.
Based in Kansas City, artist Susan Lordi carve and hand paint beautiful figurines to celebrate life and love. These sculptures have quickly become bestseller gifts, and this particular one will make a perfect Valentine's Day gift for your pregnant wife.
It's thoughtful and sentimental, and is a great way to express your love on this special day.
If she is at the beginning of her pregnancy she might want to start journaling to record her pregnancy. Made for expecting moms, this journal will help her express new feelings, experiences, and anything that comes with being pregnant and getting ready to welcome a new baby into her life.
Self-Care Valentine's Day Gifts for Expecting Moms
Self-care gifts are perfect for pregnant women as pregnancy is a time when you need extra pampering and anything that might help you feel a bit better.
A pampering box specially made with mothers to be in mind, it includes some premium products to make her feel good and appreciated.
The seller offers six different spa boxes with different products. You can pick one based on scents she likes or the type of products inside the box. It comes beautifully packaged with a sweet note – ready to gift!
All products are of quality and the cosmetics are made with natural ingredients, safe for pregnancy.
If your wife does yoga or is into meditation and mindfulness, she will love these motherhood affirmations cards. Beautifully crafted, they will bring her peace, confidence, and encouragement throughout the day.
The set includes 20 cards printed on quality cardstock. She can choose to pick one a day, one a week, or just put them around the house.
If your wife doesn't already have a pregnancy pillow, you need to get her one. These are life-changing and will really help her feel more comfortable when laying down.
The number one bestseller for maternity pillows, the PharMeDoc Pregnancy Pillow will help support her back, hips, knees, neck, and head to help ease discomfort associated with pregnancy, sciatica, fibromyalgia, gastric reflux, and more.
The pillow is soft and comfy (the cover is removable and washing machine safe) and comes with a lifetime manufacturer warranty.
A nice little addition to a Valentine's Day gift basket, this herbal tea will help the mom-to-be relax and unwind.
You can also check out the other flavors and mix and match. All plants are selected with mothers in mind, and you'll find everything ranging from breast milk support to labor tonic.
If your wife likes taking baths, these bath salts will help relax her and ease common pregnancy aches. Magnesium helps with nausea, stress, sleep quality, blood circulation, leg cramps, and headaches. Just 20 minutes of soaking will make her feel better and refreshed. It can also be used in a foot bath.
Swollen feet and legs are common during pregnancy, help her relieve the pain with these amazing cold therapy socks. Just keep the ice packs in the freezer or fridge and when she gets home from work she can wear the socks while resting on the couch for a while. The relief comes fast and she'll definitely feel better afterward.
Useful Valentines Day Gift Ideas for Pregnant Women
As Baby is coming soon, there are a few things she might be in need of. If you are looking for a useful Valentine's Day gift for your pregnant wife, check out some of the items listed below.
She will definitely need a maternity robe. This one is great as it is designed to fit women during and after pregnancy. The robes are stylish and come in a variety of colors and patterns so you can pick one according to her tastes.
It's practical as it closes easily above the belly and comes with two pockets. The best part is that it comes with a matching swaddle blanket and hat for Baby – so they can both look good on the maternity pictures.
The robes are soft and comfy and are washing machine washable.
Diaper bags often tend to ruin your look. For the classy woman who doesn't want to compromise on style, this diaper bag is probably going to be the best Valentine's Day gift ever.
Looking at it, you couldn't tell it's a diaper bag, yet, it includes one changing pad, one insulated milk bottle holder, and two stroller straps – and enough room to carry everything Mom and Baby need.
It is made of high-quality vegan leather, features an anti-theft design, 13 pockets, and a USB charging port.
There are so many accessories out there to make new parents' lives easier, this nursing pillow is one of them. It will help make feeding Baby easier and more comfortable.
A game-changer for most moms, it will give her the comfort and support needed while keeping Baby close.
The cover is soft, removable, and washing machine washable. It comes in a bunch of different colors.
If you want to splurge on her Valentine's Day gift, consider this amazingly practical and comfortable nursing chair.
Designed with parents and Baby in mind, it features a metal base that allows for a smooth and gentle 360-degree swivel motion and forward and backward gliding. The chair has undergone rigorous testing to make sure it is safe for Baby.
It comes in several colors and will look good in your living room or nursery.
Funny Gift for Soon-to-Be Moms
If she is feeling a bit stressed about raising a tiny human, then this book will help her blow out some steam. The book is just hilarious and will teach you how to screw up your kids (or everything not to do if you want to raise decent human beings.)
"This groundbreaking instructional volume teaches you how to give your children the lifelong gifts of mental and emotional damage. Whether you employ the same ruinous techniques your parents used or try out an entirely new approach, you are bound to succeed!"
Check out our other Valentine's Day gift guides or gift guides for women:
Save on Pinterest for later: