Valentine's Day is coming soon and you want to celebrate the occasion with your loved ones – telling them how much you care. You probably already have found a Valentine's Day gift for your wife and are now wondering what to get your daughter.
When looking for a Valentine's Day gift for your daughter, you can go for a classic Valentine's gift like flowers (or a plant) or chocolate. You can also try to see if there's anything she might need or want.
For cute and sweet Valentine's gift ideas for your daughter from her dad, check out some of the gifts we have selected below. Discover small and appropriate gifts she will love and that will melt her heart on this special day. Show her your love with one of the gifts on this list!
Related – 23 Fun Valentine's Day Date Ideas for Teenage Couples
Disclaimer: This post contains affiliate links, which means that if you click on any links and make a purchase, we'll get a small commission, at no cost to you.
Valentine's Day Gifts for Daughter From Dad
Jewelry is a classic Valentine's gift, make it extra special by adding a personalized message just for your daughter.
Made in the USA by a small handicraft shop, this necklace is crafted with brilliant 14k white gold over stainless steel. The design is intricate yet simple, symbolizing the unbreakable bond between your daughter and you.
You can choose from five different pendants and add a mahogany box to your order.
Your daughter will love this gift, it's beautiful and incredibly sentimental – she will be reminded of your love for her every time she wears it.
A beautiful gift for your daughter to express your love, this cute key chain is handcrafted with care and features two disks and a charm, with a thoughtful message.
You can pick the charm and the finish of the disks.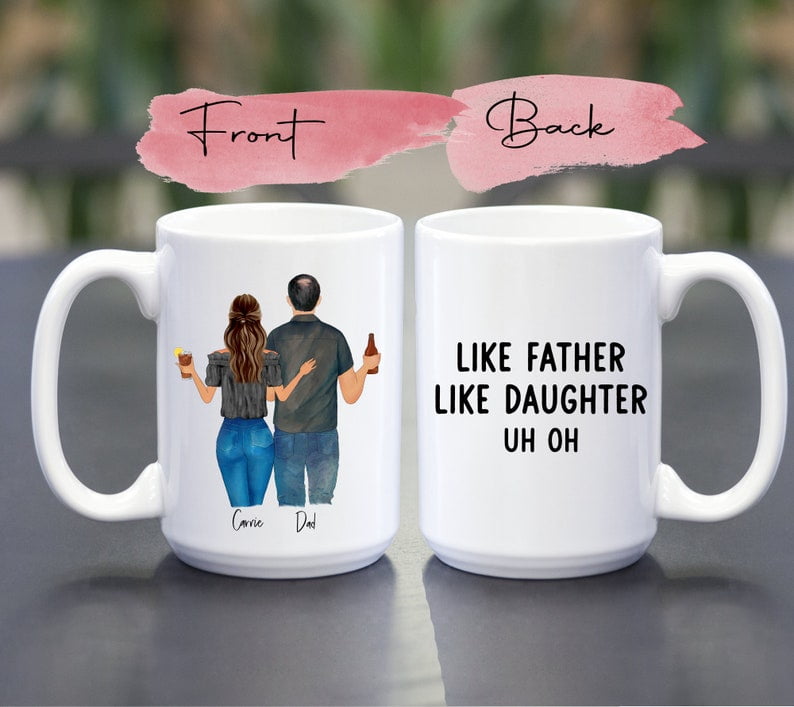 A sentimental father-daughter gift, this make will make a perfect Valentine's gift for her. She'll be reminded of you every time she sips on her tea or coffee.
The mug is beautifully designed and is fully customizable to resemble you and your daughter. Each mug is made to order. They are microwave and dishwasher-safe – the drawing won't fade or peel off.
A cute bracelet with sentimental value, it will make a sweet Valentine's Day gift for your daughter. You can choose the color and the trinket and it comes with a customized message for your child.
Six gifts in one, it will feel like a Christmas morning when she unwraps the box and goes through all the items inside it.
Themed for Valentine's Day, the box includes a natural, hand-poured candle in a mason jar with a rustic lid with your choice of scent, a custom box of matches, a bar of handmade soap (Asian tree blossom), a bag of Hershey kisses, a small red heart felt ornament, and a custom greeting card with your personal message.
Everything looks adorable and is well packaged. If you won't see your daughter on Valentine's Day, you can have it shipped to her house and the seller will write the card for you with the text you send them.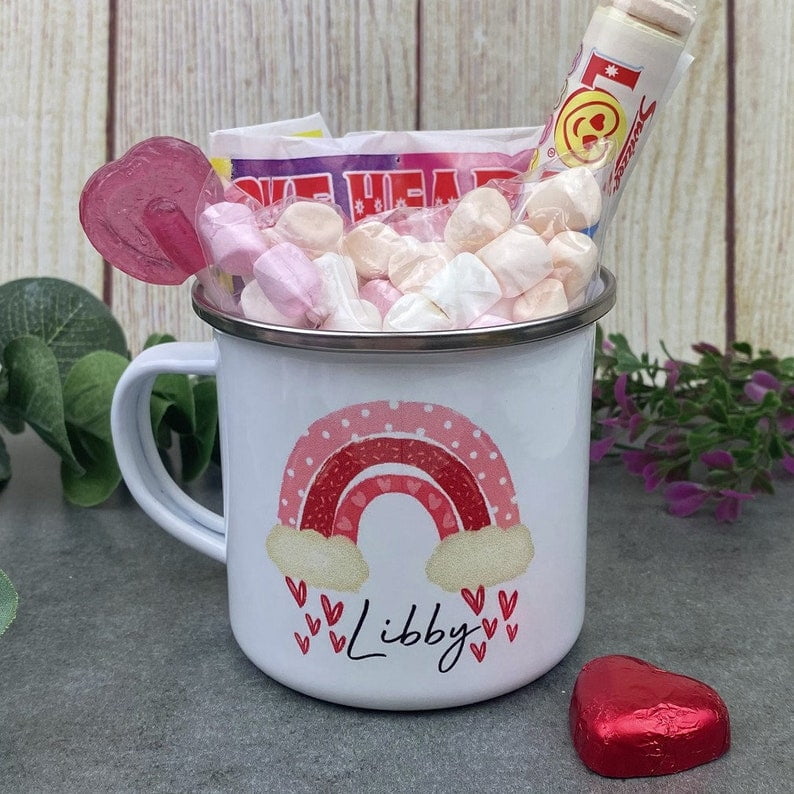 Mugs are great gifts to celebrate special events and serve as a keepsake for years to come. This cute mug is perfect for Valentine's Day, you can customize it with your daughter's name and it comes with some sweets (packet of large Love Hearts, Heart Shaped Lollipop, Love Hearts Sherbet Dip, and a bag of Marshmallows).
Remind her she's loved and cherished with this candle. The design is cute with a sentimental message written on the candle. You can choose from a bunch of different scents according to her preferences.
All candles come with a Kraft colored gift box with a gift tag – if you want to ship it to her directly, the seller can write the note for you. They are made with 100% all-natural soy wax with phthalate-free fragrance oil and eco-friendly wicks.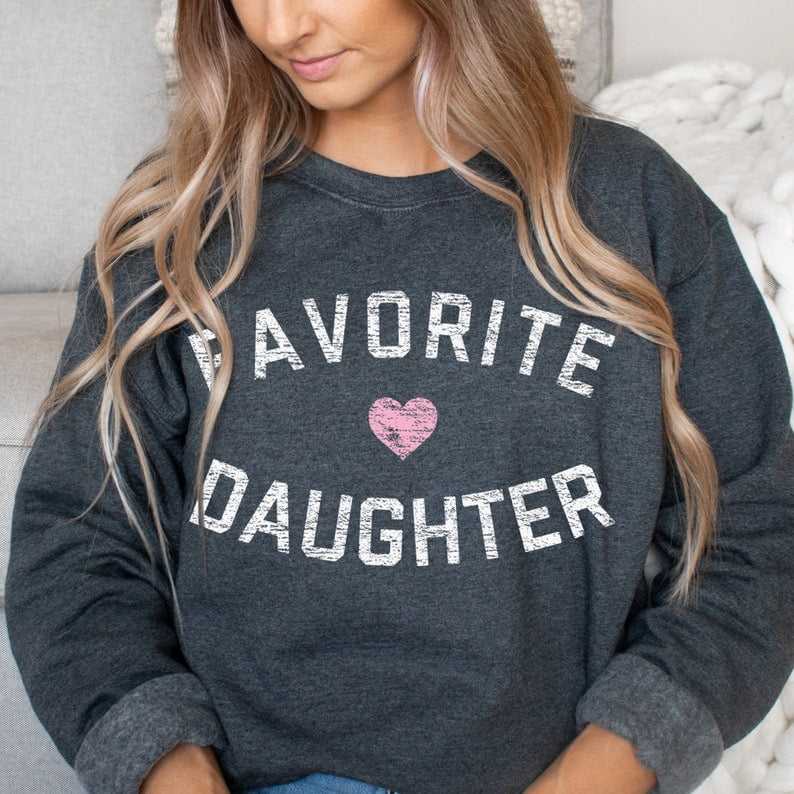 Comfy and cute, this sweatshirt will make a perfect gift for your daughter on Valentine's Day. The inside is soft and the fit is trendy, perfect to wear at home or when it's chilly outside.
It comes in a bunch of different colors and sizes from S to 2XL. It's pre-shrunk and the letters won't fade or peel off with frequent washes.
Tell her fifty different ways why you love her and what's special about her with this book. On each page, you'll find a prompt like "I love how talented you are at…" and "I love how you have such strong…"
You can make it as silly or as sweet as you want, any way you choose to write it, you are sure she will love this gift. It will be the perfect keepsake for when you are apart, she'll have something of you when she misses you.
Valentine's Day being in the middle of winter, chances are it's pretty cold where she's living right now. Offer her some cocooning wrapped in this awesome blanket. It's the perfect thing to cuddle in when watching tv or doing homework on chilly nights.
The wearable blanket is soft and comfy – it's one size fit all and is washing machine washable. You can choose from a bunch of different colors.
Self-care products always make great gifts for most girls. These shower steamers are one of kind and will turn a bathroom into a spa. Just place one of the steamers in the shower and you'll be instantly surrounded by rich scents and experience aromatherapy at its finest.
Made with natural and quality ingredients, this set includes six steamers scented with lavender, watermelon, grapefruit, menthol & eucalyptus, vanilla & sweet orange, and peppermint.
Even if she is too old for a night lamp, if she's into cute decorative things, she'll just love this unicorn lamp. It's adorable and it's always nice to have a lamp that's not too bright for a cozy atmosphere.
You can change the color and set the brightness level. It comes with a rechargeable battery that should last 10 hours on a single charge.
What better way to celebrate the day of love than with heart-shaped waffles? If your daughter has a sweet tooth and loves to cook she'll appreciate being able to make cute waffles.
The best part is you can make a bunch of things with it, not only waffles, like breakfast burritos, hash brown…
If she has Airpods and likes cats, she will love this super cute novelty cat Airpods holder. It's adorable, comes in two colors (black and white), and will bring a fun touch to her room.
Another cute little gift to decorate her bedroom with, this sloth ring holder is just adorable. If she wears rings, you're sure she will love it!
If you haven't found what you were looking for check out some of our other gift guides:
Save it on Pinterest – Best Valentine's Day gifts for daughter from dad: