Running since 1966, the Star Trek franchise has quickly become a worldwide pop culture phenomenon and features dozens of spin-offs, from series and movies to video games and comic books.
If you are looking for a Star Trek gift for the fan in your life and you feel overwhelmed by all the options out there, we've got you covered. Even if you know nothing about the series, you will find something special in this gift guide that they'll love.
We have carefully selected the best gifts for Star Trek fans out there, no matter their tastes or your budget. From collectibles and cool gadgets to Star Trek themed gifts and cosplay props, you are sure to find a gift the Start Trek lover in your life will appreciate.
Disclaimer: This post contains affiliate links, which means that if you click on any links and make a purchase, we'll get a small commission, at no cost to you.
Our top picks from this list:
Best Star Trek Gifts for fans
The video quality is good, even in the older version of the movies. The blu ray version has been released several times, but in this latest version users will receive 10 codes for each movie to get access to the digital copies to watch them online as well.
Gift this Blu-Ray version of the Star Trek movies to the Trekkie in your life on birthdays, Christmas, or any other celebrations.
They are plenty of other Funko Pop! figurines from Start Trek to choose from, try to find out who their favorite character or episode is. If they collect figurines make sure to check out the ones they already have and the ones they want to get next.
Take a look at this cool mug that any star trek lover will be lucky to add to their Star Trek collection.
Any star trek lover will find this mug pretty cool. The perfect Star Trek novelty gift, it will make a nice Christmas stocking stuffer, birthday gift, or a present for any special occasion really.
The ears that stick off the side of the socks make it a unique gift for a serious Mr.Spock fan. The socks are comfortable, fit nicely, and have colorful prints.
This Communicator Badge will be a perfect addition to any Star Trek fan's collectibles.
The badge is made of high-quality material and the magnet is very strong, it won't pop off even if you are jumping, running, or doing any high physical activities.
Definitely, a unique and cool Start Trek gift that the Trekkie in your life will appreciate.
Cool Star Trek Next Generation Gifts
The LED lighting creates an excellent spaceship effect in dark conditions. It has a special mode which, when turned on, creates a spaceship engine noise that goes on for an hour and then turns off automatically. Together, with the LED lights and the special engine humming, the speaker creates a perfect galaxy environment.
It will seriously impress any Star Trek lover. A stunning gift for anyone always looking for a cool gadget or for their next collectible.
The T-shirt is lightweight, made of cotton, and fits the body nicely. It will blend well with any style while making a statement about their love for the show.
You can choose from a bunch of different colors, sizes, and fits.
The Next Generation Phaser gives a perfect finish to any Star Trek costume and it will make an awesome gift for fans of the show.
The statue will look amazing on display and is believed to bring "jamaharon" to anyone who owns it.
A perfect Star Trek gift and must-have collectible.
If you are looking for something sophisticated and useful, check out this 5-Piece Whiskey Decanter Set.
This is a wonderful gift for any Next Generation fans to add a special Star Trek touch to their interior.
The charger is lightweight and has been designed to carry on the go. It's much more convenient for everyday use.
Unique Star Trek Original Series Gifts
T-shirts are always trendy, fashionable, and one of the simplest yet coolest gifts one can choose.
This one comes with a distinct print that makes it special for Trekkies. The T-shirt is made of cotton, lightweight, comfortable, and fits the body nicely.
A wonderful gift for the Star Trek fan in your life.
Coloring books have been shown to have a therapeutic effect on the mind. It helps to remain present and provides relief from daily stress.
The book features 45 stunning designs and scenes based on the original Star Trek series.
The Classic Phaser is a must-have collectible for any serious Star Trek fan.
This is a great costume prop for cosplay or a nice thing to put on display along with other Star Trek memorabilia.
It can be chosen as a gift for the Trekkie who loves to collect keepsakes of the show.
A true Star Trek fan will highly appreciate being gifted a book detailing some unseen footage and bloopers from their favorite show. If they already know every episode and plot twist, they'll love discovering new scenes.
This is a must-have gift for any die-hard Star Trek lover. It will make an amazing Star Trek birthday gift or stocking stuffer.
The model is pretty big and it's fun to install the entire ship with its intricate engineering and design.
The kit includes seven crew members as well, along with six tribbles.
Once built, it features lightning and sound effects for an awesome experience.
It is also equipped with an interactive app, featuring some of the iconic Star Trek characters, that will allow you to control the lights and the sound effects.
This is an awesome Star Trek gift and a must-have collectible for any fan of the show.
Kirk was arguably one of the most famous captains in the history of Starfleet. Any Star Trek lover who is a great fan of captain Kirk would highly enjoy this book.
This will make a nice Christmas stocking stuffer or can be gifted on birthdays, Valentine's Day, Anniversary, etc.
Funny Star Trek Personalized Gifts
The stainless steel inside the mug keeps the temperature of the beverage hot or cold for a longer period of time. It is sturdy and durable as well.
It is an ideal gift for any Star Trek fan, especially, if they love beer.
Acknowledge their craze for the series by gifting them this unique certificate specially approved by Captain Picard!
Add the recipient's name and a heartfelt message to this awesome Starfleet Academy Certificate and gift something awesome to the Star Trek lover in your life.
This is one of the coolest and most thoughtful Star Trek geek gifts one can choose for a fan.
Gift a personalized Starfleet Combadge to the Star Trek lover in your life. Inspired by the CamBadges Star Trek crew uses to communicate, it will make a special personalized Star Trek gift.
The badge has a strong and sturdy magnetic back that will hold the badge and prevent it from falling.
Add the name of the Trekkie in your life to make it extra-special and you're sure this gift will be a hit!
The Customizable TNG Ceramic Coffee Mug is a perfect novelty gift for the Trekkie in your life.
The mugs are available in three different stunning prints and can be personalized with the name and the title of your choice.
The mug is made of high-quality ceramic making it durable and sturdy for regular use (microwave and dishwasher safe). Each mug comes with a matching coaster.
If you are looking for a special gift that is quite unique and thoughtful, pick this beautifully designed Custom Portrait. Turn the Trekkie in your life into a Star Trek character. You are sure this gift will be a hit!
All you need to do is send a clear picture of the star trek fan in your life to the seller and you will receive a high-definition JPEG image of your desired size. You can customize the name, date, text, frame, and size according to your preference. You can then print it from home or also choose to receive a heavyweight matte print of the portrait.
A very thoughtful and delightful gift choice for a huge star trek lover.
In the same style, you can also check out the couple's portrait and the family one.
Best Star Trek Valentine's Gift Ideas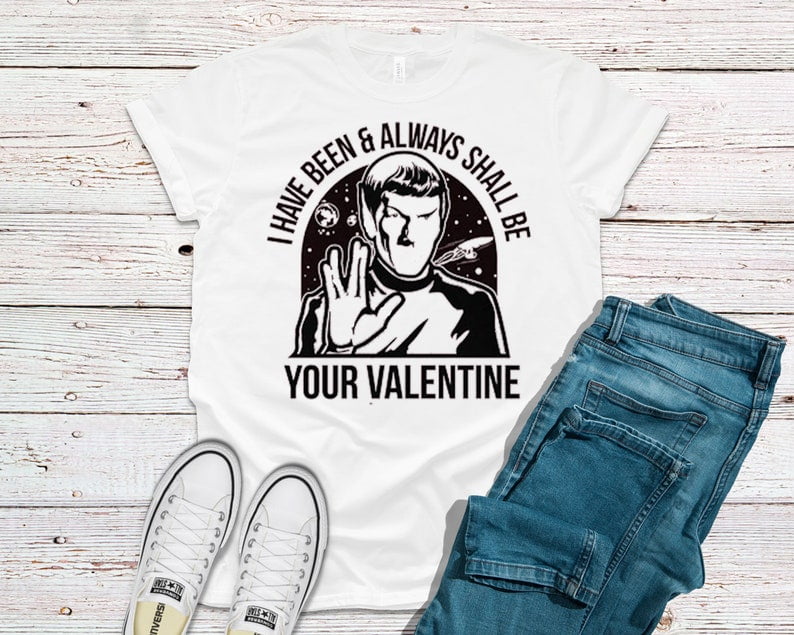 T-shirts are simple yet thoughtful gifts, especially when they are customized like this Star Trek Valentine's Day Shirt.
The t-shirt comes with a unique print inspired by the iconic character Mr Spock. The product is available in three different colors and you can pick your favorite font. The shirt is soft, comfortable, and true to size.
A cool and romantic Star Trek gift for your girlfriend or boyfriend to get them on Valentine's Day. This will certainly remind the recipient of you whenever they wear it.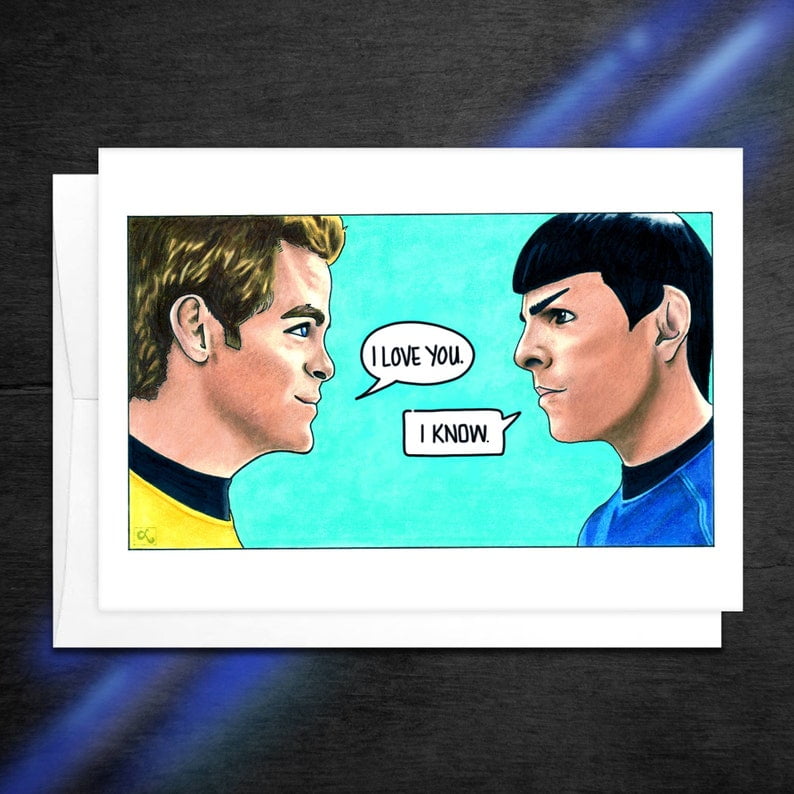 Any Star Trek fan will love this cute Star Trek Card that expresses the bromance between Captain Kirk and Mr.Spock.
The card is made of super high-quality paper and can also be customized with a short message for the recipient by contacting the seller.
This is one of the special ways to express love for the Trekkie in your life on Valentine's Day.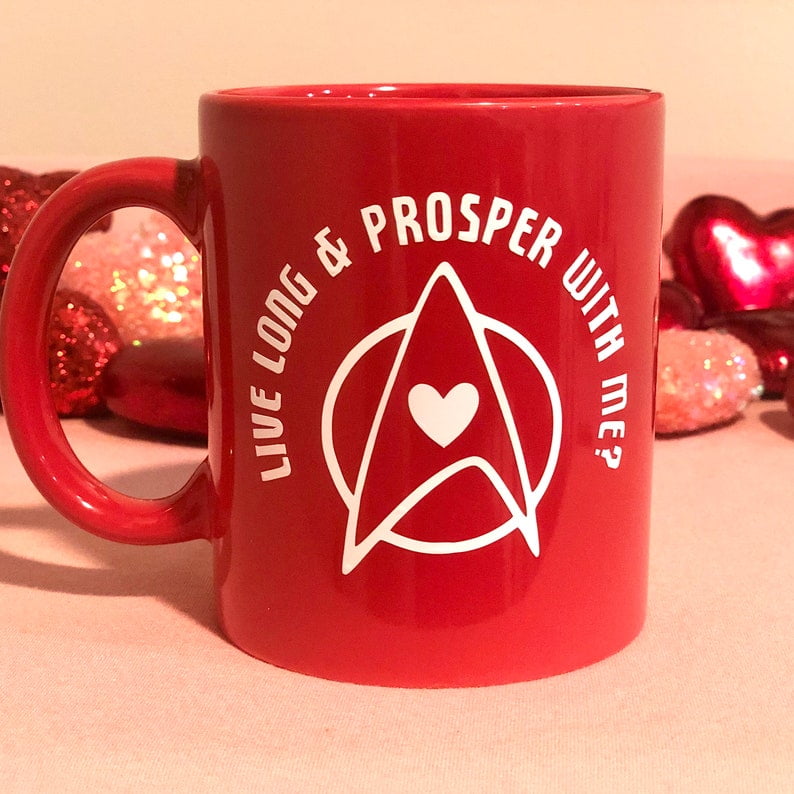 A cute Star Trel Coffee Mug to declare your love to your better half will make a romantic Valentine's Day gift for the Star Trek fan in your life.
The mugs are made of high-quality ceramic and are durable but you'll need to handwash them. They can also be customized, you can add the recipient's name to it or make small alterations.
Each mug comes with some small heart-shaped marshmallows.
Cool Star Trek Gifts for Dads
If you are looking for a simple, yet fashionable gift idea for your dad, then this shirt would be awesome to show your love.
The t-shirt is made of a mix of cotton and polyester, making it soft, breathable, and comfortable, and features an iconic quote from the show "Live long and prosper". You can customize it, choosing the color, for both the shirt and the print, and picking the fit.
It will make a perfect Start Trek gift for your dad – ideal for Christmas, his birthdays, Father's Day, or any special occasion.
Star Trek Gifts for Her
This beautiful Star Trek Pendant will surely make a thoughtful gift for the star trek lover in your life.
The pendant reads 'My Mind To Your Mind' in Vulcan, an iconic sentence in the Star Trek series used in the Vulcanic mind-melding technique. You can pick the metal and the length of the chain, each piece is unique and made-on-order.
A super romantic gift to get your girlfriend or wife on Valentine's Day, your anniversary, or any other special event to make her heart melt.
The pouch is made of high-quality cotton canvas that makes it sturdy, durable, and wear-resistant. It will fit nicely inside a purse and will help with keeping organized.
Soft and comfortable, the socks are printed with some iconic quotes that any Star Trek fan will highly enjoy.
This will definitely be a funny Christmas stocking stuffer or birthday Star Trek gift for the woman in your life.
This beautiful pendant is a perfect gift for Star Trek enthusiasts.
The beautiful pendant will add a sophisticated look to the person's appearance. It can be worn every day or use as a costume accessory.
A stunning Star Trek gift for her – perfect for women who love wearing jewelry.
It looks authentic, fits the body nicely, and is comfortable to wear. It can be styled up with other Star Trek accessories for a complete look. This is an officially licensed costume worn by science and medical officers.
It comes in 3 sizes but make sure to read their size chart beforehand.
Great Star trek Gifts for Men and Women
The bathrobe features the iconic Star Trek combadge on the chest and a delta shield designed in a gold thread around the waist. It's a one-size robe that will fit most adults and teens.
Gift this Star Trek-themed bathrobe to the trekkie in your life for a special look so they can feel transported into their favorite show.
One of the biggest and most powerful spaceships in the galaxy, Borg Cubes are iconic of the show.
Turned into a lamp, the cute little cube is nicely detailed and emits green lights while making different sounds of firing and explosion. It also comes with a book about Borg Cubes featuring stories, fun facts, and pictures.
Definitely, a cool thing to get someone who's into Star Trek.
The beautifully designed print on the cover of the notebook makes it a special Star Trek-themed gift. Any fan who likes to draw or write will love receiving this notebook – it will make a perfect Christmas stocking stuffer or addition to a Star Trek gift basket.
Let the Trekkie in your life dine like the crew of the Star Trek cast with this Star Trek-inspired Dinnerware Set.
It will make a perfect present for any Star Trek lover for their birthday, Christmas, Housewarming parties, anniversaries, etc.
It will also look amazing on display, thrown over a couch or bed, and will add a special touch to their interior.
The blankets are lightweight and made of fleece – a perfect birthday or Christmas gift for star trek lovers.
The tent has a breathable waterproof design and is made with woven fabric to withstand harsh conditions. It can easily accommodate 2-3 people.
A highly recommended Star Trek Christmas gift or birthday gift for the star trek enthusiast who is also into adventures and often goes camping.
It's also super practical as it can be plugged-in in a car and features a top handle for easy transportation.
The game is very interesting and challenging, and fans of the hit series will feel transported into the show itself.
The base game is for 3 players, however, you can get expansion packs and extras to add more players later to the game.
This star trek board game is one of the highly entertaining gift options one can choose for.
Other gift guides that might interest you:
Like it? Pin it for later – The Coolest Star Trek Gift Ideas for the Trekkie in your life: