If you've recently gotten married, spending your first Christmas together is something special to look forward to. Not only are there an abundant amount of fun Christmas traditions for couples, but starting your Christmas traditions as a newlywed couple gives you so many options for fun holiday rituals.
Christmas is such a magical time of the year and this first holiday spent together has the potential of becoming one of your sweetest memories in your first year of marriage.
Between the two of you, you will each bring something different to the holiday and while you may combine some, you also may come up with something new to call your own tradition.
These new Christmas traditions for newlyweds are the perfect way to help bring in the joyous cheer of the holidays while making memories to last a lifetime.
Pick Out Your Ideal Tree Together
There is something undeniably magical about visiting the tree lot. The sight of so many both perfect and imperfect Christmas bushes is a scenic view and brings inspiration to all for how you'll bring it home and decorate it to your liking.
Cut down your own tree and make a day of it. It is a heartwarming way to bring in the holiday cheer.
If you're not the type to have a live tree, you can always make it a shopping day. Visit your local stores to find the perfect Christmas tree for your home. Seeing all the lit-up trees in stores is always quite a sight, and great motivation for how you'll choose to embellish your tree.
Whether you select a real tree or a faux, flocked tree, the selection process is always the perfect way to bring in the holiday season together.  
Start An Ornament Tradition
Since it's your first year married, it's a wonderful idea to commemorate the year and your first holiday spent together as husband and wife. Why not purchase a "first-year" ornament?
Coming in gorgeous styles, with lots of fun accents and the year proudly displayed, this ornament will be a perfect reminder of your first Christmas as a newlywed couple.
Keep this new tradition going and purchase an ornament each year that represents the love that you share as a married couple. It will be an exciting way to remember each year and all of the wonderful things and moments you have shared in that year, and a fun activity to look forward to.
Visit a Christmas Tree Light Display
Just like the tree lot, any opportunity to visit a display with lots of cheerful and festive Christmas lights makes for a truly magical experience.
Maybe your town has a local display or tree lighting. Maybe you want to go for a brisk walk in the neighborhood and admire your community's creativity with their Christmas decorations.
Whatever chance you have to look at hundreds of marvelous lights, you should do so as a couple. Each year you can recall last year's event and compare and contrast your experiences. You will look forward to the new experience each year and the togetherness you share while you encounter the enchantment of the holidays.
It will be the perfect event to call one of your many fun Christmas traditions as a couple, something fun you can do on Christmas Eve or on Christmas Day. 
Make Christmas Cookies Together
What would Christmas be without sweet treats?
Start a fun tradition as a newlywed couple, and make some tasty holiday cookies. Marvel over thousands of recipes online or trust in a family recipe passed down from generations, and bring them to the kitchen together.
This fun activity will quickly become one of your favorite traditions. You can get really involved and make intricately detailed works of art, or you can perfect a family favorite.
Either way, you will love the experience and the outcome – delicious holiday treats to enjoy and share with friends and family on Christmas day.
This holiday tradition is the perfect way to bring a little sweet holiday cheer into your home and something to look forward to each and every year. 
Enjoy A Christmas Themed Date Night
As newlyweds, you will be even more excited to share that first holiday together. Plan a special date night that you can turn into a yearly event. Make it Christmas-themed: Make a fancy holiday dinner and enjoy Christmas music.
If you want to go out, find a local Christmas-themed play like "A Christmas Carol," and make it a night out.
Bundle up and visit your town's nativity scene or go ice skating. These winter and holiday-themed dates will be your yearly go-to and a tradition to look forward to together.
Whatever you choose to do for your Christmas date night, it will certainly be a staple in your group of holiday traditions. 
Dig Out The Christmas Classics
There are many Christmas movies out there, but when the holidays are approaching, it's crucial to bring out the classics and enjoy them together.
Whether you're into "It's A Wonderful Life," type heartwarming movies, or a more comedic approach like "Christmas Vacation," there's no denying that you will enjoy sitting by the fire and watching the fan favorites.
If you're feeling extra nostalgic, you could go for good old Frosty or Rudolph. These classics never go out of style and you will bond over the memories you had as a child watching these animated films.
One thing is for sure: A Christmas movie always brings up memories so why not watch them together each year and make it a yearly tradition as a couple?
Write A Letter Of Appreciation To Each Other
Especially as newlyweds, there is a certain level of appreciation for one another. Why not document it in a sentimental love letter to your partner?
You can recall a favorite moment, day or just tell your significant other how much they mean to you.
Write a letter each year on Christmas Eve so someday you can go back and recall all of the sweet memories you've shared together as a married couple. Each year when you write these affectionate letters, you can put them in a special memory box.
This is a fun Christmas tradition for newlyweds and a guaranteed way to remember momentous times in your relationship.
Go On Christmas Shopping Excursion Together
One fun Christmas tradition for newlyweds is to shop for friends and family together. Now as a unit, you can gift all of your presents for loved ones from the both of you.
Maybe you'll choose a low-key weeknight or maybe you'll brave the lines on Black Friday. Whichever day you decide to go, it will surely be a new, fun experience as a married couple. Each year you can make a day of it and go on the hunt for the things you want to gift to the people in your lives.
This fun tradition will be something you look forward to each and every year and a great way to bond over the people you both share in your lives. 
Related – Best Christmas Gift Ideas for your in-laws
Start an Advent Calendar
Whether you choose to go with a classic chocolate advent calendar, or decide to get creative and make one, this awesome activity is one that you both can look forward to.
There are so many fun varieties of advent nowadays: You can get ones with liquor, cheese, wine, socks and so much more. If you're crafty, you can build your own and make one big enough to share with your husband or wife.
Each year, you can fill your advent calendar (or buy one if crafting isn't your forte) and you will have something to look forward to together each and every day for the month of December until Christmas day comes.
What could bring more holiday spirit than a little gift each day during the holiday season?
Take A Photo For Christmas Cards
As newlyweds, everyone is half expecting you to send out a heartwarming photo of their favorite lovebirds on a Christmas Card.
Getting professional photos done is a great way to document the magic of your first Christmas spent together as husband and wife.
You could get creative and have a close friend or family take fun photos outdoors to capture the essence of winter too. Maybe you have a family pet to include in this photo as well.
This is a fun tradition for newlyweds, since spending your first Christmas together is so exciting. Snap those photos and make a lovely Christmas card that you can look back on in the years to come.
Each year, you can take a new photo and add it to the collection of your Christmas photos. You will love reminiscing on the fond memories from each holiday spent together. 
Wear Matching Christmas Pajamas
Head out to the store and get excited to find some festive matching pajamas to wear for Christmas Eve or Christmas morning. This adorable trend is the perfect tradition to start since becoming a newlywed couple.
Each year, you can take a photo to recall the pajamas you sported the year before. You will love making this a yearly activity. Picking out fun and comfy, matching pajamas is a modern trend that you will adore adding to your annual list of Christmas traditions.
As your family grows, this tradition will certainly come in handy and something you'll want to share for many years to come. 
Related – Magical Christmas Traditions to Start with Baby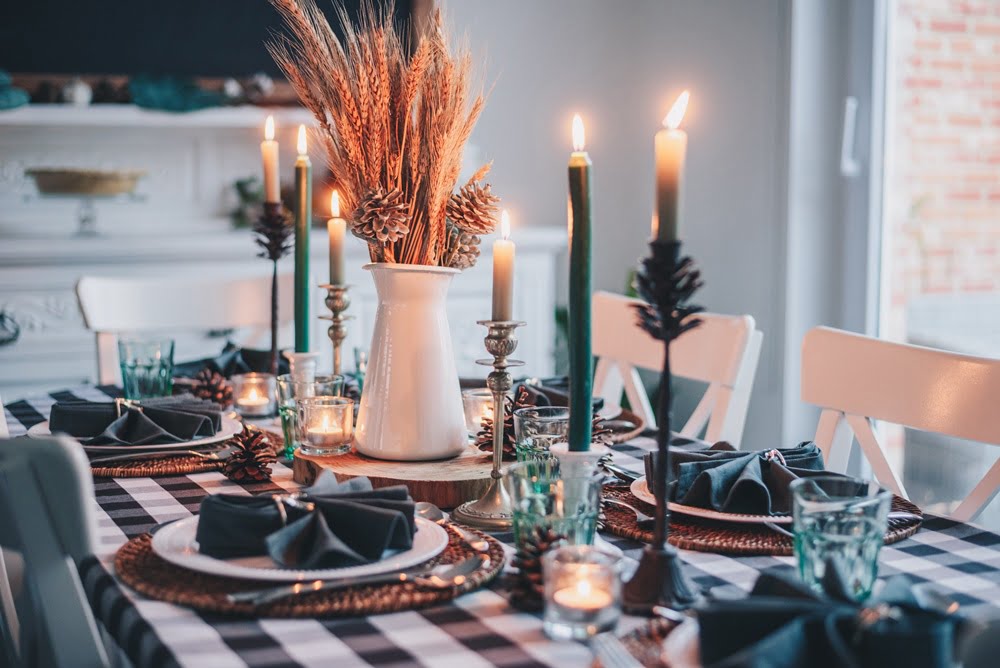 Host A Dinner Party
Since getting married, you've likely accumulated a great number of fun hostess gifts from your wedding registry. Why not put them to great use and host a festive holiday party for friends or family?
Make a fancy holiday spread, complete with desserts and lots of holiday music. The spirit will come alive and you will both be excited to host as a married couple.
This will easily become a fun tradition to do each and every year that you will look forward to. Sharing memories with friends and family during the holiday season always brings joy and cheer. Hosting your first holiday-themed dinner as a couple will be momentous and exciting. 
With so many inspired traditions to choose from, it's easy to say that you'll be able to come up with some wonderful traditions to incorporate into your lives.
You may have your own childhood traditions to add to your list as well that will bring inspiration for getting creative with your annual activities.
Christmas traditions for a newlywed couple are important to bring into your marriage because they will give you life-long memories and something to look forward to each and every year that you can do together.
During the hustle and bustle of the holidays, things tend to get lost in translation so doing these activities together keeps you bonded as a unit, while making the most cheerful and joyous memories.
These fun Christmas traditions for couples never go out of style and provide you with a sentimental feeling when the holidays roll around each year. 
Save it on Pinterest: