If you are new parents this year, you may be assuming that Christmas will be relatively low-key and uneventful since your baby is too young to enjoy the magic of the holidays.
But, realistically,  it's actually the perfect time to incorporate new traditions as a first-time family of three. You can set the foundation for your yearly activities and enjoy so many festive things, despite your baby only being a few months old.
As your baby grows older, these traditions will be something to look forward to and enjoy as a family for many years to come. Baby's first year is always the most exciting so why not add some Christmas magic to ensure those extra special memories.
Read on to discover some magical family Christmas traditions to start with baby this year.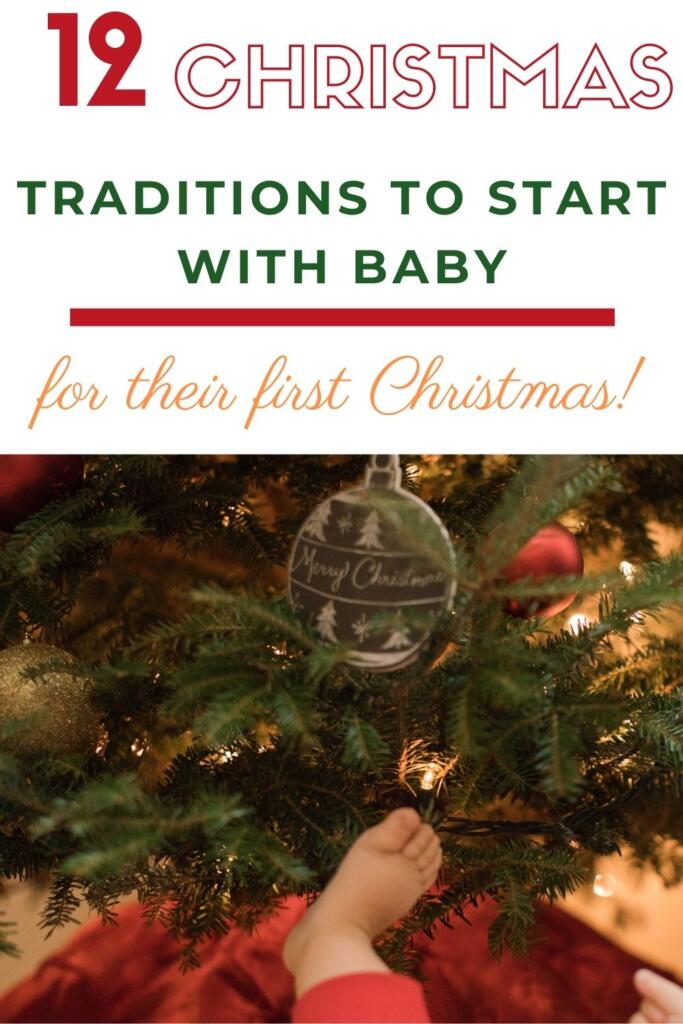 Related – 25 Christmas traditions from around the world
Decorate the Christmas Tree
Okay, so it's a given that you will trim the tree at Christmas time. But, decorating the tree is always a special occasion and one that brings lots of nostalgia for many.
You can make it even more exciting by commemorating baby's first Christmas with a momentous Christmas ornament. These themed ornaments are always incredibly detailed and charming, with the year displayed for all to see.
Open the ornament on Christmas Eve and place it on the tree together, as a family. For many years, that noteworthy ornament will be a reminder of both the special day and your child's first holiday.
Attend a Local Tree Lighting Event
One fun family Christmas tradition you can start with baby is visiting a local tree lighting. Your child's eyes are sure to light up, no matter what age.
These events always bring such a warm and cozy feeling when you are viewing the charm of Christmas lights.
If you can't attend a tree lighting event, you could also take a nice, brisk walk in your neighborhood to admire your neighbors' Christmas lights and displays.
There is something undeniable about the beauty of holiday lights and decorations. This simple tradition is sure to be enjoyed by all ages all through childhood and into adulthood.
Visit Old St. Nick
Even if your baby isn't a fan right off the bat, visiting Santa is simply a must.
For so many years of their childhood, they will idolize the man in the big red suit. That first visit and picture is such a great way of preserving the memory of their first Santa encounter.
Years later, you will look back at that photo and remember your tiny baby and his/her first time sitting with St. Nick, and feeling nothing but happiness that you were able to capture that event.
For many, this will be a humorous memory if your baby has a case of stranger danger. Good, old times!
Hang Baby's First Stocking
Whether you choose to buy a "first" themed stocking or go with your classic fairisle print, baby's first stocking is a big deal!
For all of their childhood, that stocking will hang for Santa to fill on Christmas Eve night. They will look forward to seeing that familiar fixture every year, so starting now is the perfect way to set the tone.
With so many festive prints to choose from, it will be a fun activity to pick one out for your precious baby. Maybe, you will opt for matching family stockings which is another traditional way to enjoy the holidays.
Whatever you choose, one thing is for sure: as your child grows, they will marvel over the sight of that trusty stocking.
Wear Matching Holiday Family Pajamas
You've probably seen the fun trend where families all wear matching pajamas on Christmas Eve into Christmas morning. This adorable movement is the perfect way to commemorate a baby's first Christmas.
Purchase those fun holiday pajamas that match and blend perfectly, and snap a family photo on Christmas morning. This is a fun tradition to share with baby, as the photos will be simply adorable and you can continue to capture that photo each and every year of their childhood.
From reindeers to plaid, and snowman all over, each design is undeniably cute and would guarantee for a fun, new family tradition.
Introduce Elf On The Shelf
Another fun trend that brings the Christmas magic is the Elf on the Shelf. This charming elf appears on December first and he moves to a new location in the home each night while the kiddos are asleep.
This month-long event keeps the excitement of the holidays alive and your child will look forward to his appearance each year.
Even if your baby is too young to understand the importance of their Elf, you can capture the memory with photos of your baby sitting with the elf for the very first time.
As your child gets older, you can recall that first encounter with their designated elf who they've grown to love.
Turn on a Classic Christmas Film
There is just no such thing as too young for good old Frosty or Rudolph. Babies love lights and shapes and will especially appreciate these musically enhanced Christmas Classics.
Start them young so that each year they can look forward to the tradition of watching a Christmas movie as a family.
They will remember the significance of these films with each passing year, and any age can fully enjoy a Christmas Classic. Whether it's Rudolph or Santa Claus Is Comin' To Town, these are sure to become a staple tradition for the holidays.
Enjoy Holiday Music Together
All babies love music. Therefore, it's the perfect soothing technique for a teething baby or long car rides while doing holiday visits.
Christmas music is a familiar genre for most, but introducing it young guarantees that tradition of enjoying the tunes together.
With Christmas music, comes incredible memories and nostalgia to last a lifetime. Whether it's background noise, or you're all gathered by the piano, showing your baby the magic of Christmas music is the perfect tradition in itself.
Take A Family Photo
As you are celebrating baby's first year of life, you may want a physical memory of your baby's age during the holidays. Booking a photoshoot is a great way to capture memories of him/her in that particular stage.
With so many options to choose from, you will enjoy picking a holiday background and coordinating outfits for the whole family. You might choose a tree farm, a studio, or a private gallery with a Christmas setup.
These family photos are guaranteed to become a special reminder of their first holiday season and everything magical associated with it. 
Read Classic Christmas Books
One special family Christmas tradition to share with baby is to introduce the classic Christmas stories.
These classic stories such as "The Night Before Christmas," and "How The Grinch Stole Christmas," are fun and festive and guaranteed to become holiday favorites for the whole family.
Reading to your baby is soothing and sweet, and an important bond to establish.
Introducing Christmas classics is sure to become your favorite tradition, and one they will quickly become familiar with. These timeless stories are powerful, charming and bring that special magic to your whole holiday season.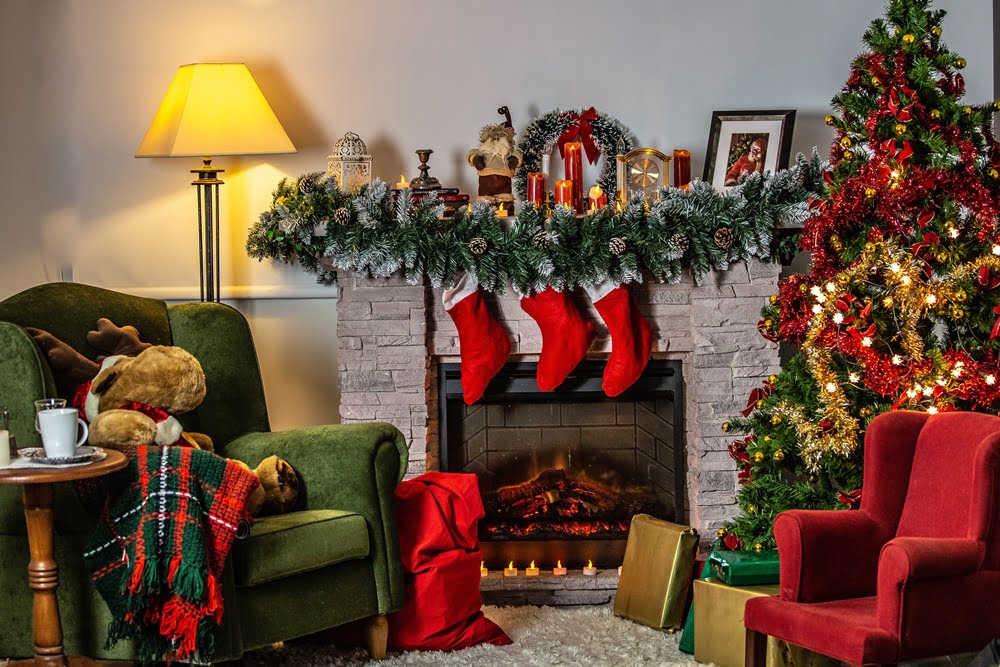 Pick Out A Christmas Tree
Head down to the tree lot, where your baby can marvel at the breathtaking sight of hundreds of beautiful trees. Make it momentous and capture photos of baby with their first tree.
Your baby will love the gorgeous scenery and it will quickly become a yearly tradition.
For many years, your family can make a day out of picking out the tree and it will be a favorite activity for the holidays. There is something magical about going to the tree lot,  just knowing each and every family is going to make the tree their own with creativity.
If you aren't a fan of a real tree, you can still make it a festive event and go admire the beautifully decorated artificial trees in stores. 
Write A Letter for Baby
This creative idea is the perfect way to capture little moments you've shared in baby's first year of life, and especially on their first Christmas.
On Christmas, write a letter to your baby and put it in a small box to keep over the years. Each year, you will add a new letter. As your child gets older and learns to read, he or she can go back and reflect on the letters you've written.
It will be a sweet activity to read them together and think about all the fun holidays you've shared. This is the perfect way to bond over family holiday memories.
Overall, there are so many fun Christmas traditions to start with baby that will bring you through all the years of their childhood. Maybe your family has traditions that you'd love to continue and incorporate into your child's life too.
Whatever you choose to participate in this holiday season, it is sure to be a memorable Christmas for the entire family. You are never too young or too old to join in the magic of Christmas. 
Related – The Best Christmas Gifts for Everyone on your List