Now that everyone is out of the house and you two empty nesters are on your own, what are you to do?
Your whole life the holidays were centered around your children. Visits to the mall to see Santa, writing notes to be sent to the north pole, and leaving out cookies and milk for Santa Claus on Christmas eve.
But, now the kids are all out of the house and the two of you need to come up with new Christmas traditions. 
Keep on reading to discover some fun and new Christmas traditions for empty nesters you can start this year!
Put the Christmas Tree together
A great new holiday tradition you can do if you are an empty nester is to put up the Christmas tree together.
Christmas trees are usually put up at the beginning of the Advent season (begins the fourth Sunday before Christmas and ends on Christmas eve).
Since it is just the two of you now you can put your tree up whenever you want! Or not at all.
Maybe consider replacing your classic Christmas tree with something more modern and unique. You can decorate your wall in green post-it notes in the shape of a Christmas tree.
Also, you could even decorate a ladder or re-arrange all of those books you have lying around into a Christmas tree. 
Related – Beautiful Christmas Tree Ideas
Dress up your pet this holiday season
Some of your favorite Christmas memories probably involve dressing your children in little angel outfits for their nativity play, or big poofy Christmas dresses.
Now that you are an empty nester and may be longing for those days, you can do a Christmas photo shoot with your pet. There is no shortage of pet costumes for the Holiday season. Websites like Amazon sell Santa outfits, elf outfits, and reindeer ears. 
The two of you can make a gingerbread house together
You can be really adventurous and make one from scratch or buy a boxed one from the grocery store.
A really easy do-it-yourself way to make a gingerbread house is to cover an empty milk carton in aluminum foil and decorate it with icing, cookie pieces, and candy. This is an affordable and fun way to make a gingerbread house! 
Have a Christmas movie marathon
How about having a Christmas movie marathon in matching pajamas? If a marathon isn't your thing then watch a Christmas movie nightly or once a week.
Write down every Christmas movie that you have available, from the scary Krampus-themed movies to the sappy Hallmark romances, and place the names inside a Santa hat or a Christmas stocking and take turns picking a movie to watch. The catch is whatever movie is picked, has to be watched, no matter how bad or scary or corny it may be. 
Walk around to see the Christmas lights
If you live somewhere where it is just way too cold to walk, no worries, hop in your car, turn up the heat, and blast Christmas music. Filling up a thermos with hot coffee or cocoa is a great idea to keep you warm as you and your better half admire all the twinkling lights. 
Go Christmas caroling!
Bring back the old-school tradition of going door-to-door Christmas caroling. Gather a group of friends and dress like victorian Christmas carolers as you go door to door singing a mix of old and new Christmas tunes. Walk around with a jar for donations and donate the money to your favorite local charity. 
Help the ones in need
Speaking of charity, volunteering is something that can be a new Christmas tradition for empty nesters.
You can volunteer at a food bank by serving the homeless or delivering gifts to sick children in the hospital with organizations like Toys For Tots. Homeless shelters and soup kitchens are always looking for volunteers but even more so during the holidays.
The Salvation Army is a good organization to volunteer at during Christmas time. Or you can try asking around your local religious centers about places that may be in need of assistance.
Exchange your gifts early
Exchange your gifts to each other on Christmas eve.
If you don't want to exchange gifts then maybe just exchange stockings instead. There are no more kids in the home to wait for Santa, just two empty nesters. You do not have to wait until Christmas morning to open presents anymore. You can do it whenever you want. 
Related – Best Christmas Gift Ideas for Everyone on your List!
Have a party!
A Christmas party is a great idea for a new holiday tradition for empty nesters.
You can have an ugly Christmas sweater party where everyone shows up wearing their favorite, corniest, ugliest, Christmas sweater. You can even give out awards for the best ugly Christmas sweater of the night. 
A tree-trimming party is another classic holiday party you can have. A tree-trimming party is when you invite all your friends over to help you decorate your Christmas tree. You can ask your friends to create their own Christmas ornament to put on your tree. It is a lot of fun to see the creations your friends will come up with. 
Go on a Christmas trip
Depending on your schedule and finances, you empty nesters can take a Christmas vacation.
If you live in the tropics of Hawaii or the sunshine state, you might consider taking a trip up north to somewhere like New York City. New York City is the mecca of all things Christmas. There is no shortage of Christmas things to do in the city that never sleeps. 
You can go ice skating underneath the Rockefeller Center Christmas tree. A trip to New York City also includes a showing of the Radio City Christmas Spectacular starring the Radio City Rockettes.
If you live in the North, you might want to escape someplace a bit warmer for your Christmas vacation.
Consider spending Christmas on a Hawaiian Island! You can send your family a coconut that reads "Mele Kalikimaka" and make them all jealous.
A cruise is another great choice for a Christmas vacation. On a cruise you can virtually travel anywhere in the world, you can even spend Christmas in the home of Charles Dickens! Author of the classic Christmas tale, A Christmas Carol. 
Bake Christmas cookies together!
Christmas cookies are a staple of the holiday food groups so it only makes sense for you to make them together.
You can make them from scratch or buy the premade cookie dough from the shop, either way, you are sure to have a delicious and sweet snack.
Consider buying some addons like icing or sprinkles to decorate your cookies.
You can even box them up and hand them out to your neighbors and loved ones as Christmas gifts. 
Go on a Christmas coffee stroll
Specialty coffee shops like Starbucks and Dunkin Donuts release special, holiday-themed drinks. Go on a tasting tour and try out all the different holiday drinks in your area. 
Collect Christmas ornaments throughout the year
Whenever you travel to a new place or go to a new event, find out if there is a shop that sells Christmas ornaments. It is a great way to bring home a souvenir that won't take much space in your suitcase or your home. You'll also be able to reflect back on your trip fondly whenever you look upon your Christmas tree. 
Try and stump each other with holiday trivia
Whoever wakes up first can write down a holiday trivia question on a message board that the other person has to try and figure out. You won't be able to use google though, you'll have to use your brain for this one. You can take turns each day asking questions until the end of the season. Then you will get to see who gets crowned the king or queen of Christmas.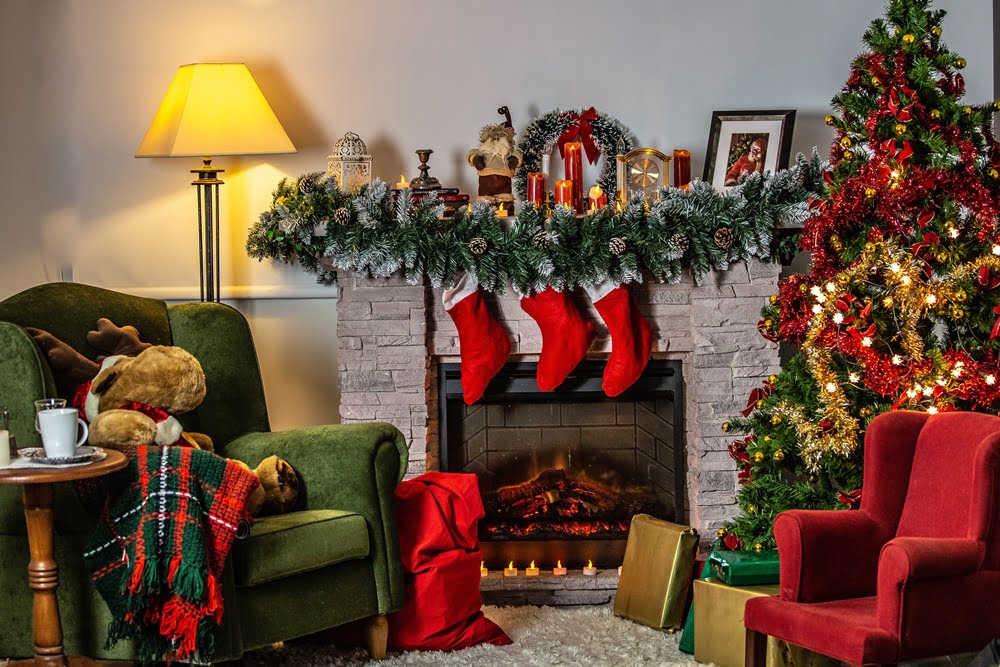 Elf on a Shelf with a twist
Elf on a Shelf isn't just for children, adults can't have a lot of fun putting themselves into compromising poses for their partner to find. The best part? You won't have to worry about children stumbling across the elf while he's being naughty, since you are empty nesters and all. 
Make adult beverages with a holiday twist
Mulled wine, also known as glühwein, is a classic German spiced wine that is served warm typically around the holidays. You can buy mulled wine already made and heat it over the oven or you can make your own spiced wine at home!
Here is a recipe on how to make a traditional German mulled wine:
Combine a bottle of dry red wine (white wine works as well), ¼ cup of brandy, a peeled, sliced orange, two cinnamon sticks, 9 whole cloves, and five tablespoons maple sugar for sweetness. Stir until sufficiently combined. 
Cook on a medium high heat until the mixture is simmering. Then lower the heat, cover the pot, and leave for up to three hours. 
Using a strainer remove the cloves, orange slices, and cinnamon sticks. 
Serve and enjoy! 
Celebrate the feasts of the seven fishes
If you have never heard of the feast of the seven fishes, it is a traditional Italian Christmas Eve celebration in which fish and different shellfish dishes are served. Some examples of seafood dishes served at the feast are clams, squid, cod, lobster, crab, salmon, and swordfish. 
Related – Funny Christmas Traditions From Around the World
Bake a fruit cake…
Everyone makes fun of fruit cake but if made the right way, a fruit cake can be a delectable holiday treat. The best recipe for fruit cake can be found here. Make the fruitcake and box it up with a bow for a great gift idea this holiday season. 
… Or a Christmas Yule Cake
While you're in the kitchen making a traditional fruit cake, consider cooking up a Christmas yule log as well.
This classic Christmas dish is traditionally served in France, Belgium, Switzerland, and former French colonies of Canada.
Yule log cake can be found anywhere though and can even be made at home. For a simple yule log cake recipe, click here.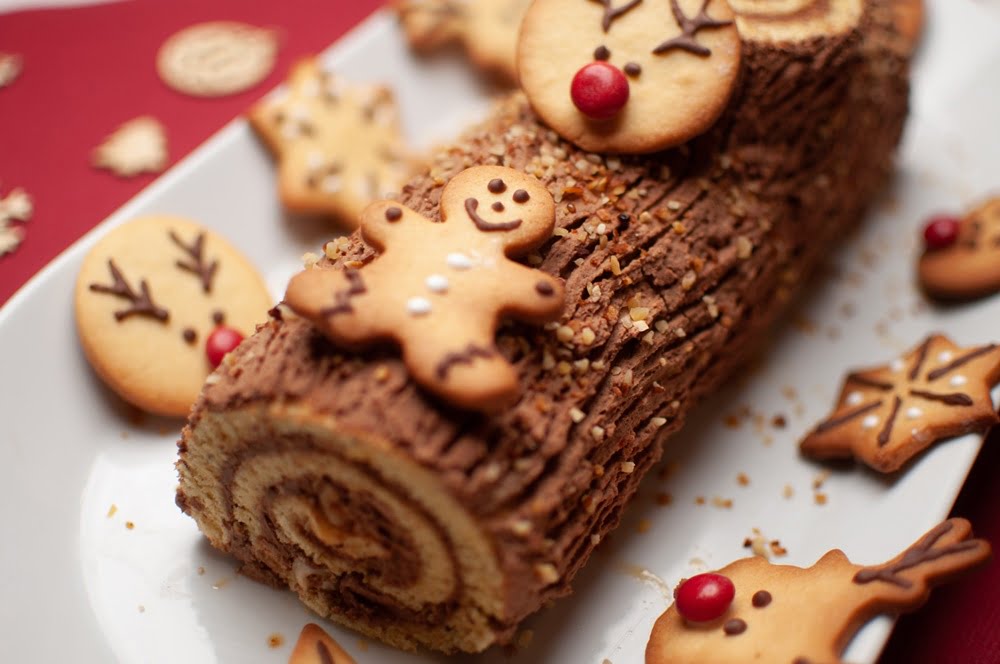 Sample customs from different holidays
Without having to pretend to play Santa Claus anymore you now have the perfect reason to try out other holiday traditions and customs.
Reach out to your friends who celebrate the season differently than you do and invite them to try out your traditions and do a swap! You never know what you will learn or what delicious dishes you will try.  
Without your children living at home this holiday season, you are probably feeling lonely and sad, and that is completely normal. The best way to fight off the empty nesting blues during the holiday period is to go out and celebrate the season. There is no shortage of traditions and fun for you to enjoy this season!
Save it on Pinterest for later – New Christmas Traditions for Empty Nesters