It's that special time of the year again when love fills the air and chocolate and flowers sales skyrocket. Valentine's Day is not for your better half only but is also an opportunity to express your love and thanks to everyone around you.
Teachers play an important part in your kids well being and growth and deserve the world for that. If you want to show your appreciation to the awesome teacher in your life, what better time than Valentine's Day?
Get your kids involved and start crafting some great DIY Valentine's Day gifts for teachers. The projects listed below are easy to make for kids of all ages, require minimum tools, and will surely be appreciated by the teacher in your life.
This Valentine's Day, make them feel special with a sentimental DIY gift they won't forget. From classroom decorations to tasty treats, they'll love you and your kiddoes took the time to make something meaningful for them.
Disclaimer: This post contains affiliate links, which means that if you click on any links and make a purchase, we'll get a small commission, at no cost to you.
DIY Valentine's Day gifts for teachers
Mason Jar Candy Bouquet
If you're looking to spoil a teacher with a sweet tooth this Valentine's Day, look no further than this adorable mason jar candy bouquet! This easy DIY craft project comes together in a few minutes and offers a creative twist on two V-Day classics: flowers and chocolate – a great teacher appreciation gift idea!
See the full tutorial here>>
Dollar Tree Valentine Bucket and Gift Card Holder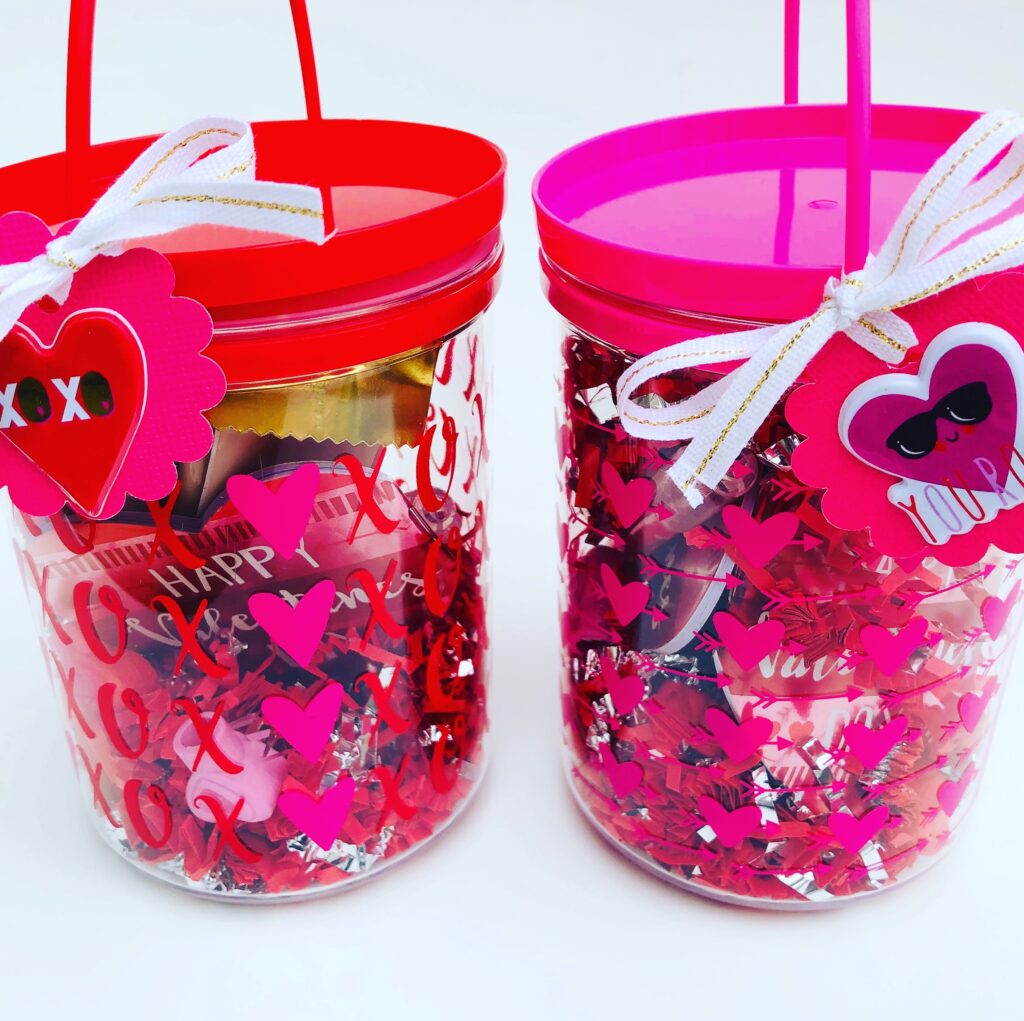 We all know teachers probably receive tons of mugs or drawings from kids each year, so why not gift them something different they'll have a use for and that just won't sit in a drawer or cupboard forever? Treats and gift cards are perfect gifts for teachers – but make sure to find out what they like first.
Use this cute Valentine's bucket to hold gift cards and treats for teachers using Dollar Tree supplies and make your gift extra special.
See the tutorial here >>
Watercolor Heart Painting
This simple heart painting activity is an adorable gift for teachers. Get the kids involved in this craft project and the teachers will love it.
The painting will make a nice classroom decoration, especially around Valentine's Day.
See the full tutorial here >>
3 Ingredient Brownie Pops
Who doesn't like brownies? Turn classic brownies into fun cake-pops themed for Valentine's Day.
With only 3 ingredients needed, these chocolate cake pops make the perfect Valentine's teachers gifts. Get the kids involved in the kitchen with this fun treat.
See the full tutorial here >>
Pom Poms Valentine's Day Cards
Cute and easy, these DIY Valentine's day cards will make a thoughtful Valentine's gift for teachers and are an awesome craft project for the kids. Have them write a poem or cute message inside to add an extra sentimental touch to it.
See the full tutorial here >>
DIY Valentine Gnome
A cute decoration for the classroom, these Valentine Gnomes will surely be appreciated by the teacher in your life. They are easy and a lot of fun to make and only require a few things, most of which you can find at your local Dollar Store.
See the full tutorial here >>
Mani Pedi Valentine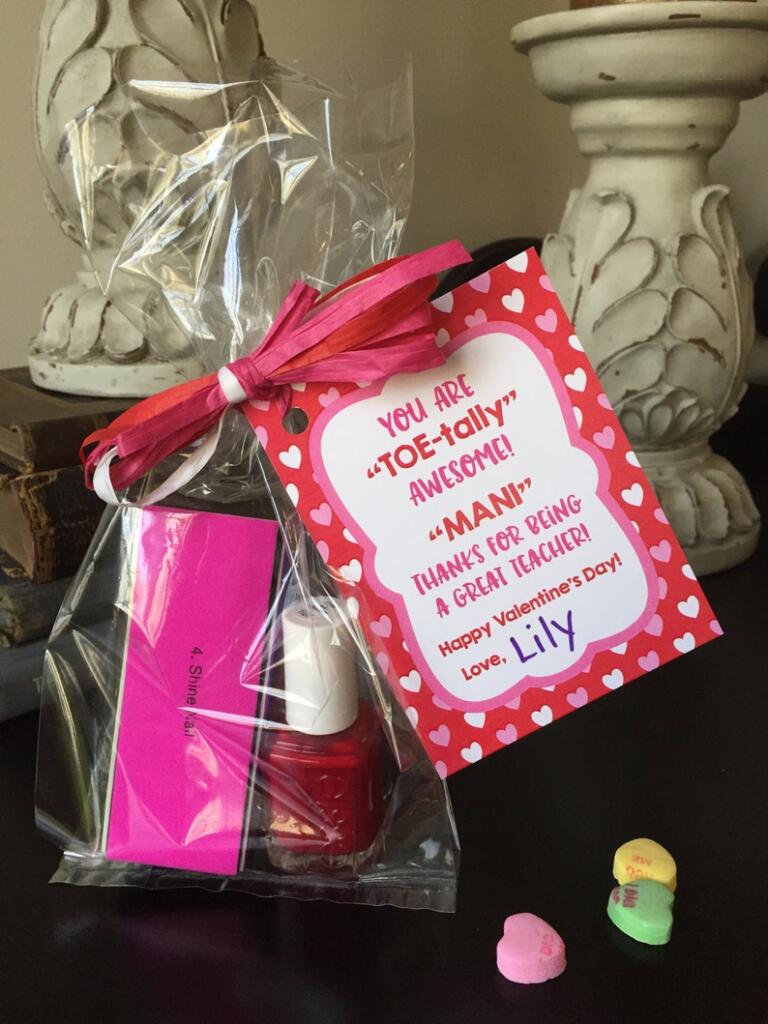 For the teachers who like to pamper themselves, gift them a cute mani-pedi set. Get some cute nail polish and some manicure equipment, wrap it in a small bag and add this thoughtful and funny card to it.
It's quite a unique gift for teachers, you are sure they won't get something similar, and the card is just the perfect touch to bring a smile to their faces.
Cupid's Arrows Pencil Holder
If you are looking for something adorable, this might be it – and it is easy and super quick to make – just add the pencil, and voila!
It's also perfect to gift your kid's classmates for a little something special to celebrate Valentine's Day.
Bottle of wine
For a great DIY gift, pick a nice bottle of wine and glue a funny wine label on it. This one is hilarious, you are sure to make the teacher in your life laugh. And let's be honest – who doesn't like to be gifted a nice bottle of wine?
DIY Teacher Bouquet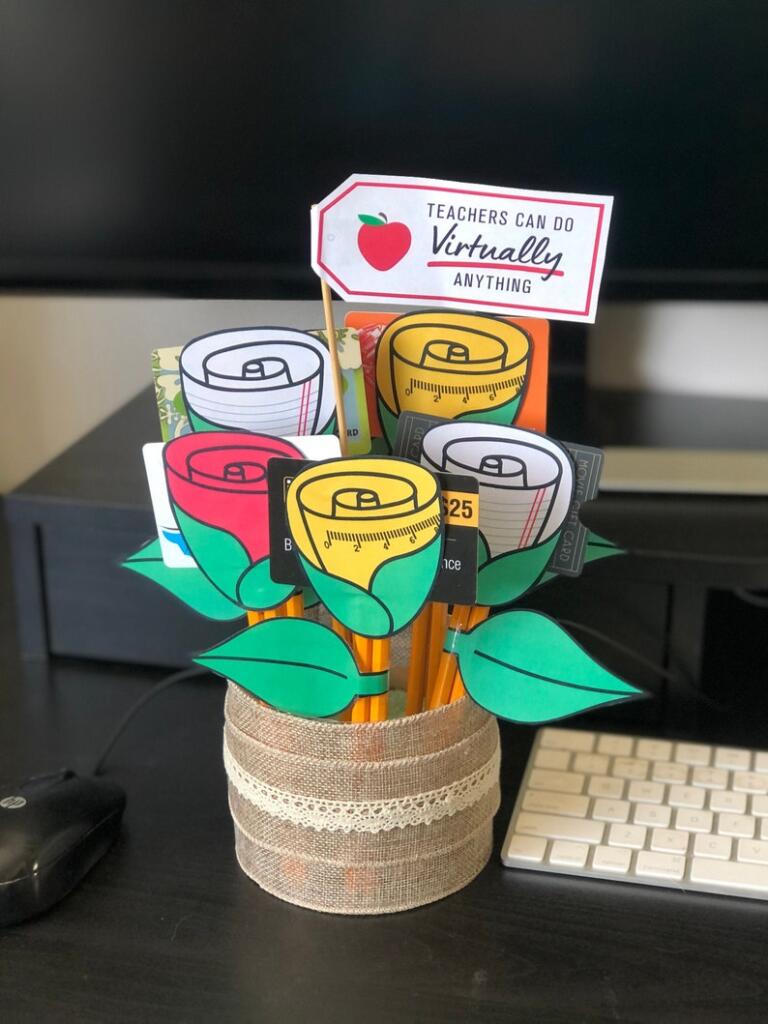 Flowers are a classic Valentine gift – turn the idea into something more long-lasting with this DIY Bouquet for teachers. Get a nice jar or vase, add some school supplies and/or gift cards and wrap them in these cute flower and leaf prints – a cute and easy teacher gift!
Smores Kit
This year treat the teacher in your life to something sweet. Smores are classic sweets and almost everyone enjoys eating a couple. Get them everything they need to make one, wrap it and add this cute tag.
It is the perfect teacher gift if you want something cute and quick to make. Teachers will love and appreciate it.
Valentines Day Cookies
If you like baking, you can make some cookies or muffins with the kids, add them to a nice basket or wrap them in a cute bag. Add the final touch with a cute Valentine tag and you get the perfect teacher gift for Valentine's Day.
It's a great homemade gift option because you can cook a big batch of sweets, package them with the tag, and gift them to your loved one as well as to the teacher in your life.
If you want to go all-in, get a Valentine's day baking kit like this one that comes with heart-shaped cookies, sprinkles, icing, and all the tools you'll need. Kids will love getting to decorate the cookies and gift them to their teacher.
Chocolate Bars
Quick and easy to make, this DIY gift will be appreciated by teachers. Pick their favorite candy bar, or go for a classic like a Hershey's chocolate bar, and wrap in this cute Valentine's day chocolate wrapper, designed especially for Valentine's day.
Check out some of our other gift guides for teachers here, and our Valentine's Day gift guides here.
Save it on Pinterest for later – Best DIY Valentines Day gift ideas for teachers: