When you think of St. Patrick's Day, what is the first thought that comes to your mind? Probably corned beef and cabbage and green beer. Believe it or not, if you were to go to Ireland for St. Patrick's Day, you wouldn't see those items anywhere. In Ireland, St. Patrick's Day is celebrated in a variety of ways, from parades to visiting St. Patrick's home. 
St Patrick's Day, or Paddy's Day as the locals call it, was once a very religious holiday in Ireland. Up until the 1970s, when pubs started opening their doors on Paddy's Day. Then in 1990, Dublin started its famous St. Patrick's Day festival. The festival is a multi-day event that features music, entertainment, and a parade. 
Related – Fun St. Patrick's Day Activities and Games for Adults
Keep on reading to discover exactly how the Irish Celebrate St. Patrick's Day in Ireland!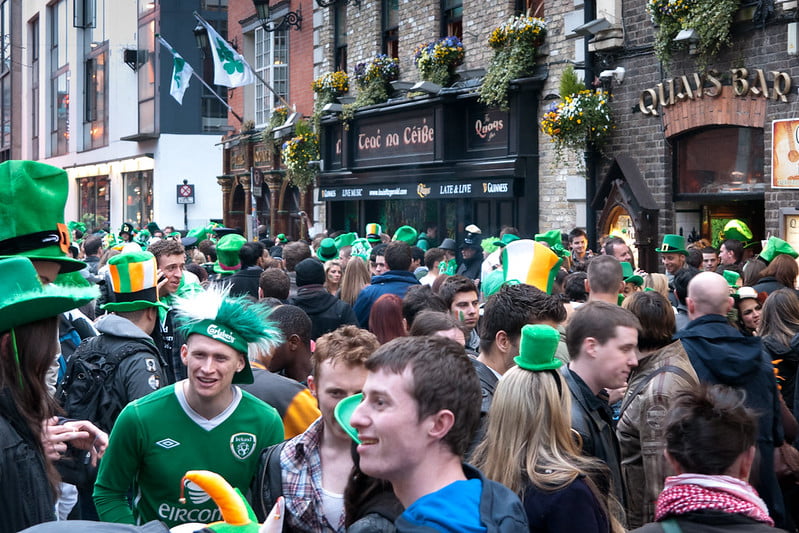 Who was St. Patrick? 
St. Patrick is the patron saint of Ireland, but he was born in Britain. His feast day is celebrated on March 17. St. Patrick is credited with bringing Christianity to Ireland. At the age of 16, St. Patrick was sold into slavery, where he worked as a shepherd for six years. Eventually, he ran back to Britain. Only to return to Ireland many years later as a Christian missionary. 
It is widely believed that St. Patrick's stood on a rock and banished snakes from Ireland and into the sea, but historians have debunked that claim. They say there is no proof that there were ever any snakes in Ireland as there is no record of snake fossils anywhere. 
What is St. Patrick's Day?
St. Patrick's Day is the feast day of St. Patrick, the patron saint of Ireland. The day celebrates St. Patrick and Christianity. Traditional St. Patrick Day celebrations include parades, music, food, and dancing. Irish locals also refer to St. Patrick's Day as "Paddy's Day."
Don't make the mistake of referring to the holiday as "St. Patty's Day" though. Patty is a diminutive of Patricia or a hamburger and is considered insulting to the patron saint. 
Shamrocks and Celebrating St. Patrick's Day 
Four-leaf clovers are a mutation of the three-leaf clover plant. A shamrock is not a four-leaf clover but is another name for a three-leaf clover. The four leaves on the clover symbolize faith, hope, love, and luck. The quote "Luck of the Irish" comes from the four-leaf clover in Ireland. 
The three-leaf clover is considered the unofficial flower of Ireland, which is why it is also a symbol of St. Patrick's Day. A classic Irish legend says that St. Patrick used the shamrock to explain the holy trinity. He used the shamrock to help convert non-believers into Christianity.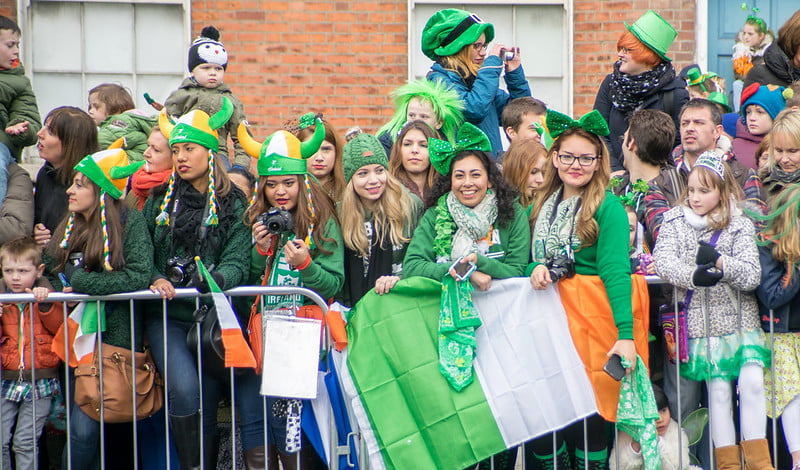 How do the Irish Celebrate St. Patrick's Day – Traditions and Celebrations in Ireland
Yes, St. Patrick's Day is a religious holiday, but that doesn't mean there isn't any fun involved. Most Irish people will begin their holiday off by going to church. After the church services is when the fun starts.
Many people will go to Dublin to the world's largest St. Patrick's Day festival. This fun festival doesn't just offer Gaelic entertainment but international entertainment as well. 
You won't find any corned beef and cabbage or green beer at this event. Instead, you'll find patrons eating traditional Irish stews and drinking Guinness. The Dublin Irish Festival is a five-day event and the biggest party in the country. Not everyone celebrates the holiday in this way, though. 
St. Patrick's Day is also a very family-oriented holiday, similar to Thanksgiving in the United States. Families gather to eat a traditional Irish dinner of stews, bacon and cabbage, colcannon, and soda bread.
There are also various parades throughout the country. Many people will have one or two Guinness during the day and switch to a glass of whiskey for dessert. Most people in Ireland do not celebrate St. Patrick's day like they do in the United States. 
Irish soda bread is a staple at traditional Irish St. Patrick's Day celebrations. You will almost always find it on the table of an Irish household. There is an old wives tale that the bread is cut round with a cross in the middle to keep out fairies. Unlike the Irish soda bread you eat here in the United States, the bread in Ireland does not have seeds or raisins.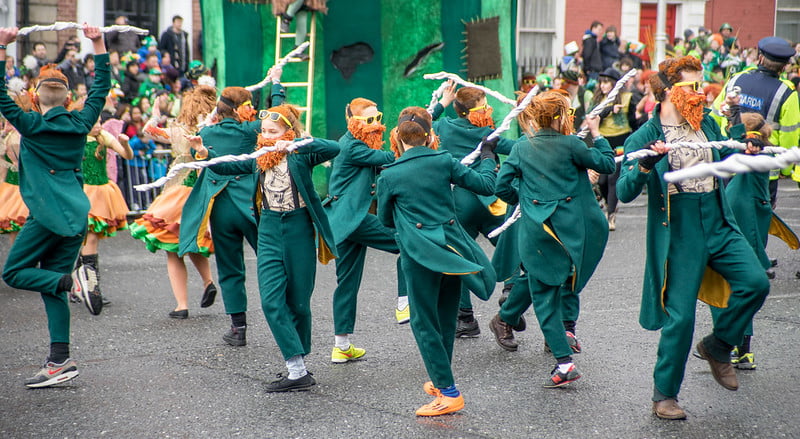 Many people will also celebrate St. Patrick's Day by going to the Island of the Skerries. St. Patrick was known to have visited this island. Even a rock on the island with a footprint boasted that it was stepped on by St. Patrick himself. After going to the pub for the obligatory pint of Guinness, Irish people will visit this island to pay homage to their patron saint. 
Another way to celebrate St. Patrick's Day is by giving back to the community. The Harbor 2 Harbor Walk takes place outside Dublin, and many people will join the walk for charity after the parade.
The Dublin parade draws in half a million people each year. Most people who go to the Dublin Irish festival to celebrate St. Patrick's day are tourists. You'll find the locals in the hole-in-the-wall pubs enjoying their pints and listening to traditional Irish music. 
St. Patrick's Day: A Global Celebration
St. Patrick's Day isn't just celebrated in Ireland. Everyone's Irish on St. Patrick's Day, including Australians and Americans. Many Irish immigrants moved to Australia and America after the potato famine. When they moved to these new countries, the Irish immigrants brought their customs and culture. Those customs have changed over the years, but the spirit of St. Patrick can still be found every March 17 in these countries. 
New York City has one of the best St. Patrick's Day parades worldwide. Some people even say it is better than Dublin. The New York City St Patrick's Day parade is considered the world's biggest, with almost 200,000 people participating. In Chicago, the city has been dying the river green. With environmentally safe dye, of course.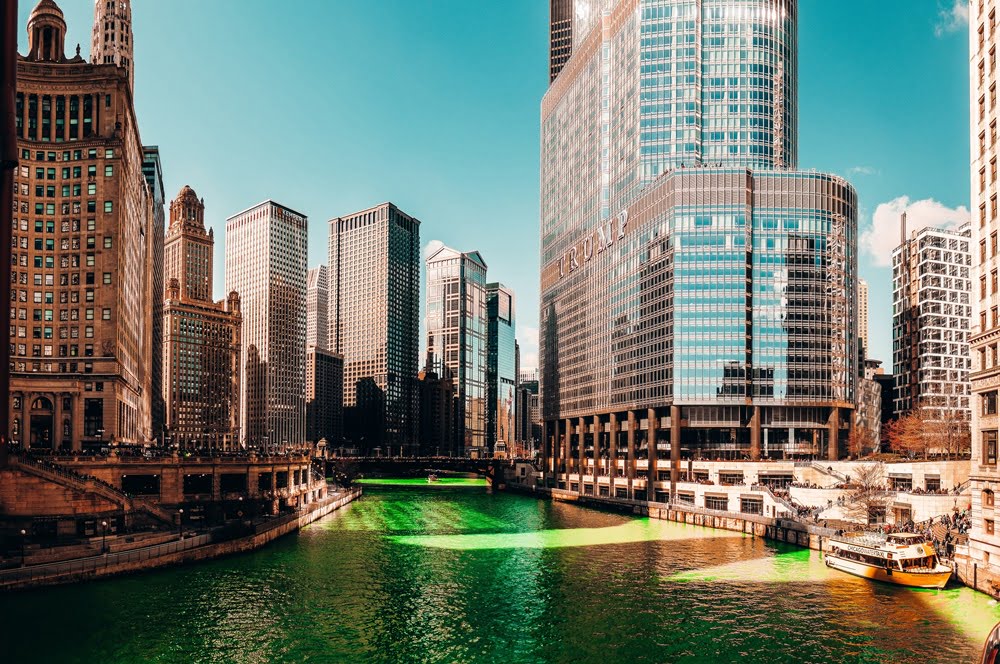 While celebrating St. Patrick's Day in America you will also find an abundance of green beer and corned beef and cabbage. About one hundred years ago an Irish American doctor invented green beer in honor of St. Patrick's Day in New York City. The reason why corned beef and cabbage are widely associated with the Irish holiday is because it was all Irish immigrants could afford when they immigrated over from Ireland. 
Sydney is the place to be in Australia if you want to celebrate St. Patrick's Day! Sydney's St. Patrick's Day celebrations were once the biggest in the world after New York City. Today it still remains the most significant Irish festival in the southern hemisphere. The famous Sydney opera house is lit up green. The event also includes:
Irish language lessons.
Music and dancing.
Delicious traditional Irish foods.
Crafts.
Face painting.
More family fun. 
Conclusion
St. Patrick's Day celebrations take place all over the world. From Chicago to Sydney, all the way over to Dublin, there is no shortage of festivals to celebrate St. Patrick.
In Dublin, you can celebrate by attending a traditional catholic mass and then heading to Dublin for the country's biggest Irish festival. You can also celebrate the day by visiting the Island of the Sherries and paying homage to St. Patrick.
Over in America, there are various parades like New York City, Boston, and Chicago. Sydney turns the famous opera house green and has the most significant Irish festival in the southern hemisphere. 
If you want to celebrate the occasion with a special gift, check out our St Patrick's Day gift guide for toddlers or for coworkers.
Save it on Pinterest for later – How do the Irish Celebrate St. Patrick's Day: