Easter is an undeniably exciting holiday for families worldwide. There is always a lot of activity going on, great food, and family fun that creates happy memories and nostalgia for many.
There are countless ways to make Easter even more memorable, through activities and traditions passed down through generations.
With so many fun things to do on Easter, you can always rely on this traditional holiday to bring laughter, happiness, and memories to last a lifetime.
Maybe you're a mother with a large family and young children, or maybe you're newlyweds looking for fun, new ways to spend the holiday. No matter what your age is, there's always something fun to do on Easter.
These enticing activities will have you looking forward to Easter each and every year, and spending quality time with family and friends.
Disclaimer: This post contains affiliate links, which means that if you click on any links and make a purchase, we'll get a small commission, at no cost to you.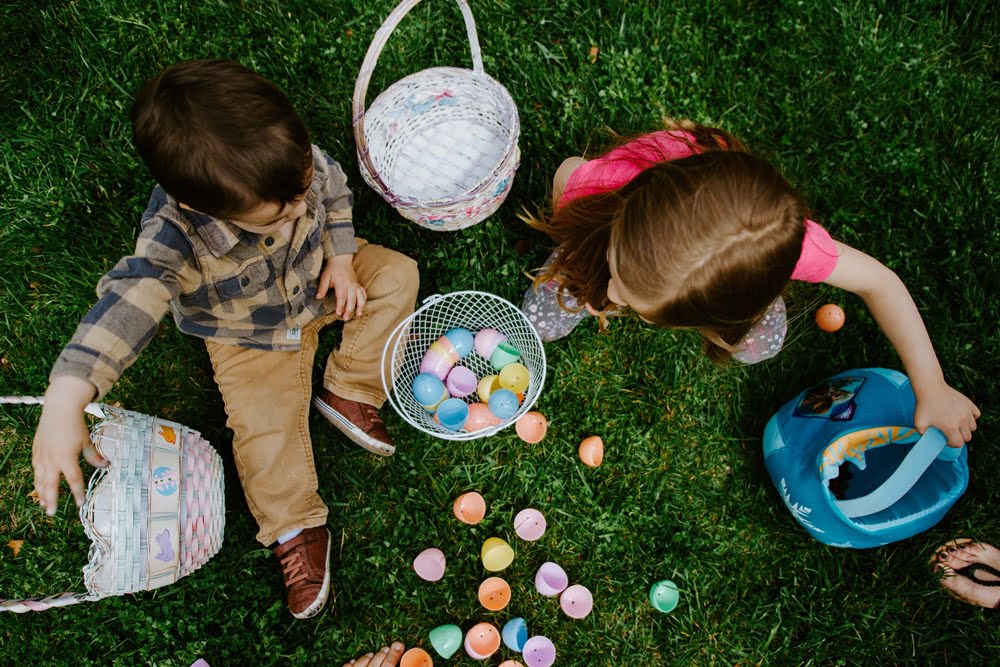 Host An Easter Egg Hunt
This classic activity is something the whole family can get in on and it's a fun thing to do on Easter Sunday. Whether it's for the little ones, or it's an adult-themed egg hunt, the options are endless.
For children, it is so exciting to hide the eggs filled with chocolate. The pure excitement on their faces brings joy and memories to the whole family and children grow up looking forward to this effortless event.
If your family has no young children to include, you can make an adult-themed hunt. Make it a fun event with friends – something they'll look forward to doing with you every year. Fill the eggs with liquor, cash, chocolate, and more. Adults will enjoy the competition and the treats they haul just as much as the kids. No matter what age you are, you're never too old to participate in a classic Easter Egg Hunt. 
Related – Easter Egg Hunt Ideas for Teenagers
Visit the Easter Bunny
Take the children in your life to see the local Easter Bunny. This classic tradition is fun for all, and a great way to celebrate Easter.
Snap a photo of your loved ones with the bunny and have memories for years to come.
For many, the Easter bunny will be at your local mall, but you may find one at a community event or Easter Egg hunt.
If you don't have kids, not to worry: The Easter bunny will pose with your beloved pets as well. Bring your dog to pose with the Easter bunny and marvel at the sight of those two furry friends.
Go get those adorable photos with the Easter bunny, and save them so you can look back and reminisce later. 
Color & Decorate Some Easter Eggs
Get those hard-boiled eggs ready for dipping! With so many different options for coloring, you will marvel at the idea of creating egg masterpieces to show off on Easter day.
You can choose from metallic, glittered, painted, themed eggs and so much more. You can opt for a simple dipping kit or get more involved with a tie-dye approach.
For endless fun, buy a kit and start dipping those eggs to achieve your ideal look.
This fun-for-all-ages activity is a traditional one that dates back to so many different generations of your family members. Enjoy your completed eggs and display them for all to admire at your Easter get-together. This fun activity is surely one you'll look forward to doing each year. 
Host An Easter Brunch
Brunch is always a great way to gather your family and friends.
On Easter Sunday, there is something special about a big brunch spent with those that you love.
Prepare a fancy spread with all the fixings and set up the table with appropriately themed dinnerware. From runners and tablecloths to centerpieces and flatware, there are so many fun Easter decorated items to make brunch an unforgettable event.
Stick Easter-themed toothpicks in muffins and set the table with bunny-adorned napkins. Invite as little or as many people as you'd like and celebrate this fun holiday with some classics like fluffy pancakes and bacon.
Fill Those Easter Baskets
If you are a parent or have children in the family, making an Easter basket is a fun way to celebrate your favorite littles. No matter the age, all kids will love to receive that big basket with all their favorite treats, toys, and a fun stuffed animal. When they wake on Easter morning and see that the Easter bunny came, they will be so excited!
Just like Santa, the Easter bunny has a magical way of making kids believe in the festivity and joy of this holiday. Easter baskets are the best way to keep that tradition and warm feeling that Easter provides each and every year.
Related – Cute Easter gifts and basket stuffers for kids
Remember: Easter baskets don't have to be for children only. Maybe you're a dog mom- fill up a basket with your pup's favorite treats and toys. Maybe you want to thank your kid's teacher with a small Easter gift. Even when your kids are adults, they will appreciate the Easter basket just as much as the little ones.
You could surprise your spouse with a fun, creative basket of all their favorite items. The options are endless and everyone treasures an Easter basket from their loved ones.
Check out all of our Easter gift guides >>
Host A Fancy Easter Dinner
Nothing says Easter quite like a gorgeous, glazed, maple ham. Just like brunch, you can decorate your table and home with dozens of Easter-themed accents and linens.
You will adore the process of making your home "Easter ready" when you set that table with the perfect ham and all the fixings.
Having a big dinner is always the perfect way to end a holiday, whether it's with your family or your closest friends. Your family will appreciate the effort and the togetherness. This Easter dinner is sure to become a fun tradition and one that provides great food and happy memories with your family. 
Play Games Outside With Your Guests
Organize a fun-filled afternoon with outdoor games that everyone can participate in. You can make it classic with a sack race, or go big with a family football game.
Get creative and make the games Easter-themed with a pom-pom on the sack for "bunny hopping." Or you could get colored bunny ears to easily identify each football team. Play a round of cornhole with a stand that you've decorated, especially for Easter.
There are so many fun ways to incorporate the holiday in your outdoor fun for the whole family or friends. Make an afternoon of these fun Easter activities and make lasting memories and a new tradition to engage in every year.
Get Crafty For Easter
Head to your local craft store for some exciting Easter-themed crafts. They will have countless kits and ideas for making those sweet Easter decorations.
Color some window clings, paint a wooden bunny, or make some personalized Easter cards. Maybe you'll want to make an Easter-themed centerpiece for the dinner or brunch you're hosting.
From stickers to wooden projects and floral arrangements, there are endless ways to incorporate Easter into your crafting.
Get the kids together, or make a craft night for you and your friends and just have a blast. You will admire all the ways you can get crafty for this beloved holiday. 
Create Some Easter-Themed Edible Treats
Whether you're in the mood for cookies or cupcakes, there are tons of ways to incorporate Easter into your sweet treats. Head to Pinterest and start brainstorming ways to turn your treats into chicks, bunnies, and gorgeous Spring flowers.
This fun activity can bring the whole family together, or make it a girl's night with all your friends that adore baking as much as you. This creative Easter activity has endless options for making the most adorable, noteworthy sweet treats.
Each and every year you can reminisce on last year's project and when Easter day approaches, you will love displaying these impressive, edible creations.
Take A Family Photo
Gather your loved ones and dress up for an Easter family photo. This is the perfect way to capture a memory and something you will have as a reminder for years to come.
Each year, come up with a festive way to document the holiday. Maybe you will pose with the Easter bunny, or maybe you will take a scenic photo. You could have coordinating outfits, dress up or dress silly. No matter what you choose, it will be a fun way to commemorate a happy holiday.
Every year, you can take a family photo and save them in a box. Years down the road, you can look back at all the fun Easters you spent together. 
Host An Easter Movie Night
Arrange for an Easter movie marathon. Sit back, relax and hit the marshmallow bunnies with your loved ones. If you have children, look for some fun animated Easter bunny films like the hit, "Rise Of The Guardians."
Go back to the classics with Fred Astaire's, "Easter Parade" if you're gathering with the adults. There's a fine compendium of Easter-related movies out there so why not take a relaxing time out to enjoy the holiday and all that surrounds it?
A movie night is a great way of bringing the family together, or for hosting a get-together with your closest buddies. 
Plant An Easter Garden
What better way can you think of to ring in Spring? Gather together on Easter and plant a beautiful flower garden to commemorate the holiday and bring in the new season.
Go to your local nursery and pick out your favorite flowers to create the perfect Spring flower bed. This fun activity will bring the family together and you can make it a yearly Easter tradition. You're outdoors getting fresh air, enjoying the holiday, and doing a project together.
This will quickly become one of your favorite Easter activities and is the perfect way to start the Spring season.
Decorate Inside & Outside The Home
One great thing about Easter is lovely florals, Spring-themed wreaths, and inviting bunny decor that is always a sweet addition.
Decorate your home with decorated linens, Easter eggs, and Spring related objects that bring new light and inspiration for a new season. Hang soft-toned lights outdoors, a floral wreath, or statues of springtime animals to create an appealing display your neighbors will adore.
Easter is known for its lovely pastels and greenery and decorating your home inside and outside will be just the lift of joy you need at the tail end of winter.
If you're looking for some fun things to do on Easter, these activities will have you raving about the exciting things you did on this popular holiday.
They will quickly become beloved traditions that you participate in each year with your loved ones. Whether you choose to go for the egg hunt, or decide to get the family together for a special photoshoot, Easter is certain to be memorable and create a loving atmosphere among your family and friends.
Don't be afraid to get creative, set your own traditions, or follow in the footsteps of your family members from prior generations. Easter is an exciting holiday that is looked forward to by so many, and these Easter activities will have you reminiscing for many years to come. 
Save it on Pinterest for later – Fun things to do on Easter: