Planning an Easter egg hunt is one of the most exciting parts of this well-loved annual holiday. If you have little ones, it's always such a fun experience for all. Filling the eggs, hiding them, and watching children retrieve them with such joy is one of the magic elements of this widely celebrated holiday.
But, if your kids have grown and are well into their teen years, the thought of a juvenile egg hunt may not be as exciting as it used to be.
Luckily, there are many fun Easter egg hunt ideas for teens and ways to make the egg hunt more appropriate and something to look forward to for your teen children. You're never too old to participate in the fun and magic of Easter. 
It's time to make this annual egg hunt a bit more interesting and these are some fun ways to get your teenager into the Easter spirit again.
Related – Fun things to do on Easter – Games and activities for the whole family
Easter Egg Hunt Ideas for Teens – Make It A Scavenger Hunt
Send your teens into the backyard for a Scavenger hunt that they will not soon forget. This fun twist on a classic hunt will not only be more exciting, but it will turn it into more of a competitive game where they can put some real effort in and feel good about.
Each egg will hold a clue inside of the next egg's location. Follow the clues until all eggs have been found and the player who retrieves all the eggs with their clues first will get a grand prize.
If you're feeling extra adventurous, include a GPS map on their phones and take it to a local historic park or outdoor spot that they will have fun at. This unique approach will have the teens talking about this brilliant hunt for many years to come.
Do It At Night
Make it teen-friendly and approved by making it a night time activity. Wait until dark before sending the kids off to search for those trusty eggs. Make sure all lights have been turned off and let them go out with flashlights and glow sticks for the now complex search. What teen doesn't love a glow party?
If outdoors is not an option, do it indoors at night the same exact way. Turn off the inside lights, and let the kids roam through the house looking for the eggs with their little light sources. The night time factor will make it seem more exciting and grown-up, while adding a fun element that they've never experienced before. 
Related – Cute Easter basket fillers for teenage girls
Make A Map
Similar to a scavenger hunt but a wee bit more complex. Create a map that the kids can follow that leads to sites with eggs. Ultimately, they will find all of the eggs and complete the entire map.
Make it a race to see who can complete the map the fastest. You can set it up as teams or make it a solo effort. There are so many fun ways to make this creative and unforgettable. Search Pinterest for treasure map ideas and get crafty with it.
This undeniably fun way of hunting for eggs will certainly become a fun memory for your teens. Don't be surprised if it becomes an annual ordeal! Who doesn't want to follow a treasure map?
Make It A Relay Race
Time to get a good workout in! For the extra competitive athletes, this fun way of twisting a classic egg hunt will surely be a memorable one.
Hide the eggs like normal but set a rule that each participant can only grab one egg at a time and have to bring each one back to their basket in a set location with their name on it.
Set the clock for five to ten minutes and let each player get as many as they possibly can in that allotted time.
The person with the most eggs when the timer goes out is the ultimate winner of the Easter Egg Relay Race.
This fun Easter Egg hunt idea for teenagers takes on a classic hunt that will have the kids looking forward to the competition each and every year.
Color-Coded Egg Hunt
This works out great if you have a variety of ages playing. Color coding the eggs and assigning a color to each person is a great way of personalizing what's inside the egg to ensure an age-appropriate prize.
Each person gets their own color and they will have items personalized to their liking inside each of those eggs. This is a great way to ensure it is not only fair, but that each participant is happy with their eggs and what they contain.
It's easy to make it into a contest as well, which teens always love and appreciate. With each person, give them a set time to find all of their colored eggs and give a prize to the winner who gets them all the fastest. The competition factor is always a more mature element that teens relate to and love.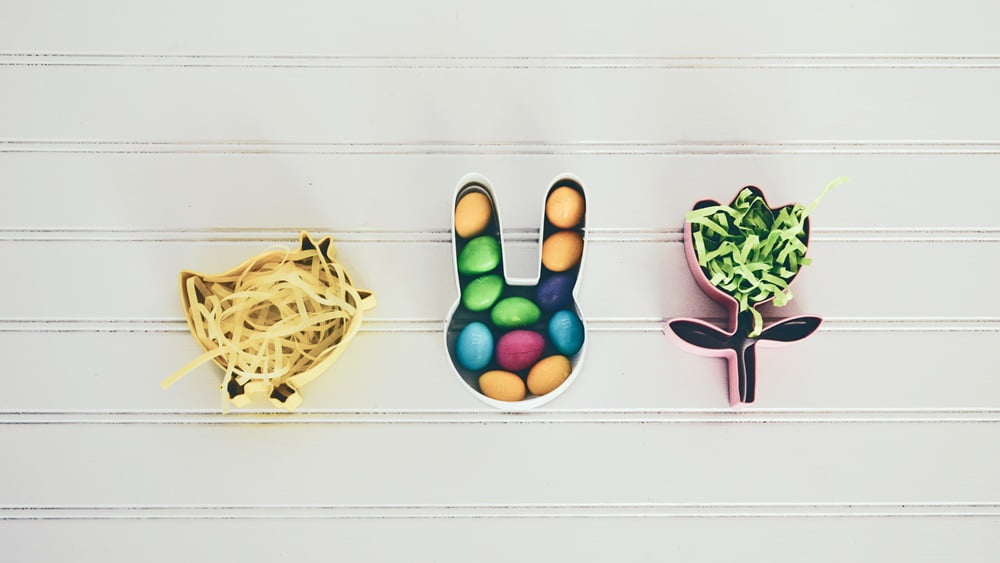 Prize Redeemable Easter Egg Hunt
This is a great reward system that will quickly become their favorite.
Place tickets inside of each egg with number or dollar amounts and give them reward options when cashing in.
Instead of candy, this is a much more exciting way to get items they really, truly want on Easter. You could have a prize table ready for choosing items with their allotted value or allow them a dollar amount to buy something they'd like to have.
This exciting twist will have them super excited to find all those eggs and redeem as many tickets as they possibly can to ensure a great prize.
Raffle Easter Egg Hunt
Similar to the prize redeeming hunt, this fun take allows mom and dad to get a little more creative and in control of the prizes. Each egg contains a raffle ticket that will show a number. At the end of the hunt, they will redeem that number for the matching prize that mom or dad has set up.
This exciting way to mix up a traditional hunt will have them so pumped to see what they will get at the end of the hunt. Teens will get competitive and find as many as they can to guarantee a basket full of loot. This will quickly become a fan favorite with any age group.
Teens are likely over the little tidbits of chocolate in eggs, when searching with a variety of ages or with younger siblings. Holding a specialized egg hunt for this age group is something they will love and appreciate – not to mention, these ideas are all so exciting and unique!
Plan one of these altered egg hunts to bring a new level of excitement for your teenage children and let it become an annual tradition that they can look forward to each and every year. 
Save it on Pinterest for later – Easter Egg Hunt Ideas for Teens: