St Patrick's Day is coming and it's the occasion to celebrate with your friends and family. Hop into your greenest outfit, grab a pint of green been, and get ready for the festivities to come.
If you are looking for ideas to have a blast and spend a great day, celebrating Irish heritage, we have listed below some of the top St Patrick's Day activities and games for adults so you can have a fun-filled day and host the best party ever.
Related – Saint Patrick's Day Traditions from Ireland
Best St Patrick's Day activities for adults
Drink Green Beer
St. Patrick's Day and drinking green beer go hand in hand, one without the other doesn't feel right. You can easily make it at home or go out to a nearby Irish pub for a fun experience.
If beer is not your thing they are plenty of green drinks (with and without alcohol) you can make for the occasion like a green lime Sherbet Punch or a green smoothie.
Have a Costume Contest
If you are planning to get together with family and friends, have everyone dress up for the occasion and hold a contest. Make up a prize for the winner and set up a jury to decide which of the contestants has the best Irish-themed costume.
Another version of this would be to have everyone dressed in green.
If you can't get together this year, you can dress up in your best costume or green outfit and shoot some pictures for your Instagram.
Enjoy a Family Brunch
Holidays such as St. Patrick's Day are the perfect occasion to plan a family meal. Make some green pancakes, a traditional Irish breakfast, or a green eggs and hash omelet, and have a fun meal with the whole family.
If cooking is not your thing, you could probably find a restaurant nearby organizing a St. Patrick's Day brunch you can attend. You could also ask everyone attending to bring a green dish.
Bake Soda Bread
Soda Bread is a traditional Irish food, offering a unique texture. Because it uses baking soda and buttermilk instead of yeast, it's dense and soft with a crunchy exterior.
To bake soda bread you'll need:
1 and 3/4 cups buttermilk
1 large egg
4 and 1/4 cups all-purpose flour
3 Tablespoons granulated sugar
1 teaspoon baking soda
1 teaspoon salt
5 Tablespoons unsalted butter, cold and cubed
optional: 1 cup raisins
Start by preheating the oven to 400°F (204°C). Then whisk the buttermilk and egg together. In another bowl, whisk the flour, granulated sugar, baking soda, and salt, then cut in the butter using a fork or your fingers, add the raisins. Pour in the buttermilk/egg mixture, gently folding the dough together until it is too stiff to stir.
Transfer it to a lightly floured work surface, work it into a ball and knead it for about 30 seconds (it shouldn't be sticky)
Transfer it to a regular baking sheet lined with parchment paper or a silicone baking mat and score an X at the top. Bake until golden brown (about 4 minutes), cover it with foil halfway.
Make Some St. Patrick's Day Crafts
If you are crafty, they are plenty of DIY projects you can work on on St. Patrick's Day. From creating your own decorations to making greeting cards, you will find plenty of projects you can make from things you already have at home.
It can be turned into a group activity where you all work on the same project or divide into groups. Some could be making a St. Patrick's Day Wreath while others make garlands or a centerpiece. This way everyone can participate in creating the decor for the party or meal you are hosting.
Watch an Irish Movie
They are plenty of great Irish movies out there you can watch. It is a nice way to learn more about Ireland, its culture, and its history.
Select of few you might like and either cuddle on the couch by yourself or host a movie night. Make sure to make some green popcorn for the occasion!
Some of the best Irish movies available on Netflix include:
Bad Day For The Cut
Michael Inside
The Young Offenders
Handsome Devil
Katie
Cardboard Gangsters
Bobby Sands: 66 Days
Watch a Virtual St. Patrick's Day Parade
If your city doesn't organize a St. Patrick's Day parade, you can easily watch a virtual St. Patrick's Day parade. The NYC Parade and the one in Dublin are the ones that offer the best live streams, and as they are the most popular ones they also tend to host the most spectacular parade.
Boston, Chicago, Cleveland, Philadelphia, DC, and Savannah also offer live streams of their parades.
You can make it a day's event, inviting friends and family to watch the parade, sharing a meal afterward – or you can just start a new family tradition with your spouse and children.
Learn How to Stepdance
Participate in an online class or watch a tutorial on YouTube and learn to stepdance or jig this St. Patrick's Day.
Stepdance is a traditional Irish dance that dates back to the 19th century, you'll often see it during parades and special events in Ireland.
It's a lot of fun to learn and you can hold a contest afterward to see who has learned the most.
Whiskeys Tasting
What better way to celebrate St. Patrick's Day than with whiskey? If you are a fan of Irish whiskey, plan a fun activity around it. If you have several connaisseurs in your group you can organize a blind test or a regular tasting.
Head to your local supermarket and pick a few bottles, then check the brand's website for info regarding their whiskey (what types of barrels are used, flavors and notes, blends, the distillation process, the maturation time…).
Some of the best Irish whiskeys include:
Dead Rabbit Irish Whiskey
Tullamore D.E.W. Original
Redbreast 15 Year
Bushmills Original
Jameson Irish Whiskey
Teeling Single Grain Irish Whiskey
If drinking pure whiskey is not to everyone's taste, you can also craft some delicious cocktails with it.
Read A Book By An Irish Author
If big parties are not your thing and you'll rather stay home by yourself and enjoy some peace and quiet, pick a book by an Irish author this St. Patrick's Day. It's the perfect way to honor the holiday and learn more about Ireland.
Revisit some classics like Ulysses by James Joyce, Gullivers Travels by Jonathan Swift, or The Picture of Dorian Grey by Oscar Wilde.
For more recent books, check out Amongst Women by John McGahern, Conversations with Friends by Sally Rooney, or A Week in Winter by Maeve Binchy.
Set up a St. Patrick's Day Photo Booth
What better way to commemorate the day than with a photo booth? A fun St Patrick's Day activity for adults and kids alike, get some accessories and backgrounds, and you're set for a cool photo booth.
Have guests take turns taking crazy pictures and maybe create a photo album at the end of the day.
Participate in a Fun Run
Parades are not the only St Patrick's Day event going on for the occasion, there are also a lot of cities that organize themed races. If you want to burn off some calories before some green beer and the traditional Irish meal, consider joining one of the many fun runs that happen around the holiday across the country.
Among the most popular, you'll find:
The Shamrock Run in Portland, choose between a 5K, 8K, 15K, or half marathon, and have a drink at the post-race beer garden;
Donwtown Dunedin St Patrick's Day 5k and Street Party where runners are encouraged to wear their finnest St Patrick's Day attire;
St Patrick's Day Fun Run in San Diego where you get free beer and pizza at the end,
Check out local races near you here >>
Fun St Patrick's Day games for adults
Shamrock Shake
See which of your friend and family member can shake it the best with this fun game that will have everyone laughing hard.
Get some empty tissue boxes (find green ones or paint them green for the occasion), attach a long string, a scarf, or pantyhose to each, then fill them with an even amount of ping-pong balls.
Once you're ready to play the game, attach a box to each participant's waist, play some music, and have them shake their hips until all the ping pong balls are out of the box.
Gold Coin Toss
Get some chocolate coins at your local store and either some leprechauns hats or cauldrons (you can also use whatever pots you have at home).
Divide your guests into teams and place the pots a few yards apart and have every team try to toss coins into their pots. In the end, the team with more coins inside their pots win.
An alternative way to play this is to set several pots in different places with each one being worth a different amount of points, depending on how far they are. You can play in teams or as every man for himself.
Definitely a fun St Patrick's Day game for adults that will get everyone engaged.
Hot Potato Drinking Game
The classic hot potato game with an Irish twist, have your guest fill up a shot glass with the liquor of their choice, sit all down in a circle, and start playing some music as the potato is tossed around, when the music stops, the person with the potatoes has to take his shot and leave the circle. Play until there's only one person left.
St. Paddy's Day Beer Pong
Reminisce about your college days with an Irish-themed game of Beer Pong. To make it a bit more appropriate for the occasion, use green beer instead of regular one and green cups. You can even draw some shamrocks on the balls.
It's simple to set up, fun, and will get everyone involved.
Pin the Hat on the Leprechaun
A fun St. Patrick's Day activity for adults and kids alike, test your guests' skills with this St. Patrick's Day version of the classic "Pin the Tail on the Donkey" game.
First, draw a leprechaun without a hat on a large piece of poster board. You can also find a free printable online and have it printed at your local copy center. Then draw or print out a hat on green construction paper, cut it out, and attach some sticky tape or putty on the back.
Blindfold your guest and have them try to pin the hat at the right place one by one, if they miss, they have to take a shot or get a dare.
Drinking Dice
Buy a set of St. Patrick Day themed drinking dice from Amazon and let the fun begin! One dice suggest a place and the other something to do. It's a great St Patrick's Day game for adults if you are into drinking games.
Shamrock Cookie Decorating Contest
For people who like baking, hold a shamrock cookie decorating contest. Get some shamrock cookie cutters and make the cookies in advance so everything is ready when the guests arrive. Prepare some icing and some edible decoration and set everything up.
You can divide guests into teams or have each guest decorate their own cookies. Once done, have a jury pick the best-looking ones.
Irish "Heads Up"
Test your guest's knowledge of famous Irish people with a fun game of heads up. You can prepare the cards in advance and have the guests trying to guess who they are as the party goes or sit down and play all together.
Quoits
Why not play a traditional Irish game of quoits
? Quoits is taken quite seriously in Ireland, with leagues and strict rules.
You can get a set from Amazon or make up your own set. Check out the official rules here to learn all about it or make up your own rules for a simpler version.
Top St Patrick's Day party ideas
After all these games and activities your guests are probably going to get hungry, here are a few additional party ideas to host the best St Patrick's Day celebration with great food and delicious drinks the whole party will enjoy.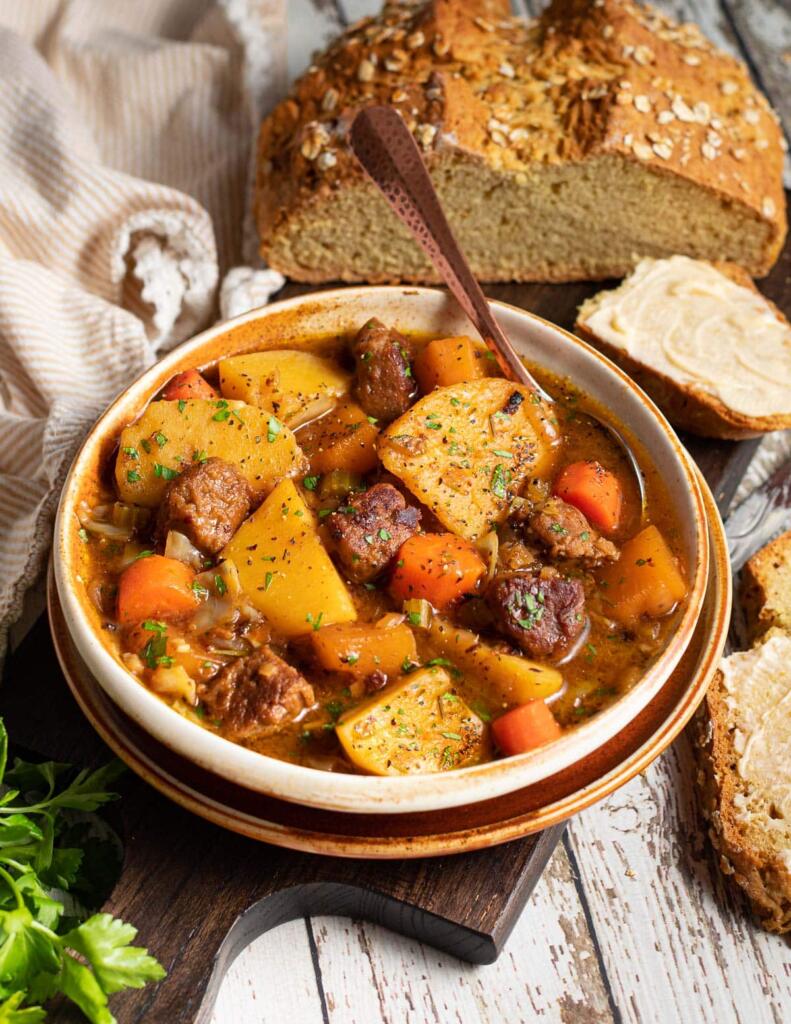 St. Patrick's Day Food
A traditional St Patrick's Day includes corned beef, cabbage, and soda bread but they are plenty of fun alternatives such as:
For some vegan options, you could make a Vegan Irish Stew or a Vegan Colcannon Soup.
Make sure to make some soda bread (see recipe above), you can also make vegan soda bread or a gluten-free one to accommodate dietary restrictions.
For desserts and treats, consider one (or more!) of these options: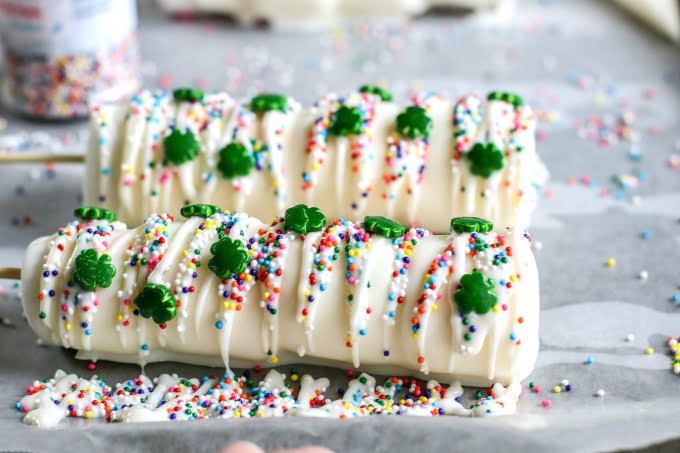 St. Patrick's Day Drinks
Apart from green beers and whiskey, there are plenty of fun drinks you can serve for St. Patrick's Day. Here are a few options:
Here you go, as you can see they are plenty of fun things to do on St Patrick's Day for adults. We hope you'll find inspiration with the games and activities listed above and that you have a blast on this special day.
If you want to celebrate the day with a special gift for your guests, check out our St Patrick's gift guides for adults and for kids.
Save it on Pinterest for later – Fun St. Patrick's Day Activities and Games for Adults: