Becoming a grandparent for the first time is one of life's most important milestones. If you know someone who's about to celebrate their first Mother's Day as a new grandma, you are probably looking for a special gift to mark the occasion! But what exactly should you get a first-time grandma?
To help you find inspiration, we have listed some of the best Mother's Day gifts for first-time grandmas. The list ranges from useful to sentimental to funny things that a new grandmother would love to get.
You will find gifts for every type of woman. Covering a diverse range of interests, this gift guide features products at every price point, making it super easy to find the right gift for the new grandma in your life.
Related – How to Celebrate Mother's Day on a budget
Disclaimer: This post contains affiliate links, which means that if you click on any links and make a purchase, we'll get a small commission, at no cost to you.
Our top picks from this list – Mother's Day Gifts for First-Time Grandma:
Sentimental Mother's Day Gifts for First-Time Grandma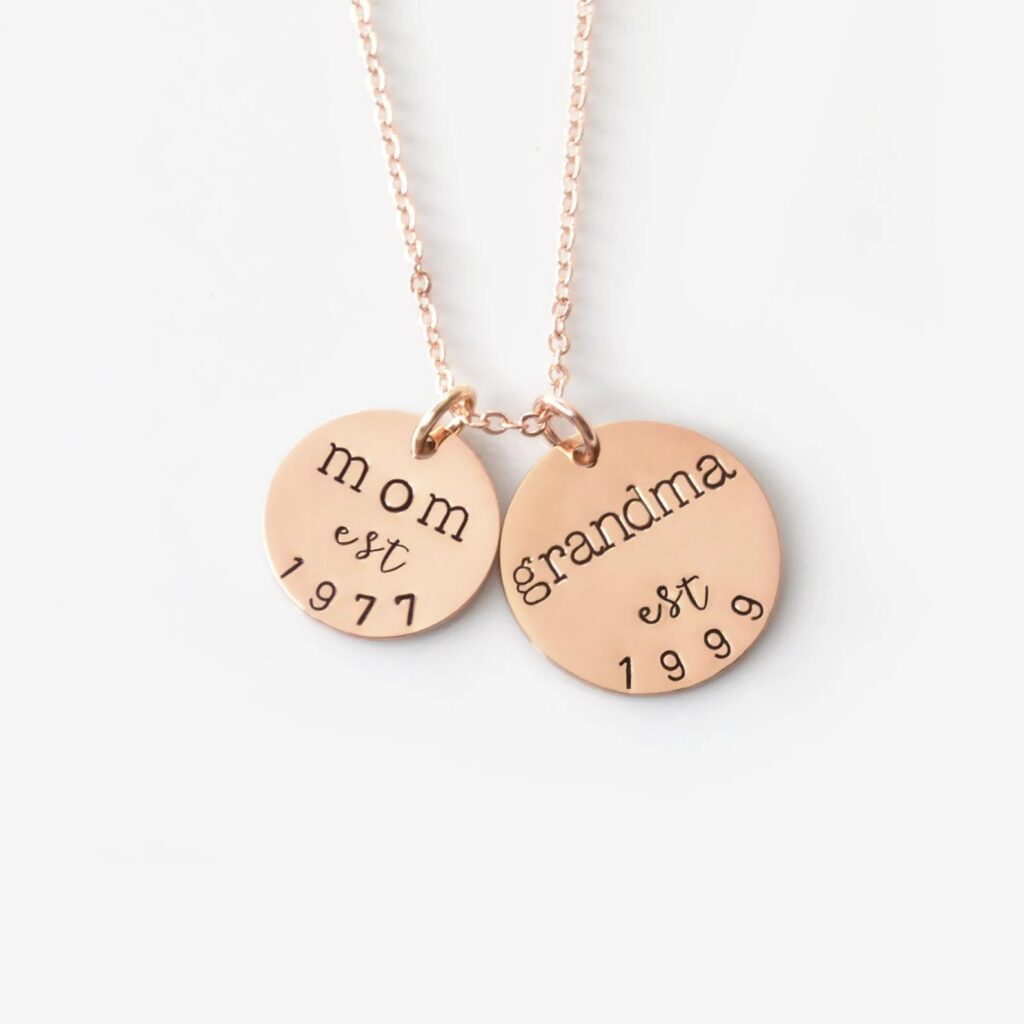 Jewelry is a classic and popular Mother's Day gift. For the first-time grandma in your life, turn it into something special and meaningful to mark the occasion.
The necklace arrives ready to gift and if you want to have it shipped directly to your mother, the seller can write a handwritten note with the message of your choice.
On the charms, the seller will engrave the dates and you can pick the phrasing. You can pick the size of the chain and the metal used (silver-plated, sterling silver, gold-plated, or rose gold-plated).
If you've had twins (or triplets!) you have the option to add more charms.
The necklace is beautifully made and full of meaning. It's discreet enough to be worn on any occasion – and a new Grandma will just love it.
For something fun but also meaningful, this t-shirt will make a nice gift idea for a first-time grandma. It's perfect for Mother's Day or to announce your pregnancy.
The shirt comes in a bunch of different colors and sizes (the year will be updated) – and you can also pick the font's color and the style of the shirt.
This beautiful mug will make the perfect keepsake and reminder of this special event in her life – becoming a grandmother.
You can customize the text if you want to (eg: Nana, Granny…) and the color for the handle and the inside. It comes in 2 sizes and is dishwasher and microwave safe.
To make it extra special you can add some coffee or her favorite chocolates.
Made in the US, these soy candles are quite fun – they come in a variety of scents and they can be made with sprinkles or glitters to give them a special flair. The label is also perfect for new grandmas, funny and memorable.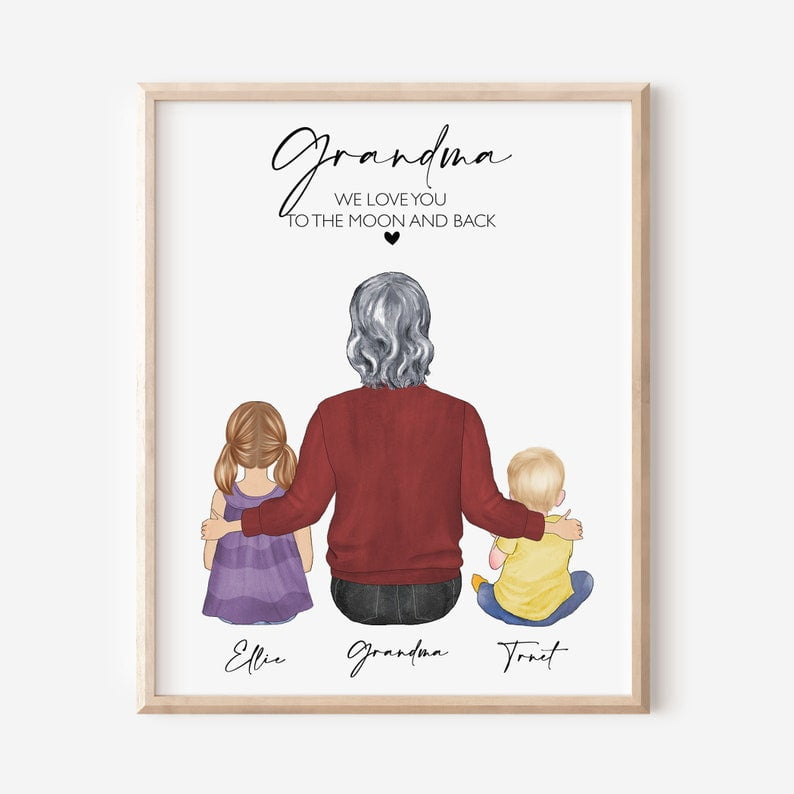 Probably the most sentimental Mother's Day gift on this list, this custom portrait will make her heart melt.
You can customize it as you wish (clothes, hair, skin type, text…) and pick the number of people on it – you can have just Grandma and Baby in it, or add all of her kids as well (you can also add a pet!).
You will get a digital copy that you can have printed online or at your local printer – make sure to get a frame as well.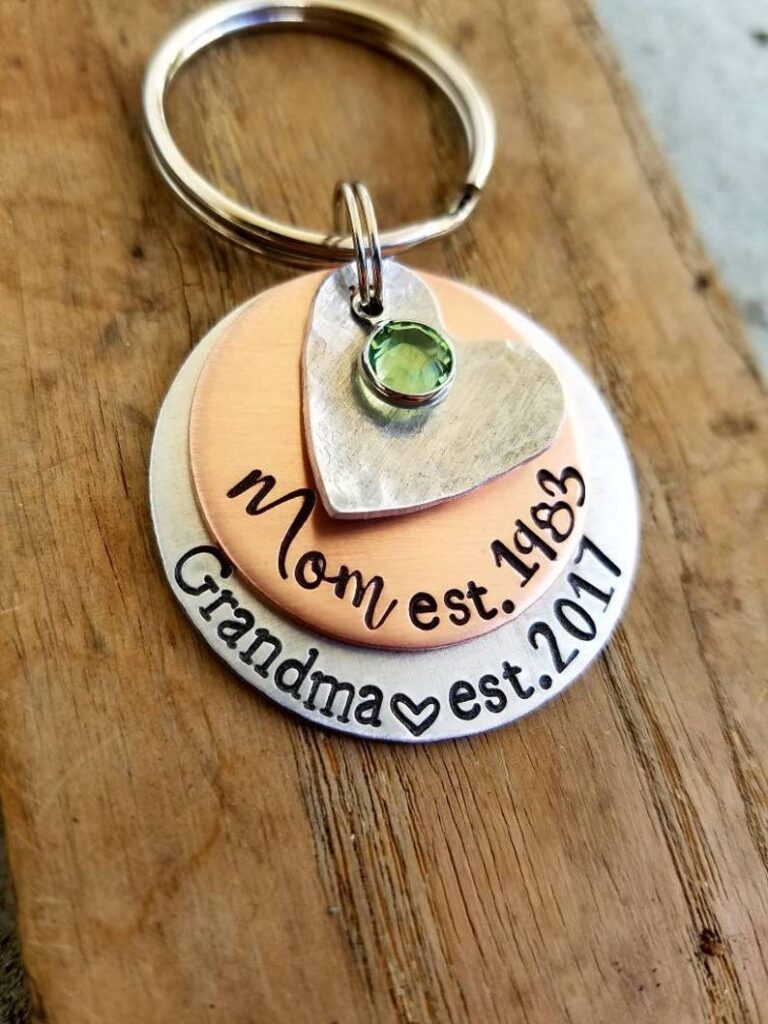 A beautiful Mother's Day gift for the mom who just became a grandmother, this personalized keychain will remind her of her kids and of her first grandkid every time she sees it.
The keychain includes a heart charm and 2 hand-stamped disks with the year she became a mom, then a grandmother (you can pick the phrasing). It also comes with a birthstone to customize it further (just pick her birth month at check out).
You can have it made into a necklace – if a keychain is not your thing.
A stunning necklace filled with meaning – you are sure she will love it! Sentimental and custom gifts are perfect for Mother's Day – something she can cherish for years to come.
You can send the seller Baby's footprints or pick the basic design the seller has – then add Baby's name and date of birth. It also includes a birthstone (make sure you specify her birth month to the seller at check out).
The necklace comes in different lengths and you can pick between 3 finishes (silver, gold, or rose gold). The charm is small and discreet, so perfect to wear on any occasion.
So she has a keepsake of Baby's first few months, this photo and hand casting frame will make a perfect Mother's Day gift for first-time grandmas. She will love having it on display at her house.
It comes with everything you need (casting kit, paint, frame…) and you can customize it pretty much as you want (colors, font…).
Mother's Day is also the perfect occasion for self-care gifts. This "Glam-Ma" box is sure to make her laugh. The packaging of the box is a lot of fun with plenty of goodies inside.
This gift box includes one candle, a lip balm, a soap, and two bath bombs.
Good Mother's Day Gifts for New Grandma
An inspiring gift and way to pass down the family history, this journal will prompt Grandma to write down her life story so she can share it later on this her grandkids.
It is quite a unique thing to do, the journal can stay in the family for many generations and is sure to bring up a lot of emotions every time someone reads it.
With five gifts in one, this gift box for grandmas might be the perfect Mother's Day gift for her. Every product in there is meant to help relax and remind her of the fact that she is the coolest grandma ever.
The box includes a dish towel, a keychain, a pair of fleece socks, a mug, and 2 Bath Bombs. 
The box arrives ready to gift and comes with a card.
A cute little gift to remind her that she's the best. this jewelry dish will make a perfect gift. It's practical and sentimental at the same time. She can use it to store her keys, coins. or small trinkets and jewelry – she will be reminded of her first grandkid every time she sees it.
As the family is growing so is the number of important dates to have in mind, this calendar is the best thing to have to never forget a special event – the best part is that you can add to it as the family grows.
It comes with 100 charms where you can write the name and date and add it under the proper month. It's also a beautiful thing to have on display at her house.
You can choose from three different styles.
Because who doesn't like being wrapped in a soft and comfy blanket? This inspirational blanket designed for grandmas will make a thoughtful Mother's Day gift for a new grandparent.
The blanket comes in five colors and you can choose between fleece (softer) or Sherpa (warmer) and features inspirational and loving words about the meaning of being a grandmother.
These little figurines by artist Susan Lordi are best-seller gifts – she makes one for every occasion and relationship. They are all super sentimental and a perfect way to express your love on special occasions.
This one features a grandmother holding her baby grandchild – it symbolizes new beginnings and the loving relationship between grandparents and grandchildren.
All figurines are hand-carved out of willow trees and hand-painted – they come in a box ready to be gifted.
A beautiful gift to celebrate the arrival of a new baby in the family, this necklace is perfect for grandmothers.
The tree symbolizes life, wisdom, and growth, and the birthstone, her new grandkid. As the family grows, you can order and add more birthstones to the necklace.
You can choose between three finishes (silver, gold, and rose gold) and pick the length of the chain.
The necklace is beautifully crafted and she will be able to always carry something of her grandkid with her.
To finish this list of the best Mother's Day gifts for new grandmas, we've picked these cute planters designed for nanas. It will look great on display in her house and she will be reminded of Baby every time she sees them.
The pots arrives in a gift box.
Those are just the planters, they don't come with the succulents.
Check out our other gift guides for women or some of our other Mother's Day gift ideas:
Like it? Pin it for later – Mother's Day Gifts for First-Time Grandma: