Looking for gifts for your favorite trucker, but are not sure what to choose? Let us help you with this insightful gift guide for truck drivers. Spending most of their time away from home, the daily road journey might seem exciting but at times can be boring, lonesome, and tiring.
You might want to get something practical and thoughtful to make their journey easier and comfier. For example, truckers spend a lot of time behind the wheel, so gifting them something to make them feel more comfortable will be highly appreciated. Or you can always go for heartwarming personalized gifts to bring a smile to their face.
Take a look at our list of the best gifts for truck drivers below. It includes a variety of truckers' essentials as well as light-hearted novelty items to make them feel special. It's time to make their life easy-breezy.
Happy gifting!
Disclaimer: This post contains affiliate links, which means that if you click on any links and make a purchase, we'll get a small commission, at no cost to you.
Gift ideas for truckers – Our top picks from this list:
Useful and practical gifts for truck drivers
A Portable Oven is one of the most useful things truck drivers can bring on their journey to enjoy a warm meal on the road.
The automatic temperature control feature helps to cook the food evenly without burning or drying it. Truckers will love to add that to their truck's accessories.
A good flashlight can be a life savior and is a must-have for truck drivers.
The flashlight has 5 different modes to change according to their need.
The Tactical LED Flashlight is the next most practical and handy product you can gift to the truck driver in your life.
Cool water in the summer afternoon and hot coffee in the winter night are something easily available at home. But for someone who spends most of his time on the road, these are highly essential and sometimes may be challenging to avail.
Hence, the portable Wagan 12V Cooler/Warmer is a perfect product to carry on the go.
The unit has indicator lights to adjust hot, cold, and turn-off modes. A very convenient product for any semi-truck drivers, or over-the-road truck drivers.
It can be a nice Christmas gift for a truck driver who spends most of his time on the road.
Truck drivers face many problems on the road including theft, robbery, snatching, etc. It's highly crucial for them to have a safe space to store their valuables.
A must-have product for drivers and road travelers.
Gift this combination lock unit to your father, partner, or friend on his birthday or Christmas to make his life easier.
Driving and back pain often goes hand in hand as prolonged sitting behind the wheels can trigger pain in the lower back.
A perfect gift idea for truckers who suffer from back pain and discomfort while driving.
Truckers often need to sleep in their truck but it doesn't always feature the best mattress.
The medium-density foam gives you absolute comfort and support during sleep. The product is made with a long-lasting, fluid-proof, non-allergic, and odor-free nylon cover that is easy to clean.
One of the most useful gifts for over-the-road truck drivers. It makes a nice Christmas gift for your husband, boyfriend, or dad if he often needs to spend his nights in his truck.
The right pillow can be a deal changer when it comes to getting a good night's sleep or taking the powerful nap you need to feel more energized. Truck drivers need to get all the comfort they can, especially after a long day on the road for when they have to sleep in their truck.
A very good Christmas or Father's Day gift for your dad who is a trucker and needs restful sleep on the road.
Front seat organizers are the next must-have items for truck drivers who need to carry lots of paperwork, blueprints, laptop… A sturdy and compact car organizer can help you store and keep frequently used items within arm's reach.
A very useful thing to have for semi-truck drivers and over-the-road truck drivers.
This sleep mask stands out from the rest due to its uniquely designed patented bending cartilage which successfully blocks lights coming from the nose area. It's very durable and made with super breathable spongy fabric which feels ultra-soft and comfy on the eyes.
The soft cotton wing design on both sides of the eyes gives feather-like touch and gently deflects the pressure around the face, ensures minimum rubbing, making you hardly feel any discomfort during deep sleep.
A very useful Christmas, birthday, Valentine's Day, or Father's Day gift for your favorite truck driver.
A heated blanket is one of the most comfortable items one needs in winter. Especially, if someone needs to travel for their job, this is perfect.
You can gift this to any semi-truck driver who spent most of their time outdoors and sleep in their truck often.
Funny gifts for truck drivers
T-shirts are the best gift ideas for almost any occasion. If you are looking for something cool for the trucker in your life, check out this Funny Trucker T-Shirt.
This is definitely one of the funkiest birthday, Christmas, or Father's day gifts for truck drivers to drop a load and honk in style.
This Swappable Grip for Phones & Tablets is an amusing gift you can get for a trucker who already has everything they need for the road.
A nice appreciation gift for your dad, husband, or boyfriend.
Coffee mugs always make heart-warming gifts if added with a special quote that fits with the person's personality or interests.
A perfect and humorous gift for the trucker in your life, especially if he is a coffee or tea lover.
Related article – Awesome gift ideas to add to his man cave
This pretty mug has a unique funny quote on it to make the truck driver in your life laugh out loud.
A perfect gift for the trucker who loves coffee and humor.
The bottle comes with a silicone spill-proof slide lid. It also has a paracord handle wrap and a carabiner for easy transportation. The double-walled vacuum insulated tumbler keeps your drinks or beverages hot or cold for hours.
A great gift for Christmas, birthday, Father's Day, or Valentine's Day for the high-spirited truck driver in your life.
Built of high-quality metal, the sign is waterproof and fadeproof. It also comes with pre-drilling mounting holes for easy installation.
A unique gift for Christmas for semi-truck drivers, or the over-the-road truck drivers.
Regular journaling is like therapy to the mind. It is a pleasure to record your day-to-day activities and experiences while traveling. Do you know a trucker who loves to keep notes of their daily life? We have got something perfect for you.
A good novelty gift for Christmas, Valentine's Day, Birthday, or Father's day for the lively truck driver in your life who loves to pen their thoughts on the road.
You may be thinking coloring can't be a hobby for a truck driver. The thing is coloring is a very mindful and meditative process. From kids to adults, anyone can be fond of it. It can be an ideal way to pass the time when truckers don't have much work at hand.
A funny but useful Christmas or Birthday gift for the truck driver in your life who has a creative side.
Christmas Gifts for Truck Drivers
The product is perfect for decorating your home or bar with a vintage style. An exquisite Christmas gift for tow truck drivers, or any passionate truck driver who is crazy about trucks.
The card has been designed to include 6 different-sized wrenches for tightening, 4 bottles and can openers, 4 screwdrivers, 2 rulers, 2 peelers, a letter opener, and even a cellphone stand.
The card is made of four times heated stainless steel which makes it extremely durable, rustproof, and bend-proof. The product is TSA-approved, so you won't be having any difficulties at the airport.
All of this in one single card and it fits right inside your wallet. How cool is that!
If you are looking for something handy, super-useful, and efficient for a Christmas gift, this is the one. An awesome gift for the truck driver in your life who will definitely admire it.
A very nice Christmas gift for semi-truck drivers, tow truck drivers, or highway truckers.
Grab this highly practical and convenient logbook as a Christmas gift for your father, boyfriend, husband, or any trucker in your life.
Father's Day gifts for truck drivers
Keychains are perfect to make someone remember you by. They are ideal to compliment someone's passion and personality.
The keychain is silver-plated and comes with a pretty little truck to remind the recipient of what they love. The seller will parcel the keychain in a beautiful gift box ready to be gifted.
A perfect Father's Day gift for your super dad who loves trucks.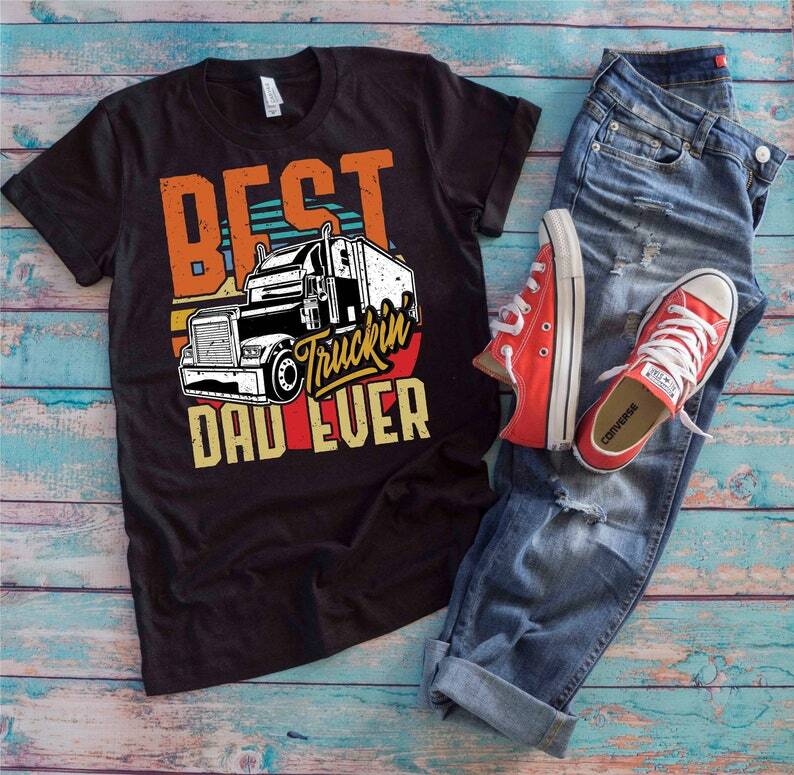 T-shirts are another personal canvas to express someone's inner self with creative designs. Check out this Best Truckin Dad Ever Shirt, made of cotton, soft, and super comfy to wear. Make this Father's day special for your supercool dad with this fashionable T-shirt.
A very nice appreciation gift for Father's Day for your loving dad who is a passionate trucker.
Related Article – Epic Father's Day gift idea for the dad who wants nothing and has everything
Having a caricature made is a funky trend to capture the essence of people in an artistic and humorous way. Pick one of your dad's cool pic with his truck and turn it into a Caricature Portrait.
Make your dad feel special with this thoughtful portrait on Father's Day. This will surely bring a smile to his face.
For a tow truck driver, you can check out this option >> (you can check the seller's store, they have an option for pretty much every type of truck).
Valentine's day gifts for truck drivers
Related – The best Valentine's gifts for men
This Monogrammed Toiletry Bag is a multipurpose toiletry bag you can gift your loved one to store his grooming products in a neat and organized way.
The bag is lightweight, highly durable, and made with waterproof leather inside out, which helps you to use it conveniently in wet areas like in the shower or bathrooms.
It comes with multiple pockets to hold your toiletry products in order. This kit has a convenient carrying handle to attach to your luggage for easy portability, or you can hang up on bathroom door handles for quick reach.
A highly recommended Valentine's day gift for your husband or boyfriend who is a trucker and spends most of his time outdoors in dust and pollution.
A customized portrait of the truck your partner loves will be another impressive gift option for him.
Send a picture of their truck to the seller and the artist will turn it into a nice-looking digital art sketch. You can add some writing or small quotes as well. The portrait comes unframed and made on high-quality photo slate.
Your partner will definitely adore this gift. So order now and gift it to your husband or boyfriend on Valentine's Day (or any other special occasion) for a thoughtful and awesome present.
In The Long Haul: A Trucker's Tales of Life on the Road, author Finn Murphy perfectly shares his life experience as a trucker.
The author unfolds his life on the road over three decades, in a poignant book that reveals his emotional, funny, witty, and even odd and haunting encounters with people. It beautifully narrates the all-time changing American culture.
The author cherishes his personal experiences on the open road with its own set of challenges and characters.
A fascinating read for any trucker who would love to discover another "Trucker's Tales of Life on the Road." A beautiful and thoughtful Valentine's Day gift for the trucker in your life.
The book takes you on an ultimate visual journey with stunning photographs and in-depth itineraries, recommendations, and guides for an enthralling road trip. This can be a very nice appreciation gift for truck drivers who are passionate about the road and love to discover new places.
This book should be on every adventure lovers' shelf. Inspire your partner with this list of the most Epic Drives of the World. An absolutely perfect Valentine's Day gift for the trucker in your life who is always ready to hit the road.
Other good gifts for truck drivers
Truckers mostly spend their journey alone, at times they might find it dull and monotonous. Additionally, they might not get the time to enjoy reading books or watching TV. Audible saves time and provides an uplifting and mood-changing environment, removing boredom on a long journey.
It lets you listen to thousands of stories, novels, comics, journals, and podcasts anytime anywhere. It will make the road more entertaining, helping them to relax, laugh, get thrilled, and learn all in one app.
Gift an Audible Membership to your father, boyfriend, or husband on any occasion to make their journey more fun, educative and interesting.
A Rain Jacket is one of the most practical and useful gifts you can give to a trucker. Needless to say, they need a waterproof jacket as they spend most of their time outdoors loading and unloading, moving materials on sunny as well as rainy days.
This can make a nice Christmas, birthday, Father's Day, or Valentine's Day gift for your favorite trucker to make their life on the road easier.
The product comes with 3 different adjustable attachments for deep clean-ups. The vacuum cleaner has been designed to clean your car on the go.
A very useful product to gift any kind of truck owners like semi-truck drivers, tow truck drivers, or over-the-road truck drivers. A well-designed and thoughtful Christmas, Father's Day, or birthday gifts for truck drivers.
For a trucker who loves his job as much as he loves to discover new roads, this Scratch-Off Map of the United States would be the perfect gift for any occasion. Keep their travel bug alive by scratching off new destinations every time they pass through a new place.
Have their truck smelling nice and fresh at all times with this lightweight and compact InnoGear Car Diffuser.
The diffuser comes with a USB power supply for convenient charging and has two adjustable mist for continuous and intermittent diffusing. It also serves as a beautiful night lamp.
Freshen up the air inside the truck and enjoy the road, surrounded by a diffuser and a relaxing fragrance.
A nice Christmas, birthday, or Valentine's Day gift for the truck driver in your life.
Haven't found what you were looking for? Check out some of our other gift guides for men:
Like it? Pin it for later: