As the world is getting busier, listening to podcasts is becoming massively popular. Listeners can dive into any of their favorite audio content without having to set aside time to read or watch the content. The advantage of listening to podcasts is that it offers endless categories and options in all genres to fit all tastes.
Podcast lovers usually like to spend most of their entertainment and relaxation hours on audio listening. Gifting audiobooks could be the first thing in your mind, but there are more ways you can appreciate their love for podcasts. For example, a high-performing noise cancellation headphone is something any podcaster will highly admire.
Check out some unique, adorable as well as highly practical gifts for podcast lovers.
Disclaimer: This post contains affiliate links, which means that if you click on any links and make a purchase, we'll get a small commission, at no cost to you.
Best gift ideas for podcast listeners – Our top picks from this list:
Useful and thoughtful gifts for podcast lovers and podcasters
"Alexa, play The American Life" and instantly their favorite podcast starts playing while they work out, do chores, take a bath… That's the magic of Amazon's virtual voice assistant.
Alexa has simplified our life in so many ways like checking news updates, weather reports, controlling smart home devices, finding local business information, doing shopping, playing music, setting alarms, calling other devices, telling jokes, creating reminders, doing maths, and most importantly playing audiobooks and podcasts – all of these just a command away.
With the Echo Dot 4th Gen the listener is not confined to only one room of listening to their favorite podcast. Echo Dot 4th Generation helps to set up a multi-room sound system using compatible Echo devices in other rooms. Whether they are in the kitchen or living room or moving from upstairs to downstairs doing household chores; all they have to do is just ask Alexa to play their favorite entertainment everywhere.
The device is simple to set up, and ready to use in seconds. It's small, portable, and easily fittable anywhere. Play songs, podcasts, and audiobooks with Amazon Music, Apple Music, Spotify, SiriusXM, Audible, and others.
A perfect Christmas or birthday gift for the person for whom entertainment means listening to podcasts.
Now you can listen to your favorite podcast in a cafe, bookstore, at work, at the park, or any other place where noise can be an issue. The Sony WH-1000XM4 Wireless Noise Canceling Headphone gives you the peace of mind of listening to your favorite program with ease.
The headphones automatically pause when you speak, allow essential sounds in when you are listening on the move, auto-adjusts the sound according to your location and behavior, provides a hands-free calling feature with Alexa, and pauses playback when the headphone is removed and plays back when put back on. Simply place your hand on the right ear for a quick conversation.
With just minutes of recharge, you get 5 hours of playback with superior quality AI sound enhancement technology. In addition to that, it can be paired with two Bluetooth devices.
Any podcast lover will highly appreciate this product. A highly recommended Christmas or birthday gift for podcasts listeners who like to listen on the go.
If a bulky headphone is not their thing, consider these earbuds as the perfect alternative.
The Bose QuietComfort Noise Cancelling Earbuds provides the most effective noise cancellation and lets you appreciate the finest details of your audio with crisp, clear audio and rich, deep bass.
The earbuds are ultra-soft and fit securely in the ears, and you might forget that you are actually wearing them. It is sweatproof and weather-resistant so you can use it almost anytime anywhere. Simple touch control adjustments help to pause and play just with a tap. You can use it for up to 6 hours on a single charge.
A perfect gift for people who listens to their favorite podcast on the move. Let their audio world come to life with these high-performing earbuds.
As the temperature starts to drop, the beanies are making their way out of our wardrobe. It's time to make the podcast lover in your life ready for a cold winter without losing on a nice audio experience with no extra load on the ears.
The Bluetooth Beanie Hat is an awesomely useful device and piece of clothing that comes with wireless headphone functionalities. The upgraded HD stereo speakers with Bluetooth 4.2 allow a pretty loud and clear audio experience even in noisy environments. It comes with a responsive control panel in the right ear to control calls, volumes and has a USB charging port. It can last up to 16-20 hours with a single charge. The material is made of soft and thick knitting providing comfort and warmth in winter.
You can take hands-free calls with smooth connectivity while walking, running, jogging, cooking, riding a bike, or cycles. A highly appreciable Christmas or Thanksgiving gift for the podcast lover in your life.
Audiobooks take us to another world altogether with the immersive sound experience and the quality of narration of the content they provide. An audiobook is a thoughtful gift option for that avid podcaster in your life. Especially, if the person loves thrillers and mystery, you can choose the audio version of this best-selling novel to give them a thrilling experience.
The Welcome to Night Vale is one such gripping novel to keep someone hooked to the end. The Newyork Times best-seller author Joseph Fink takes you to a world of ghosts, aliens, angels, and conspiracies.
It can be gifted on birthdays, Christmas, Thanksgiving, Valentine's day, etc. Surprise your true-crime podcast fan with this audiobook or paperback from the Night Vale adventures podcast.
The thing that makes a bean bag a unique gift is that you can use it in your study or office room for work, fun, or relaxation. Someone who loves spending some me-time cozily at home, listening to podcasts or reading books, would highly appreciate this present.
The high-quality foam helps the bag return to its original shape with a simple fluff after use. You can remove the microfibre cover easily for machine wash. It can be easily moved around the house and makes a great decorative item for the home while being used for relaxation and stress relief at the same time.
A great gift item for birthday, Christmas, housewarming, retirement, friendship day, or Valentine's Day for the podcaster whose weekend means getting lost in the world of listening.
Of course, The Curious Ape is a nice gift for any listeners of Joe Rogan's podcast. And you might think only specific listeners of it would enjoy this book. However, it can be gifted to people who possess a curious mind about life and everything associated with it.
The book explores powerful ideas from the world's most exceptional scientists, philosophers, athletes, investigative journalists, and even whistle-blowers. The ideas challenge the conventional thoughts our society holds about everything around us.
Gift this great read to the podcast lover who would love to explore something new and challenge their own beliefs and thoughts. This can make a nice gift for almost any occasion.
Best gifts for aspiring podcasters
So You Want to Start a Podcast is an excellent book for beginners who are aspiring to become a podcaster. The author has skillfully created a sense of confidence for the reader to start their own show no matter who they are. The step-by-step guide with no technical terms provides easily graspable content for the readers.
The book will give the reader an insight into the industry, work, efforts involved, and time requirements for creating, producing, and maintaining a successful show.
A highly practical book or audiobook you can gift to your favorite podcast lover to gradually master the art of podcasting.
Any ambitious podcaster will love having anything that helps them move forward towards their goal of becoming a podcaster and helps them to grow every day as a host. And the ALL-IN-ONE Podcast Production Studio is an ideal gift item for beginner or intermediate podcasters to get into podcasting.
The console has different voice pitches of male, female, robot, girl, etc. It supports 2 persons, 4 devices, and 4 platforms to stream at the same time. Eight built-in special audio effects with various adjustments like laughter, applause, cheering, booing, and crowd sounds are pretty useful to create special effects.
It is compatible with Andriod and IOS devices and reduces noise effectively. The console is embedded with various electronic music, modifiable tones, and reverbs to make the audio interface more entertaining. The cool audio console is a one-stop comprehensive solution with a solid audio experience and a great upgrade to inexpensive consoles.
One of the highly useful and thoughtful Christmas gifts for podcast lovers who are not only devoted listeners but determined to host their own show someday.
Journaling helps to plan and organize things in an assembled and classified way. But if the planning is done in a more realistic way, that helps one see the real progress towards their goal. That's where The Podcast Journal excels better than any other logbooks.
It helps you leave aside all the guesswork and walks you through a structured approach with a step-by-step formula to reach the desired goal. It helps you set the target from day one and take you through all the necessary steps to launch your podcast in 50 days.
In addition to all these, you get access to video tutorials, PDFs, and opportunities to connect with other podcasters for support and guidance. How amazing is all that! A fun way to educate, monitor, and elevate your podcasting skills.
A great gift for Christmas, birthday, Valentine's Day, or any other celebrating occasion for someone who's aiming high to become a podcaster.
Best podcast-themed gifts for podcast listeners
The definition of unwinding and relaxation is different for everyone. We know people who find solace in painting, reading, gardening, singing, decorating, and even in fixing broken items. Do you know someone for whom listening to podcasts is nothing but finding their solace? We have found something pretty appropriate for you.
Check out this Podcast Coffee Mug featuring a beautiful quote to which any ardent podcasters can relate. Gift them a cozy and meditative winter morning with this unique and adorable coffee mug, sipping on their favorite hot drink while their favorite audiobook is playing in the background.
A thoughtful Christmas, birthday, Thanksgiving, or Valentine's Day gift for the podcast fanatic in your life.
T-shirts are always a trendy, fashionable, and easy way to compliment someone's personality. Take a look at this Podcast Shirt. It comes with a cool design with a refreshing quote for any podcaster to fall for.
It's made of cotton, easy fitting, and comfortable for anyone. A nice gift for any celebrating occasions like birthdays, friendship day, Christmas, Valentine's Day, Graduation Day, or parties.
Check out this unique and artistic Continuous Line Art great as a contemporary interior decoration.
The black and white illustration of a classic retro dynamic microphone is just perfect for podcast lovers. It adds a unique touch to any podcast studio, living room, or any place in the house.
You get the digital print of the illustration which can be framed exquisitely to give an appealing look to the room you put it in. Needless to say, a very pleasing gift for Christmas, birthday, thanksgiving, etc. One look at it every day will remind the podcast fan of you.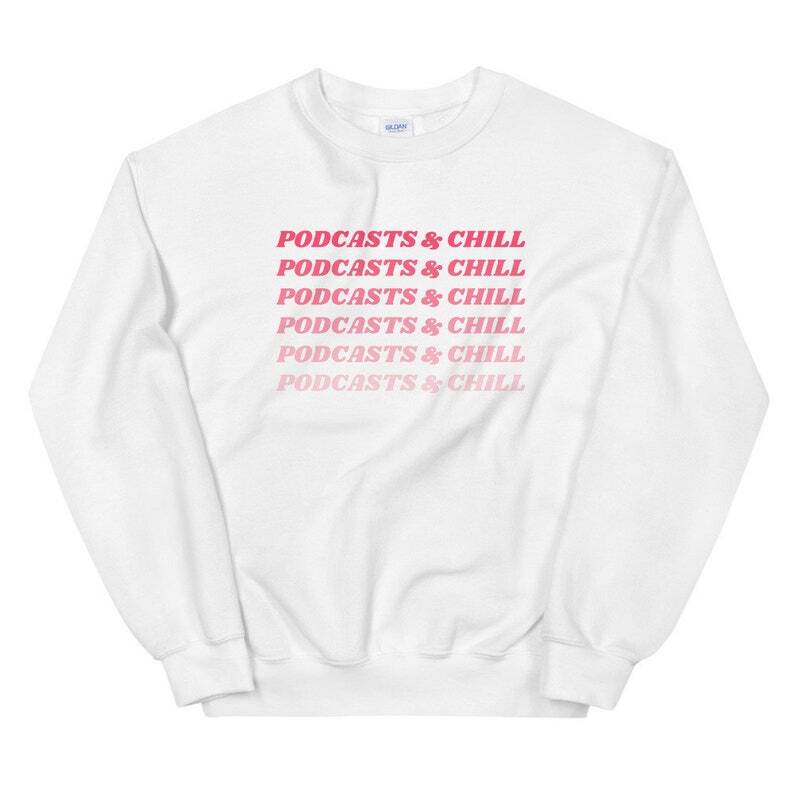 When you are overwhelmed with too many options, you can always go for classic-fit sweatshirts with an adorable message on them to convey love to the recipient.
Sweatshirts are always useful, trendy, and fashionable, which goes with any look in winters. We have picked this Podcasts & Chill Sweatshirt for your favorite podcast person. The funny quote on it will definitely touch them and they will absolutely love it. The sweatshirt has a double knitting collar, armholes, shoulders, hem, and cuffs giving warmth and a fashionable look.
Gift this funky and classy sweatshirt to your podcast-loving guy or girl who loves to immerse themselves in the podcasting universe.
Gifts for true crime podcast lovers
A true crime junkie will know the feeling of being completely hooked on a fascinating crime plot, giving you chills down the spine. Do you know someone who keeps on fidgeting books, documentaries, encyclopedias, audiobooks, or podcasts on serial killings and murder mysteries?
And you are looking for some unique mystery-themed present to gift a thriller connoisseur, but don't know what to choose. We have got something perfect for you.
Take a look at this Serial Killer Trivia which is an ultimate collection of mind-blowing serial-killing trivia to test your true crime knowledge. The unique question and answer approach has been framed to create a haunting experience for readers.
The trivia is chilling as well as informative, perfect for any crime podcast lover. A highly significant gift for any horror lover for Christmas, birthday, Halloween, or Valentine's Day.
Give a good scare to your crime lover.
The Stay Sexy and Don't Get Murdered: The Definitive How-To Guide is created by two New York Times best-selling authors sharing their true struggles with depression, addiction, and their deepest fears that all shaped them into what they are today.
Indulge in true crime stories with some impressive way of storytelling. The authors have perfectly blended the horrific as well as the humorous style to delve into their pasts.
A nice Christmas or birthday gift for the true crime podcast fan who would love to dive into an honest, true, and fierce audio experience.
"Smells like you are in a cult" – something only a crime fanatic can relate to. A nice personalized item with this kind of quote will definitely win any crime lover's heart.
Gift My Favorite Murder Candle to the murderino who has almost everything related to their crime obsession. The candle provides a fresh forest scented smell with approximately 50 hours of burning time. It comes in a ready-to-gift adorable box.
A simple and pretty novelty gift for any celebrating occasion for the crime podcast lover in your life.
A true-crime podcast lover will definitely love the book from the famous podcast The Last Podcast on the Left. In The Last Book on the Left, the authors have used an impressive combination of facts and dark humor to exhibit the stories of nine notorious serial killers.
With impeccable research skills and well-crafted narratives, the authors skillfully map out serial killers, supernatural events, aliens, werewolves, and conspiracy theories of some well-known characters like Ed Gein, Richard Ramirez, Ted Bundy, John Wayne Gacy, and many others. The content will definitely create a lasting impression on any crime junky's mind.
An ideal gift for any occasion for a true-crime podcast fanatic.
"What makes a killer tick?" This is exactly what this book is all about. It delves into some of the most brutal killings from across the world. The reader will not only enjoy the true stories but will go through an in-depth learning experience about human and forensic psychology and what makes a person turn into a monster. A true crime fan should be jumping on to read about these well-researched, insightful and fascinating crime incidents.
A more than perfect gift for any occasion for that crazy true crime podcast fan in your life.
No crime junkie will walk away from this little guilty pleasure – A Year of True Crime Calendar. They will get inspired to change the calendar every day to discover notorious unsolved cases. Each day on the calendar shows up with murder trivia, quizzes, brilliant survival stories, spine-chilling documentaries, and weirder than fiction crime stories to keep them up at night.
A great and thoughtful gift for Christmas, a birthday, or any other occasion for that crime podcast addict in your life.
Tote bags are fashionable, cute, and ideal for everyday use. The True Crime Tote Bag can be a nice gift choice for that crime lover who has almost everything related to their mystery passion.
The tote bag is made of soft material, made with waterproof coating, and has a large capacity. The funny print on it makes it special for the crime partner in your life.
It can be gifted on birthdays, Valentine's Day, and Christmas for your crime podcast fanatic who can use it every day for regular purposes.
This is an absolutely perfect gift for the true-crime-obsessed human in your life. Especially, if they are a fan of the show 'My Favorite Murder'. This activity book is fun and challenging to test their true crime knowledge, and it is designed to solve puzzles, search words, name laws, guess unresolved theories, crime road trips, and names of true crime characters and podcasts, and so much more. You also get to indulge in some adult coloring with crime drawings to color.
The book provides very interesting activities to discover books, documentaries, podcasts and to write down true crime to-do lists.
This will be a perfect Christmas or birthday gift or any other celebration gift for the true-crime podcast junkie in your life.
Like it? Pin it for later: