Thanksgiving is the perfect time to give thanks and show your appreciation to the teacher in your life.
In this gift guide, discover cute and easy Thanksgiving gift ideas for teachers to show them you care. We have looked far and wide for things they'll love and are related to Thanksgiving.
On this special occasion, gift them something they won't forget and have a use for. From sentimental to useful gifts, you'll find the perfect present for the teacher in your life.
Related – What to bring to a Thanksgiving dinner as a guest
Disclaimer: This post contains affiliate links, which means that if you click on any links and make a purchase, we'll get a small commission, at no cost to you.
Best Thanksgiving gift ideas for teachers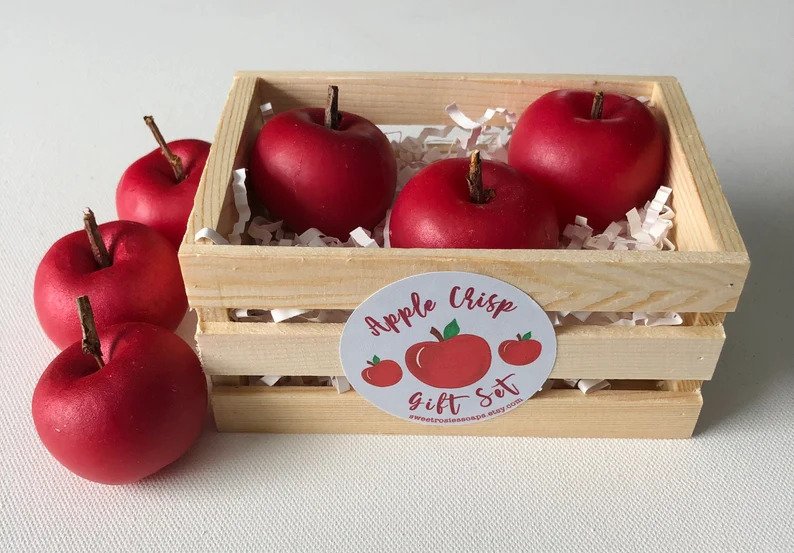 When picking a gift for a teacher you need to consider that other parents are probably also getting them something so you should avoid anything that could feel redundant. Soaps are a great option as everyone uses them and you can't really have too many of them.
This Apple Soap Gift Set is perfect as a Thanksgiving gift. The soaps are cute and smell delicious, like freshly picked apples. The set includes three soaps, and the crate.
They are handcrafted with quality ingredients and will leave your skin clean and moisturized.
Ok. So they probably already have a bunch of mugs BUT this one was way too cute to not make this list.
It's perfect as a Thanksgiving gift idea for teachers and it's personalized enough to make it a thoughtful and special gift. It's funny and sentimental, teachers who drink tea or coffee will love using it at school or at home.
This mug is dishwasher and microwave-safe – the print won't fade or peel off.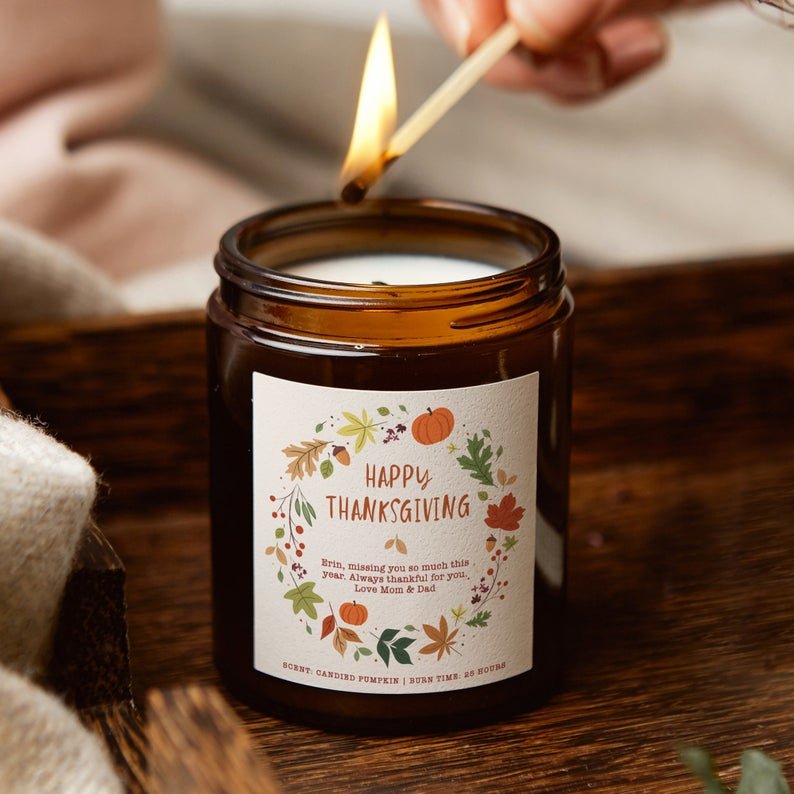 Gifts you can customize always make thoughtful and sentimental gifts, like this candle. You can add a message on the label to thank the teacher in your life and show your appreciation.
The candle is made for Thanksgiving and comes in a bunch of different scents. You can pick the pumpkin one to stay on theme or choose a different scent.
These candles are hand-poured using soy wax and will burn for approximately 25 hours.
You can upgrade it with a gift box and bath salts, scented with English rose and white geranium.
Keychains are classic gifts for teachers and are perfect to express your appreciation when you can customize them.
This Keychain is specially made for teachers and can be customized with your child's name and their name, you can customize the message as well. It's sentimental and cute, perfect as a small and easy Thanksgiving gift for teachers.
The keychain is made of stainless steel so it won't tarnish, rust, or change color. It comes inside a gift box.
If you would rather make something from scratch to gift the teacher in your life or maybe bake them some treats or buy some candy bars, you can add a thoughtful gift tag to make it extra special.
These cute Thanksgiving Gift Tags can be printed instantly at home, it's perfect as a last-minute easy gift, and the "from" field can be customized online to include your child's name.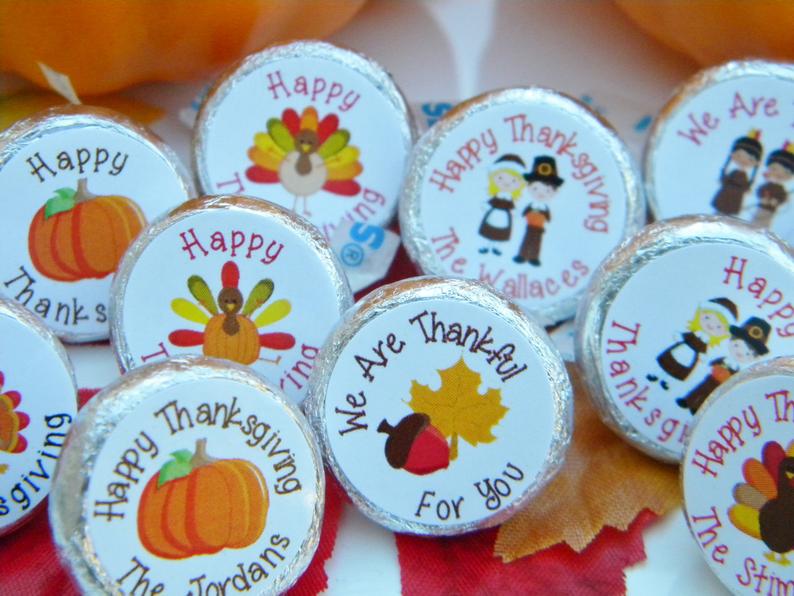 Sometimes the simplest things make the best gifts. You're sure to please the teacher in your life with these Thanksgiving Hershey Kiss Stickers. With 3 different graphics, they are perfect for Thanksgiving to give thanks and show your appreciation.
You will get the sticker sheet, ready to stick to Hershey Kisses (the chocolates are not included). The smallest sheet includes 54 stickers so it's perfect if you have several gifts to give to different people. They can also be used as party favors if you're hosting the Thanksgiving meal.
A beautiful and unique gift, these fall-themed Animal Napkin Rings are carefully hand crafted from wood and UV printed to create one-of-kind pieces.
It's a perfect option if you are looking for a nice gift – you can also split the set and gift one to each person on your list.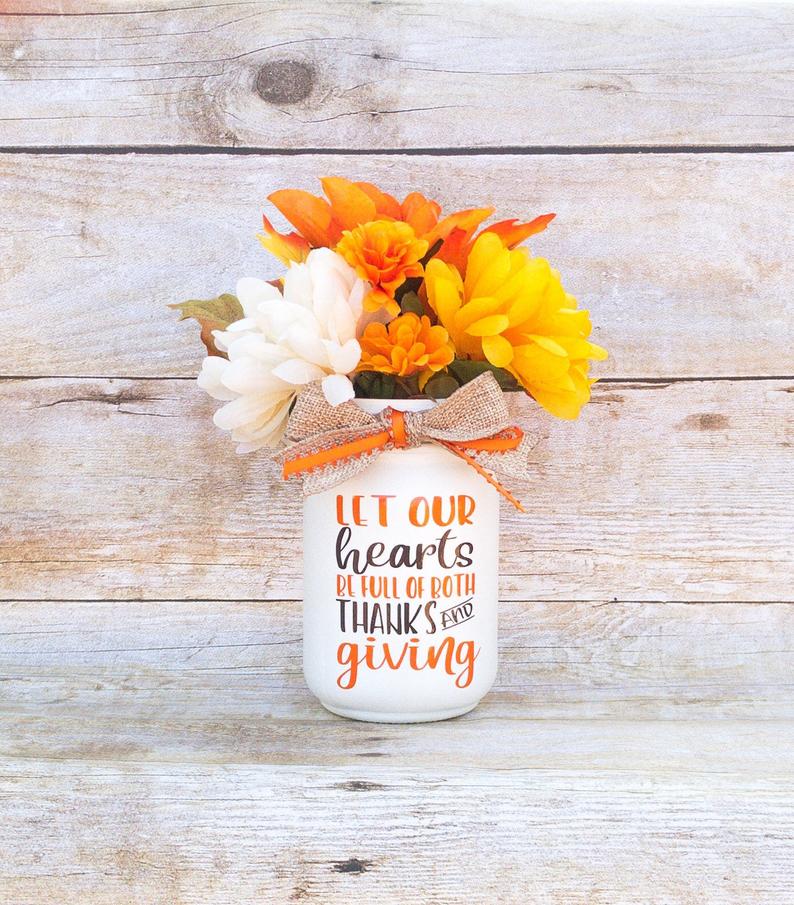 If you are crafty, you can easily get a mason jar, decorate it, and fill it with candies, flowers, or small school supplies. If not and you want to find an easy teacher appreciation gift, you can get them this beautiful Thanksgiving Mason Jar.
The jar is hand-painted and the lettering is made with permanent vinyl. It comes as in the picture, with flowers and ribbon. The flowers are artificial, you can either gift it as is or replace them with real flowers.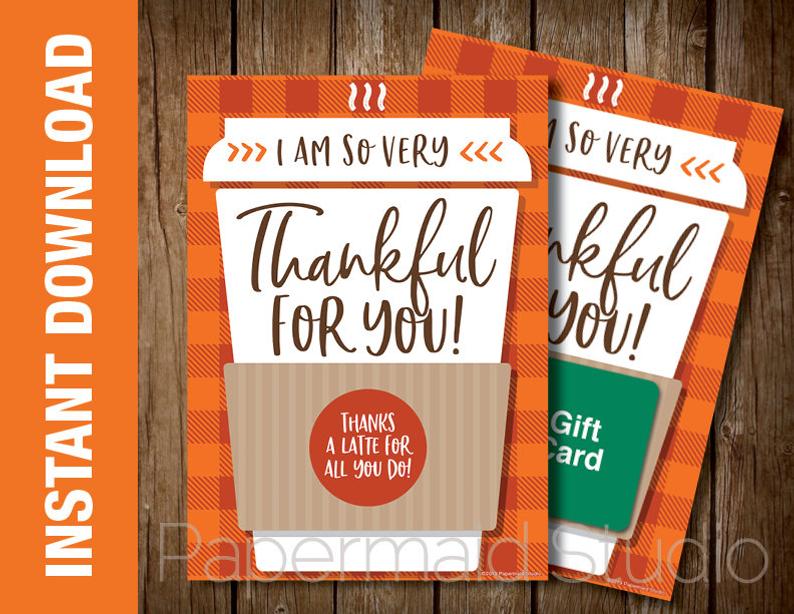 If you are unsure of what to get the teacher in your life this Thanksgiving, nothing better than a gift card. When asked, most teachers say their favorite gifts to receive from students are gift cards. They can never have too many of them and they get to choose what to buy with it.
If you know their favorite coffee shop, get them a gift card and pair it with this thoughtful Coffee Gift Card Holder, made especially for Thanksgiving.
You'll receive a pdf file when you order, you can then print it at home or at your local printer. It's perfect as an easy, last-minute gift. You can print as many as you want and reuse it next year.
If you are too busy to bake or simply don't enjoy it, choose the easy way with these delicious Fall-themed Homemade Sugar Cookies. Each cookie is decorated with precision and great detailing, they are as beautiful as they are tasty.
Each comes individually packaged, and all come in a gift box. It will make a nice teacher gift idea.
A great teacher appreciation gift for the classroom, this Felt Letter Board is perfect to write down inspiring messages for students. It comes with enough letters to write anything you want, symbols and emojis, as well as a couple of cursive words and corner holders for photos or papers.
It's a unique gift that teachers are unlikely to already have. You can write a message on it before gifting it to make it extra special.
A comforting teacher appreciation gift for their house (or their classroom), this Reed Diffuser is perfect to make them feel cozy and relaxed.
They will last for about three months and the brand sells refills as well. You can choose from a bunch of different scents – if you want to stick to the Thanksgiving theme, they have an "Autumn Leaves" scent.
Haven't found what you were looking for? Check out our other gift guides for teachers or Thanksgiving gift guides.
Like it? Pin it for later – Easy Thanksgiving Gift Ideas for Teachers: