Looking forward to attending a Thanksgiving dinner this year and don't want to show up empty-handed? Want to give thanks to your friends, coworkers, or relatives?
Whether you're invited to a formal family gathering or a more casual Friendsgiving – or just want to say thanks to the people in your life on this special occasion – you will find in this Thanksgiving gift guide a bunch of ideas to come up with the perfect present.
Small details, such as colorful wine labels and customized tags, may elevate a casual present, while hand-stamped serving utensils and fall cookware are appropriate for a more formal event. This list has something for everyone, no matter who you are shopping for and no matter your budget.
Also, if you won't be able to spend Thanksgiving with your loved ones this year, sending a gift is a beautiful way to let them know you're thinking of them—and are grateful for them.
Oh, and we won't blame you if you purchase any of them for your own Thanksgiving table, even if it's simply to make a small gathering at home seem more special.
Related – What to bring to Thanksgiving dinner as a guest
Disclaimer: This post contains affiliate links, which means that if you click on any links and make a purchase, we'll get a small commission, at no cost to you.
Best Thanksgiving gifts – Our top picks:
Best Thanksgiving gifts for adults
Thanksgiving entails conviviality, delectable food, and, of course, delectable wine. While bringing a bottle of good wine to a Thanksgiving dinner is a kind gesture, wine on its own falls short. Enhance your gift with one of these Customized Thanksgiving Wine Labels, an ideal conversation starter, and a nice gesture for your host.
Whether you bring a rich Pingo, Malbec, Grigio, or a sparkling Champagne, one of these Thanksgiving-themed wine labels will ensure that your wine bottle is the center of attention.
They are fun and cute and will be a hit at the Thanksgiving table or as a gift for a friend or coworker.
Sale
It is a beautiful present to celebrate life's brightest moments. If it is your turn to bring a baked dish, carry it in this pumpkin-shaped baking dish as your gift to the host.
Sale
Cheese Board Set
This elegant Acacia Cheese Board Set is carefully made to use during classy gatherings and extravagant meals. This full set includes four bowls and four knives for holding and slicing various varieties of cheese and charcuterie.
It's a perfect Thanksgiving present especially for the hostess, you may also include food on it to make it extra special.
Harney & Sons Hot Cinnamon Spice Tea
This Harney & Sons Hot Cinnamon Spice Tea is a bold mix of black teas, three kinds of cinnamon, orange peel, and fragrant cloves - the perfect blend for fall and chilly winters.
It's one of the brand's most popular flavors, the aromas are fragrant yet subtle, and will please any tea drinker.
This beautiful tin will make an excellent Thanksgiving gift for anybody on your list.
Sale
Grey Marble Wine Bottle Cooler
This wine cooler is made of natural marble, which provides solidity and durability, and offers natural temperate retention and stay-cool properties. It's classy and elegant and will blend well with most home decor.
To make it the perfect Thanksgiving gift, pair it with a nice bottle of wine.
It can also be used to hold a beautiful bouquet of flowers, organize kitchen utensils, store office supplies, and more.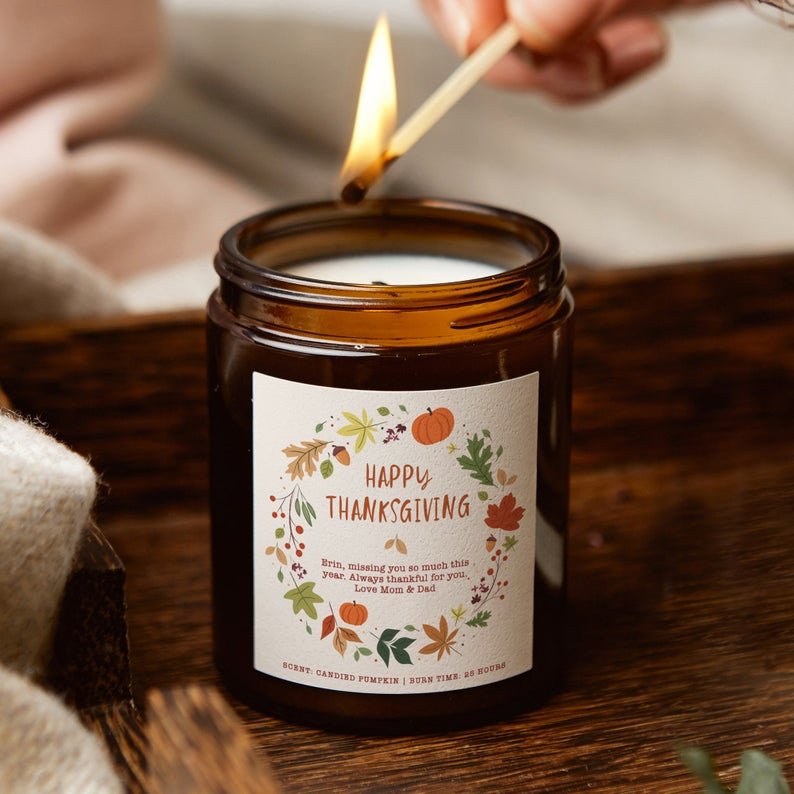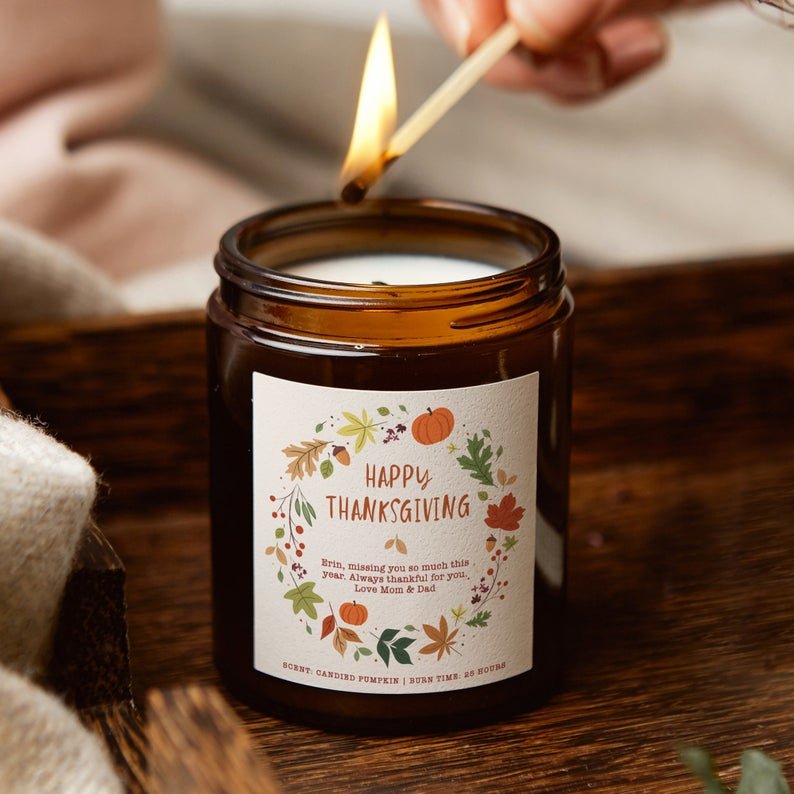 Candles are both physical and metaphorical warm presents, are gender-neutral, and bring scent, soft light, and immediate atmosphere to any room. Candles are classic, but classic does not have to imply uninteresting, especially a candle such as this handmade one, specifically made for Thanksgiving.
You can choose from a bunch of different scents, pick the candied pumpkin one to fit the Thanksgiving theme. You can order a gift box as well to go with it and add a personalized text to be printed on the label.
Celebrate the holiday with these tasty homemade Pumpkin Cake Pops, the ideal dessert for Thanksgiving or party favor! They are delicious and look amazing, it makes a perfect option if you don't want to spend hours in the kitchen baking and decorating cakes.
If you live in a warm area, pick the cold shipping option. Make sure to add the date you want to receive them by, you can pre-order and the seller will ship them so you receive them at the right time. You can mix and match too, the seller makes plenty of fall-inspired chocolate-dipped Oreos.
This cute dish towel will make a thoughtful Thanksgiving gift. This towel is soft and absorbent. Lint-free, they are ideal for drying glassware and covering bread and other foods.
Made in Florida, the design is printed with high-quality ink on the towel so it won't fade or peel off.
These tiny pumpkin soaps are just adorable and smell wonderful. It's the perfect addition to decorate a bathroom and they will help you get into the holiday spirit. It will make a cute gift or party favor.
The set includes four soaps, a couple of leaves, and comes with a box.
When it comes to receiving gifts, the more, the better. Make your friend, relative, or coworker happy this Thanksgiving with this awesome Handmade Thanksgiving Gift Set. The holidays season is the perfect time for some pampering and coziness.
The set includes a bar of natural soap and a candle with beautiful colors. Both smell wonderful, with pumpkin and brown sugar scents. Everything comes wrapped in a beautiful gift box.
Sale
Diffuser for Essential Oils
If you're looking for a stylish Thanksgiving present, go no further. This essential oil diffuser is the ideal gift to create a cozy and warm atmosphere while adding a special touch to any home decor.
With its simple forms and contemporary look and its noise reduction technology, it's the perfect addition to a bedroom or living room.
This ultrasonic diffuser runs softly with no water dripping noises, creating a relaxing and pleasant atmosphere for uninterrupted relaxation, learning, working, or sleeping.
To make it ultra special, you can pair it with this Autumn Bakery Fall Essential Oil Set by Woolzies (Pumpkin Pie, Cinnabake & Orange Twist).
Sale
Paramount Roasters Coffee
Celebrate Thanksgiving and fall with a special type of coffee. Perfect for coffee lovers, this Pumpkin Pie Flavored Ground Coffee features unique notes of pumpkin to create a coffee that tastes like no other.
It will make a great Thanksgiving-themed gift for someone who enjoys drinking coffee. It's simple yet thoughtful.
Sale
The holidays are the perfect time to gift kitchen appliances, as people are usually spending more time in the kitchen, preparing family meals. Make their breakfast special with this useful gift that foodies will love.
Ideal for people with children or adults with a sweet tooth! The quintessential Thanksgiving present. Its compact size requires minimal counter space, and its sleek design and contemporary color choices will complement any kitchen decor.
Sale
Ceramic Coasters Set
This Ceramic Coasters Set will make a classy Thanksgiving gift for the home. Imitating white and gray marble, they will blend well with most home decor and will add a special touch to dinner parties while keeping furniture safe.
The ceramic absorbs moisture and won't stick to drinks, while the cork baking will prevent scratch marks. The set includes six coasters and a holder.
Haven't found what you were looking for? Check out our other Thanksgiving Gift Guides – for men, or for teachers.
Like it? Pin it for later: