Looking for the best housewarming gift ideas for men? Discover below our selection of the best gift for him and his new space. From useful things to funny housewarming gifts, you're sure to find something he'll love.
If he's moving into his first home by himself, you could get him something useful for his new place. The best is to ask for what he might need. If you want to surprise him, try to think of something unique like a decorative piece or a thing you can't have too much of.
There are also a lot of fun gifts to choose from as well as classic housewarming gifts to celebrate is new home.
Disclaimer: This post contains affiliate links, which means that if you click on any links and make a purchase, we'll get a small commission, at no cost to you.
Our top picks from this list – Housewarming Gift Ideas for Men:
Housewarming Gift Ideas for Men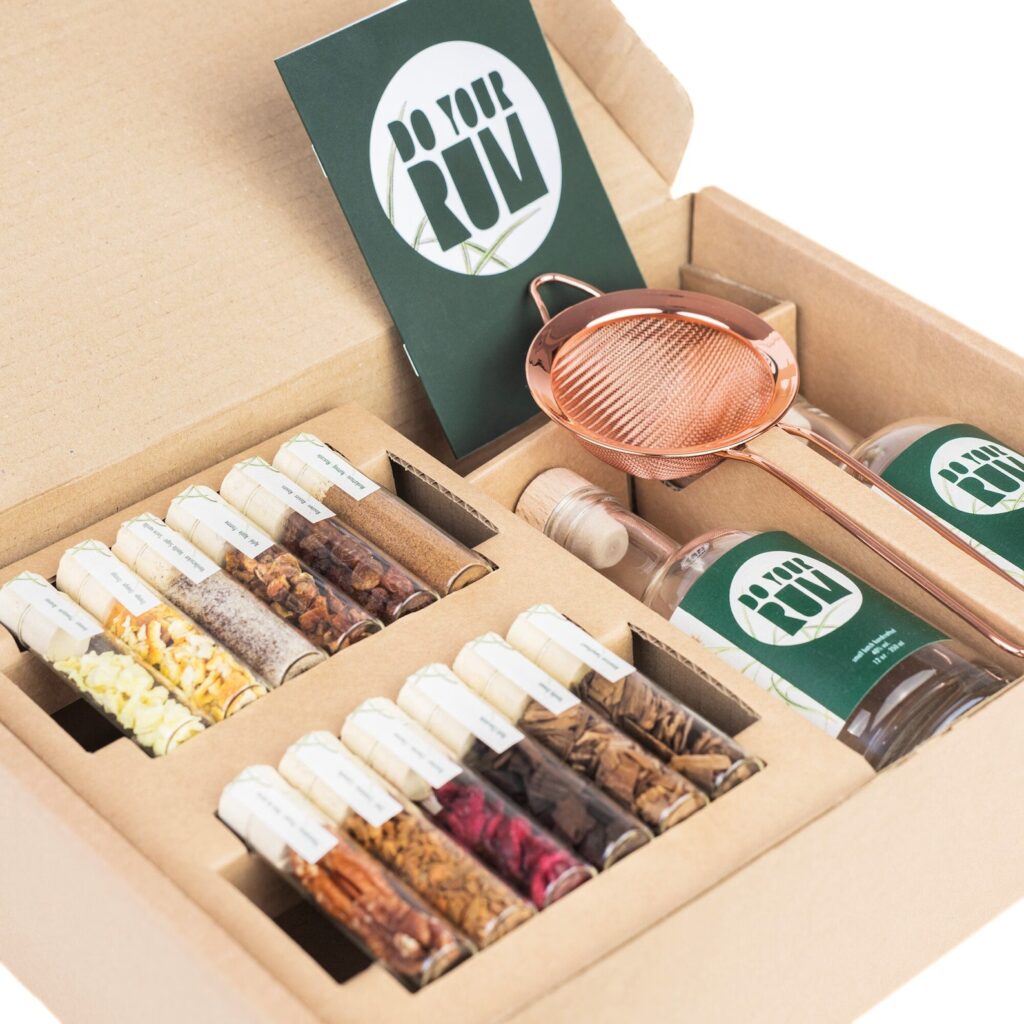 A perfect housewarming gift for the man who likes cooking, cocktails, and rum, this flavored rum kit includes 3 types of oak chips and 9 selected botanical, 2 glass bottles, a strainer, and custom labels.
The packaging is plastic free.
Instructions are pretty straightforward and he can let his imagination run wild with endless combination possible to craft the perfect rum.
Whiskey Stones
A cool gift to keep his drink cold without diluting it, these no-water ice cubes are shaped like bullets (for the cool factor) and just have to be stored in the freezer.
It's a useful thing to have at home and if you don't like the bullet shape, you can find a lot of different options online.
Sale
Hydroponics Growing System
For the foodie in your life, this indoor herb garden will guarantee he has fresh herbs to cook with year-round. Maintenance is minimal as the system regulate light and watering (he'll just have to fill the tank once a month) and there's space for 12 pods.
Lightsaber Chopsticks
These lightsaber chopsticks are a cool gadget to have. It's fun and practical at the same time and you're sure he'll enjoy getting them, especially if he's into Star Wars and Asian food.
It comes as a set of two, the batteries are easy to change if needed, and the light is pretty bright. You can also take the frosted tip ones, they'll grip food better.
5 – Cook Book
Cook books make great housewarming gifts, especially for someone who's just starting out on their own. It's nice to own at least one and you'll always be able to find one that matches his skill level and interests.
You can't go wrong with a funny one that will make him laugh and think about you every time he tries a recipe.
A cool housewarming gift for men who play video game and like to keep things tidy, this controller stand will hold his gaming accessories while making a nice addition to his home decor.
The stand is made of solid wood with 2 tints available, and it can be customized with his name or initials, a logo…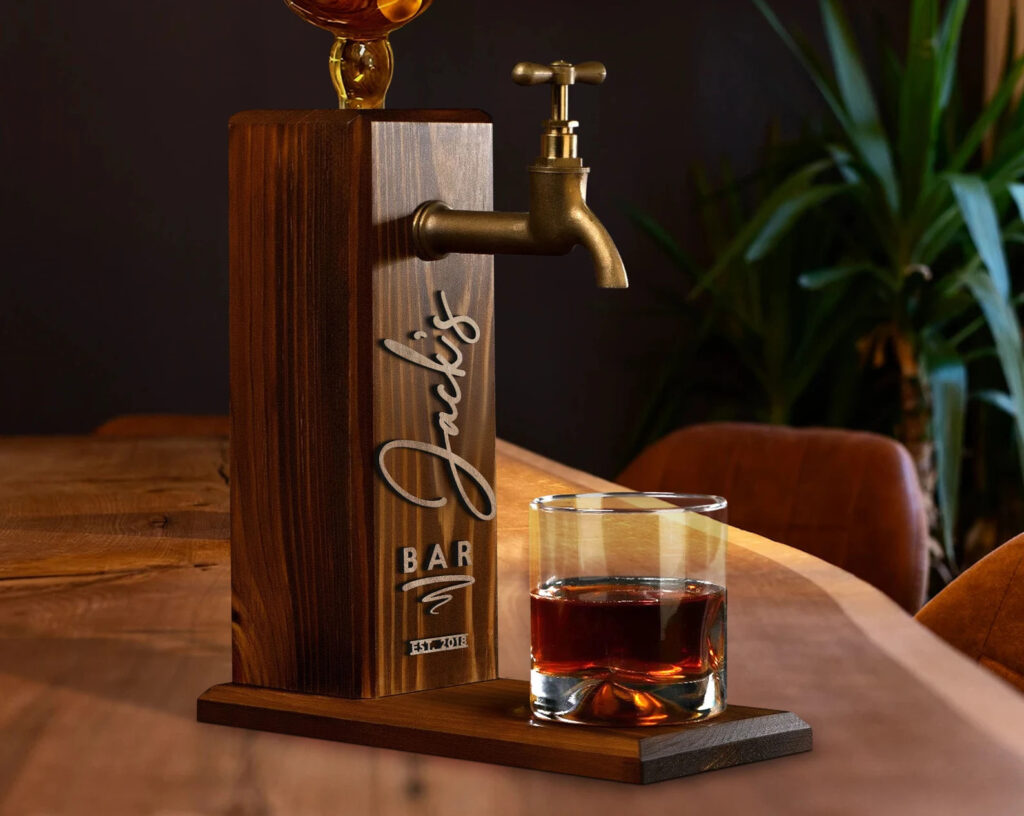 This liquor dispenser will be an impressive addition to his bar area. Made of pine wood and metal, it's classy and stylish, and the customization with his name makes it even more special.
You can add pretty much any text you want as long as you keep it short. It will hold most standard bottles.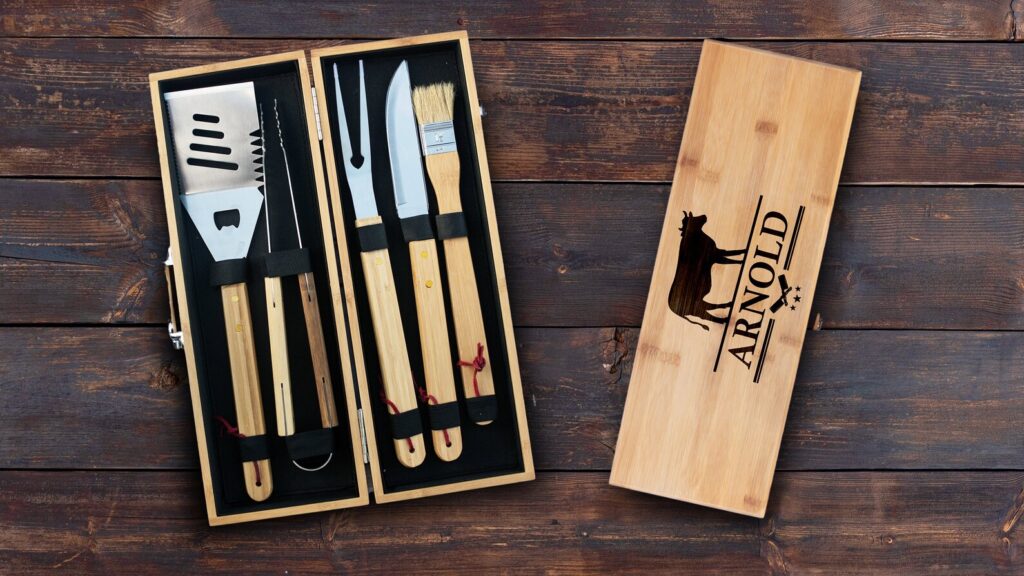 Anyone who likes to grill and often hosts barbecues should own a personalized barbecue set. It makes a thoughtful housewarming gift, especially as it has his name on it.
You can choose from 6 different styles of engraving for the top of the box, and it includes 5 stainless steel tools.
Coasters also make ideal housewarming gifts. It's not something people usually buy for themselves, yet it's quite useful, helping protect furniture from water stains.
You'll find plenty of options online, from funny to classy ones. These ones are a beautiful blend of wood and marble, with the option to customize them with his initials or name.
Another must-have when moving into a new home is a good cutting board that will last through the years. Make it extra special and customize it with his name.
You can pick from 3 different wood types (Cherry, Walnut, and Maple), 3 shapes, and 4 customization options. You can also order a care kit and/or a stand.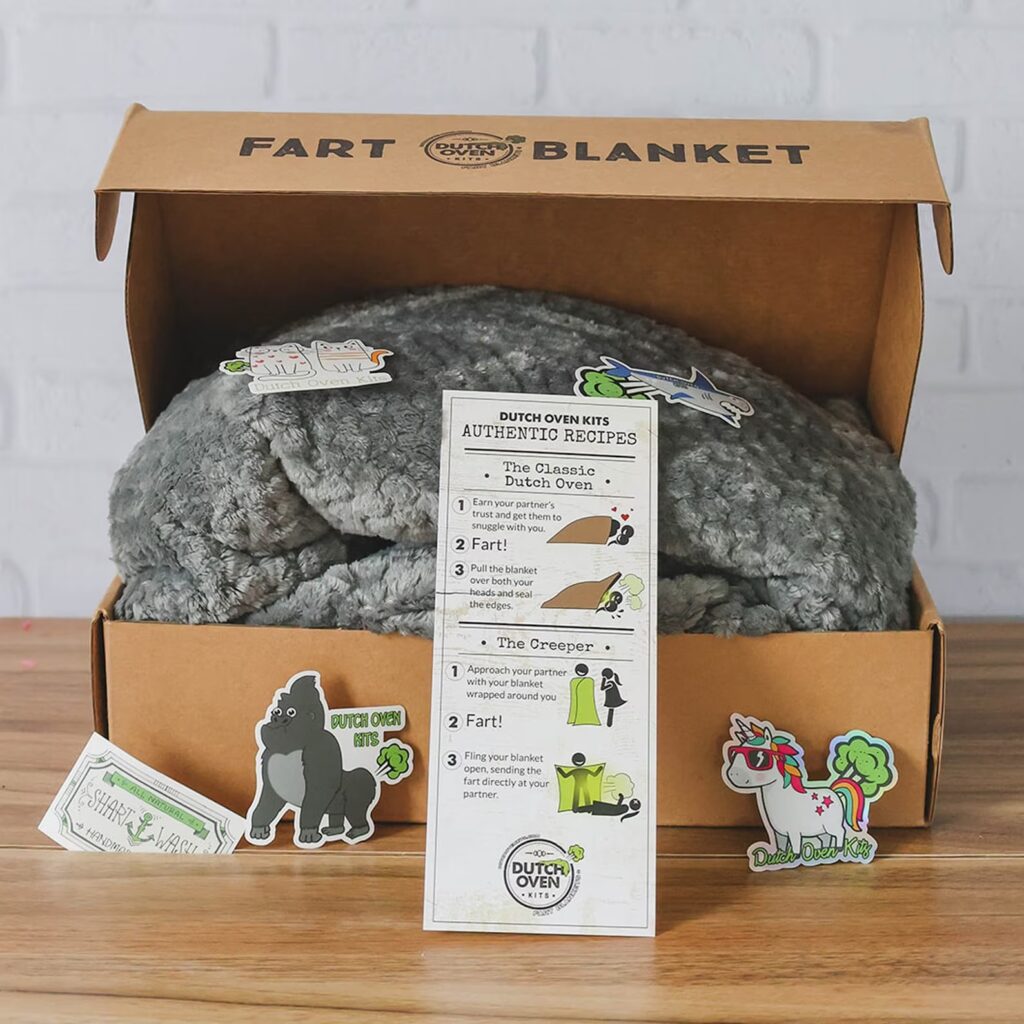 Most housewarming gift guides include at least one blanket. While it might be a pretty basic gift, there are ways to turn it into something fun. Hence, the fart blanket.
It's just a regular blanket but with a twist. The marketing/packaging makes it hilarious. It's a great gag gifts for guys, you're sure to make most people laugh with something like that.
In addition, the blanket is nice and comfy, with several colors to choose from.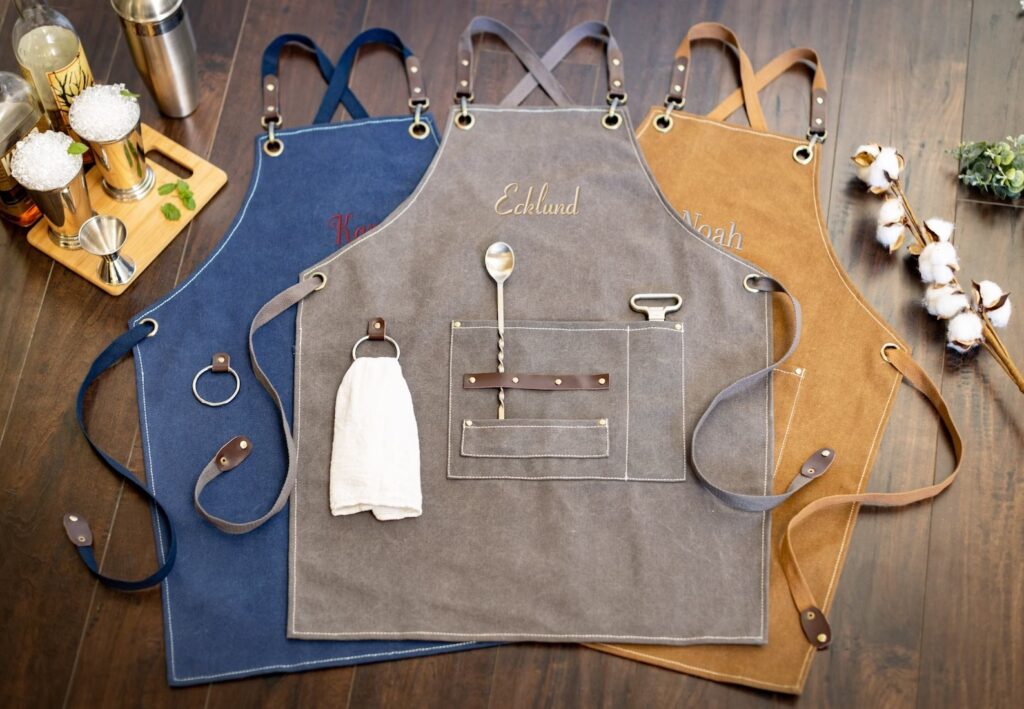 A must-have for any cook, this customized kitchen apron is a great gift for men. It's super practical with adjustable straps, multiple pockets, and 2 available designs.
You can choose from a bunch of different colors and have his name embroidered. It can also be used as a workshop apron.
A perfect housewarming gift for men who drink beer and like to have friends over, this personalized beer chiller has a 5-gallon capacity and can hold up to 12 bottles or cans at once.
You can pick from different engraving designs.
For something fun and unique, these "toilet bombs" are a perfect pick. Gift him a walk in the woods or a butterfly garden each time he goes to the restroom.
The effervescent tablets are made with essential oils, baking soda, and citric acid to absorb bad odors and help keep the toilet cleaner. Just add a couple before you go and let them work their magic.
If the guy you're shopping for likes wine, then consider getting him these wine-scented soaps. Not only good for the skin, they smell amazing. Every day, pick between Chardonnay, Cabernet, Pinot Noir, and Pinot Grigio.
The soaps are handcrafted in the US with care and natural ingredients. You can check out their store for more scents, like chocolate and flowers.
A must-have for any coffee lover, this cold-brew pitcher will make a nice addition to his kitchen gadgets. It's sturdy, easy to use, and works overnight.
For Taco Tuesdays, this mortar and pestle set is a must-have. With it, he'll be able to make the best traditional guacamole, or salsa, like it has been made by Mexicans for centuries. It's even oven-safe.
Made in Mexico with volcanic rock, the set also come with a basket to keep tortillas warm.
Clearly a must-have for any kitchen, this gnome sponge holder will elevate his sink look, or maybe not. At least it's a fun gift, quite unique and one-of-a-kind that you're sure he'll appreciate getting for his housewarming.
Another fun kitchen must-have, this canister will make a great housewarming gift.
This fruit bowl is perfect for small spaces and is unique enough so that you're pretty sure he doesn't already have something like that.
Doormats are great housewarming gifts for men. Get him a customized one to make it extra special!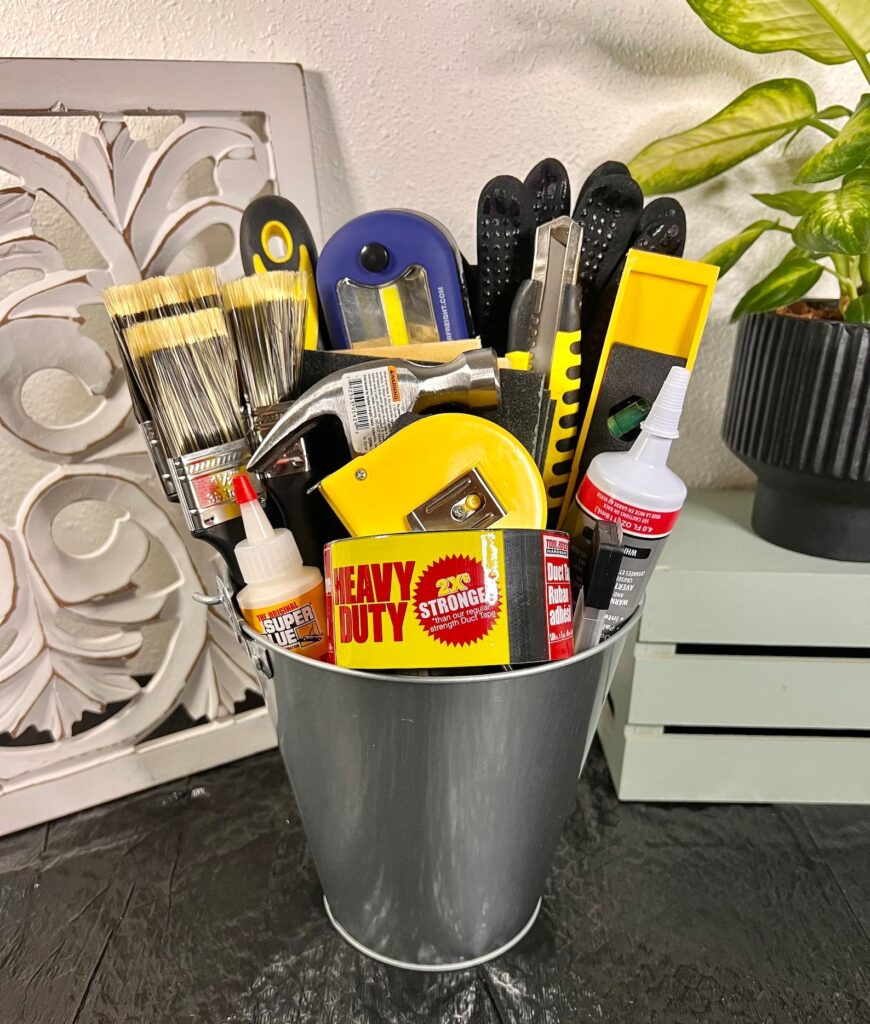 If he's moving into his first home, he will need at least a few basic tools. You can make him a tool case on your own, picking what you think he might need, or get this one for more convenience.
Like it? Pin it for later: