Looking for the best first-home housewarming gift ideas? Whether it's your friend, family member, or colleague moving into their first home, it should be celebrated as an important milestone in their life.
One of the best gift you could get them for their first home is something useful like kitchen appliances or cookware, bath towels, a bedding set, maybe a piece of furniture… You'll need to check with them to see what they might need for their new house.
Indoor plants also make nice housewarming gifts, as most people like to have at least one at home. Get them a low-maintenance one (like succulents) if you're not sure whether they want to care for a plant or not.
If you want to surprise them with something special, then check out my selection below of the best housewarming gift ideas for a first home. I've selected items from Amazon for convenience and Etsy for something more unique and customizable.
You can also check out my selection of funny housewarming gifts if you want something to make them laugh.
Disclaimer: This post contains affiliate links, which means that if you click on any links and make a purchase, we'll get a small commission, at no cost to you.
Our top picks from this list – First Home Housewarming Gifts:
Themed Gift Ideas for First-Time Homeowners (or Renters!)
A bestseller gift to get for someone moving into their first home, this custom ornament is a nice keepsake to mark that special occasion.
You can choose between different types of hanger, and between brass and silver for the key. One side will be engraved with their address and the other with the year.
A great gift for someone who likes wine, celebrate their first home with a good bottle of wine or champagne customized with this thoughtful label.
The labels are peel-and-stick and can easily be repositioned if needed. Ask the seller to customize them with the date, their name… and pick from different sizes to fit the bottle you want to get.
A bestseller on Etsy, these custom neon signs are the perfect addition to their home decor.
You can pick from different colors, fonts, and types of cut. The price will vary depending on what you want and the text's length, so it's recommended to contact the seller first, before ordering, to get the accurate price.
4 – Scented Candle
Candles always make great budget-friendly gifts, and you're pretty sure they will be appreciated, especially if they're customized for the occasion.
Whether you want something funny or heartwarming, you'll find plenty of great options online.
Some more options available on Amazon:
A thoughtful keepsake to remind them of this special occasion, this wall art features a map with their new home as well as any text you'd like to add. It's great for couples moving in together, but also for someone moving in into their first home by themselves.
You can get the framed version, with 3 frames to chose from, or just the print, and pick the shape of the map and the size.
A cutting board is a must-have for anyone moving into their first home. Make it extra special by gifting them a customized one.
In addition to having the option to add their new address, you can pick the size, shape, and type of wood. You also have the option to order a gift box with it.
Some more options available on Amazon:
Wish them good luck on this new milestone with a horseshoe. It comes with a hanger, for which you can select the material used and the color, 2 sizes, and 2 finishes (gold or steel).
It's ready to gift as it comes in a nice packaging with the origin story of how the horseshoe became a symbol of luck and a card where you can write something.
8 – Housewarming Gift Box
Combine different items with one of these gift boxes, designed specifically for someone moving into a new home.
Some more options available on Amazon: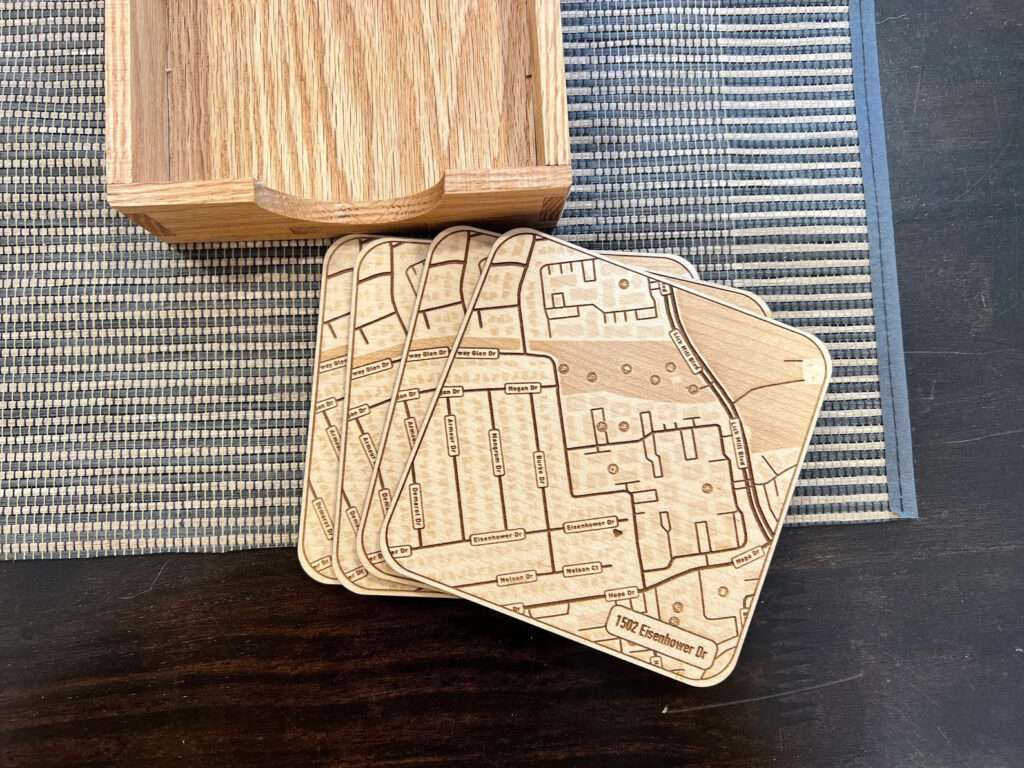 Coasters make great gifts for someone moving into their first home. You'll find plenty of different options, but these custom ones are just adorable. Those feature a map of their neighborhood with their address and a heart on their home location.
You can get 4 or 6 with an optional holder.
Useful First Home Housewarming Gifts
10 – Tea Towels
Tea towels make nice housewarming gifts for a first home as they are useful, and you can never really have too many.
If you're not sure of what design to get them, you can't go wrong with simple white ones.
A good cast iron skillet is a must-have in any kitchen and can be a good gift for a first home. If you know for sure they need cookware, you can also get them a set, so they have everything needed to cook.
12 – Serving Bowls
Gifting them dishware is also a good idea. They are endless options out there and they probably already have a set with the basics, so serving bowls can be useful for when they have guests over.
Another good gift idea for the kitchen, these wooden utensils are eco-friendly, long-lasting, and have a nice aesthetic.
For the baker in your life, these nesting bowls are must-haves! They include measuring cups and spoons, a mixing bowl, a colander, and a sifter, and take little space when stored.
15 – Board Games
Every household should have a couple of board games. Of course, you can get them a classic like the Monopoly or a Scrabble. Otherwise, check out the ones listed above. They are less known, yet, they are quite popular and a lot of fun.
If the person you're shopping for is into sustainable living, consider getting them this cleaner starter kit. The company produces powdered cleaning products to reduce packaging and transportation's emissions.
The kit include 3 different products with 3 reusable bottles and 6 refills (you just need to mix them with water and voilà!). If they like them, they can keep ordering the refills.
Another option when it comes to sustainable gifts, this starter kit includes a reusable bottle and 4 soap tablets (3 scented, 1 neutral) to make your own liquid hand soap at home.
The brand also offers a bigger starter kit with 2 bottles and 16 tablets.
Bonus, the packaging is compostable.
Food containers are always useful and it's not something people usually prioritize when moving into their first home, so they'll probably be happy to be gifted some.
Glass containers are a better alternative to plastic ones in many regards. This set include 24 containers of different shape and sizes. They are dishwasher, freezer, microwave, and oven safe (not the lids) and are spill-proof.
For the new homeowner who like to stay organized, these see-through boards that can be put on their fridge will make a great gift! There's one for the month and one for the week, plus some markers.
A bathroom essential, this set of shower organizers will make a useful gift for someone moving into their first home. It comes as a pack of 5 pieces of different sizes made of stainless steel, so it won't rust.
It's also adhesive so no need to drill holes, and it holds better than suction cups that tend to fall off easily.
This Air Purifier is a useful item for their new home that's probably not at the top of their "things-to-buy" list (so you're sure they don't already have one.) It's great for someone with allergies, pets, who smokes, or who lives somewhere dusty.
The air purifier will filter their home's air to provide a better air quality, 99.99% free of pet dander, dust, pollen, smoke, odor, mold…
Another useful household item, these organizer bins will help them keep their fridge organized.
Like it? Pin it for later: