Your kid is getting married and you're looking for a special gift for the newlyweds?
From sentimental keepsakes to useful things, I've listed below some of the best wedding gift ideas for bride and groom from parents.
There are plenty of things you could gift the happy couple for their wedding. It's the perfect occasion to gift them family heirlooms, especially if you're looking for a sentimental gift.
On the practical side, they probably need household stuff, especially if they're just moving in together. Try to investigate what they might need or just ask them.
Experiences also make thoughtful wedding gifts. Depending on what they like, get them a cooking class, a romantic package at a spa, a stay in a romantic hotel…
If you have paid for part or all of their wedding, you're probably not expected to get them a gift, but you still might want to get them something small, for the sentimental value of it.
Disclaimer: This post contains affiliate links, which means that if you click on any links and make a purchase, we'll get a small commission, at no cost to you.
Customized Wedding Gift Ideas for Bride and Groom from Parents
While you won't be able to gift them this portrait on their wedding day, you're sure they'll love it. It's incredibly thoughtful and sentimental, providing them with a special keepsake of their wedding day.
You just need to send the seller the picture you want them to reproduce and their name and the date of their wedding. You can get a digital version to print at your local printer shop, or receive it printed on paper or canvas (different sizes to choose from). Don't forget to order a frame.
With the same idea in mind, a splurge-worthy alternative would be to gift them a live wedding painting, with a painter coming during the ceremony to paint them.
Ornaments make great gifts and keepsakes to remember a special milestone. Get them custom ones for their wedding that they can use at Christmas for years to come.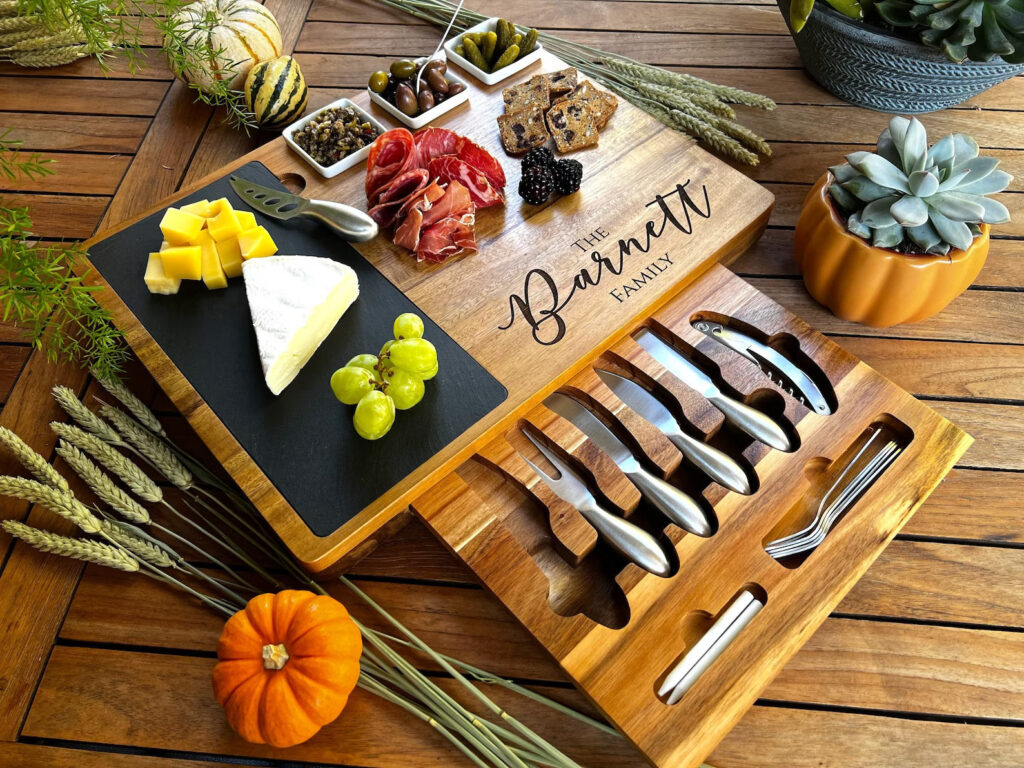 Every household needs a charcuterie board, especially if they like to entertain guests. Make it special by getting them a customized one.
This board comes in two shapes and can be customized with any text you want. It's made of acacia wood and includes 19 cheese tools and knives.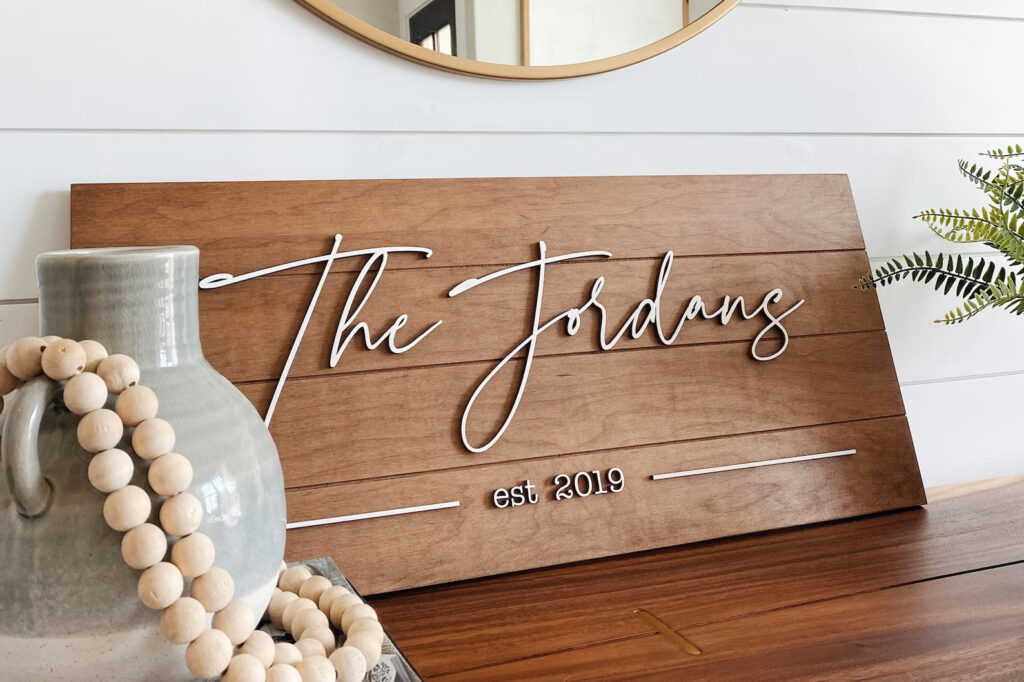 A great decorative piece for their home, this custom sign will make a nice addition to their household, marking a new milestone in their life together, building a home.
You can pick between 3 sizes and a bunch of different wood stains to match their home decor.
A beautiful decorative plate to commemorate their big day will make a perfect wedding gift.
This plate is hand painted by a Massachusetts based artist, creating unique pieces to celebrate love and togetherness.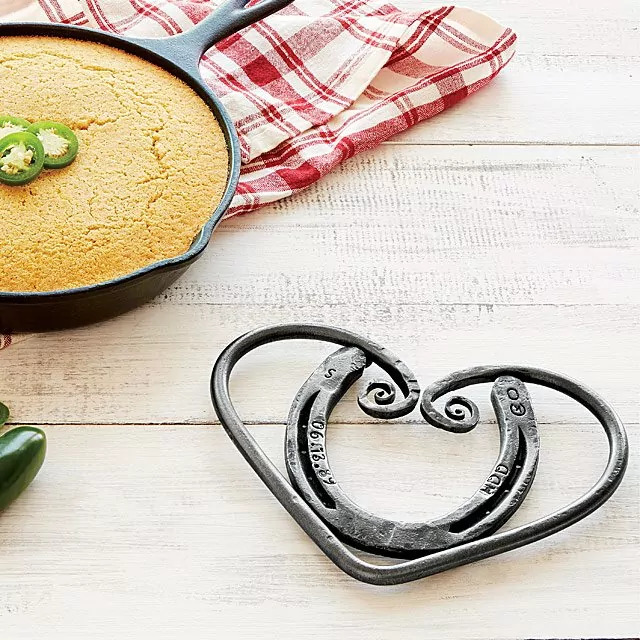 Celebrate their wedding day with a special gift believed to bring good luck. This upcycled horseshoe doubles as a trivet and is customized with the date and their initials.
These adorable dishes are a perfect sentimental gift to get newlyweds on their wedding day. Ask the parents on the other side for a photo or two, so it will have value for both the bride and groom.
It's a nice way to honor those who couldn't be present on that special day.
Another awesome sentimental gifts, gather family recipes from both side and create this beautiful recipe book. They'll love being passed down all these tasty recipes they can try out at home, and maybe add some of their own for their children to come.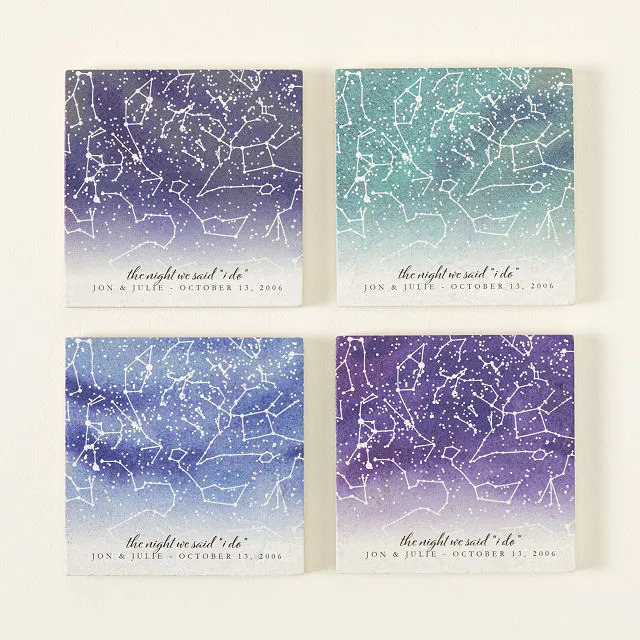 These custom coasters reproduce the constellations visible in the night sky at the exact location and date of their wedding day. You can customize the text, pick a color or get one of each, and get the optional holder.
They're handmade in the US by a local artist out of marble.
Gather every keepsake you can from the wedding like invites, the menu… and pics to create this beautiful album that you can gift the bride and groom afterward.
The book in itself is beautiful and will be cherished for years to come.
Wedding Gifts for Their Home
Every household needs a good Dutch oven, and Le Creuset is known for making some of the best ones on the market. You can pick from a wide variety of colors, shapes, and size.
With hundreds of positive reviews, this chocolate fondue pot will be a perfect addition to their at-home date nights or when they have guests over.
It's easy to use and to clean.
If you want a practical wedding gift for the happy couple, then, a picnic blanket can be a good idea if they enjoy the outdoors.
This one as a waterproof fabric at the bottom, a foam layer for padding and comfort, and the top layer is soft to the touch. It can also be used as a beach blanket as it's sand proof as well.
The size is perfect for a couple, 2 people can lay on it comfortably.
For the busy couple who still enjoy a home-cooked breakfast, this dual sandwich maker might make a useful and appreciated gift.
With thousands of 5-star reviews on Amazon, it will help them make a hot sandwich in less than 5 minutes with pretty much whatever they like inside. It can make 2 sandwiches at a time and is easy to clean (the parts that touch the food are dishwasher-safe).
Gift them fresh herbs year-round thanks to this indoor herb garden! The planter provide just the right amount of water and light making it easy to grow herbs at home.
If you want something romantic and useful at the same time, then these kissing mugs will make a great wedding gift for your kid and their spouse.
Wedding Gifts They Can Enjoy Together
A bestseller gift, any couple who likes spicy food and cooking will enjoy being able to craft their own hot sauce.
This kit include everything needed to make 7 different types of hot sauces.
We tend today to store photos away on a computer and rarely bother printing them, that's why an instant camera makes a great gift for newlyweds. They'll be able to capture important moments and have the printed photo right away.
The Fujifilm one is a good option, and this one comes with enough paper to print 20 photos.
If the bride and groom like to travel, then gift them something to inspire their next trip, like a guide book. The "50 States, 5,000 Ideas" is a bestseller and perfect to plan short trips not too far from home.
Because being in a relationship require work, gift them something to improve their communication skills. This card game includes 150 conversation starters for couples to learn more about each other.
This scratch off poster is a perfect budget-friendly gift idea for a couple who likes to watch movies together.
You'll also find options for TV Shows, Anime, horror movies….
This hand casting kit is definitely a romantic gift. The kit includes everything needed to make a sculpture of their hands, joined together, with easy-to-follow instructions.
Once set, they can paint it or keep it as is and put it on display.
Because one might lack ideas for things to do together, this date night box will help them stay inspired. It's also fun as you choose from categories but the card needs to be scratched off to see what the date is going to be.
Like it? Pin it for later: