Planning your baby shower and looking for the best favors for your guests?
Discover below some of the best baby shower gift ideas for guests that you can get separately or mix and match to create a "Thank You" gift basket.
There are plenty of options out there, to fit all themes and all budgets. I've tried to pick things that your guests will have a use for and will actually enjoy getting.
You can also make a DIY gift basket, get some organza bags or cute straw bags (see below) and fill it with goodies. You can also print a custom gift tag or thank you card to go along with it.
Disclaimer: This post contains affiliate links, which means that if you click on any links and make a purchase, we'll get a small commission, at no cost to you.
Our top picks from this list – Baby Shower Favors:
Best Baby Shower Gift Ideas for Guests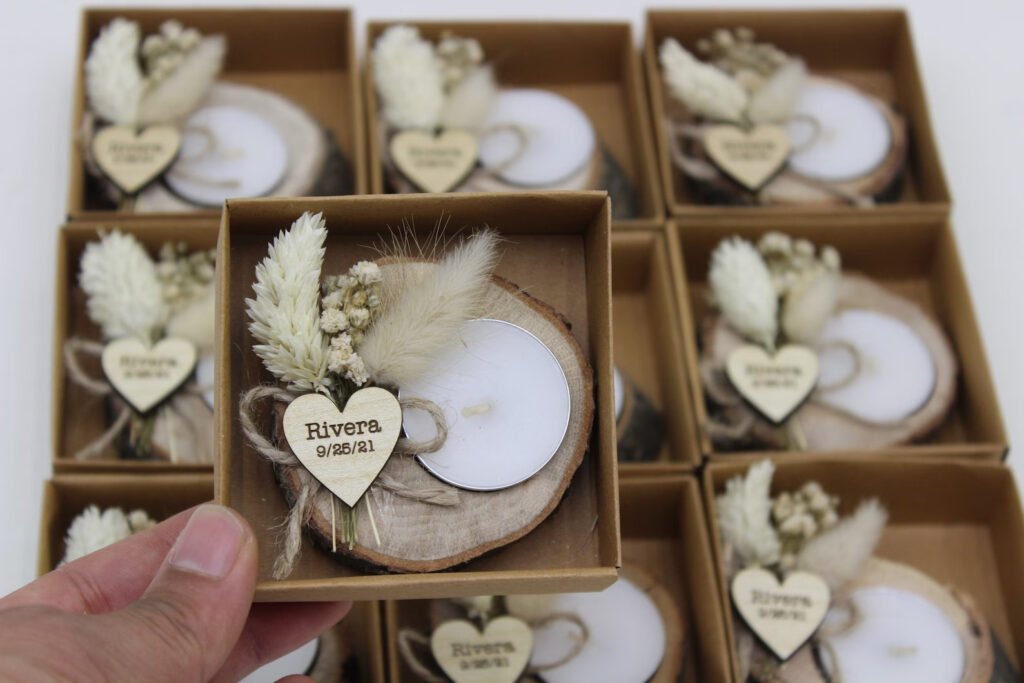 Among the best baby shower favors, you'll find customized candles. You're sure people will actually use it, and it's super cute.
These ones are great because you get the candle and a candleholder which can be reused forever. You can pick the flowers' colors and, of course, add any text you want (as long as it's not too long).
This listing includes 50 pieces.
You'll find plenty of different designs on both Etsy and Amazon.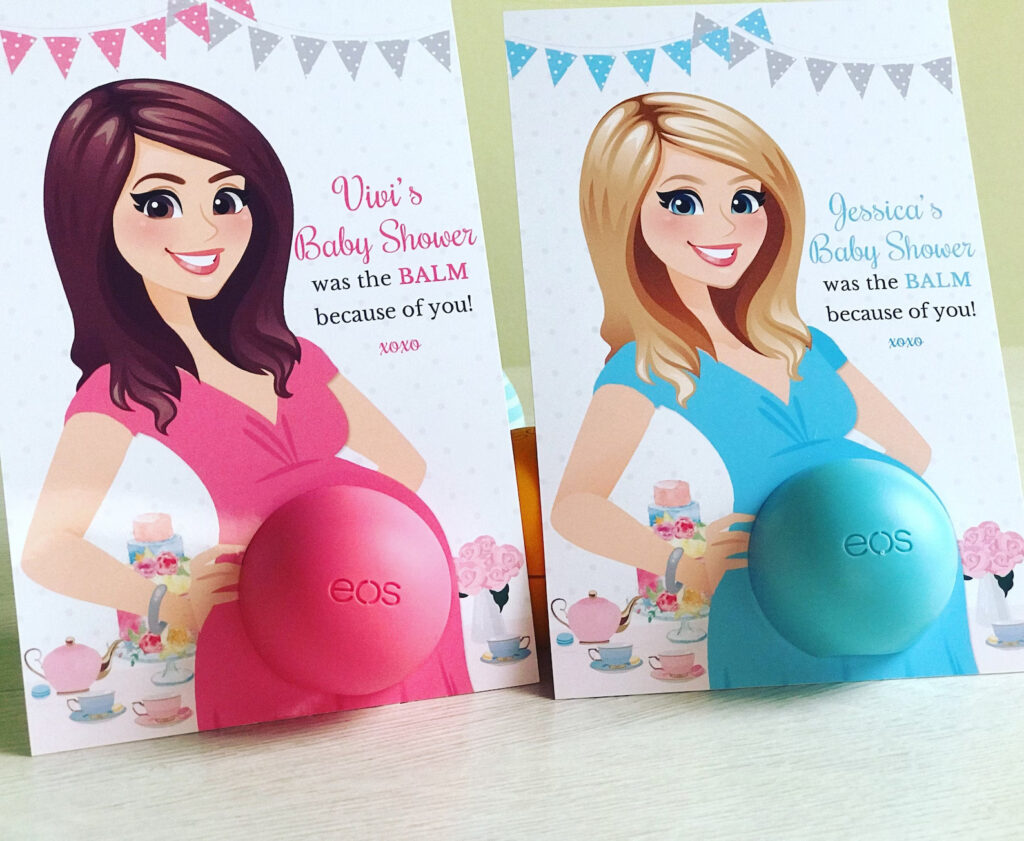 Another favor you're sure they'll use is this customized lip balm and card. It's perfect if you're crafty because you only get a digital file that you'll have to print and cut. You'll also have to buy the EOS lip balms separately.
You can customize it with your name, pick the dress color, and match the hair and eye colors to yours.
For something easier, you can check out this listing on Amazon. You'll get everything needed shipped to you and you'll just have to assemble it. Bonus, you can pick between around 10 designs, including seasonal ones.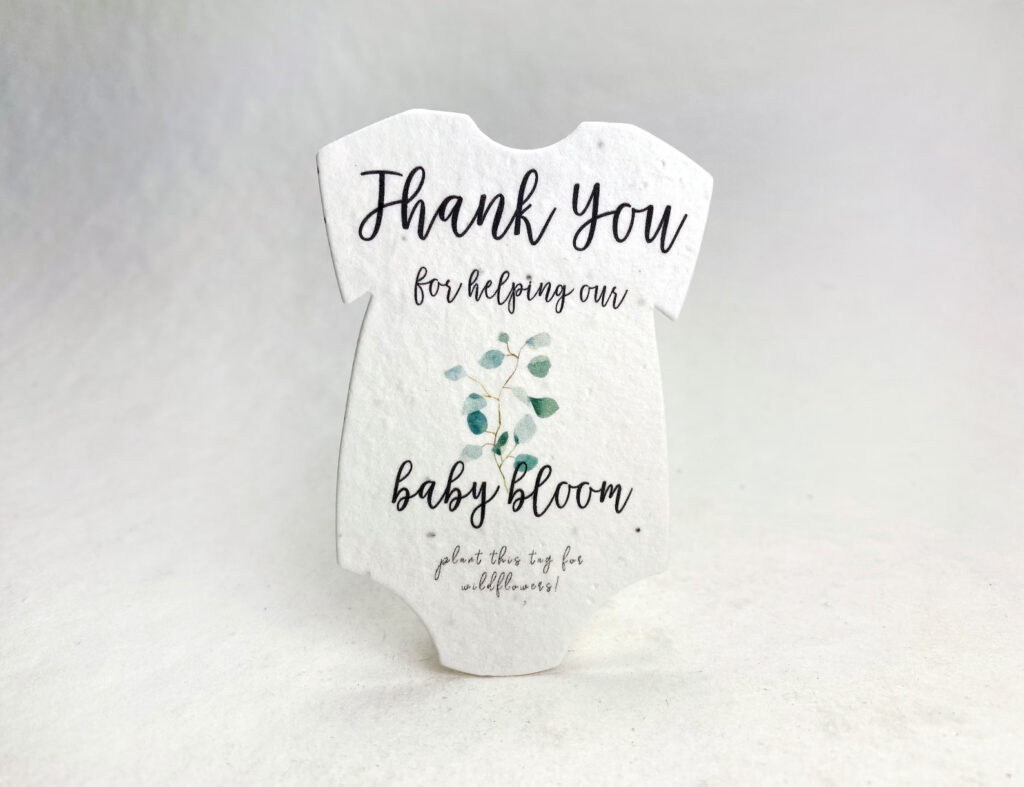 These seed papers are a super thoughtful idea. Not all of your guests might be into gardening, but the idea is touching. They can plant it and wildflowers will grow.
The listing includes 12 "bodysuits" each with an envelope and a guide on how to plant it.
You can also check out this option on Amazon.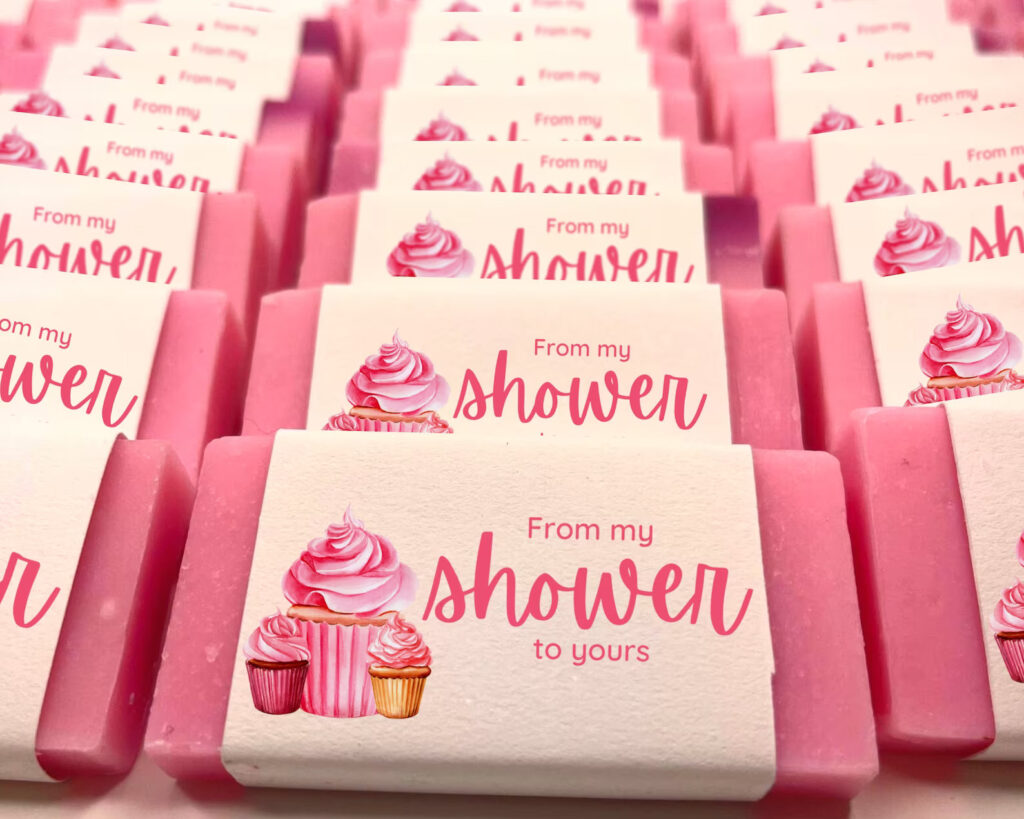 You'll find plenty of options for soaps as shower favors, you can also easily DIY it.
This one is cute and simple, it also comes in blue, and you can pick from different scents and labels.
Note that you'll need to cut and add the labels yourself. The listing includes 50 pieces.
A simple yet adorable shower favor, these custom tea bags can be used during the shower or your guests can go home with them to have a keepsake of the day.
The listing includes 30 black tea bags, which you can assemble yourself (you'll just have to stick the label onto the bag) or request the seller to do it for an additional cost.
With the same Winnie the Pooh design from this shop, you can also get a little pot of honey and a lip balm, for the perfect baby shower favor basket.
This classy and custom packaging, to which you can add 2 macarons, candies, or a small cupcake, will make a great gift for your guests to take home.
There are many ribbon colors to choose from and the label also comes in mint. The listing includes 10 boxes (goodies inside not included).
Get these custom bags and fill them with your favorite coffee blend or tea to gift your guests at your shower.
The listing is for 25 sealable customized bags. You can contact the seller beforehand if you want a different quantity.
You can also check out this option from Amazon.
A great keepsake that your guest can actually use, these personalized wine glasses probably are the best baby shower gift idea for guests.
The glasses are laser engraved, so the design won't fade or peel, even if washed in the dishwasher. The listing include 12 glasses.
For something extra special, fill the glasses with candies or chocolate before gifting them.
Anyone who likes to take baths will love these scented bath bombs. They come in pink or blue and include gift bags to place the bath bombs into, with a pacifier trinket for each, and gift tags with enough space to add a handwritten note.
The listing includes 12 bath bombs.
A cool gifts for your guests, these "poppin' bottles" bottle openers are cute and fun. They come with bags, rope, and thank-you tags to assemble everything to be ready to be gifted.
The listing includes 24 or 50 bottle openers (don't get fooled by the "73/151 pieces", they count the bags and tags in there). The store offers different designs within the same listing, so make sure to check them all out.
Useful and cute at the same time, these hair ties will make great favors for your shower.
They also have it in blue and pink. The listing is for 24 packs of 3 hair ties.
These mini grow pots are sure to delight your guests. The pack include 6 mini terracotta pots, 6 seed packs, 6 growing medium pellets, and easy and simple instructions.
Add a custom "Thank You" tag to make it extra special.
You can pick between sunflowers, cactus, daisy, or a mix of different plants.
If you want to splurge on your baby shower favors, then you're sure this straw basket will be a hit.
Handcrafted in Morocco, you can have your guests' name embroidered on them and colored pompoms added.
Make sure to order ahead of time, as they ship from abroad and are made to order.
Final gift idea on this list, these lavender sachet bags are just adorable and can be reused even when the scent is gone.
You can order them by sets of 10 in either pink, blue, or a mix of both.
Like it? Pin it for later: