Whether it's Valentine's Day, Christmas, his Birthday, or your anniversary, you'll find below some of the best long distance relationship gift ideas for your boyfriend.
These sentimental gifts are perfect for your long-distance boyfriend to celebrate a special occasion. They work well as going away gifts as well.
Etsy is always my go-to for sentimental gifts, as you'll find plenty of cute options you can customize to make the gift even more special. Things there are also usually hand-crafted in the US by small companies, making it even more special (compared to crap from China).
When ordering from Etsy, consider shipping delays, especially for custom products that are typically made-to-order. If you're looking for last-minute LDR gifts, consider ordering from Amazon (I've included a couple of options below).
For people who are into craft, most of the gifts below can easily be DIYed.
Two Maps Wall Art
A super cute gift for your boyfriend to celebrate your relationship, these type of custom wall arts are both thoughtful and sentimental. Most options feature 2 maps somehow linked together, with both your name.
Some will require a bit more work as you'll need to print and frame them (you'll just get a digital file) but you can also find a couple of sellers that will send you the printed and framed version.
For the high-tech couples, these connected bracelets are a must. Through the app, you can make each other's device vibrate to mimic touch, letting the other know you're thinking about them.
You can pick from different colors for the bracelet (you can get several and easily switch the band if you want) and for the metallic parts. The battery lasts around 4 days and the device is waterproof.
You can easily order one to your location and one to his if you're not going to see each other.
These touch lamps are probably the best gift for a long distance relationship. You both get one and, when you touch yours, the other's light up, letting them know you're thinking of them. You can also do this through their app.
They light up in a bunch of different colors. A fun thing to do is to agree what color means what, so you can kind of send each other secret messages, beyond the "I'm thinking of you".
The lamps are made in the US.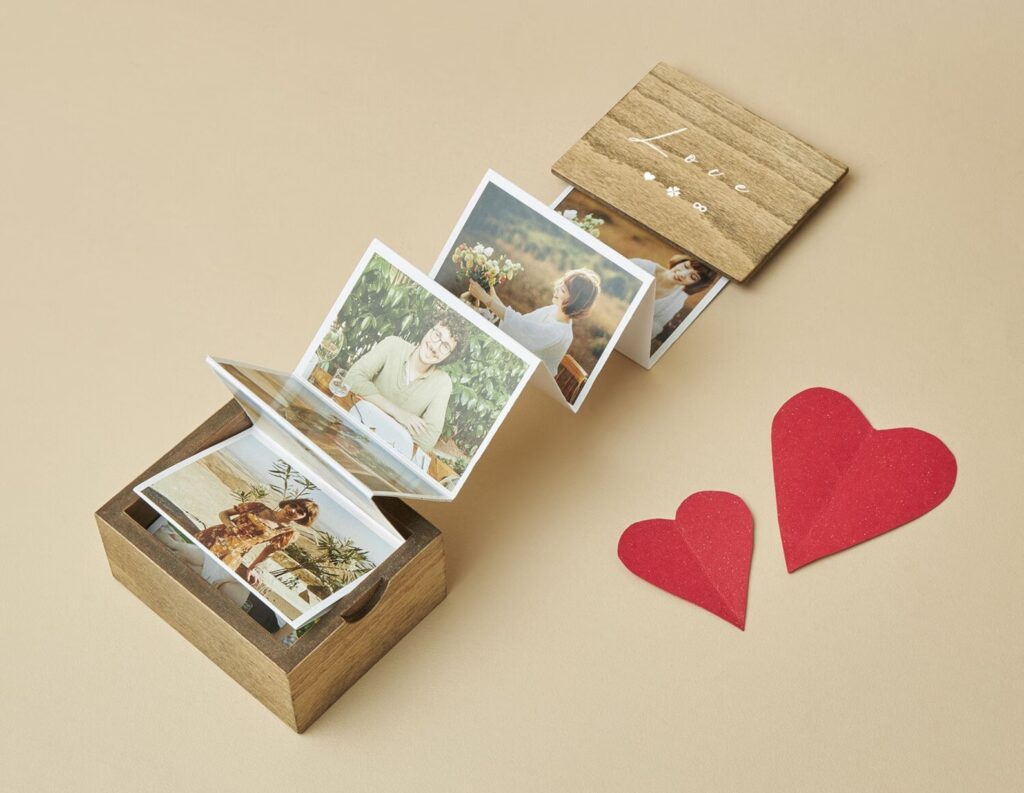 A great keepsake to remember by the good times you've had together, add all the pictures you have of you and him and surprise him with a heartfelt gift.
We often don't print pictures anymore and this is a great way for him to have something to remind him of you whenever he misses you.
You can customize the engraving at the top of the box if you want to, otherwise it will read "love". The seller will print your photos and add them to the box, so if you want, you can have it shipped directly to him.
Keychains are always great options when looking for a small present. Custom ones make the gift even more special. Designed for long distance relationships, these matching keychains are just adorable.
You each get one, with your state or country and a little love note.
I picked the one I thought was the cutest, but you'll find plenty of other options with a bunch of different designs.
The minimalist in me wasn't going to include this one, but reading the reviews made me change my mind. People seem to love it as a long-distance relationship gift for their boyfriend, and the boyfriends seem to have loved it.
You have a lot of options when it comes to color and can pick between 2 sizes and either sherpa or minky for the fabric. You can also choose how big the text is and of, course, customize it with your name.
The blanket is washing machine washable.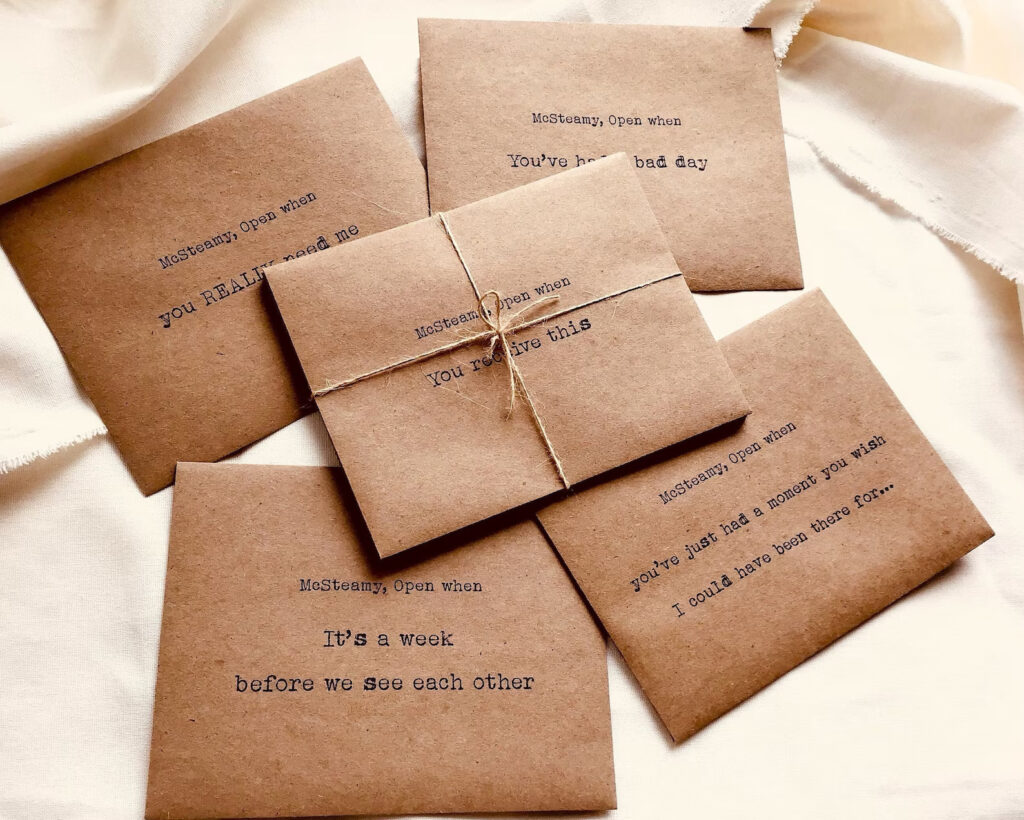 If you like to write little notes for him, then this is a great sentimental gift. Each envelope has a prompt and tells him when to open it, inside you can write whatever you want that fits the occasion.
Make it romantic, make it fun, make it sexy… he'll love the anticipation of opening the envelopes and how thoughtful it is that you took the time to craft something special for him.
If you prefer to order off of Amazon, you can check out these Open When Envelopes for Him.
You can also completely DIY this gift, buying cute envelopes and cards, and writing your own prompts or finding some inspiration online.
So he can have you on his heart every time he wears it, this hoodie definitely is a romantic gift, and best of all, it's useful.
Send the seller a photo of you guys and they'll add the outline to the hoodie (they have sweatshirts too). You can also add something to the sleeve like your name with heart, a date, a short message…
You can pick from a bunch of different colors and sizes.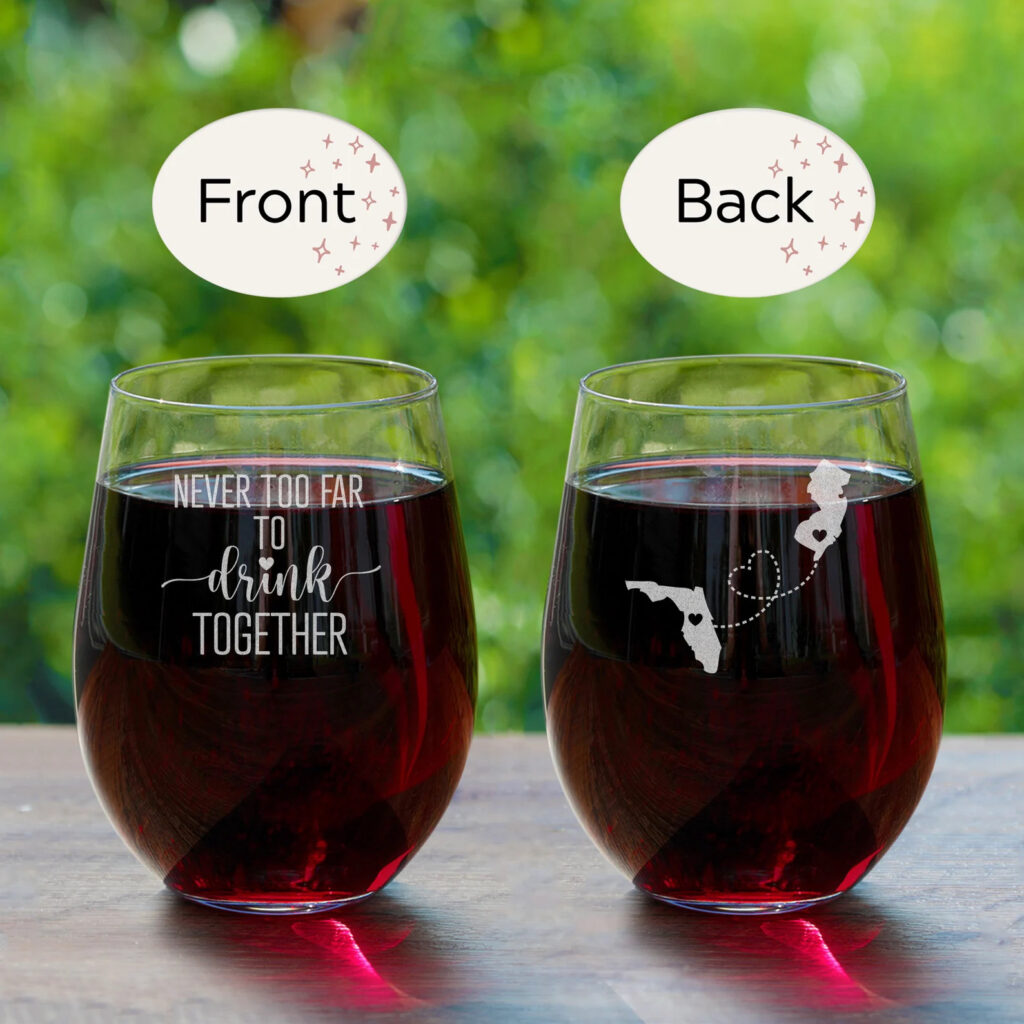 This custom wine glass will make a perfect keepsake for your boyfriend. It's cute and useful and you can get one for yourself as well to use when you have a Skype date.
The design is laser-engraved, so it won't fade or peel with time. As it comes with a gift box, you can have it send directly to your boyfriend.
If you want something funny and maybe a bit naughty, this candle will make a great gift. You're sure to make him laugh.
You can pick from different scents.
Have a special message engraved on this cute custom light box and see it being projected when lighted up. It comes with a candle.
A cute little trinket to celebrate your relationship, this painted pebble is perfect if you're looking for a small gift. You can customize the text on top of the gift box (not the card) or pick one of the options available, and also add text on the back of the pebble if you want to.
If you like painting, it's also super easy to DIY.
If he wears a watch, then this little charm will be a perfect addition. It's super sentimental without being over the top, as it's quite discreet. It will be customized with the states you live in (they also can do a couple of countries).
The charm will fit a band that is 7/8″ wide.
Save on Pinterest for later: