Having good neighbors is a blessing, they make our life easier and our neighborhood feel friendly and welcoming.
If you have one such neighbor in your life, one who is always helpful, friendly, and respectful – one with whom you share a great bond and who has always been there for you and your family – and if you are looking for ways to thank them and show your gratitude and appreciation, we have selected the best thank you gifts for neighbors.
Whether you have known them for years, or are starting to share a bond with them, we have listed plenty of useful, pretty, and thoughtful neighbor gifts – perfect for the holiday, Christmas, their birthday, or simply to thank them for something they did for you.
Keep on scrolling for some unique gift ideas. Happy Shopping!
Disclaimer: This post contains affiliate links, which means that if you click on any links and make a purchase, we'll get a small commission, at no cost to you.
Thank you gift guide for neighbors – Our top picks from this list:
Best thank you gifts for neighbors
Gift this tasty blend of spices to your neighbor who loves to cook. The FreshJax Grilling Spice Gift Set features a combination of great seasonings for soups, salads, burgers, seafood, steaks, potatoes, and many other savory dishes. The spices are vegan and no artificial flavors have been added. Each spice blend adds a unique flavor to food making it a great thank you gift for foodies.
The set comes inside a beautiful package with a lovely presentation and is ready to be gifted.
La Chatelaine Hand Cream Trio Tin Gift Set is a collection of scented lotions made in France. The hand creams are made with organic, plant-based ingredients and no harmful chemicals are added. The lotions are blended with Shea Butter, Vitamin E, and Argan Oil which help to keep the skin moisturized and hydrated. The cream absorbs quickly into the skin for instant hydration and nourishment. Regular usage provides soft, smooth, and glowing skin.
Gift your neighbor some skincare love and rejuvenation with this perfect luxury collection set.
Epsom salt baths help to remove toxins from the body, relax muscles, relieve stress, and aid magnesium absorption in the body. For the neighbor who is into self-care or needs some me-time, this Epsom Salt Bath Salts Gift Set will make a great gift idea.
The box features three unique fragrances of bath salts, one essential oil, and one moisturizing foot lotion. The products are 100% organic and no harmful chemicals are added. It can be a nice addition to their regular skincare routine.
A perfect appreciation gift for neighbors to relax and unwind after a tiresome day.
Essential oils are great to reduce stress, anxiety, headache, improve sleep, and boost one's mood. Gifting a set of various essential oils with an essential oil diffuser is a thoughtful gift choice for your lovely neighbor.
A calm and relaxing environment is all we need after a long tiresome day. This Essential Oil Diffuser with Oils comes with six different essential oils and a compact-sized diffuser.
The diffuser has three working modes and produces a powerful mist to refresh the air. The premium-quality essential oils create an appealing environment to lighten up the mood.
Show your affection and say thank you to your neighbor with this appealing gift set – perfect as a Christmas gift or simply to express gratitude.
The Burt's Bees Classics Gift Set is what you need to pamper yourself from head to toe and keep your skin hydrated. The set has hand and foot repair cream and hands salve to remove dryness and provide rich nourishment. It also has a lip moisturizer to treat chapped lips by providing pure hydration, and multipurpose ointment to treat dry skin and minor cuts.
This is a complete collection of moisturizing skin care products to include in your list of thank you gifts for neighbors.
Coffee as a gift can never go wrong for any coffee lover. We have selected this quality Gourmet Coffee Sampler Gift Box Set for a simple yet useful present for your neighbor. The set includes four perfectly roasted unique flavors from Africa and Indonesia. Each flavor is tasty, aromatic, and flavorful.
This will definitely bring a broad smile to any coffee lover's face.
A great appreciation gift for a neighbor who loves to explore different flavors of coffee from all around the world.
Take a look at this Set of 4 Modern Ceramic Vases to gift a stunning decorative piece full of love. The set of vases has been designed uniquely with the word 'Love' where each letter is serving the purpose of a vase. It comes in a compact size and is perfect to decorate shelves.
It's a wonderful gift for your neighbor as well as for friends and family for their wedding day, housewarming, Christmas, anniversary, etc.
It can also be gifted to your neighbor who loves gardening and can use these small vases to add some greenery to their home. A lovely decoration to add a classy touch to their interior.
Custom Thank You Gifts for Neighbors:
Surprise your next-door neighbor with this thoughtful Hanging Heart Plaque and its heartfelt message. It comes with a cotton rope for easy hanging in different places. You can present this with a bottle of wine to add a classy touch. It can be used as a cute little decorative piece for their home.
Thank your neighbor in an adorable way, for their kindness and generosity, with this heart plaque sign on any occasion.
If you have a nice, caring, and helpful neighbor, you know how blessed you are. It's time to thank them for being so understanding and always helpful.
This Ceramic Ring Dish can be an ideal gift idea for that beautiful soul. This trinket tray is made of high-quality ceramic and can be used to keep earrings, lipsticks, rings, small pendants, necklaces, watches, and more. The tray has a cute print with a warm message to make it extra special.
A perfect appreciation gift for that neighbor who might be moving away, or the one who has always been there for you. A more than appropriate Christmas or birthday gift idea as well.
Scented candles always make your home decor vibrant and refreshing. An ideal gift for any person, however, it would be perfect for someone who loves to keep their house lively and organized.
Check out this Thank You Candle as a perfect gift for their home or office. This natural soy candle come in a strong, reusable glass jar that is carefully packed in a ready-to-gift box. The touching message on the glass jar makes it more special for your neighbor and will remind them of you every day.
This premium candle is one of the kind and makes a sincere thank you gift for neighbors. You can gift this to your lovely neighbor on Christmas, Thanksgiving Day, birthday, Housewarming, etc.
Cookies are always a great pick for gifts for your dear ones. They come in delicious flavors, are easy to pack and they will last a while if you can't finish them in one go.
This Gourmet Cookie Thank You Gift Set comes with two large freshly baked vanilla sugar cookies. The set comes in a cute and little gift box, ready to be gifted. This will surely bring a broad smile to the recipient's face.
Gift these handmade sweet treats to the neighbor who's always helping you out.
Mugs are always the right choice of gift to express gratitude for someone's kindness and friendliness.
Check out this cute Best Neighbor Ever Coffee Mug to say thanks and show your appreciation. The mug is made with high-quality ceramic material and is ideal for regular use. The beautiful quote on the mug will surely fill the person's heart with joy.
A great neighbor gift for the holidays or as a just because gift.
Choose a unique way to say thank you to the neighbor who is always super helpful with everything and as kind as it gets.
This Vanilla Fudge Thank You Tin is an ideal gift to express your gratefulness in a unique way. It is a decorative tin with thank you notes in a bunch of different languages. The tin contains delicious vanilla fudge that melts in one's mouth.
A cute and adorable Christmas or birthday gift for neighbors to show your appreciation.
'There are people in this world who make things better wherever they go' – a gift that is personalized with a quote like this will surely melt anyone's heart.
Gift your special neighbor this Rose Gold Compact Mirror. All you have to do is send your neighbor's name and your name to be customized. The mirror is beautifully designed with a rose gold color and a lovely floral design.
Gift this little slice of happiness to your next-door neighbor to thank them for being such a wonderful human being.
Mugs are always useful even if you are not a coffee or tea drinker. They can be used for decoration, to plant herbs, hold candles, store pens or pencils, enjoy soups, and many other kinds of stuff.
Take a look at this funny Unicorn Coffee Mug to lighten up your neighbor's heart. This ceramic mug comes with a funny print to bring joy to your recipient.
A cute and funny way to say thank you to your neighbor for being such a caring and friendly next-door person. It can be a nice stocking stuffer for Christmas or can be gifted on any other special moment.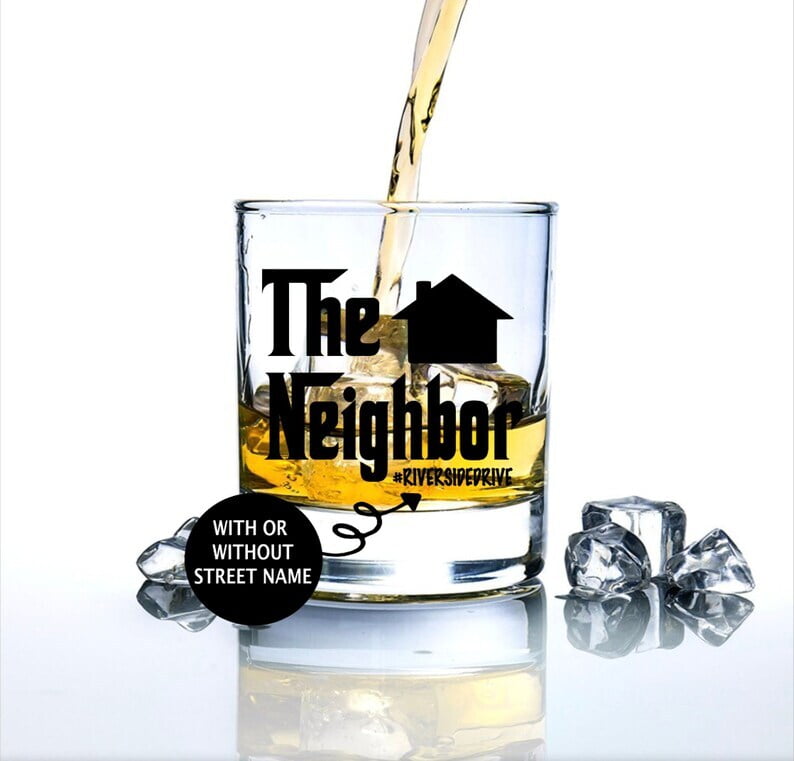 If you have a cool neighbor who invites you over for a drink occasionally or someone who just moved in, The Neighbor Whiskey Glass can be an ideal choice. The glasses are handmade with strong and durable material.
It can be gifted as a welcome gift for your new neighbor, or an appreciation gift for the helpful one. You can also gift it during the holidays or on their birthday.
Great neighbors actually make our life easy and beautiful. This Personalized Cutting Board is for one such lovely neighbor who has always got your back whenever you needed them. This cutting board is a perfect way to express your appreciation for their kindness and support.
The board is made of high-quality durable wood and comes in different cuttings and designs.
A very thoughtful thank you gift for your caring neighbor for Christmas, birthdays, or any other celebrating event. The cutting board is also perfectly appropriate as a going away gift for the neighbor who is moving and has always been kind and helpful to you.
Do you enjoy the baked delicacies made by your neighbor? It's time to complement their cooking skill with this lovely Christmas Oven Mitt. These red and attractive pot holders come with cute wishes printed on them. You can add a gift card, cookie-cutter, cookie mix, spatula, sprinkle, or freshly baked cookies or candies to add a captivating festive look to their interior while thanking them.
A perfect thank you present for your neighbor who loves to bake and share, these potholders will make a perfect addition to their holiday decor.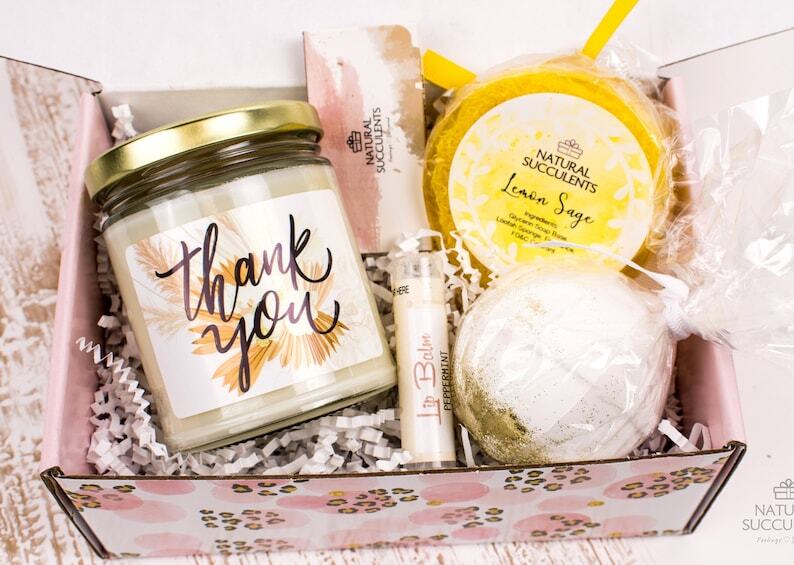 Looking for an ideal present for the neighbor who remains super busy but never says no to help you. Help them to unwind and relax with this compact and stylish Thank You Gift Box.
The set contains a naturally scented bath bomb, loofah soap, soy candle, moisturizing lip balm, and a box of matches. All the products come in an elegantly printed ready-to-give gift box. You also get to add a personalized message for your favorite person.
Gift this wonderful spa box to show your appreciation for your neighbor in a special and caring way.
Other good thank you gifts for neighbors
Blankets are a great gift for Christmas or to give around winter. A good quality blanket can provide absolute comfort and coziness during winter and will remind the recipient of you.
Check out this Extra Soft Faux Fur Throw Blanket made with luxuriously soft and skin-friendly microfibre dyed fabric. This fluffy, furry, and warm blanket covers you perfectly from shoulder to feet giving you the ultimate warmth and comfort. It can also be used as a decorative fur blanket on chairs or sofas for a stylish home decor.
A very thoughtful and useful thank you gift for your neighbor – it's also perfect as a Christmas gift.
Solar lights are always decorative, environment-friendly, and cost-effective. They add a magical touch and a vibrant look to the ambiance. We have selected these Solar String Lights for you to lighten up your neighbor's place.
The product comes with 2 packs of super-bright string lights, each of them being 72ft long which is ideal to decorate their garden. The two large waterproof solar panels can provide a full charge to last up to 10-12 hours. The string lights can be set on 8 different lighting modes to satisfy various decorative requirements.
Gift this Solar String Lights as a special thank you gift to your neighbor who is always there to brighten up your day.
If your neighbor happens to be a nature lover and loves to do some birdwatching, then take a look at this Window Bird Feeder. Window bird feeders are a great way to invite all kinds of birds to your habitat and enjoy their natural movement without any binoculars.
This window bird feeder gives an open platform to the birds to naturally feed on seeds without having to worry about predators. It has a beautifully shaped angled roof to protect the bird food from rain, dust, and snow.
It is equipped with a well-drainage system at the bottom of the tray to allow the moisture to pass and keep the seeds dry. The removable tray makes the clean-up super easy. The feeder has suction cups with a super grip to mount high against the window. The highly transparent glasses allow you to enjoy the bird's movements from the kitchen, living room, backyard, etc.
Add a positive vibe to your neighbor's home with this window bird feeder. It will make a great neighbor gift.
Get this stylish blue and white striped Extra Large Picnic & Outdoor Blanket for your neighbor who loves to spend time outdoors. The blanket is lightweight and made with soft and comfy fabric for enough cushioning and comfort.
It has a waterproof backing that makes it easy to wipe off dust, mud, wet grass, and sand. It looks like a fashionable tote bag when folded. It comes with a handy strap that makes it very easy to carry anywhere. An ideal outdoor blanket to enjoy at the park, beach, camp, or any outdoor concerts.
A perfect thank you gift for neighbors who love to enjoy time outdoors.
Looking for a perfect present for your cat-loving neighbor? How to Tell If Your Cat Is Plotting to Kill You is a funny and creative collection of facts, comics, and instructional guides about cat behaviors. It has some brand new hilarious cat-themed comic strips to enjoy. This is a must-have book for cat lovers. A nice and fun way to learn more about their cats.
Ready for some wanderlust? Destinations of a Lifetime: 225 of the World's Most Amazing Places by National Geographic Society will take you on a world tour of breathtakingly beautiful places. A more than perfect gift choice for an awesome neighbor who loves to travel and wants to know more about the world.
The book features detailed and in-depth itineraries and informative guides on places to visit, how to visit them, where to eat, where to stay, and many more useful travel tips.
It can also be gifted to someone who may not be a nomad but is curious about incredible travel destinations of the world.
Trivia games are perfect to have a night of fun and joy with friends and families. If your neighbor loves to host dinner and you often get invited, then you can opt to gift them for a fun game like I should have known that! Trivia Game.
The trivia game is jam-packed with a set of 400 unexpected questions of fun and random facts to enjoy wild guesses, brain freezes, and laughter.
This trivia game is an ideal gift for your neighbor to host a memorable and entertaining get-together. It can make a fun gift for your next-door person for a birthday, Christmas, Thanksgiving Day, dinner party, or any special occasion.
Choose a better popcorn popping experience for that entertainment-loving neighbor with this Popcorn Popper. It helps you to prepare a healthy popcorn snack in just 3 minutes without oil or butter. It is made with temperature-safe glass to avoid wear and tear and chemical absorption during use. The dual-functional lid helps to melt butter and measure desired serving size.
Last but not the least, if you have a neighbor with whom you share a lasting bond and want to gift them something original but useful, then this might be the perfect option.
Place these fun Reusable Drink Chillers in the freezer and cool your drinks without diluting them. It's perfect for wine or liquor to get them at the perfect temperature without compromising the taste.
Other thank you gifts to consider
There are plenty of thoughtful ways to appreciate your neighbor's kindness. You can invite them to dinner at your place, bake them a pie, send them a gift card, etc.
You can also gift them beautiful indoor plants, gardening toolsets, stunning wall posters, artistic decorative items, sturdy backpacks, books, audiobooks, music accessories – anything related to their hobbies or passions.
Offering to help also goes a long way and will surely be appreciated.
Tips for finding the perfect thank you gift for your neighbor
It's important to know your neighbor's interests, hobbies, and passion before buying them a gift. A thank you gift should be useful as well as sentimental to make your neighbor feel appreciated.
For example, a Christmas oven mitt is a perfect complimentary gift for the one who loves to bake, a waterproof blanket for the outdoorsy neighbor, solar string lights for the decorative person, spa set to pamper themselves, etc.
Like it? Pin it for later:
Check out some of our other gift guides: