If you are looking for some cool and spooky outdoor Halloween party ideas for adults, you have come to the right place.
Below, find tips on planning the perfect outdoor party for Halloween, theme ideas, decorations, party games and activities, as well as food and drinks you can serve.
Planning a party can be hard, but we have made it easy for you so that you don't forget anything and throw the best outdoor Halloween party ever! Pick a theme, plan some fun activities, decorate your backyard, and be ready for a night of fun no one will forget.
Related – Best Halloween Gift Ideas
Disclaimer: This post contains affiliate links, which means that if you click on any links and make a purchase, we'll get a small commission, at no cost to you.
Tips for Planning the Perfect Halloween Party
Make the guest list
The first thing you want to do when it comes to party planning is to know how many people you want to invite.
From there, you can then decide on the rest – planning a small gathering with only a couple of people is not the same as planning a party that dozens of people will attend.
Pick a date and time
Check whether Halloween falls on a weekend or not, and set the date accordingly, you can also ask what's more convenient for people you're going to invite.
For a truly spooky Halloween party, starting it when it starts to get dark might be a good idea.
Choose the location
There are plenty of outdoor options to have a party at. It can be your garden if you have enough space, at a park, at a venue (make sure to book it well ahead, especially if your party is on the 31ft), or at someone's else place.
Pick a theme
Once you've set the date and location of your Halloween party, pick out your theme! Check out some of the fun and spooky options listed below if you need some inspiration.
Send invitations
Now it's time to send out the invitations. You can use Canva to make them, they have tons of templates that are pretty easy to customize. Make sure to add all useful information and if guests should bring something or not, a special dress code, anything needed for the activities you're planning…
Get everything you need for the Halloween decorations
Whether you're buying everything or spending some time on Halloween crafts making your own DIY decor, buy everything you need ahead as stores often run out the closer you get to Halloween.
Put together your menu
It's not a party unless there's food and drinks! Whether you're hiring a caterer, asking guests to bring things, or making everything yourself, it's best to have food and drink ideas planned out so you can plan accordingly.
A buffet is great for an outdoor party, with plenty of finger food, Halloween treats, and spooky dishes. See below for some Halloween food and drink ideas.

Plan activities and games
There are plenty of fun Halloween party games and activities for adults to keep everyone entertained. Chances are, you'll need stuff for what you plan to do, so make sure once again you get everything ahead.
Have a plan B in case it rains
It's hard to plan weather and as your party will be outdoors, make sure to have a plan B in case the weather turns. Maybe rent some party tents just in case, or plan to bring the party inside.
Outdoor Halloween Party Ideas and Themes
There are plenty of themes you can pick for your adult Halloween party. Below are some ideas to get inspiration from – alternatively, if you have a favorite movie you can base your party on that – movies like Harry Potter, Twilight, The Nightmare Before Christmas… are great Haloween party themes!
Murder Mystery Dinner Party
Adults will love participating in a murder mystery party, and it's right on theme for Halloween. Turn your guests into detectives and provide them with clues to find who the culprit is.
You can find a list of free murder mystery ideas here >>
Spooky Scavenger Hunt
Who said adults couldn't enjoy a good scavenger hunt too? Hide Halloween-themed things outside and include goodies adults will love like booze or treats as prizes. Instead of telling everyone what they need to find, you can use riddles to make it harder.
If you need help coming up with ideas, you can check out Pinterest or buy a pre-made game on Etsy.
Horror Movie Night
If you are a horror movie fan, then Halloween is the perfect occasion for a horror movie marathon. Set up an outdoor theater with a projector, pillows, blankets, and comfy chairs.
Make sure to make some spooky popcorn and have plenty of themed snacks on hand.
For some inspiration, check out this list of the best Halloween movies of all time and the top cult horror movies.
Ghost White
Have an all-white party asking guests to come as ghosts. Decorate everything in white with spider webs and drapes and try to make as many white dishes and treats as you can.
You can even have a fog machine and decorate your garden like a graveyard for extra effect.
Zombie Prom
If you've ever dreamt of reliving your prom, recreate it but with a twist, turn it into a prom from hell with zombies everywhere. Make some brain pudding, serve bloody margaritas, and bake chocolate eyeballs.
And, of course, curate a special end-of-the-world playlist!
Campfire Story Party
For something more chilled and relaxed, set up a campfire and ask guests to tell the spookiest story they know. Make sure to get a couple of books with scary legends so you don't run out of stories to tell.
The Haunted Catacombs Halloween Escape Room
Escape rooms are all the rage at the moment, and it's perfect to keep adults entertained. And, you can easily set one up outdoors.
If you're creative, you can come up yourself with the clues or you can just buy an escape room designed with Halloween in mind. Most are for a few players only but if you have a large party, you can divide guests into groups.
Mad Masquerade Ball
Turn your outdoor space into a fancy masquerade ball with music and spooky, yet classy, decorations. Ask everyone to come up with a themed Halloween costume or buy a bunch of masks.
Outdoor Halloween Party Food Ideas and Drinks
When it comes to Halloween-themed food and drinks, you'll find thousands of ideas online. For an outdoor party, you can set up a buffet table with a bit of everything.
Below, you'll find some fun party food and drink ideas you can easily make at home.
Chocolate Marshmallow Bats
With only 4 ingredients needed, these cute marshmallow bats are sure to be a hit! See how to make them here>>
Eyeball Punch
The perfect addition to a buffet table, this eyeball punch is fruity, easy to make, and can be made with or without alcohol.
Bloody Witch Finger Cookies
These bloody witch fingers are the perfect blend of gross and tasty and don't require any dye, just jam, cookie batter, and almonds.
Mummy Brownies
Yummy and spooky, these mummy brownies are easy to make and right on theme for Halloween. If you already have a brownie recipe you like, use it, or follow the tutorial, use frosting to make the mummy "wrapping", then add 2 eyes.
Devil's Margarita
No party for grown-ups would be complete without margaritas – who doesn't like margaritas, right?
Add a Halloween twist to a classic with this Devil's Margarita recipe – create a bloody layer using red wine for a spooky effect.
Spiderweb Taco Dip
Because you'll want to serve some savory dishes as well, this taco dip with a twist is perfect to make for Halloween.
Halloween Tortilla Chips
Now that you have the dip, you can make those Halloween-themed tortilla chips for a wow effect. You'll just need cookie cutters, tortillas, and some oil (no frying required).
Halloween Snack Board
The perfect addition to a Halloween party, this snack board themed for Halloween includes a bit of everything to please everyone.
Stuffed Pumpkins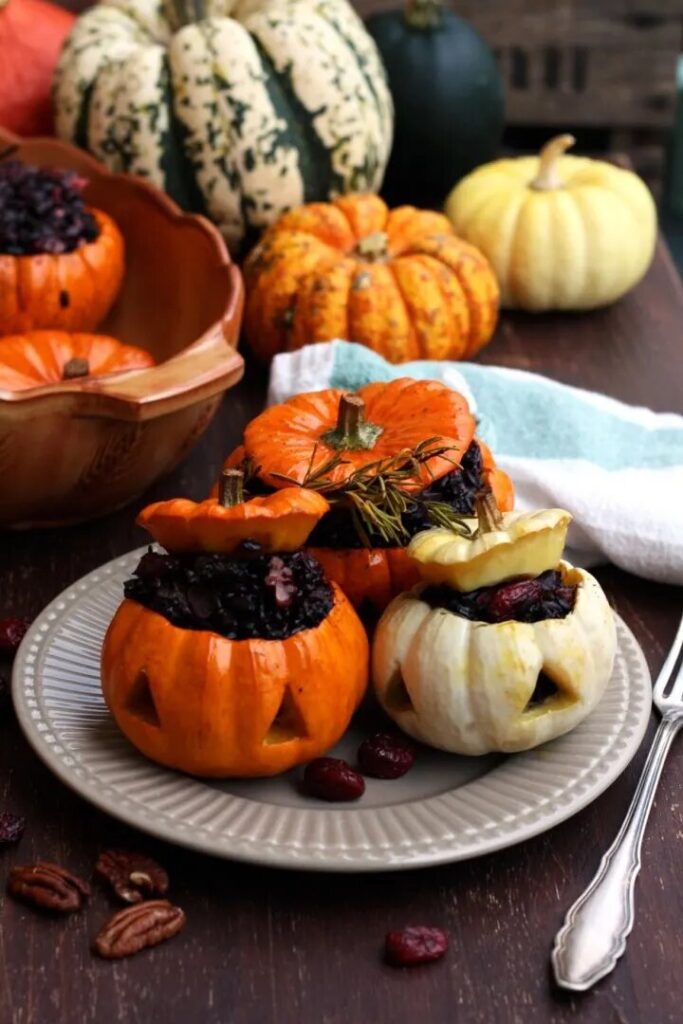 These adorable Stuffed Pumpkins will make the perfect addition to your Halloween dinner table.
Spider Cookies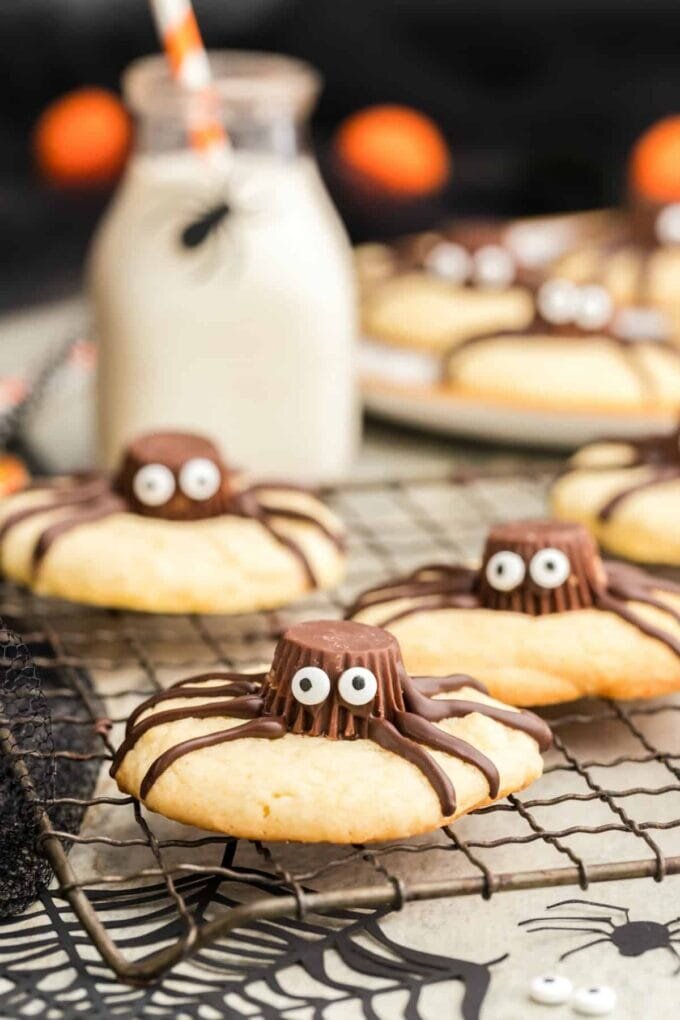 A fun addition to your Halloween party, these easy-to-make spider cookies are delicious and just the right amount of spooky.
Halloween Spiked Toxic Tonic
Made with lime sherbet and white wine, this frightfully good Halloween Spiked Toxic Tonic is the perfect blend of sweet and tangy.
Bloody Bone Cupcakes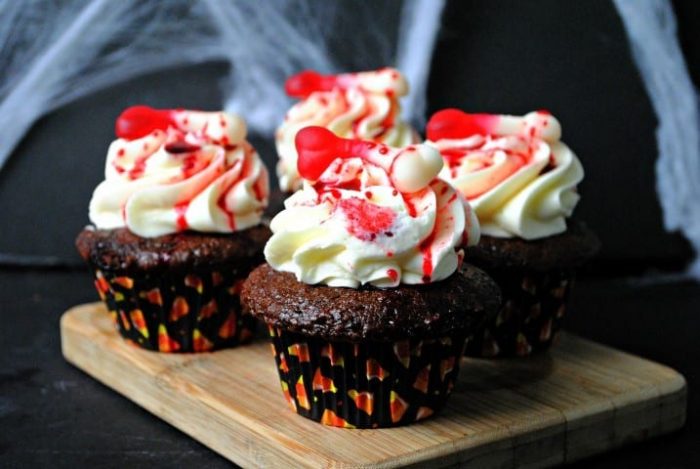 It wouldn't be a party without cupcakes, these Bloody Bone Cupcakes will make the perfect treat to add to your buffet, and they're super easy to make – use your favorite cupcake recipe, add some frosting, a "bone", and some "blood" and you're ready to go.
Jack-O-Lantern Stuffed Bell Peppers
A fun savory dish to serve your guests, these stuffed bell peppers are something you won't see anywhere else!
Halloween Push Pops
Colorful and original, these Push Pops are sure to be a hit with your guests!
Witches' Brew Punch
This frothy Witches' Brew Punch will make a perfect Halloween drink to serve at your outdoor party. It can be made with or without alcohol – add dry ice for an extra special effect.
Halloween Charcuterie Board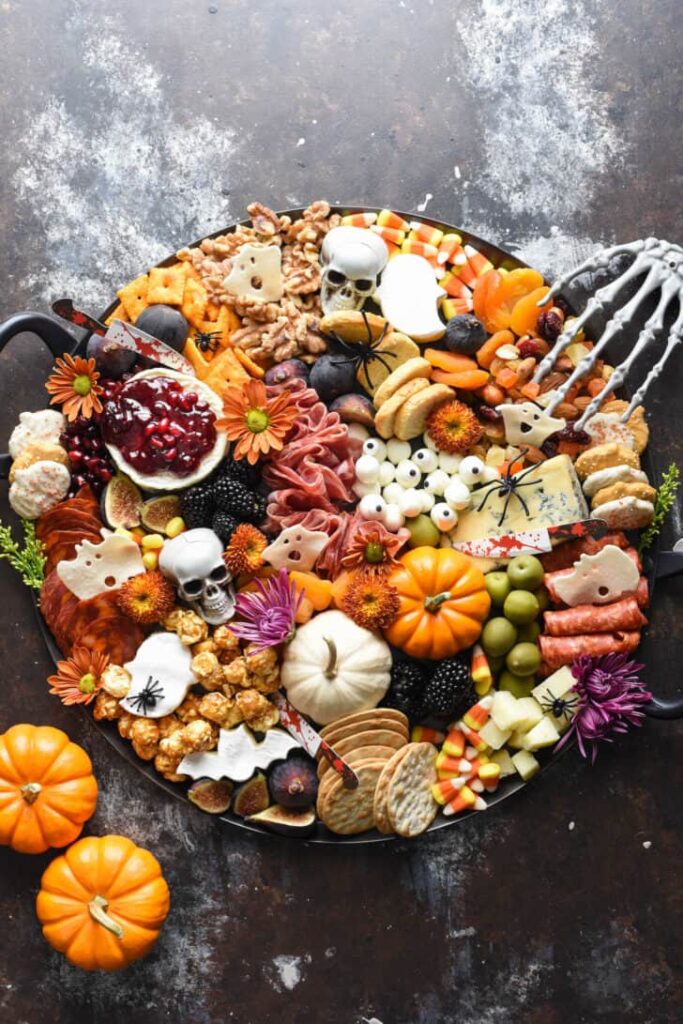 Every party for adults needs a charcuterie board, make it extra special this year and turn a classic into a Halloween-themed dish every guest will be impressed at.
Screaming Witch Crudités Platter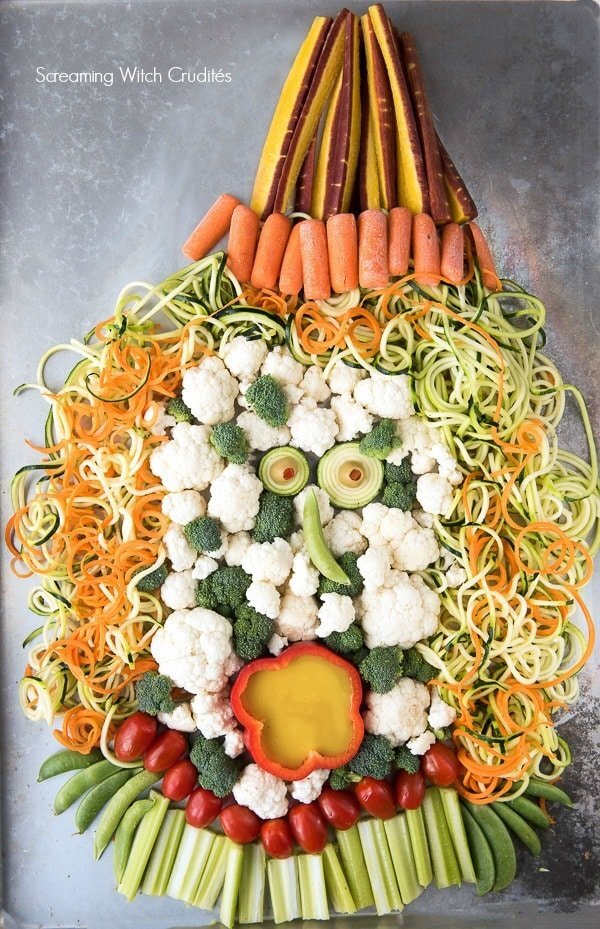 For a healthy snack to add to your Halloween meal, you can make this Witch Platter that will look amazing on display.
Halloween Cakesicles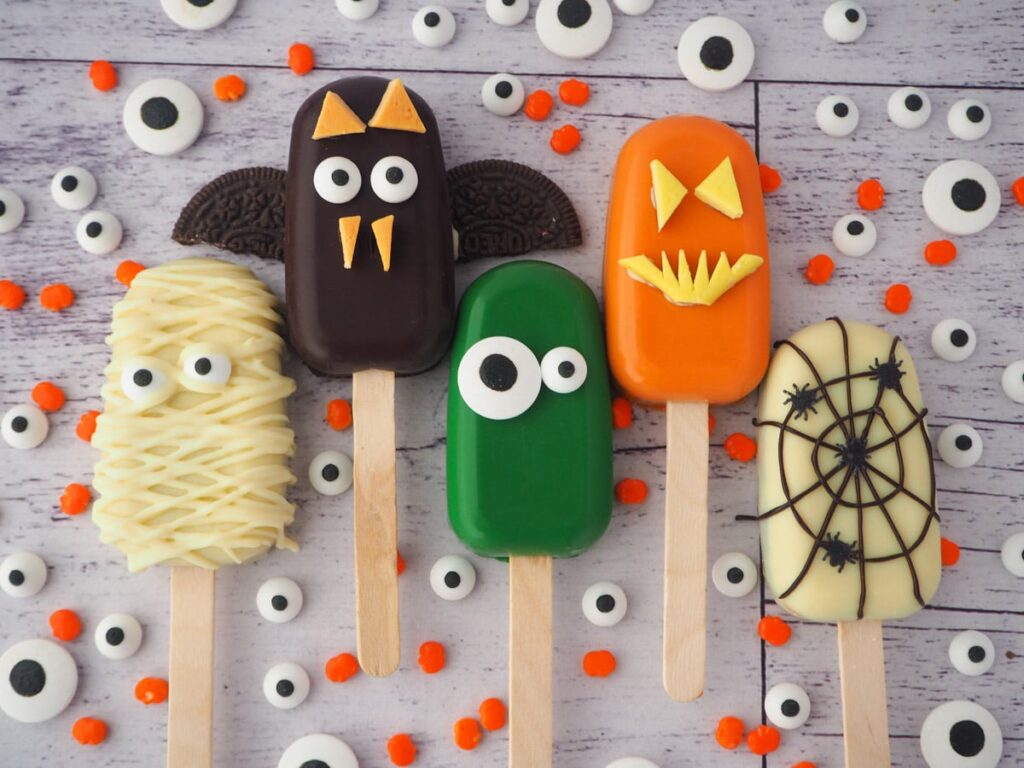 A Halloween party is definitely the best time to gorge on sweets, make these adorably spooky Halloween Cakesicles to surprise your guest with a tasty treat that looks awesome.
Green Lychee Gin Cocktail
Gin lovers will love this spooky cocktail with "eyeballs" floating around.
Black Magic Halloween Sangria
Another spooky cocktail option to serve your guests, this Black Magic Halloween Sangria combines red wine, vodka, raspberry liqueur, apple cider, and fresh fruits topped with soda to create a fruity and refreshing drink.
Pumpkin Bites
For something adorable that your guest will love, try out these cute peanut butter and chocolate chips pumpkin bits and decorate your Halloween table with them.
Outdoor Halloween Party Decorations
When it comes to decorating your outdoor space for a Halloween party you have tons of options, and as it's outside you can have more fun and create a truly spooky decor.
If you want to keep things simple, just add spider webs everywhere, add some garlands or lanterns for light, and go all-in on the buffet table.
Here are a few Halloween decor ideas you can use to turn your garden into a Halloween wonderland.
Giant Spider Web
An outdoor Halloween party NEEDS some spider webs. You can easily decorate your garden with a blend of rope webs like this one and dusty-looking ones like this one.
Zombie Blood Clot Tablecloth
If you're crafty and want to make your own Halloween tablecloth, check out this tutorial to learn how to make a bloody tablecloth.
Or, get one from Amazon:
Halloween Centerpiece and Table Decorations
From skulls to spiders and everything in between you'll find plenty of things to decorate the buffet table with.
DIY Wreath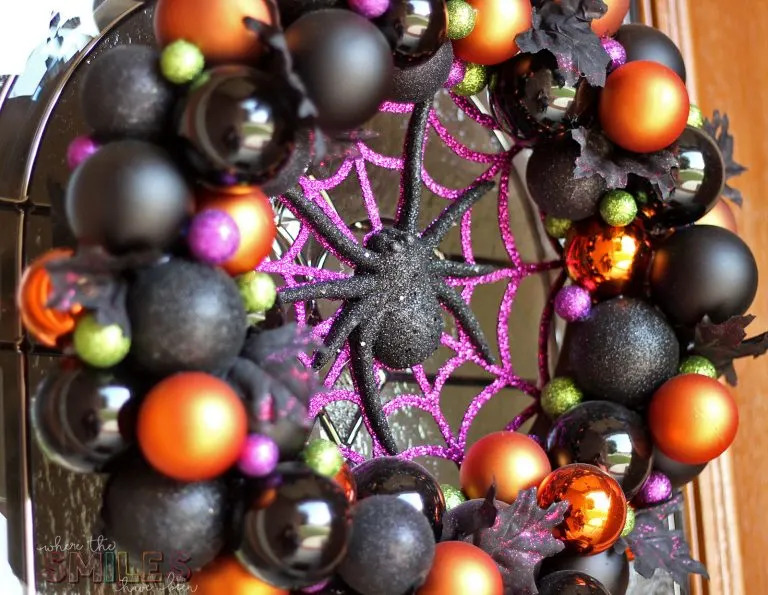 If you want to do some Halloween crafts, you can make this beautiful wreath to hang on your front door.
DIY Halloween Pom Pom Garland
If you have trees or bushes in your outdoor space, you can add a few garlands to decorate them. Make this cute pom pom garland (that is perfect as a fall decoration as well) or buy a couple.
DIY Halloween Candles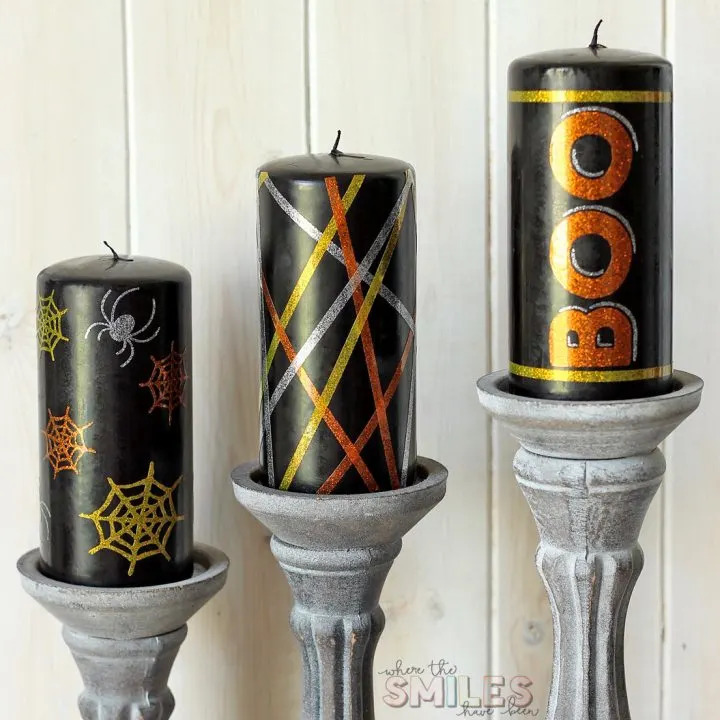 Candles are perfect to create a spooky atmosphere, you can add some to your dinner/buffet table and add some lanterns or led candles around your garden or outdoor space.
If you're crafty you can make some DIY Halloween candles – or buy some.
DIY Dollar Tree Witch Apothecary Decor
Create a spooky decor this Halloween, with this DIY witch apothecary decorations easily made from things you'll find at your local Dollar Store.
Creepy Halloween Potion Bottles
Quick and easy to make, these potion bottles are perfect to decorate your dinner table!
Halloween Outdoor Activities and Games for Adults
There are plenty of fun activities and party games you can organize to keep everyone entertained and to guarantee some laughter and fun moments. Make sure you plan things ahead so you can get everything you need beforehand.
Spooky Cookie Decorating Contest
If you and your friends are into baking, bake some plain sugar cookies beforehand and then hold a cookie decorating contest to see who can make the best-looking (or worse-looking) cookie.
Pumpkin Carving Competition
Another great Halloween party activity to get the fun going, a pumpkin carving competition will create some friendly competition. You can divide your guests into small teams, or have a pumpkin ready for everyone.
Make sure you have enough pumpkins and carving tools on hand.
Halloween Costume Competition
If you want to make sure that everyone comes with a costume, organize a competition to see who has the best one. Pick a theme or let your guests pick whatever they want and hold a pageant.
Halloween Piñata
Adults too can enjoy a piñata! Make it yourself or buy one and fill it with mini-bottles of liquor (make sure to wrap them properly so they don't break), treats, and candy!
Shop Halloween Piñatas on Amazon:
Bean Bag Toss Pumpkins
Get some bean bags and two pumpkins of different sizes. Carve a hole about the size of the bean bags in both, plus small holes for the eyes, and stack the smaller one on top of the bigger one.
During the party, have guests try to throw as many bean bags as possible inside the pumpkins. Either set a timer or a number of tries to see who will win – you can even get a trophy or prize for the winner.
Halloween Photo Booth
A great way to have a keepsake of the night, get some backdrops and accessories, and set up a photo booth for your guests to take fun pictures.
Halloween Charades
Play some Halloween charades for some extra fun – come up with Halloween-related words, add them to a box, and have each guest, in turn, pick one and try to make the others guess the word. You can play for points and even turn it into a drinking game!
Touch Guessing game
This is the perfect party game for Halloween as touching weird stuff without seeing what it is can be gross and scary. Come up with things your guest will have to touch and guess what it is.
There are 2 ways to set this game up an easy one and a more complicated one.
For the easy one, set up everything on a corner, and bring blindfolded guests one by one. Otherwise, you can set up boxes with a small opening and curtain over it, and have guests put their hand through them one by one.
Halloween Trivia
Another fun Halloween game you can play at your party is some Trivia. Make it Halloween-themed with questions about horror movies, supernatural beings, and such.
If you need some inspiration check out these printable Halloween trivia questions.
Other Outdoor Halloween Party Game Ideas for adults:
Halloween Heads Up
Halloween Blind Test
Save it on Pinterest for later – Backyard Halloween Party Ideas for Grown-ups: