Halloween is coming up soon and you are looking for something else than candies to gift the kids in your life? If you want to find the perfect Halloween gifts for kids you have come to the right place.
We have looked far and wide to select the best Halloween gifts for kids, from toys to art projects and everything in between, for kids of all ages.
Discover spooky, funny, and useful things kids will love to have! In this gift guide, you will find all sorts of Halloween-themed gifts to please the kid in your life and get them something a bit more lasting and useful than candies. These gifts are great as stand-alone gifts or to add to a spooky gift basket.
Keep on reading to discover the best Halloween gifts for children.
Related – 50+ Awesome Outdoor Halloween Party Ideas for Adults
Disclaimer: This post contains affiliate links, which means that if you click on any links and make a purchase, we'll get a small commission, at no cost to you.
Our top picks from this list:
Best Halloween gifts for kids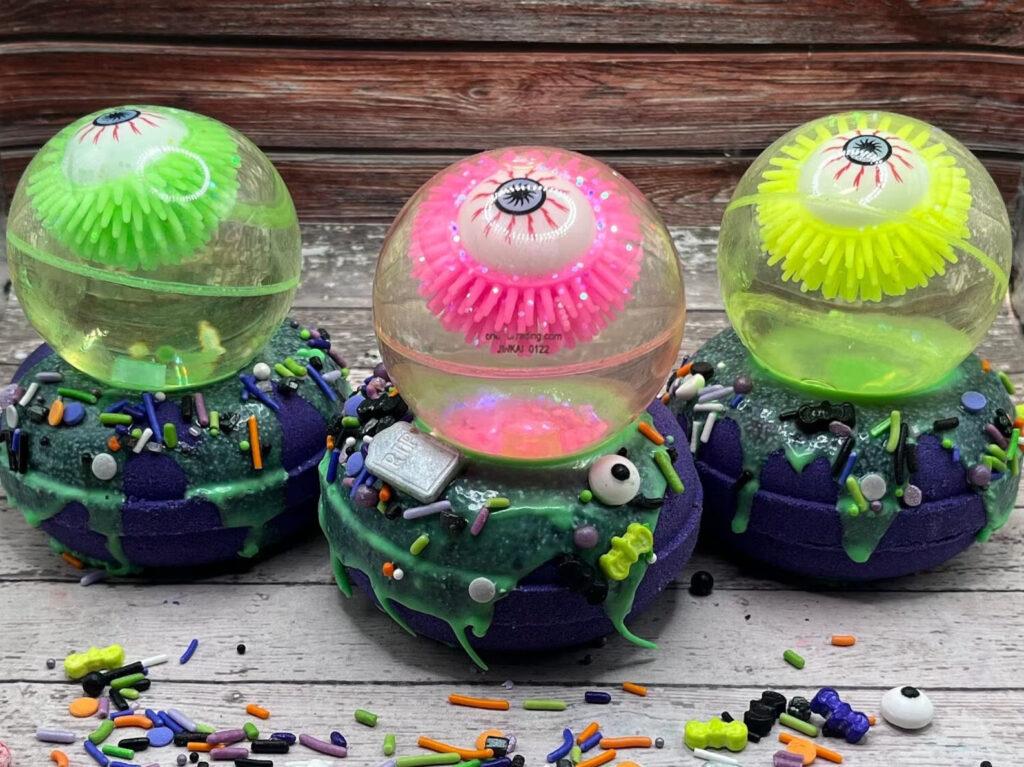 You won't find any cooler bath bombs out there and kids will just love them. They look super cool, the colors and designs are perfect for Halloween, and they will turn your bath into a colorful fizzy rainbow.
The scent is apple caramel and they will keep fizzing for a long time. And, they come with a Halloween-themed bouncing ball.
These bath bombs are handmade in small batches using quality and safe ingredients.
You'll find plenty of different designs on Etsy like eyeballs, ghosts, pumpkins, witch's cauldrons… You can mix and match.
If the kid in your life is into crafts or if you are looking for an activity you can do together, this Halloween Peg Doll Set will make a perfect gift.
The set includes four laser-engraved wooden peg dolls, sandpaper, and a blank small doll to test colors you want to use. You can use pretty much any type of crayons, pens, or paints to color the dolls.
Creative kids will love working on this project and once it's finished they can use the dolls to play.
Make sure you read the seller's notes for tips on what type of media to use to color them, how to choose the right colors, and how to seal it once you're done.
Another great craft project to work on with kids, this Pumpkins Suncatcher Kit is a lot of fun to do and will add to your Halloween decorations.
The set includes four pumpkins and everything you need (if you don't get the contact paper you'll need glue) to finish the project. Once done, you can add them to your windows for a special effect.
It's pretty easy to make and requires minimal supervision, especially for kids who are used to doing crafts.
Made in Ukraine by a local artist who specializes in nesting dolls, this Ghosts Nesting Doll will make a cute Halloween gift for kids. It's especially nice for younger kids as playing with it can help them develop their motor skills. It will also look awesome in their room as a Halloween decoration.
The dolls are made of linden wood and non-toxic acrylic paints – each one is unique and hand-painted with care.
Most kids enjoy coloring books, it's a perfect gift if you are looking for something budget-friendly or to add to a gift basket – you're sure to please the kid in your life.
This Halloween Coloring Book for Kids is perfect for kids of all ages. It includes 30 cute Halloween-themed drawings, printed on one side only to avoid bleed-through.
A fun art project, this Halloween-themed Paint by Sticker Book is perfect for kids between 5 to 8-year-olds. They just have to find the matching stickers and place them where they're supposed to go.
Some of the stickers glow in the dark and the finished "painting" looks cool. Kids will love it as it's fun and quite different from regular art projects.
It includes everything you need to create ten sticker paintings on sturdy card stock. Kids can then easily take the page out and gift them or put them on the wall.
If the kids in your life is not that into craft, or if you are looking for a Halloween-themed toy, this LEGO Building Kit will make an awesome Halloween gift, especially for fans of Legos.
This building set is part of the Hidden Side collection – the regular building set is combined with an app where kids can mix creative play and augmented reality.
The Graveyard Mystery playset lets kids build their very own haunted graveyard with a twisting statue, grave that opens, and haunted tree. It also comes with  4 mini-figures: heroes Jack Davids and Parker L. Jackson with smartphones, a skeleton figure, and Mr. Branson, plus the ghost dog, Spencer.
Perfect for children who are 7 and up.
Combine STEM and cooking with this cool Gross Gummy Candy Lab and learn to make worms and spiders – perfect for Halloween!
The kit includes all the ingredients needed, 6 experiments, and a throughout instruction manual. It's ideal for kids who are 6 and up and who are into science. They will learn about the chemistry behind making gummy bears while having fun.
The gelatin included is carrageenan (it comes from seaweed).
Based on the iconic Disney movie, Hocus Pocus, this Board Game will be the perfect addition to family game nights, especially around Halloween.
In this cooperative card game, players work together to protect Salem's children and stop the Sanderson sisters from completing their wicked potion before the sun rises.
Even people who haven't watch the movie can play. The Game plays 2-6 players ages 8 and up and takes approximately 30 minutes to play.
Another fun board game the whole family will enjoy, The Haunted Mansion – Call of The Spirits Board Game is the perfect Halloween gift for fans of Disney's famous Haunted Mansion.
Collect matching sets of ghost cards exploring all the classic rooms of the ghost-infested manor while trying to avoid the Hitchhiking Ghosts.
The gameplay is around 30 minutes, 2 to 6 players can participate, and it's recommended for ages 9 and up.
The perfect Halloween gift for older kids who are looking for some thrill and like spooky things, this Escape The Room The Cursed Dollhouse game turns into a dollhouse players need to escape from.
The house features five rooms, each containing objects to investigate, and multiple puzzles to solve, which will keep players engaged through around two hours of play. You can complete it in one seating or plan a couple of sessions.
There's a whole story surrounding the puzzles, it's well written and the brand also recommends some spooky music you can put on while playing.
It's recommended for ages 13 and up.
Kids who are fans of Vampirina will love this Fangtastic Friends Set. It includes 9 characters from the show and they'll glow when added to the "Ghoul Glow" playsets.
The show is aimed at preschoolers, so are the toys. Kids will love playing with these and they fit right in with the Halloween theme.
Playmobil sets make great gifts for kids between the age of 5 to 10, combine it with Scooby-Doo and you get the perfect Halloween gift.
Playmobil has made a couple of Scooby Doo-themed playsets. Fans of the show will love replaying some of the most famous episodes. The Adventure in The Witch's Cauldron Playset includes Scooby-Doo, Velma, the Zeb Witch, a cauldron, a collectible ghost card, and many other magical accessories.
Help Scooby-Doo and Velma free themselves and escape from becoming a part of the witch's brew! The Zeb Witch's true identity will be revealed by rotating her face.
Based on the popular Netflix original series for kids, this Play-Doh Super Monsters Moonlight Magic Toolset will encourage kids to develop their creativity playing with their favorite characters, including Super monsters Frankie mash, Super monsters Cleo Graves, Katya Spelling, Lobo Howler, Zoe Walker, and Dr. AC Shadows.
This will make an awesome Halloween gift for preschoolers who watch Super Monsters.
For something a tad different from toys or craft projects, books are a great option to gift kids. Find one with spooky stories for Halloween and you will have found something awesome to gift them.
Grandpa's Ghost Stories was originally published in the 70s and quickly became a bestseller and for a while, was impossible to find. The publisher just reprinted the famous illustrated stories by Jim Flora. Written with wit and humor, the stories are silly and spooky and will please readers of all ages.
This Halloween, get ready to go on a ghost hunting adventure. Strap on your proton pack and hop on the iconic Ecto-1, looking for ghosts to capture.
Kids will love the PLAYMOBIL Ghostbusters Ecto-1 set, especially fans of the famous movie. The car comes with original sounds and functioning lights, it's a lot of fun to play with.
Playmobil has made a lot of Ghostbusters sets, so you can pick a different one or mix and match. They have a super cool Haunted Firehouse too.
Who has never dreamt of being able to dissect an alien? Surely the kid in your life has.
Probably the coolest gift on this list, the Treasure X Aliens Ultimate Dissection Kit comes with 26 levels of dissection, a bunch of different parts to sort through, and a few hidden "treasures". Inside the alien, you'll find what you need to build Alien Hunter's battle vehicle, so kids can keep playing even when the dissection is over.
There's a lot of goo involved and gross things that ooze out of the alien. You can dissect it, gut it, open its stomach, intestines, and brain. It comes with a tray to keep things mess-free.
It is recommended for ages 4 and up.
Based on the board game Betrayal at House on the Hill, Scooby-Doo in Betrayal at Mystery Mansion is a fun board game the whole family will enjoy playing.
Play as Scooby-Doo, Shaggy, Velma, Daphne, or Fred as you explore the mansion, find clues, and maybe even catch sight of a monster. Find enough Clues to learn what's really going on—then the Haunt can start – one player will switch sides to play the role of the Monster Zoinks.
The gameplay lasts between 20 to 50 minutes and is perfect for 3 to 5 players (ages 8 and up). There are 25 "haunts" so you can play over and over again.
The perfect game to play around Halloween, this Ghostbusters-themed Monopoly will be a perfect addition to family game nights. Board games always make great gifts as it's an activity the whole family can do together
Traveling through New York City, try to win Ghostbusting contracts and team up to battle Slimer, Stay Puft, and other supernatural entities to save the city. If you already know how to play Monopoly you won't have any trouble figuring out how to play the Ghostbuster edition.
You don't have to wait for Christmas to build a gingerbread house, this Halloween, make your own Haunted Cookie House.
The kit includes everything you'll need (pre-backed chocolate cookie house panels, pre-mixed icing, and assorted Halloween candies) and uses a link and lock feature to make it easy to assemble.
It will make a fun activity to do with kids around Halloween.
Younger kids will love this Green Ghost Plush from the iconic Ghostbuster movie – it will make a cute gift, even for people who haven't watch the movie. It's soft and perfect to play or cuddle with. It fits right in the Halloween theme.
Didn't find what you were looking for? Check out our other gift guides for kids. Someone else on your list? Check out all our Halloween gift guides – for teachers and for baby's first Halloween.
What do you put in a kid's Halloween basket?
Apart from sweets and candies, you can add a couple of small toys, coloring books and crayons, books (think spooky stories for kids), Halloween-themed craft projects, accessories like vampire's teeth, fake blood, makeup kits…
What do you give little kids for Halloween?
For younger kids, you can get them some Halloween-themed toys or books adapted to their age, as well as some treats you know they like.
Like it? Pin it for later – Halloween gifts for kids: