Six months together is an important milestone in any relationship and you might want to celebrate it with your better half, planning something special, like a romantic dinner, an adventurous hike, or maybe taking a dance class together… There are plenty of ways to celebrate your 6-month anniversary with your boyfriend or husband.
Whether you have been married for 6 months now or have started dating 6 months ago, it's always a good idea to plan a little something to mark the occasion.
Making him something is a thoughtful gesture that won't go unnoticed. Take the time to craft something unique, useful, sentimental, or funny, so he has a keepsake of this important day.
You will find listed below some great 6-month anniversary DIY gift ideas for him that you can easily make at home and that he will love and appreciate.
6-Month Anniversary DIY Gifts for Him
Leather DIY Cord Organizer 
If your boyfriend or husband has a great collection of cords and wires for his electronics then this DIY cord organizer, made with upcycled pieces of leather fabric, will make a thoughtful and useful gift idea for him.
You don't need much, just some pieces of leather, good scissors, metal cap snaps, an awl, and a hammer.
See the full tutorial and download the template at Sustain My Craft Habit.
Beer Bouquet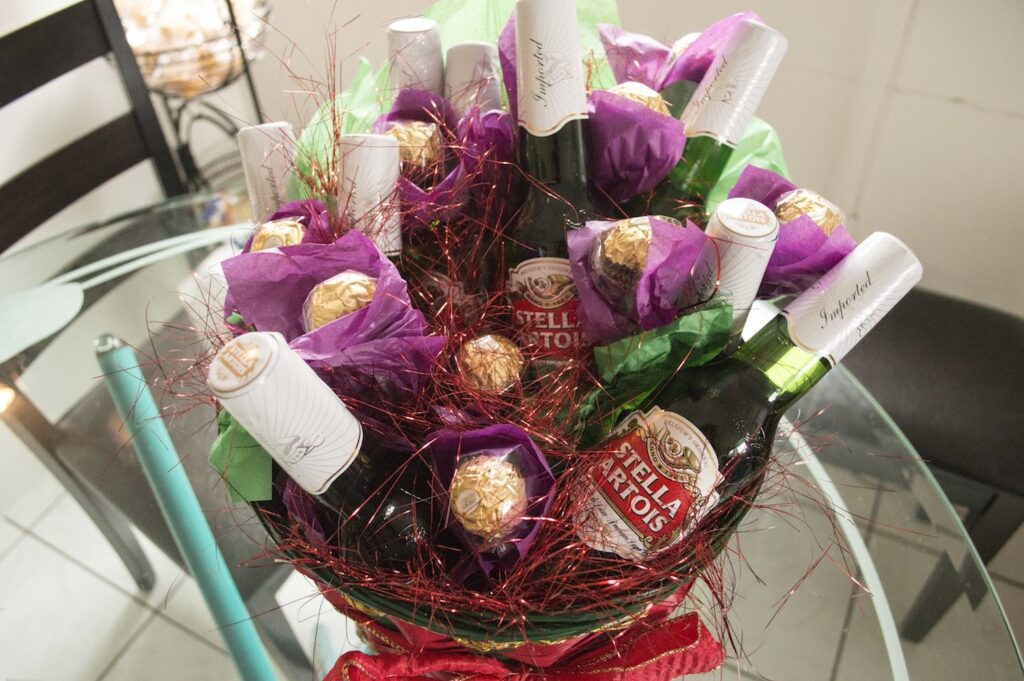 This super easy and impressive DIY beer bouquet is the perfect anniversary gift for boyfriends or husbands who love beer! Easily customizable with their favorite brew, you can even add their favorite chocolates to make the gift even sweeter.
See how to make it here>>
"I Think You're Red Hot" Gift Basket
If you think he's red hot, then that might the perfect DIY gift to bring a smile to his face. Pick all his favorite things (in red of course) and put together this well-thought-out gift basket for him.
You can see the full tutorial on Fantabulosity.
Homemade Sea Salt Body Scrub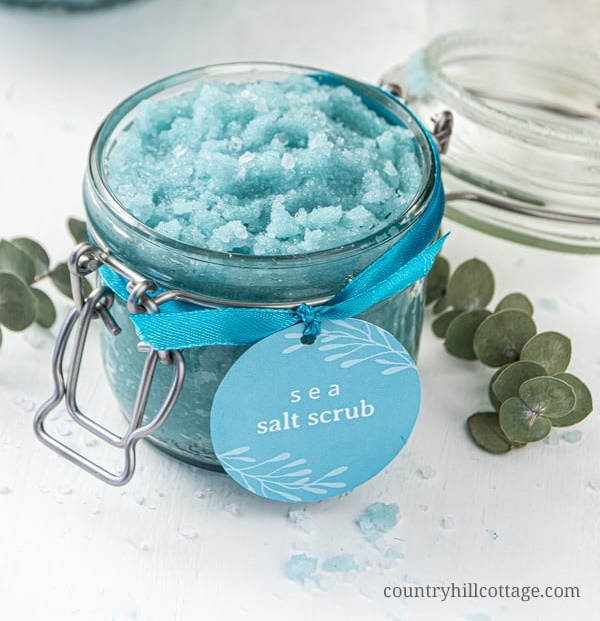 This all-natural sea salt scrub is a great gift for guys. The recipe is none-greasy and includes a manly essential oil blend that he will love! It will leave his skin exfoliated and nourished.
It's easy and quick to make, requires few ingredients, and will make a thoughtful gift for a man who likes to take care of his skin.
See the full recipe at Country Hill Cottage.
Homemade Jalapeño Jelly
Sweet, spicy, and colorful, this jalapeño jelly recipe will add some flavor to his favorite dishes! It will make a great 6-month anniversary gift for him if he likes spicy foods. You can also customize the jar label to mark the occasion.
See the recipe and download the label at The Soccer Mom Blog.
DIY Wallet
So he has something of you every time he goes out, this cute fabric wallet will make a nice DIY gift for him. He will be reminded of you and your thoughtful gesture every time he uses it.
The wallet is small and lightweight, yet with enough spaces for a few cards and cash, so super practical.
See the full tutorial at Beginner Sewing Project.
DIY Golf Bookends
Combine two of his passions into one with these cute DIY golf bookends. If he likes golfing and books, he will appreciate getting those for your 6-month anniversary.
It's perfect if you are crafty and want to work on a project a bit more challenging.
See how to make it at Ann's Entitled Life.
Marble Cookies
For something sweet and romantic, these heart-shaped cookies will make a cute anniversary gift for him.
See the recipe at Nourish Plate.
DIY Photo Coasters
A fun art project, these homemade coasters will make a nice gift for your husband or boyfriend. Coasters always come in handy and those are just beautiful and sentimental as you can add pictures you took together. It will make a perfect keepsake to have a souvenir of your 6-month anniversary.
It's also pretty easy to make and you can easily find everything you need at the hardware store.
See how to make them at The Drugstore Divas.
DIY Memory Box
If you are looking for a sentimental 6-month anniversary gift for him, then consider making him a memory box – something he can treasure for years to come, and that can become an anniversary tradition where you add something to it every year.
It's also a super cute way to store pictures and keepsakes of your relationship.
You can make it in under 30 minutes with things you probably already have at home.
You can see the full tutorial at Crafts and Printables.
Scented Candles
Candles always make nice gifts and it's even better if you have made them yourself. Pick his favorite scents and colors – and you can start melting and pouring.
You can also print a cute label, or make your own, to make it extra special.
See how to make your own DIY candles at Craftsy Hacks.
100 Reasons Why I Love You Jar
Anniversaries are always a good occasion to gift romantic and sentimental things like a 100 Reasons Why I Love You Jar – it's the perfect DIY gift to make his heart melt.
It is super easy to make, you'll just need a jar and paper and you can start writing why you love him. You can also make or print a label to stick to the jar to make it even more special.
DIY Date Night Jar 
Another easy and fun gift idea for your better half. Write down dates ideas, movies you want to see, things you want to do, restaurants you want to go to… your couple bucket list – so when you are in need of inspiration for something to do you can just pick something from the jar.
You can find ideas at Our Kind of Crazy.
DIY Watch Box
If he has a bunch of watches, this might be the perfect anniversary gift for him, especially if you are looking for a practical DIY gift he can use every day.
It's easy to make (no power tool needed) and you can decorate it as you want.
See the full tutorial at Restore, Decore & More.
DIY Explosion Box
A photo album with a twist, learn to make your own photo explosion box where each layer reveals memories from time you've spent together. It's a unique way to showcase pictures and it's super fun to make. You can also add a small gift box in the center to add a little something.
See how to make it at Chaotically Yours.
DIY Couple Picture Silhouette
A beautiful gift for your better half to showcase at home – turn your favorite couple's picture into this beautiful wall art.
It's easier to make than you might think and you probably already have everything you need at home.
Learn how to make it at A Crafted Passion.
DIY Instagram Photo Box
A cute way to showcase your favorite pictures together, this photo box is a simple craft project to work on and gift your boyfriend or husband for your anniversary.
See how to make it at Style Me Pretty.
ABC of Us Book
For a last-minute sentimental gift for your better half, just print this cute ABC of Us booklet and write down all the things you love about him. It's a great and unique DIY gift idea – he will love reading through it, discovering how much you care for him.
Get the printable at The Dating Divas.
First Times Wall Art
A cute way to commemorate the important milestones in your relationship, this wall art is easy to make and super sentimental. Just get a frame, paper, or fabric for the background, and print the maps of where you first met, your first date, first kiss, and so on.
Why I Love You Envelopes
A thoughtful way to tell him you love him, this craft project is easy and quick to make, You'll just need some paper – you can get small envelopes or make them yourself and write down reasons why you love him.
Haven't found what you were looking for? Check out our other DIY gift guides, gifts guides for him, or anniversary gift guides.
Save it on Pinterest for later – 6-Month Anniversary DIY Gifts for Him: